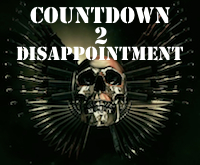 "Forget it, kid. I work alone."
You guys know I'm not really big on Chuck Norris. I know, Chuck Norris is so powerful that blah blah blah, something something beard something fist. Good job, internet. Hilarious. He's famous enough to be considered one of the iconic action stars, but in my opinion he is not on the same level as other Expendables such as Schwarzenegger, Stallone, Willis, Van Damme or non-Expendable Seagal. He doesn't have as much charisma or as many watchable movies. But I did really dig INVASION U.S.A. and I always heard LONE WOLF MCQUADE was his best or one of his best, so I thought I should watch it in the lead up to his appearance in EXPENDABLES 2: ALSO VAN DAMME.

And it's true, this one is worth watching. It's stupid, but I liked it. Norris plays rule-breaking slob and Texas Ranger J.J. McQuade. The mostly dialogue-free opening introduces (and probly oversells) his larger-than-life heroism, as he squints and spies on horse thieves from a distance through his rifle scope. The state police come in and try to bust the thieves, but they're overpowered until McQuade starts shooting and single-handedly defeats the bad guys and rescues everybody because of how awesome he is, etc. Maybe the internet was right about that one. The authentically Morricone-esque score by Francesco De Masi (THE INGLORIOUS BASTARDS) makes it all seem more operatic than, say, DELTA FORCE or SIDEKICKS.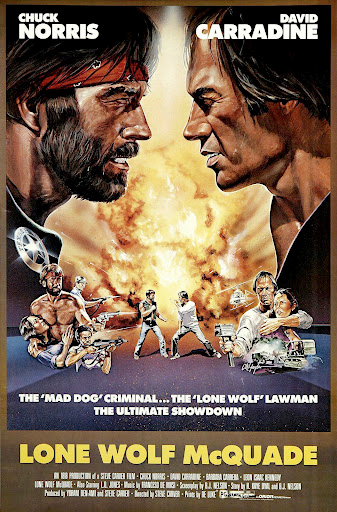 But it's not a western. McQuade drives into El Paso in his truck that looks like it's never been washed. Sitting in the audience at a public event covered in dirt he gets looks from the cops next to him, suggesting that he probly smells like ass.
Is he really a lone wolf? It would be easy to be, because of the smell. And because his house is about three years away from appearing on Hoarders, and his favorite hobby is rolling around shirtless in his backyard shooting at dummies he made. He gets chewed out by his boss who says that being a Texas Ranger is not just about single-handedly smashing a ring of horse bandits and saving the lives of several abducted police officers in one afternoon, it's also about going to church on Sunday and having a wife and kids. At first I thought this was code for "I'm tired of you being gay and pro marriage equality, McQuade," since J.J. has a loyal mustachioed cowboy life partner played by L.Q. Jones (just like Seagal had in THE PATRIOT) and since there's a scene where he gets mad that a beautiful woman shows up at his house and starts cleaning it for him, and since he's separated from his wife but on good terms with her and since it would be funny if a bigot like Norris was forced by liberal Hollywood to make movies that favored… oh my god, I might throw up… tolerance. But I'm probly (purposely) reading too much into this.
He's also friends with Mexicans in this one, even protecting one from racists. And they like him back. In fact when he arrives in a Mexican town the women immediately gather around his truck and put flowers on it like they're worshipping him. I wonder if this not happening to him in real life is the reason why Norris is so worried about Mexicans getting into the country.
Anyway, his boss makes him have a partner (Robert Beltran), Dirty Harry style, who wins him over by typing a password into a computer, which McQuade mistakes for being really good with computers. Later McQuade also teams up with an FBI agent (Leon Isaac Kennedy from the PENITENTIARY trilogy), and they all work together and seem to like and respect each other, plus he has his daughter and new girlfriend and sometimes spends time with his ex-wife (which I think is cool, you don't see that in too many movies).
My point is that he doesn't always work alone. And they never call him "Lone Wolf" in the movie, but he does have a pet wolf that he never calls by a name. What I'm getting at is that the wolf must be the Lone Wolf McQuade of the title. L.W. for short. Alot of people don't get that. If they did then the part where the wolf gets shot by the bad guys early on would be like a Janet-Leigh-in-PSYCHO type move (spoilers for LONE WOLF MCQUADE and PSYCHO).
McQuade's "just how badass is he" resume comes in the form of meeting his daughter Sally (Dana Kimmell, FRIDAY THE 13TH PART III)'s boyfriend, who has heard so much about him that he lists the things he's heard about him. Then the poor kid gets killed for witnessing gunrunners shooting cops, and Sally gets hospitalized. Then later she also gets kidnapped. Not exactly economical storytelling in my opinion, but that's how McQuade gets into a conflict with our villain.
That villain is the cocky cigarette smoking murdering arms dealer and karate champion Rawley Wilkes, played by David Carradine, so it's the battle of the iconic white martial arts stars. You know how I like when action movies have the villain demonstrate their fighting prowess early on to set up a climactic duel with the hero? In this one he literally demonstrates his karate by setting up a ring at the rodeo and mercilessly beating the shit out of some guys in front of an audience. And don't worry, it delivers on the promise by having them fight at the end. Of course, Norris had a classic on screen fight with the real Bruce Lee, and the fight with the white replacement for Bruce Lee doesn't hold a candle to it. You can tell Carradine is not in Norris's league when it comes to fighting. But I respect the gesture.
There's another mastermind, a little person in a wheelchair who collects video games and funds the evil organization. In my opinion it might be condescending that they play "Dance of the Sugar Plum Fairies" in the background in one of his scenes. Also it's pretty cheap of McQuade to pretend to accept a deal from the guy but not really come out and specifically say it, so that later he can go back on the agreement by saying "You made the deal, Shorty. Not me." But I guess he's just a white karate man, not a samurai, so he's not expected to keep his word.
Wait a minute, no, a man keeping his word is valued even in the savage futuristic society of Barter Town. Bust a deal and face the wheel. Not cool, McQuade. You have dishonored your late wolf L.W.
That's not McQuade's only police work involving questionable ethics. At one point he chases down an informant, causing a car crash and explosion. He actually yells "No!" and rescues the guy, so you think he's sympathetic toward him… but then he chains him to a tree and has L.Q. Jones shoot around him with an uzi until he talks. They literally wink at each other. Ha ha, it's okay because I was looking the other way. Didn't know Texas Rangers practiced extraordinary rendition.
One thing that's interesting: the hero and villain share the same girlfriend, Lola (Barbara Carrera from ISLAND OF DR. MOREAU '77). I kept expecting her to turn on him, but no, she's just liberated I guess.
McQuade's enjoyment of beer is a major theme throughout the movie. He's always cracking one open or throwing one to a buddy. That probly explains why his angry captain (the late R.G. Armstrong) is named Captain Tee Tyler. Sounds like teetotaler, opposite of beer drinker, making him the opposite of McQuade.
There are many enjoyable aspects to the movie, but for sure my favorite is what happens with his truck. He's real proud of the thing and always showboating. He laughs at the word "supercharged" and drives it fast enough that it sounds like a speeder bike from Star Wars. When some other cops get their vehicle trapped in some rocks he shows off by driving up behind them and pushing them out.
So when Wilkes gets the drop on McQuade he decides to bury him alive in his truck, a fitting fuck you. They cover it in dirt with a bulldozer. McQuade sits there and decides to drink a beer. Not in a cool and calm way, though – he spills it all over himself. Then he puts the pedal to the metal and drives the fucking thing out of the dirt. You see the police lights glowing beneath the earth like a demon tearing its way out of Hell.
At first I assumed this was showing how awesome the truck is, that it can be completely buried and then drive its way out. But McQuade's exhaustion seems to indicate that he somehow did it. He was pushing down on the pedal so hard it could do it, maybe. I don't know, but he collapses and demands another beer.
In the tradition of DJANGO, BEST OF THE BEST, THE DARK KNIGHT RISES and many other badass tales he takes a beating and has to fight back even while injured. Practicing with his dummies he finds out the worst thing a Chuck Norris character could ever find out: he can't shoot guns because the recoil hurts his injured wrist and throws off his aim. It makes him so mad that he karate kicks out a support beam on his shed.
One thing that's kind of lame, but in a funny way, is that after establishing how superhumanly awesome McQuade is throughout the movie his defeat of Wilkes is something plenty of other dudes could've done. Yeah, they fight and everything but he finally kills him by throwing a grenade at him when he's stupid enough to stand in a shed with other explosives in it. I mean, the timing was good and everything but you'll notice that McQuade's Mexican-American sidekick Kayo is the one who still has a grenade. He yells "Hey, McQuade!" and throws it to him, so he can throw it at Wilkes. It would've been easier for Kayo to throw it himself (and less risky since he doesn't have a wrist injury), but he gives McQuade the glory, like a dad playing two-on-two basketball and giving up an opening for a layup so his son can get the winning basket.
(To be fair, McQuade does exhibit ghost-like powers in running straight at Wilkes, who is firing hundreds of bullets in his direction and not ever hitting him. So I credit him for that.)
I like Norris better in this than some of the other movies I've seen him in. He's doing the stoic, squinting Eastwood type of hero, which he's better at than trying to be likable. He's pretty cool in this.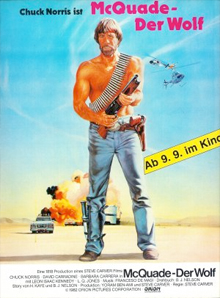 I joked about Chuck's politics earlier, but I gotta say something serious about it real quick. I know that alot of if not most of the stars of these action movies I love so much have very different politics from me. For example my hero Clint recently endorsed Mitt Romney, a sleazy nitwit who could easily be cast as a despised bureaucrat in a Dirty Harry movie. Bruce, Kurt Russell and most pro wrestlers are known to lean right. Sly said some stupid bullshit on Twitter about President Obama being "the Manchurian Candidate." Arnold is a Republican (although a pretty moderate one who did a couple things as Governor that I thought were good.) Seagal has some left-ish messages in his movies, but lately has been hanging out with that nut Sheriff Joe Arpaio of Arizona, now notorious for not bothering to investigate over 400 sex crimes cases even though he had time to "investigate" whether or not Obama was born outside of the country and given fake birth certificates and birth announcements in case this baby grew up to be elected president. I can disagree with these people, think they're being silly or stupid sometimes, but still respect them and love their movies. But I have to admit to an extra bit of anger toward that side of Chuck Norris.
I don't imagine Norris being a dick on a personal level. He seems like he'd be a really nice guy to the people he works with and who know him. But unlike those other guys he actually writes political editorials on various websights, and unfortunately they reveal his true character.
Obviously I knew this was a guy I had nothing in common with when l first read the description of his book Black Belt Patriotism: How to Reawaken America, and I thought he was an idiot when I saw him on some cable news show during the height of the Iraq war debacle, saying he couldn't take a stance on it because he didn't want to be involved in politics, but he had chosen to come on to promote the cause of a guy who had to take down a giant flagpole because it violated zoning laws. I can sometimes laugh off shit like that, but not shit like this annoyingly-worded screed he wrote for Ammoland.com trying to prove that Obama is somehow behind some people in the Boy Scouts wanting to end their organization's historic discrimination against gays and lesbians. As if that would be a bad thing.
I think this is the worst part:
"For years, I've signed and sent out hundreds of Eagle Scout recognition letters. And I personally have known a host of Boy Scouts, Eagle Scouts and BSA leaders. These individuals epitomize the best of America. Indeed, the BSA is as integral a part of American life and culture as hot dogs, baseball and Grandma's apple pie."
The implication being that gays and lesbians could never epitomize the best of America, so if you spot one you gotta kick them out. In fact, it sounds like he respects food items such as hot dogs and pies more than gay and lesbian human beings. I take this shit personally because, like most people, I have gay family, friends, neighbors, readers, and I know that they're great people who should have the same rights as the grandma who made the pie or the pricks like Norris who bully them for being different. I take this as an attack on my family and community.
Chuck Norris hates gays so much he can't see that he's blatantly violating the love for personal freedom he talks about in his editorials, his books, his movies, his fuckin posters. And the anti-bullying PSAs on his cartoon. So barring the ol' redemptive-late-in-life change-of-heart, fuck this guy. This guy is an asshole.
But I'm still trying to be fair about his movies. And I did enjoy this one. INVASION U.S.A. is funnier but LONE WOLF MCQUADE is a good balance of ridiculousness and some decent execution, and that's one of the best types of '80s action movie. The director is Steve Carver (DRUM, JOCKS), screenplay by B.J. Nelson (SCANNERS II-III), story by Nelson and H. Kaye Dyal (PROJECT ELIMINATOR). I recommend this one to my fellow Chuck-curious non-believers.