FIREFOX – not the cinematic adaptation of the popular web browser, but the spy thriller – was the Clint Eastwood movie I chose to watch on Veteran's Day. It's not a war movie, but Clint's character is a Vietnam vet who suffers from PTSD and has flashbacks during stressful moments. This wasn't really the best choice of an Eastwood movie to watch, it turns out. Unfortunately it's a pretty dull one.
Nice opening, though. The ol' Re-recruiting of the Reclusive Badass number. Clint (with a beard and looking alot like Wolverine of the X-Men pictures) lives out in the middle of nowhere. He's out jogging and sees a military helicopter, runs to his gun in a panic, 'cause of the 'Nam thing. He was a great pilot and also grew up speaking Russian, so he's uniquely qualified for an intelligence mission to sneak into Moscow and steal the world's most advanced jet, one with a special helmet that allows the pilot to control it with thoughts. So he has to remember to think in Russian.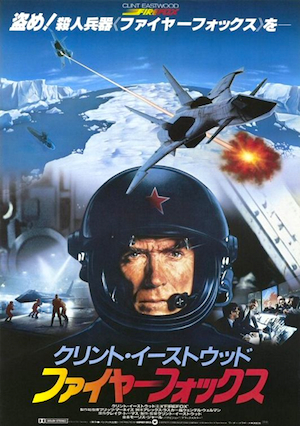 Alot of the movie is sneaking around in different disguises, using different identities, meeting with other assets, trying to stay cool under questioning. Cloak and dagger type shit. It gets exciting a few times, like when he beats a KGB agent to death in a bathroom, or when he sets off a firebomb as a distraction. But there are alot of stretches of the movie where it feels like not much happens. Like most Eastwood movies it's pretty long, at 136 minutes, but this one feels like it doesn't really need to be that long.
Of course it's all leading up to Clint stealing that jet, so the climax is a state-of-the-art-for-1982 special effects sequence of the fictional jet flying around real fast. STAR WARS dude John Dykstra oversaw the effects which involved taking lots of real flight footage, speeding it up and superimposing a model jet onto it. This is the same year as RETURN OF THE JEDI and the scenes I guess are kind of similar to what they did with the speedy bikes in that picture but not set long ago or far away.
Even in the worst Eastwood movies he's still gonna be enjoyable to watch as he grimaces at authority and occasionally makes a smart ass remark or something. And it's kind of interesting to see him playing a supposedly old pilot yanked out of retirement so many years before doing it again in the way more enjoyable SPACE COWBOYS.
There's a nice moment when he's undercover and has to scuffle with a soldier, and he has a chance to kill the guy but stops himself and says "Ehhh… you didn't do anything." I don't think the irony was intentional, but it makes an interesting counterpoint to the jet sequence later when he seems to be pretty indiscriminate about blowing up every plane or helicopter that comes near him. It sort of shows the difference between fighting somebody face to face or fighting through machinery.
My favorite thing in the movie though is a little detail that he never finds out about – that one of his main qualifications was that he was a similar size to the Russian who flew the Firefox. In other words, they chose him because they thought he would fit into the suit.
The DVD of FIREFOX has a surprisingly good extra on it. Under the inconspicuous title "Clint Eastwood: Director" is a 30 minute vintage documentary made for British TV. Clint talks about FIREFOX and his approach to directing. In the style of the time they have him re-enact arriving at work for the day, so he drives up to his reserved parking space and struts into his office.
At the end he and "friend Sondra Locke" go to Washington DC for the FIREFOX premiere, done as a fundraiser for a military charity. He poses for photos with Reagan administration officials Edwin Meese and Caspar Weinberger. Meese is probly a big DIRTY HARRY fan, as he was known for opposing the idea of Miranda rights. Both were involved in the Iran/Contra scandal, especially Secretary of Defense Weinberger, who was indicted on two counts of perjury and one count of obstruction of justice (but it doesn't count 'cause he was later pardoned by George H.W. Bush).
But I don't really see anything uncomfortably right wing in FIREFOX. Obviously it's a Cold War movie, and the Russian villains are cartoonish, but there's not any of that preachy anti-communist stuff in there. They just have some bad KGB people and some nice Russians who want to get rid of them. And a jet.
At the time FIREFOX might've seemed a little better than it does now that it's so dated, but then again it happened to come out in June of maybe the greatest movie summer of all time. It was competing for screens with CONAN THE BARBARIAN, ROAD WARRIOR, STAR TREK II, POLTERGEIST and E.T. And then after its release came BLADE RUNNER and THE THING. Shit, I don't even have to bring up ROCKY III, or lower profile outlawvern.com favorites like VISITING HOURS, FRIDAY THE 13TH 3D, THE BEASTMASTER or CLASS OF 1984 to show that it doesn't only pale in comparison to Clint's other movies, but to the non-Clint movies that were coming out around the same time.
In Clint Eastwood: Director the interviewer asks Clint about why he had risked making a comedy movie with a chimp sidekick (not this one – a different, better movie) and he talks about the importance of trying the things that appeal to him even if people tell him it's a bad move, and if he didn't do that he'd still be in Italy filming westerns every year. He says of his fans, "They expect maybe a certain kinda action, a certain kinda entertainment, and hopefully they get it. If they're disappointed then we'll give it to 'em next time."
Next time, in this case, was HONKYTONK MAN.
(to be continued)