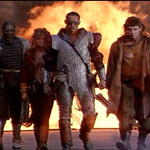 Years ago when I saw a little movie called DOUBLE TEAM I remember coming out of the theater and running into an acquaintance, a friend of a friend named Corey who was waiting for the next show. We got to talking about Van Damme, and it was kind of shameful how many of them he mentioned that I hadn't seen. So this guy decides right then and there that we're gonna meet once a week in a neutral location and we're gonna watch a Van Damme movie. And I don't remember how long we did that but it was probly a month or two of important learning. You know, it's the same as with KICKBOXER or BLOODSPORT, you try to find a mentor or a buddy to take you under his wing, and that's how you get your start. So shout out to Corey. And I hope I'm doing my part to pass on these lessons to the next generation.
Anyway, that was the last time I saw CYBORG. On a screen bigger than I've ever owned, but full frame VHS, and when I was younger and dumber in my ongoing journey to filmatistic enlightenment. Here's all I remember: Van Damme doing the splits between two walls, a guy with sunglasses grunting, being bored.
Okay, I wasn't that far off, this is still a bit of a chore for me to get through, but I respect it more at this stage in my evolution. CYBORG is from the Cannon Group, it's directed by our friend Albert Pyun, it doesn't really have any concepts that separate it much from other post-apocalypse movies (with a little BLADE RUNNER and TERMINATOR influence thrown in the mix), but the thing I didn't get back then is that it's a fuckin art movie. The plot is minimalistic, there's very little dialogue, lots of wind and dreamy slow motion. Van Damme plays a mysterious figure apparently called "Gibson Rickenbacker," a so-called "slinger" or bounty hunter helping a woman named Pearl (Dayle Haddon, NORTH DALLAS FORTY) who has the cure for a deadly plague to travel through the wasteland to Atlanta. And she's part robot, by the way.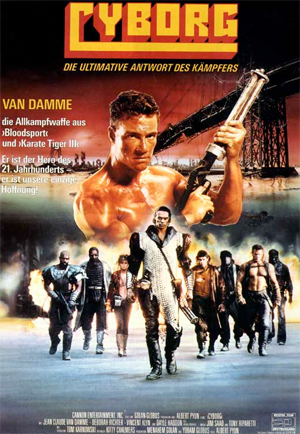 That's one thing you would never expect from the title: she's the cyborg. She's Johnny Mnemonic, basically. You'd think she'd be able to have super strength or shoot lasers out of her mouth or something but instead she has a high kicking meat bag to protect her delicate wiring.
This was released a few months before KICKBOXER, and that movie's more fun but he has more of a badass presence in this one. He doesn't have that dorkiness. It helps that he doesn't have to read many lines, but he's giving a performance here. You wonder what he's thinking. Gibson never says who he is, but we periodically see snippets of his memories of his former life with a pony tail and a family. We piece together the specifics of how the villain of the piece (one-time actor Vincent Klyn) ruined his life and must be avenged.
We meet that guy before anybody else, and he's ridiculous. He's a huge white guy with long dreadlocks, a chain mail vest and giant Boz type sunglasses. His eyes glow and his voice is artificially deepened. He narrates the opening, explaining that he doesn't want the disease to be cured. "Restore it? Why? I like the death! I like the misery! I LIKE THIS WORLD!"  He's the old guard afraid of change. Lord Humongous worrying about gentrification. There goes the neighborhood, you know.
(I don't think I ever realized the title track of Method Man's second album samples quotes this guy.)
He's apparently named "Fender Tremolo," the leader of "the pirates," who literally travel in a small, stolen boat as they go around pillaging and shit. They kidnap Pearl, and Gibson teams up with Nady, a woman who survives one of the group's pillagings and wants to help bring the cure to the world, since the plague killed her family. Gibson just wants to kill that motherfucker Fender.
The action is slightly stilted in the way the shots are pieced together, but kind of cool when it happens. Lots of high kicks, of course. Stabbing, crossbows, swinging, pretty intimate stuff.
The best act of violence and most iconic shot in the movie by far happens when a bad guy is stalking Gibson through a dark sewer tunnel type place. We keep seeing closeups of Van Damme clutching a knife to his chest, waiting for the moment to strike. When the camera pulls out a little we realize that he's not waiting around a corner, he's directly above his pursuer, doing the splits between the two walls. And he stabs downward. Way to one-up that old hanging-above-the-door ninja trick.
Pyun really lets the camera worship the villains. He does it in time-honored ways (eight rugged pirates walking slow motion toward the camera with flames behind them) and in more unique ones. I love, for example, when the camera pans from Gibson peacefully asleep on the floor, arm draped lovingly around his lady, to the four muscular pirates leaning in his window, watching them, smirking. Or the one where they stand in a dramatic, frozen pose like Michael Jackson's dancers as the camera cranes up and spins around to show that Gibson is crucified high up on the mast of a wrecked ship.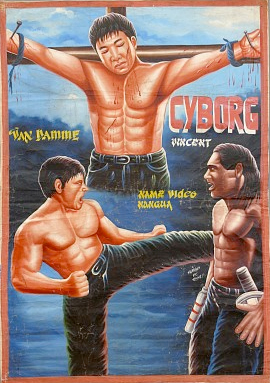 The emphasis is on atmosphere and mood, show over tell, mystery over explanation. That puts it in line with modern arthouse takes on genre like THE ROVER or MEEK'S CUTOFF. But it's Van Damme, so there is some macho in there. Sweaty, bloody muscles. Endurance. One of the biggest sequences is the aforementioned crucifixion. He's hanging up there in agony for an awfully long time. He keeps flashing back to Fender lowering him and his family (I thought it was his wife and kid, but read it was his sisters) into a well holding onto a rope of barbed wire. This memory fuels his resolve to kick dents in the mast until it breaks and falls over. And then Nady is standing there saying "I told you you'd need my help." (Probly could've used it more a few minutes ago.)
It's the visual detail that makes it stand out from other Pyun works, which don't always smack of this much effort. There's some pretty great looking cinematography  and interesting locations. Apparently it uses sets and props that were made for abandoned Cannon/Pyun MASTERS OF THE UNIVERSE 2 and SPIDER-MAN movies, but it doesn't look like it. It mostly seems like outdoor, found locations. Alot of attention seems to be paid to the little touches, like the wreckage and the dried mud smears on Fender's glasses. For the most part it's more like a western than a sci-fi movie, but the few uses of animatronics and dummies to show the cyborg parts are really well done. Also a couple enjoyably cheesy matte paintings.
I really think the main thing holding this back is that, for my tastes, the score by Kevin Bassinson (POLICE STORY international version) kind of sucks. It's keyboards, but not the low, rumbling, pulsing type we all love. It's the high pitched Full Moon Video fake orchestra style, that drips artificial cheese sauce all over pretty much every scene. I honestly think if you could take that off and replace it with a really moody TEXAS CHAIN SAW MASSACRE or maybe RAVENOUS type score that this might all really work. After writing this I found reference to a rejected score, and I know that (like most of his movies) Pyun has made a director's cut in recent years. I don't know if that has a different score, but I've heard it's a much more ponderous version of the movie. I don't know. Anyway, the movie's power is all in the mood and the existing score ain't doing it for me.
I don't know if I'll ever love this one, but we are all growing. We are all learning. I respect CYBORG now.
This entry was posted on Monday, December 22nd, 2014 at 1:43 pm and is filed under
Action
,
Reviews
,
Science Fiction and Space Shit
. You can follow any responses to this entry through the
RSS 2.0
feed. You can skip to the end and leave a response. Pinging is currently not allowed.