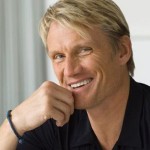 I COME IN PEACE aka DARK ANGEL
Craig R. Baxley's second directorial work (after ACTION JACKSON, before STONE COLD) is probaly his weirdest. It's kind of like the cop movie version of BROTHER FROM ANOTHER PLANET. Dolph Lundgren plays a plays-by-his-own-rules cop whose partner dies in a drug sting that happens to also be interrupted by an alien invader with a trenchcoat and glowing eyes. This guy, I don't know what his name is but he's not a lovable E.T. type alien, he's just a tall scary dude who goes around and says "I come in peace" but then shoots a weird tube out of his palm into your head and sucks out your endorphins. I could've sworn he stole the heroin from the drug dealers, but the reason he's on earth really is not to steal heroin, it's just to farm people for endorphins. We learn later from an outer space cop who's chasing this guy that endorphins are a valuable drug on whatever planet they're from, I guess we'll call it Planet Icomeinpeace. He must be stopped because if he goes back to Icomeinpeace and gets alot of alien space dollars for his endorphins (or "dorph" as I bet they call it on the space streets) then other aliens are gonna figure out how easy it is to cop dorph out of our heads and it'll be over for the human race.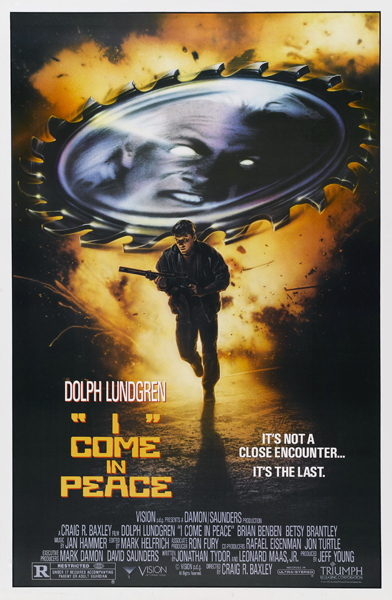 As you know I am not a big fan of law enforcement but I appreciate what this space cop is doing, he seems like one of the good guys. I don't know if he's necessarily by the book, because who knows what the book is like on Planet Icomeinpeace. It might not even be a book, all the policies could be kept inside a magic crystal or a glowing rod or some weird space shit like that. Who knows. Anyway, Dolph, on the other hand, is definitely not by the book or the glowing space rod. He's in the post-Dirty Harry period (it's 1990, still technically almost the '80s) when it was supposed to be cool for cops to be reckless and break laws and you're supposed to hate his uptight FBI partner who INSISTS on being accountable to society. This is a decent role for Dolph though, one of those happy times when he doesn't have to play a Russian or a hulking oaf, and you remember that he has some kind of natural charm that's enjoyable in movies. It also has an '80s anti-yuppie, anti asshole businessman kind of stance, with the drug kingpins being portrayed almost as CEOs.
It's kind of cool how they don't explain much about the aliens. They do tell you a bunch of stuff toward the end but not enough to ruin it. I have no idea why this guy keeps telling people "I come in peace." Did he learn it from a movie? Is it meant as a trick? Or does he say it to be funny, to fuck with people, like those mean Martian assholes in MARS ATTACKS? I like that you don't really know what the deal is with him saying that.
The most memorable part of the movie probaly, or at least the part I remember seeing in the ads back when this came out, is the CD gun. The evil alien has this gun that fires a disc like a CD, and it ricochets around, chopping people up like vegetables. Alot of villains would really have a good time with one of those things but unfortunately our people have not yet been able to develop that technology, and the alien steals back the evidence before we're able to copy it.
Although the movie is completely worthwhile for its whole weird sci-fi/action combo, I didn't think the stunts were as great as the ones in ACTION JACKSON and STONE COLD. Instead they seem to focus on coming up with interesting special effects like the bouncing CD, a guy glowing from inside and exploding, etc. There are some regular old explosions, too, by the way. Not that I really had to tell you that, I think you could've probaly figured that one out on your own.
If you're not sure whether or not to watch this movie, here are a couple of pertinent facts.
Dolph's character is named Jack Caine.
At one point Caine gets to say, "Fuck you, space man!"
At the end, after the space man says "I come in peace" for the zillionth time, Caine says, "But you go in pieces, asshole," and then blows him to bits. spoiler.
I've been told the movie is called DARK ANGEL elsewhere. I guess the guy who comes in peace could be the dark angel, but I don't know how he's an angel so I'm gonna go with the alien cop who's trying to catch him is the dark angel. Even though he's not all that dark. The one I rented is packaged as I COME IN PEACE but the title screen says DARK ANGEL. It's not on DVD but at least this particular VHS edition is widescreen. That's good because you can't crop Baxley, man. Or Dolph. Don't fuck with Baxley and Dolph.
p.s. Let me drop some random Three Burials of Kevin Bacon type shit on you. One of the writers of I COME IN PEACE was Leonard Maas, Jr. His only other movie is WHY ME?, based on the Donald Westlake novel. The director of that is Gene Quintano. He's some guy who worked on POLICE ACADEMY movies, but I came across him on IMDB the other day because of his movie DOLLAR FOR DEAD. That's because it stars William Forsythe and Howie Long, the stars of FIRESTORM, which I just reviewed. Can you belive that? It's a world of laughter and a world of tears, isn't? Ah, maybe you had to be there. Anyway, I'll have to look for that movie now, because this is some kind of sign from the universe I think.
p.p.s. I apologize if you just wasted your time reading that p.s. part
This entry was posted on Tuesday, August 1st, 2006 at 6:11 pm and is filed under
Action
,
Reviews
,
Science Fiction and Space Shit
. You can follow any responses to this entry through the
RSS 2.0
feed. You can skip to the end and leave a response. Pinging is currently not allowed.