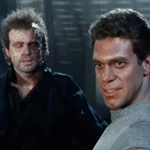 I meant to see this when it was in theaters in 1988, didn't get around to it until now. It's okay. Not worth that long of a wait, but luckily I did other stuff in between.
Treat Williams (THE SUBSTITUTE 2-4) and Joe Piscopo (Saturday Night Live cast, 1980-1984) play two 1980s Movie Cops. Treat is supposed to be the straight laced one, so he wears a suit. Piscopo is the wildman who wears a leather jacket and hits on every woman who appears on camera, because that's always funny (see also: Jay Leno in COLLISION COURSE). This was after SNL when he got really into bodybuilding, so he also shows off his muscles alot. He's kind of a cross between a wisecracking Bruce Willis type of character and a crazy Mel Gibson one.

The two run into some weird shit while trying to stop a jewelry store robbery. The thieves (who wear leather S&M type masks, an interesting choice of disguise) get shot full of bullets without dying, so our boys have to ram them with vehicles, etc. (some good stuntwork). Later, when they talk to the coroner/Treat's ex-girlfriend (Clare Kirkconnell) about the bodies she informs them that she actually did autopsies on those guys at a previous date. The motherfuckers were zombies!
So the two follow a trail of clues to a chemical plant, where Piscopo sneaks around and finds a weird machine from which emerges another zombie, this one a fat biker with a monster face. During a big fight Treat gets trapped in an asphyxiation chamber and killed.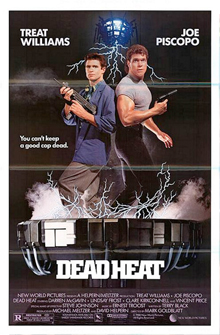 But wait! The coroner figures out that machine was what they used to create the zombies, so she puts ol' Treat in there. He comes back to life, but he has no heartbeat, and she figures out that in less than a day he's gonna just turn into goo. So he decides to use that time to try to figure out who's behind these zombies – who killed him.
See, I didn't mention the name of Treat Williams's character before, because it's kind of a spoiler. His name is Detective Roger Mortis. He was given that name by parents who didn't know he was gonna end up being a zombie, and after he did become a zombie nobody commented "ha ha, your name is Roger Mortis, and you're a zombie, do you get it, ha ha. Because of rigor mortis, is why I say this." So I can only assume that was supposed to be a subtle little touch there. Good one, screenwriter Terry Black whose credits also include episodes of Tales From the Crypt and Silk Stalkings and a video game.
I know I'm taking this movie way too seriously, but it made me kind of sad to think about this schmuck choosing to use his last hours on earth for this. There's a few mentions of whether or not he's wasting his life, but they don't seem to consider it enough. He should get together with that nice coroner lady or something. And if she's not gonna do that I'm surprised she doesn't want to study him more. After all she did resurrect him from the dead. That's considered pretty big, isn't it? It might be worth learning more about it.
It also made me think how much that would suck to know you're dying soon, it must just put so much pressure on you so you're wasting your time thinking about whether or not you're wasting your time. Rushing through whatever you do choose to do so you can try to sneak in that last slice of pizza, last porno, whatever, you don't end up enjoying it enough.
It's a dumb premise that dead bodies can be alive just by having electricity pumped into them, and they don't really do much with the "buddy cop movie, but one of the buddies is a zombie" thing, since Piscopo gets kind of left in the background while the zombie goes off and does everything on his own. But they have some fun with it. I like that Mortis can go around on his police work and keep getting shot over and over. He can crash through a window and roll and get back up and be fine. When he gets handcuffed inside an ambulance he decides to crash the ambulance and then crawl out of the wreckage all fucked up like a Terminator. There's a joke where right after that he shows his badge to a cop and commandeers his gun and motorcycle. Ha ha, what a great story that officer had to tell, after he got fired.
The star of the movie really is makeup effects guy Steve Johnson, whose creations here are recognizable as the work of the same man who did BIG TROUBLE IN LITTLE CHINA. That fucked-up biker guy is cool, look at him: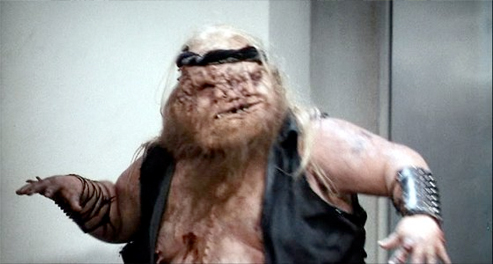 Also the scene where the resurrection machine is turned on in a butcher shop and all the different meats come to life. They have to fight a headless, footless bull corpse.
My favorite is the scene where a pretty girl suddenly gets to the end of her zombie life. Her hand transforms into a ghoul hand, then one side of her face just starts drooping, melting. She turns into goo, her limbs fall off, her head falls on the ground. You can see some serious matte lines on that thing but it was a really show-offy effect for the time. But it kind of bothers me that we hear a voice come out of a jaw. You think we don't know about throats? Come on, Hollywood.
At first Zombie Mortis is supposed to be real pale and scary looking, because people get grossed out by looking at him, and he has to buy makeup to cover it up. But it wasn't very noticeable to me. As he gets worse though the makeup is pretty impressive. Real nasty when he gets all veiny and varicose in the face.
In this attempt to mix b-action with b-horror I think they did better on the first one. I mean it's not a great buddy-cop movie but it gets some of the absurd feel we enjoy and some over-the-top violence and crashes and explosions and stuff. The horror part only works in the special effects. The idea itself is too dumb. You couldn't do this as straight horror, it's just not close to scary.
They gotta have their little nods to horror though to prove they're fans, so they have Vincent Price in here, they have Darren McGavin, Keye Luke for you GREMLINS people. Apparently Linnea Quigley plays "Zombi Go-go Girl." If you'd like proof this was made in the '80s, MTV's Martha Quinn plays a newscaster, WWF's Professor Toru Tanaka plays the butcher who tries to chop them up with a meat cleaver, Shane Black has a cameo as a cop.
DEAD HEAT is the directivational debut of Mark Goldblatt, whose only other picture in that capacity is the Dolph version of THE PUNISHER which came out the next year. He's better known as an editor on a million movies you love, including but not limited to THE HOWLING, ENTER THE NINJA, THE TERMINATOR, RAMBO: FIRST BLOOD PART II, COMMANDO, NIGHTBREED, T2, STARSHIP TROOPERS and everything else. ARMAGEDDON is not his fault 'cause there were 2 other guys on that, they all edited it like four or five times and then edited each other's edits of each other's edits, and then Bay thought it was way too restrained and redid the whole thing himself, is my guess.
The cinematographer is Robert Yeoman, the guy who does all of Wes Anderson's movies. But this is pretty different from those though.