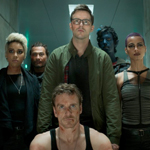 Man, I guess they're considered kinda antiquated now, society has moved on, but I still love the X-MEN movies. Here is the only super hero series to span the entire post-BLADE era until now. Their first movie was eight years before IRON MAN started the Marvel Cinematic Universe. Put another way, it was only three years after BATMAN & ROBIN seemed like it might've ended Hollywood's affair with comic book movies.
You super heroes now a days don't know how easy you have it. The X-Men come from a time when the filmmakers felt they had to give them black leather outfits and make a disparaging joke about yellow spandex if they wanted audiences to take them seriously. And I'm pretty sure they were right. But seven movies and five spin-offs later (not including next year's NEW MUTANTS) they've fought the government, giant robots and an ancient god-like tyrant, solved the Cuban Missile crisis, traveled through time, died and come back to life, gone to space, and yes, even wore yellow uniforms. From "maybe we better call them by their first names" to nobody batting an eye at a six-member space mission team with 50% blue representation. That's progress.
Through much of that the movies retained members of a brilliant ensemble centered on the obvious but perfect (famous bald man Patrick Stewart as Professor Xavier) and the counter-intuitive but ingenious (Australian stage actor Hugh Jackman as Wolverine, Shakespearian Ian McKellan as Magneto). Though this final chapter is the new timeline younger cast of FIRST CLASS, DAYS OF FUTURE PAST and APOCALYPSE, it ends storylines begun 19 year ago.
But mainly it redoes one already used in the unpopular X-MEN 3: THE LAST STAND, which combined a version of the famous "The Dark Phoenix Saga" comics story (January-October 1980) with a couple other concepts. I still like that movie, and believe it's ahead of its time in its unabashed use of extra comic-booky and super-powered characters. I believe it was also the first movie with a post credits sequence that steers the plot of upcoming sequels, by unkilling Professor X. (MASTERS OF THE UNIVERSE and DAREDEVIL don't count because they didn't get sequels.) But X3 outraged comics purists and disappointed others, including apparently its screenwriter Simon Kinberg (xXx: STATE OF THE UNION), who makes his directorial debut here with another take on the story of super psychic Jean Grey (Sophie Turner, Game of Thrones), this time still a student, not faculty, when she starts to exhibit new powers she can't control that endanger her friends and uncover upsetting secrets about her childhood and treatment by Dr. Xavier (James McAvoy, THE POOL).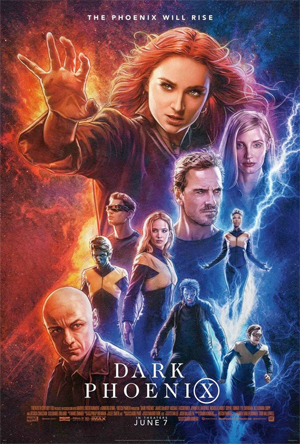 I was into it for a while. After writing X-movies for Brett Ratner, Matthew Vaughn and Bryan Singer (two times) he's given his X-movie its own feel. It's the first to really focus on one character other than Wolverine – she even narrates a little, and we follow her from a very upsetting childhood tragedy to the first time she met Professor X, who gives her a pretty convincing recruitment speech. And then the best part of the movie is a super-heroing sequence where some space shuttle astronauts get stranded so the president calls Professor X and he sends a team of X-Men on the X-Jet. A fucking space rescue!
They go into action and all their powers come into play: Jean's telekinesis, Nightcrawler (Kodi Smit-McPhee, THE ROAD)'s ink cloud teleportation, Storm (Alexandra Shipp, ALVIN AND THE CHIPMUNKS: THE SQUEAKQUEL)'s weather control, Quicksilver (Evan Peters, NEVER BACK DOWN 1-2)'s super-speed, Cyclops (Tye Sheridan, THE TREE OF LIFE)'s laser eye beams and Mystique (Jennifer Lawrence, mother!)'s, uh, piloting. And commanding. She doesn't find any uses for her shapeshifting in this one.
I mean it's cool that she gets to be the team leader, and I get that they're trying to show that she's more than a mutant power. But as played by Rebecca Romijn in X 1-3, Mystique is my favorite X-Men character. So devious and wicked, a stunning visual with her blue skin and orange hair and eyes, perpetrator of two excellent prison escapes, complete fucker-overer of the system (impersonating a senator and affecting legislation!) and loud and proud mutant, walking around naked, blue and scaly, not giving a fuck. One of the greats.
Lawrence is an actress I love, and to cast her as this character in the new timeline, even to make her more hero than anti-hero, seemed full of potential. She could be explored in more depth, maybe even get her own spin-off doing black ops master of disguise mutant secret agent missions. Unfortunately it seemed like Lawrence didn't want to wear the makeup much and they didn't want their Oscar winner to be too wicked and the character never really got to be half as cool as she was when she was a secondary villain. It's a total bummer that she only uses her powers once in this movie, and it's to turn into her blond lady form when she gets home from the mission, as if she's ashamed of her blueness. They done Mystique wrong in this one.
On the other hand, Magneto (Michael Fassbender, THE COUNSELOR) gets to do something new and great after the disappointment of being a mind-controlled henchman for much of the last one. Jean finds him on basically a mutant reservation, a small island given to him by the government where he seems to lead a small community. I don't know but I bet the others are like him, people who fucked up and are trying to start their lives over without violence. But he gets into trouble when Jean comes there because there was this whole incident where she got upset and flipped over a bunch of cop cars. You know how teens are.
One of the things I've loved about these movies since the beginning is that there's always been a sense of Magneto being at least kind of right. He shouldn't be trying to turn everyone on earth into a mutant and shit like that, but he seems to understand the threat toward mutants more than Professor X sometimes. In part 3 I leaned toward siding with Magneto more than Xavier on the mutant cure issue, especially when it turned out Xavier was willing to use the cure weaponized in darts. It didn't seem like you were supposed to feel that way, but still, the possibility of interpreting it that way was appealing to me. And then McAvoy's young Xavier in FIRST CLASS took it even further. He's kind of a dick, and it bothered me that he would be so judgmental of Magneto for going after fucking Nazis that tortured his parents.
So it's cool that in this one they take it all the way and have Magneto be a full-on good guy for the whole movie, and have it be explicit that Xavier has fucked up with the way he handled Jean since the beginning. He even admits it. I loved Magneto deciding it's time to fight and getting his helmet out. He had it boxed up in the attic or some shit. It's like John Wick digging up his guns. And then when Jean starts bending it into his head! There are some exciting moments in this.
Storm was also just a drone in the last one, and here she's a supporting character, but gets to shoot a bunch of lightning and shit. This version of Nightcrawler is great, a gawky blue monster with a wiggly devil tail. Always a delight. Beast (Nicholas "Witness Me" Hoult, CLASH OF THE TITANS) is a more significant character, apparently in love with Mystique (I forgot about that if it was mentioned before) and he and Xavier have a really good argument scene. Well before the MCU did it, the X-MEN movies were playing with this deep bench of characters. Including villains.
Which is a problem here, come to think of it. With Magneto and company being nice, that leaves a hole on the antagonist side. There are some creepy aliens that come out of the shadows in the woods and take over some human bodies, starting out with some poor lady played by Jessica Chastain (MAMA), who is good as a creepy human impostor leading the charge to capture Jean's Phoenix powers. But it doesn't really go anywhere – they're just attack drones, they don't have personality or interesting philosophical differences like we're accustomed to in an X-Men picture.
As Jean loses control the movie slips away from her perspective and it becomes more transparent that this simplifies the comics story in kinda the same way X3 did but without the other in my opinion more interesting story about the mutant "cure," or a character as emotionally compelling as Wolverine in the middle of it. Also, Turner is fine, but we had more time to get to know Famke Janssen in the role so I was much more invested in what she was going through, whether or not it was a more accurate adaptation. Not having read the comics story I'm left wondering if whatever it is that makes it such a touchstone for people is the stuff that they couldn't figure out how to get into the movie, or whether this "I'm getting so powerful that it's turning me evil" thing has just been so imitated over the years that it doesn't feel fresh anymore.
DARK PHOENIX takes place primarily in 1992, but has no interest in the period references that FIRST CLASS, DAYS OF FUTURE PAST and APOCALYPSE had a little fun with (like when Nightcrawler was wearing a Thriller jacket). That's too bad, because "Nothin But a G Thang" over the opening credits would've been cool. Also, Quicksilver could've graduated to a Discman. And worn Hammer pants.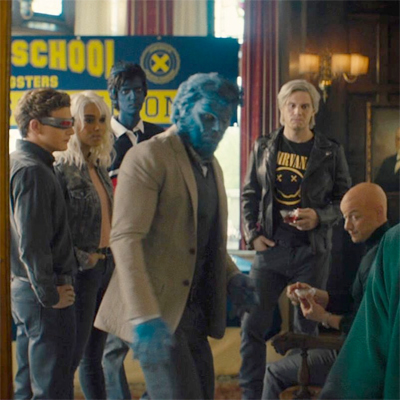 Note: Apparently the tiny X-Men cameo in DEADPOOL 2 takes place in the '90s, giving Quicksilver a Nirvana t-shirt and Storm an acid washed jean jacket. I can't imagine they would've shot that separately, so either I missed it in DARK PHOENIX or it got cut. There were apparently many reshoots to avoid similarities with CAPTAIN MARVEL, but I doubt that had to do with period fashion and pop culture references!
Speaking of music, they somehow got Hans Zimmer (BROKEN ARROW) to do the score for this one, a major reason this feels different from the rest of the series. His eerie, driving synths definitely create a strong mood, but it kind of bothered me that they didn't at least one time bust out Michael Kamen's X-MEN theme. That would've got my heart pumping after Professor X said "Help is on the way!" during the space rescue, or toward the end when the movie really picks up again in a scene where all the mutants are freed from captivity on a train and fight the aliens together.
That would've been extra cool because it would've sort of been like declaring Magneto an official X-Man. I suppose as it is without the theme we can interpret this either as Magneto becoming an X-Man or the X-Men joining Magneto. I loved the moment when Magneto told Beast to go help Storm. We've seen them have uneasy alliances all throughout the series, but here we see them as a team. It feels completely natural.
I wish more of the movie had highs like that. There's kind of a sweet epilogue, and it's interesting how they work in a double meaning about the change of management, spinning the repossession of their series by the MCU as "a new beginning." History tells us that Marvel will come up with a cool and unexpected way to reintroduce these characters, and morals tell us that we shouldn't hold the original filmmakers in too high of regard, since two of the directors are alleged rapists. (I better be specific: Singer and Ratner. Not the other ones!) Nevertheless, I'm thankful for this series. Of course it paved the way for the modern Marvel movies, both by making it feasible to even turn Marvel characters into movies and by evolving the cinematic portrayal of this kind of material. And it has two fairly miraculous spin-offs in LOGAN and DEADPOOL.
But more than that I think it stands alone for having asked the most interesting questions in an ongoing super hero series. When Nolan's Batmans and the Russos' Captain Americas reference contemporary politics and issues, it often seems more like attempts at realism or at seeming profound than at actually prompting you to think about it. But most of the X-MEN movies ask you to take a position. The first one is so serious about its themes that it has the balls to open during the Holocaust, and somehow it works! Throughout the series the mutant experience evokes the civil rights movement, internment camps, racial profiling (particularly in a post 9-11/Patriot Act sense), coming out to parents, gay conversion therapy, bigoted legislation. This is the world that the mutants are facing, this is what some of them choose to do about it, this is why they disagree, or where they can work together. What would you do?
DARK PHOENIX isn't the strongest portrayal of that world or those characters, but it's enough to remind me why I'll miss it.
SPOILER QUESTION: Why is the school named after mass-murderer Jean instead of martyr Mystique? Was it to punish Mystique for wasting that "X-Women" line by using it right after a mission where Nightcrawler and Quicksilver did the most work?
P.S. My contemporaneous reviews of (almost) all the X-MEN pictures:
X-MEN (2000)
X2: X-MEN UNITED (2003)
X-MEN: THE LAST STAND (2006)
X-MEN ORIGINS: WOLVERINE (2009)
X-MEN: FIRST CLASS (2011)
THE WOLVERINE (2013)
X-MEN: DAYS OF FUTURE PAST (2014)
DEADPOOL (2016)
X-MEN: APOCALYPSE (2016)
LOGAN (2017)
xXx: RETURN OF XANDER CAGE (2017)
DEADPOOL 2 (2018) (I must've been busy and never finished a review of this. Though it lacked the freshness of the first one I remember enjoying the kid from HUNT FOR THE WILDERPEOPLE, Zazie Beats, the action scenes, and Brolin seeming to come from a different, more serious movie.)
also I revisited THE ORIGINAL X-MEN TRILOGY a couple years ago and really enjoyed how they play now that they're retro
P.P.S. There were so many announced X-MEN movies that never got made: David O. Russell's EMMA FROST, David S. Goyer's X-MEN ORIGINS: MAGNETO, GAMBIT starring Channing Tatum. I wish they had seen Disney coming and went crazy and greenlit all that shit before it was too late.
P.P.P.S. Hey, what happened to Psylocke?
This entry was posted on Tuesday, June 11th, 2019 at 10:10 am and is filed under
Comic strips/Super heroes
,
Reviews
. You can follow any responses to this entry through the
RSS 2.0
feed. You can skip to the end and leave a response. Pinging is currently not allowed.