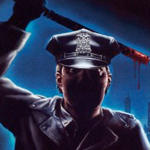 MANIAC COP is like an '80s b-movie dream team. William Lustig (MANIAC) directs, Larry Cohen (IT'S ALIVE!) writes, James Glickenhaus (THE EXECUTIONER, THE PROTECTOR) executive produces. And check out this cast: Tom Atkins (NIGHT OF THE CREEPS) is Frank McCrae, a tough NYC lieutenant investigating a murder spree by a mysterious dude in a police uniform. Bruce Campbell, one year after EVIL DEAD 2, is Jack Forrest, a cop who is implicated in the murders and goes on the run to find out who really did it. Hundra herself, Laurene Landon, plays his crimp-haired mistress Theresa Mallory, a fellow cop who helps him in his quest. Richard Roundtree (SHAFT) and William Smith (HELL COMES TO FROGTOWN) are the hardass commissioner and captain. Sam Raimi has a cameo. And also Jake LaMotta, for some reason. And Robert Z'Dar (TANGO & CASH) plays the maniac cop. He's mostly in silhouette, so his superhumanly giant chin is not as much of a distraction as in some movies.
(Wait a minute… how did Bruce Campbell title his autobiography "If Chins Could Talk Kill" when he co-starred with Z'Dar? He knows his chin ain't shit.)
Jack gets involved because his wife (Victoria Catlin, GHOULIES, Twin Peaks) notices him sneaking around and suspects him of being the maniac cop. But of course he's really going to see Theresa. Whoops. Since his wife gets killed by the maniac and left in his hotel room, now it looks like he's the guy.
But he's not the guy. We slowly find out the backstory of the actual maniac, Matt Cordell. From the sounds of it he could've been the hero in a regular action movie. He's a supercop who "was a death sentence" for anyone they sent him after. But he knew too much about the mayor and the commissioner and all those guys taking pay offs, so they set him up. He ended up in Sing Sing, where many of the cons had been busted by him, so they had a field day on him. The first time we see Z'Dar's face clearly is in a dreamily shot flashback where he's attacked in the shower. In a precursor to the bath house fight in A HISTORY OF VIOLENCE EASTERN PROMISES, he manages to hurt all of them pretty bad before he's stabbed and slashed to death.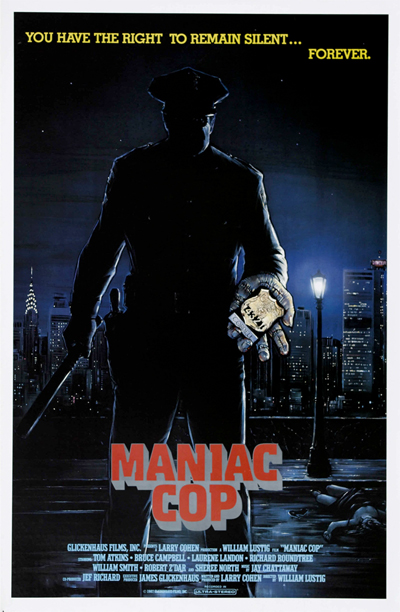 But now it turns out he's free and alive? Not necessarily on that second one there. If he's dead, undead or indead that would explain why when he takes off his white gloves he has veiny zombie type hands, and why he seems to be able to take as many bullets as you toss his way. Chest or head. But it doesn't seem like he's getting revenge from beyond the grave, exactly, 'cause he seems to be killing anybody he comes across, he's not specifically going after the corrupt fat cats who set him up or even the street criminals he hated. I don't know what kind of case we can build against him because there's no motive.
Whatever his deal is he's so huge he fights like Jason. He effortlessly picks people up and tosses them. Also he's good at just showing up places and standing in the shadows looking terrifying. But also he shoots guns, that's something your average slasher does not do. And he goes up behind an innocent guy on the street, handcuffs him, chases him around and then smothers him in wet concrete so they gotta jackhammer him out the next morning. He's a maniac, all right.
Campbell is playing a completely straight leading man role here, which, remember, he could do back then. The only hint I noticed of his physical comedy from EVIL DEAD 2 is the look on his face when he gets hurled across a warehouse.
It's kind of an action movie and kind of a slasher movie. It has a taste of each. The off screen body count is probly bigger than on screen because of the part where Jack and Theresa are getting interrogated and then they come out and every person in the damn police station has become a corpse hanging from the ceiling. Of course Jack gets blamed for this too, which starts to strain credibility in my opinion. I mean, look at the guy. He's not Rambo.
Probly my favorite horror setup is when Theresa is in the custody of a sexually harassing asshole cop who suddenly gets killed mid-mouthing off: "Y'know I'll tell ya somethin else–" <STAB!> No, you definitely won't tell her anything else. So she gets chased by Cordell while dragging a dead guy she's cuffed to. Once she gets the cuffs off she climbs out the window and I think it's really Landon climbing along the ledge of a building. The urban equivalent of the HALLOWEEN thing where the slasher chases the Final Girl out onto the roof of a suburban house.
It's one of those movies that they could make back then, where they shoot some crazy stunts on the real streets of New York. There's a great fall out a window onto a car, a paddy wagon jumping off a dock and flipping in slow motion as a guy jumps out the side, stuff like that. Stunt coordinator Spiro Razotos would go on to not only do all the MANIAC COP movies, but also the even more impressive trilogy of FAST FIVE-FURIOUS SEVEN.
Also it's cool that they made a major event happen during the New York City St. Patrick's Day Parade and got footage of the actors during the actual parade. Cohen also did that in his own movie GOD TOLD ME TO, in the scene with Andy Kaufman.
The script is not as much of the clever high concept as some of Cohen's stuff, and it doesn't really try to explore the gimmickry of "police themed slasher" as much as you might think seeing the poster with the A+ tagline "YOU HAVE THE RIGHT TO REMAIN SILENT… FOREVER." But it definitely shows his knack for odd characters. For example, how many movies have the hero be an adulterer and don't judge him for it? The poor wife just found out, then gets murdered, and he's running around with his mistress and somehow it's okay for us to like both of them. I noticed, though, that he still wears his wedding ring.
To me the most interesting character in the movie is (spoilery) Sheree North as Sally Noland, a beloved "fixture at headquarters" and "den mother to us all" who walks with a cane and secretly aids Cordell in his rampage. She has this naive notion that he's gonna be a righteous crusader cleaning up the city, but also she's a really desperate person, she attaches herself to him to feel important, and to feel protected. She clearly doesn't feel equal in the relationship, and when she knows she's not needed anymore she flips out. She's really good.
The primary source of fear in this movie is the idea that a policeman, the very person you expect to protect you, is in fact going to harm you. The idea is illustrated in the opening, when a woman being chased by two muggers runs into Cordell and starts thanking God, believing she is now safe. But he grabs her by the throat, lifts her off the ground and then snaps her neck.
As recent events in the United States remind us, that's more of a white perspective. Plenty of white people hate cops, but we generally have less reason to fear them. We have less experience being profiled or randomly harassed or roughed up by them. Cohen is smart enough to draw on this disparity in a news report about the killings. One of the few black characters in the movie is a man-on-street interviewee who says "I've seen plenty of my friends murdered by cops. Shot in the back, shot when they didn't have a gun or a knife, claimin the suspect had a shiny object. You know cops like killin. That's why they cops. Yeah. Who's gonna be next, huh?"
For that guy the Maniac Cop seems like business as usual, but for everybody else in the movie having to fear cops is a new phenomenon. One woman, seeing a cop come up and knock on her window, freaks out and shoots him. I wonder when something like that will happen in a Stand Your Ground state?
But if this is a commentary on anything I think it's more the tropes of cop movies than anything in the real world. It sort of shows how a Dirty Harry type could be a problem if he got zombified and became less selective about who to slather with his justice.
As far as Lustig's movies go I don't find this as satisfying as MANIAC or VIGILANTE, but it's an enjoyable movie, a unique mix of elements that never goes quite where you think it will.