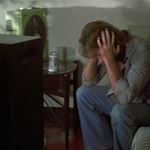 I don't know about you guys, but I'm still not a member of the Chuck Norris Fan Club. (Unless somebody got me a membership as a prank, but as far as I know that's not true.) But I decided to watch his first movie with Cannon (a relationship that also produced a prequel, a sequel, a DELTA FORCE, a second DELTA FORCE, a job for his son on a third DELTA FORCE, and by far his most entertaining starring vehicle I've seen, INVASION U.S.A.). This one also has a political message based on a right wing pet cause, but it can't quite match the outlandish cartoonishness of INVASION, and it's much more emotionally manipulative. But I kinda enjoyed it.
The great music by Jay Chattaway (MANIAC, Star Trek: The Next Generation) gets your American flag erect during the Vietnam War opening where Braddock and his men patriotically terrorize some guerrillas until he decides to dive onto an enemy (and the camera) holding two grenades, only to wake up from a dream in the present.
This first post-prologue scene is, in my opinion, the second best scene in the movie. Braddock wakes up in his hot, dark apartment, clothes on (shirt unbuttoned), and sits holding his head as the news on the TV reports about an American delegation going to Ho Chi Minh City for talks about whether or not any of 2,500 M.I.A.s are still being held captive. He picks up a beer can from the floor and moves it. He slowly stands up and changes the channel to a Spider-man cartoon. He walks over to the kitchen. Gets a beer. Opens it. Drinks it. Gets it on his mustache. Walks over to the window. Curtains mostly closed, blinds down, he looks out across the street. On the TV, the villainous Shocker warns Spidey, "The next reunion will be your last!" Braddock flashes back to some enemies he'd like to have a reunion with, who captured and/or executed some of his buddies back in 'Nam.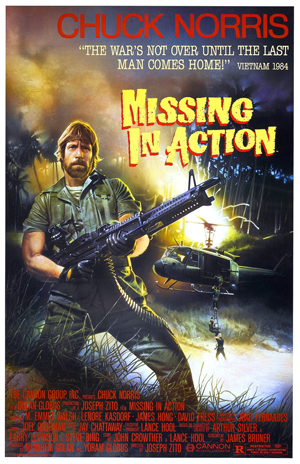 When the flashback ends he walks over to the TV and stands there and watches the cartoon. Shocker is breaking out of a prison. Spidey is fighting a helicopter, then he swings in front of the American flag. Braddock is watching a Spider-man cartoon and it's reminding him of 'Nam! But he's probly relating less to Spidey than to Shocker, who says "Spider-Man put me in that hole and now I'm gonna get even!"
He switches the channel and now the news is talking about him, how he masterminded an escape from a POW camp and is now "one of the most outspoken proponents of the theory that American prisoners are still being held in Vietnam today," but he can't prove it and he's not part of the talks. Braddock sits on the bed, bows his head, closes his eyes and rubs his temples and then suddenly POW! STANDS UP AND KARATE KICKS THE TV AND IT FUCKING EXPLODES! SMASH CUT to him holding the phone.
"This is Braddock. I'll go."
The politics and machismo are of course very Chuck Norris and very Cannon, but the quietness and careful pace of the scene are very classy by their standards. I love the weird use of a cartoon on the TV to imply what he's thinking about. That it's Spider-man is either an in-joke or a coincidence because this is the year before Cannon optioned the film rights to the character for Tobe Hooper to direct. But this scene is also an (unintentional, I'm guessing?) admission of what we're about to participate in here. Norris, whose younger brother died in the war, will attempt to transform the complexities of our nation's lingering trauma, shame and lack of resolution into a problem that can be solved with the mentality of a crude Saturday morning super hero cartoon.
At the hearing, the sleazy and blatantly corrupt General Trau (James Hong, NINJA III and more than 400 other IMDb credits) denies that there are any remaining POWs, and accuses Braddock of being such a notorious war criminal that there was a bounty on his head, trotting out a bunch of terrified witnesses. Braddock is such a total dick– I mean, is so fucking awesome — that he won't even take off his sunglasses. At least not until he walks up and gets in the faces of the witnesses. He's not supposed to be intimidating them because he's guilty, but because they're lying about him. It works, and one apologizes to him. Obviously they were threatened into faking their testimony. Braddock tells the man it's okay, he understands.
The funny thing about the scene, though, is that this is supposed to be SUCH AN OUTRAGEOUS LIE that he committed war crimes. But the opening scene had his buddies flying around in a helicopter with human skulls decorating the pontoons!
Braddock tells the general that the bounty was "for killing assholes like you," and struts out of the barely-just-started hearing. Geez, you're welcome for flying you in with our tax dollars, Prince Charming.
Coincidentally this guy's main security goon Vinh (Ernie Ortega, RAMBUTO, NO BLOOD NO SURRENDER, ENTENG THE DRAGON) is the guy who ran the POW camp. Braddock walks up to him at the bar and says calmly, "I see you've come up in the world." Okay, that's pretty cool.
Like many Norris characters, Braddock represents masculinity turned up to 11. He has enough hair on his chest for five men, and thinks it's a good idea to show this to everybody whenever possible. When the senator invites him over for a nightcap he walks into her room with a bottle of champagne and immediately starts taking his clothes off. He's actually changing into his black sneaking-around-after-I-climb-out-the-window outfit, but he wants to make her feel sexually harassed first. When he finishes his clandestine mission and returns through the window the guards are about to storm in so he does a version of the old "grab the lady and pretend you're kissing" fakeout where he rips her dress open and gets in bed with her like they've been fucking.
In the next scene she willingly kisses him.
He's a funny character. Walking around in Bangkok a pimp tries to offer him his services and Braddock first ignores him, and when the guy asks again he quickly turns his head toward him and leans in his direction until he runs away. (Just say 'no thank you,' dude.)
He finds his old army buddy Tuck (M. Emmett Walsh) at Madame Pearl's Whorehouse. Tuck is the prototypical Hawaiian-shirt-wearing-ex-military-guy-turned-shady-American-living-in-Asia old friend character (see also Max Thayer in NO RETREAT, NO SURRENDER 2). He has a pretty great introduction: Braddock walks into the lounge, where an interesting amateur rendition of Rod Stewart's "Da Ya Think I'm Sexy?" is being performed, and tells Madame Pearl "I'm looking for Jack Tucker."
"He'll be here in a moment," she says, and sure enough he's thrown over a balcony onto the table because he owes some money. I think they were intentionally thinking Han Solo here, because Braddock hires him for his boat and when he sees it he says it's a piece of crap and then Tuck defends its speed.
The best scene in the movie is another long quiet one with Braddock alone in a room during the day doing mundane things. It starts with an unbroken one minute and six second shot that starts on the wardrobe as he enters his hotel room. He walks across the room, puts his coat on the table, unbuttons his shirt, takes it off, folds it over, puts it on the table, takes another shirt out of his bag, puts it on, buttons it up, looks out the window, tucks in the shirt as he walks over to the wardrobe, stands there and rolls up one sleeve, then the other, opens the wardrobe, AND THERE IS A GUY INSIDE WITH HIS KNIFE RAISED TO STAB HIM. As they struggle that original shot continues another 15 seconds before finally cutting.
Braddock ends up kicking the attacker several times against the wardrobe and then through the window onto a cart on the street in a pretty great stunt. When he walks over to the window to see the damage he also notices Vinh watching him from a building across the street. And then another guy walks up to the window aiming a bazooka. OH SHIT, Braddock runs and flies through the door into the smoking hallway as his whole room blows up.
On the streets there's panic and terror and people crying everywhere. I think the idea of this scene is that yes, innocent civilians were killed in Vietnam, but Braddock and the stars and stripes totally didn't do it, it was the Viet Cong. But he doesn't help anybody or even ask if they're okay, he just stands and watches wailing parents carry away their injured children as he very slightly shakes his head to signal his disapproval of this carnage.
Luckily they lighten the mood with a genuinely funny comic relief line. He goes to find Tuck, opens the door and finds him in bed with a naked woman on each arm. "Braddock!" Tuck says, happy to see him. "Hey, hop in!"
But Braddock thinks he's found the prisoners and is ready to launch the rescue mission. Tucker doesn't want to go, he just stays on the raft. Day becomes night and then day again and yet he doesn't seem bothered by how long he has to wait there. I hope he brought some protein bars or something. This is a nice storytelling convenience also used in AMERICAN NINJA 3 when Steve James just waits at the truck for like a day and a half while David Bradley breaks into a place.
Anyway, Braddock goes in by himself, shoots many, many bullets, causes several large fiery explosions, rescues Vietnamese prisoners from the cages he thought the Americans were in, then goes to where the Americans are and rescues them. Tucker, being Han Solo (from STAR WARS), is so moved by the sight of them that during the boat escape he says "I'll see you in Hell!" and voluntarily swims over to a gunship to give them cover as they climb onto a helicopter ladder.
Braddock has the chopper fly right to Saigon, where the hearings are still taking place, and land in front. This would be a total dick move even if it wasn't deliberately terrorizing a foreign civilian population. There's a shot of dozens of civilians screaming and fleeing as it comes down and the air from its rotors blows papers everywhere and knocks down a bicycle.  Braddock and the boys jump out with their army greens and storm in like they're invading the country. Inside, just as the panel concludes that "we categorically deny that there are any living MIAs in the People's Republic of Vietnam" Braddock fights through the guards at the door and carries in a limping MIA soldier, shocking the world. And it freeze frames on Braddock's proud smile.
It's an effectively badass ending that also betrays how full of shit the movie is. What does it say about the priorities of these filmmakers that their idea of the climax is not rescuing the prisoners who have been suffering for more than a decade, but making some asshole bureaucrat look like a dick in public? It's a stick-it-to-the-man but based on the made up premise that there are these secret prisoners and then that there's this asshole who says there aren't these secret prisoners. Take that, made up asshole! USA! USA!
I always assumed MISSING IN ACTION was a quickie rip-off of RAMBO: FIRST BLOOD PART II, but until reading up on it now I never realized how quick. Allegedly Cannon read James Cameron's RAMBO story treatment and rushed this into production so fast they had it and part II out shortly before RAMBO. According to the documentary ELECTRIC BOOGALOO (which I finally saw and enjoyed), Cannon decided to release the first movie second, as a prequel, because they thought it was bad and would stop people from watching the other one.
NOTE: Wikipedia says the thing about them reading the Cameron treatment, but it cites as its source two reviews that don't cite their sources. I'm a little suspicious. It also could've been inspired by UNCOMMON VALOR, which was already about the conspiracy theory that there were still P.O.W.s left in Vietnam and the government refused to acknowledge it so a military man took it upon himself to go get his boys back. But Gene Hackman's character had to recruit an elite team, get satellite photos, build a duplicate of the place, make a detailed plan and train the team for the mission. In Chuck's version, obviously, he goes in by himself and wings it. On a whim after watching a Spider-man cartoon. At one point when Tucker is questioning their escape plans Braddock says, "We'll figure something out." Not that comforting.
The script is credited to James Bruner ( INVASION U.S.A., DELTA FORCE 1 and 2), story by John Crowther (KILL AND KILL AGAIN) & Lance Hool (director of part 2 and STEEL DAWN). Arthur Silver (Happy Days) & Larry Levinson (Laverne & Shirley) & Steve Bing (KANGAROO JACK) get a "characters by" credit since they wrote part 2 and it was actually first. Director Joseph Zito had come out of horror movies (including THE PROWLER and FRIDAY THE 13TH: THE FINAL CHAPTER) and followed this with the also-anti-commie INVASION U.S.A. and the also-M.-Emmet-Walsh-having RED SCORPION.
Braddock is pretty much the same as Norris's character in INVASION U.S.A.: implacable, infallible, sure of the correctness of his views, silently angry, cartoonishly manly. This makes him very different from Rambo, who despite being a similarly stoic one man army is very emotionally vulnerable and introspective. I haven't watched MISSING IN ACTION parts 2 or 3 yet, but so far it seems like Braddock would never open up and cry to his colonel, or live in a Buddhist temple trying to get away from violence. This makes him kind of a funnier character than Rambo, but he has less depth, which is dicey when working with this politically loaded material.
I'll admit, Chuck Norris's politics rub me the wrong way more than other action stars. By all accounts he is an extremely nice person who has done many good things for people, but his activism makes him seem like a huge asshole. How can you make your living from violent action movies, then stump for Mike Huckabee, a judgmental prude with a stick so far up his ass he publicly scolded the Obamas for allowing their daughters to listen to Beyonce? And how can you come to fame and fortune through the Japanese artform of karate, and get training and a career in movies from Bruce Lee, an immigrant, then have a bunch of anti-immigrant paranoia on your websight? He's since changed his rhetoric on that, fortunately, but I can't forget it. His body of work is not good enough, and his self expression is not nuanced enough, for me to be as forgiving of him saying stupid shit as I am with actual great artists like Clint or Sly.
So I'm surprised how much I enjoyed this one. The combination of its over-the-top machismo, the sincerity of its asinine world view and a few grace notes from Zito make for one of the better Norris movies, for whatever that's worth.