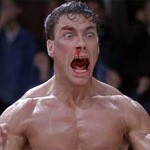 KICKBOXER is a much better version of BLOODSPORT. It's another late '80s/Cannon Films/Jean-Claude Van Damme/Belgian-American competing in dangerous Asian fighting competition movie. This one starts with Van Damme as Kurt Sloan, goofy kid brother sidekick to United States Kickboxing Champion of the World Eric "The Eliminator" Sloan, whose hair and mustache might have influenced Danny McBride's look in THE FOOT FIST WAY, I'm guessing.
The Eliminator is the best… in the United States. But he's arrogant and ignorant. When asked by a reporter about kickboxing's origins in Thailand he asks Kurt to book him a flight to Taiwan (Kurt has to correct him and bring him to Bangkok). The Eliminator thinks taking on the Thai champion will be a piece of cake, or a bowl of sticky rice or whatever. But Kurt knows it's trouble as soon as he sees the opponent, Tong Po. This guy is a crazy-eyed maniac with a braided ponytail down to his ass who practices by kicking a column in his dressing room, cracking it.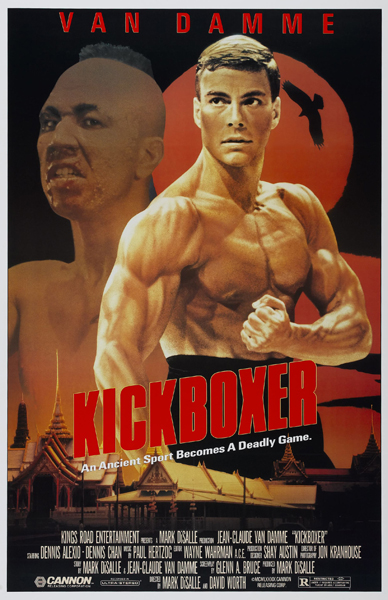 Kurt looks around and sees that this is totally different here. They fight different, using elbows and knees. But the Eliminator doesn't think he even has to pay attention to where he is, because he's THE BEST! That's why this movie won me over quick, it has this subtext about this guy being sort of a tourist in the world of kickboxing, not respecting or understanding or even taking a quick glance at where it comes form. And just going into a foreign country this arrogant asshole not bothering to understand the culture, assuming he's the best and not even doing any fuckin homework. I mean somebody clearly should've made Rumsfeld watch KICKBOXER in around 2001, could've saved us alot of trouble.
Kurt is the wiser one, he pays attention, but big brother won't listen so he gets his ass whooped and can't walk after an elbow to the spine. The crew at the arena don't exactly give him VIP treatment. They carry him out on a stretcher, set him down in the street and lock the gate.
Luckily Tong Po also kicked Kurt out of the ring and literally into the lap of an American ex-special forces dude named Winston Taylor (Haskell V. Anderson III) who he guilts into giving him a ride to the hospital and being his Steve James for the rest of the movie.
But Kurt is pretty pissed off so he decides he has to find a crazy dude to train him in muay thai, become a successful fighter, get a match with Tong Po and then like kick him in the balls or at least call him a weiner or something. His teacher is Xian Chow (Dennis Chan), who comes up with some excellent training sequences. Kurt practices kicking underwater, breaks his leg kicking a tree to death, runs from a dog with meat strapped to his thigh, and gets a coconut dropped on his belly from a real high tree to test his abdominal fortitude.
But the best test by far is when Tzian takes him to a bar, gets him really drunk and tells him to dance to the jukebox with some ladies. This leads to a bunch of locals attacking him, so he drunkenly fends them off. This is a somewhat legendary scene I think because it's been sent to me more than once as incentive to watch these early Van Dammes. The fight is good but I think they chose the clip for Van Damme's enthusiastic dancing.
Apparently Xian is telling those guys that Kurt insulted them, but I think it would make sense that they wanted to beat him up just for dancing like that.
Tong Po is the Chong Li of the movie, or the Ivan Drago. There's also a crime boss behind him named Freddy Li (Steve Lee) and he has a nice Just How Evil Is He? moment when he's sitting in the crowd during the final fight and a little blood squirts on him, so he tastes it and smiles perversely. They don't show if he has a boner or not but I'm guessing yes, for sure, definitely.
Tong Po is a great villain too. He doesn't really have a fleshed out personality or anything but he just looks like such a monster that he seems like a formidable opponent. Being so one-dimensional fits completely with the theme, these guys got no idea who this is, he might as well be an alien. I wondered who this was and to my surprise the credits credit Tong Po as being played by "Himself." What!? Tong Po is a real guy? Some famous martial artist and he doesn't mind being portrayed in the movie like that?
Well, as tempting as it might be to believe that dude is out there somewhere, there's nobody named Tong Po. He's actually played by Michel Qissi, a martial artist who grew up with Van Damme. He was his personal trainer for BLOODSPORT and for this one they made him up to look Asian and called him Tong Po. His probaly not as evil as you would think, and apparently he's standing next to Van Damme in that notorious clip from BREAKIN' where they were both extras.
Still I'd be careful, some day he could get a bump on the head and start thinking he's Tong Po, and it could be trouble.
Anyway, the fight with Tong Po is good, and has the memorable gimmick of their fists being wrapped in hemp, dipped in resin and then covered in broken glass. (Somehow this doesn't cause as much damage as it sounds like it would.) But the filmatists are smart enough to know that a fight in a circle of torches is a little drab as far as action movie climaxes go, so they intercut it with another scene where the supporting cast has to kick ass – Xian and Taylor rescue Eric from kidnappers. And Eric gets to do a few Eliminator moves with his arms even though he's in a wheelchair. Also Xian's dog gets stabbed, that's pretty fucked up. It's also a missed opportunity because in the beginning it's mentioned that Kurt might want to become a veterinarian. There could've been a scene where he practices veterinary medicine on the dog, but nope.
Despite that major oversight I recommend KICKBOXER to all viewers who think they might enjoy a movie called KICKBOXER.
This entry was posted on Monday, December 1st, 2008 at 4:26 am and is filed under
Martial Arts
,
Reviews
. You can follow any responses to this entry through the
RSS 2.0
feed. You can skip to the end and leave a response. Pinging is currently not allowed.