This might end up lost to history, but I feel that the internet's lead-up to the release of the TRON sequel could be characterized as a "nerd frenzy." Breathless reports described every onscreen visual and audience sound during the comics convention's high profile promotional screenings of test films and trailers. Websights covered every angle of every advertising gimmick, poster or still. They wrote about promotional "Flynn's Arcade" tokens like they were frozen Jesus tears.
Then the movie came out and you didn't hear about the excitement anymore. I don't know if it was a PHANTOM MENACE (they didn't like it as much as they hoped) or a KICK-ASS (every single person who would like that type of movie was inside that convention). And it probly didn't help that the original TRON didn't exactly set the world on fire either. Until the sequel got announced I honestly didn't realize there were people who were passionate about it.

But there were. These guys had real personal connections to the original TRON. I don't know what it is but maybe they were budding computer scientists in 1982 and for them at the time it was exciting to imagine a thrilling adventure going on inside that brown plastic box, since there sure as shit wasn't much going on on the monitor. Now all these years later they're nostalgic for that feeling that it gave them back then so they've turned that into an idea that TRON is an exciting movie to watch.
That's my guess. What I know for sure is that I don't have that connection myself. If I ever saw TRON in the '80s I don't remember it. Last time was a few years back when it was on DVD but before it went out of print. At that time I was surprised to find that
1. the computer animation, although ridiculously out of date, was more advanced than I expected for a movie from 1982
and
2. this movie is about tiny dudes in leotards riding motorcycles inside a computer!?
But that low opinion of TRON helped me to enjoy TRON LEGACY, a ludicrous sequel that (for me anyway) tronscends its stupidity almost entirely on the power of picture and noise. Since I didn't remember many specifics about TRON I didn't really understand all the mythtronlogy, so now that the movies have been tronsferred to the blu-ray disc I decided to have a TRONs double feature, or a Tronthon, if you will.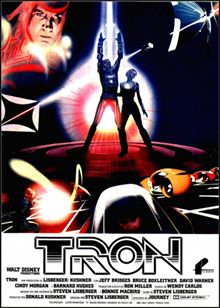 TRON is the story of an early '80s computer corporation called Encom. Bruce Boxleitner and his girlfriend (not sure what the actress's name is, must not be important since they didn't put her in the sequel) are nerd computer programmers, David Warner is the mean CEO who locks them out of the main computer because a talking HAL-like self aware computer named Master Control told him to. This upsets Bruce so his girl takes him to see Kevin Flynn (Jeff Bridges), her ex-boyfriend who quit Encom and knows a thing or two about hacking into their system. But mostly he's just awesome at playing video games.
Flynn is introduced in Flynn's Arcade, where a crowd of kids cheer him on as he plays a game. He's supposed to be real fuckin cool. He has headphones around his neck, which in my opinion suggests that he likes to rock out sometimes. He's got a couple girls hanging off him. His tight t-shirt is drenched in sweat. Like in KING OF KONG there's some nerd frantically repeating that he's about to beat the record. But one thing that seems kind of unfair: it's his own fucking video game, he designed it. So it would be sad if he wasn't very good at it.
He brings the Encom folks into his little apartment above the arcade (which is decorated with a collection of African masks, representing the dual identities of the humans and their tron characters inside the tronverse of the computer, or something) and they come up with a plan to go into the building and hack into Master Control because David Warner took credit for Flynn's famous video game Space Paranoids and he wants to get in there to prove it. So after a half hour of this shit he gets sucked into the computer and you get to see the weird lasery Tron shit you remember.
TRONvia: DID YOU KNOW… the American Ninja himself, "Michael J. Dudikoff II," plays the character of "Conscript #2"?

I personally don't find this movie very entertaining, but as a piece of visual art it's truly great. It really looks like an experimental film – their faces look xeroxed, they're wearing these crazy suits that are rotoscoped or something to light up, they're standing in front of abstract computerized backdrops that make SIN CITY look realistic and three-dimensional. Sometimes they have light-up props with thick-lined drawings all over them like sets from a weird play, or they interact with crude early computer animation. It was absolutely cutting edge at the time but still kind of reminds me of the guys who did FORBIDDEN ZONE doing a crazy black light experiment or something.
The blu-ray maintains the original film grain, but the computery stuff looks really clean, bright and vivid. There are some 2001-esque trippy visuals that are absolutely stunning, and the straight CGI stuff like the "lightcycles" pop off the screen. But seeing this again I definitely believe that rumor about why Disney delayed the release of this blu-ray until after the sequel. The story is that some Disney suits witnessed an audience laughing inappropriately during a Downtown Disney screening of TRON. That seems very plausible to me – in fact, watching it again it seemed even goofier than I remembered.
Everything that I think is cool about this movie would be unlikely to be appreciated by the youths they were trying (mostly failing) to sell the sequel to. Its value is pretty much gonna have to be nostalgia or camp, because this is not a movie with alot of punch or momentum. Some people might claim it's just a product of its time, but I can't buy that 'cause there are too many movies of 1982 that hold up as exciting today (RAIDERS OF THE LOST ARK, CONAN THE BARBARIAN, E.T., THE THING, POLTERGEIST, FIRST BLOOD, WHITE DOG, FRIDAY THE 13TH 3D…)
Those are movies where shit happens. This is a movie where shit looks cool. By my count it's  second best admirable-for-its-amazing-visual-experience-but-boring-as-hell movie of '82 behind THE DARK CRYSTAL. (Third if you count BLADE RUNNER, but I think that's a grade above these so I'm not gonna light that powderkeg.) After the light cycle crash there's not alot in the way of thrills, let alone memorable dialogue or charismatic characters. In fact, I didn't realize how much the structure of the sequel was based on the original: half hour of real world stuff, disc fight, light cycles, 45 minutes of talk and aimless doddering, riding on a vehicle thing, the end.
Just like a kid today wouldn't know what to do with a cassette tape I doubt their brain knows what to do with this silly shit. To me the stark simplicity of the computer animation is appealing, and the bold way they designed the sets and costumes to mimic computer graphics of the era, drawing shapes and glowing outlines on everything.
I love the way alot of this looks, but I found myself laughing at it too. It's about some goofballs in leotards and bike helmets with designs painted on them, holding frisbees. They get roughed up by some fascist trooper guys whose bulky "armor" is obviously stuffed padding. They're basically covered in pillows. They're huggable.
And it's important to note that the climax is a battle with Master Control, who in my opinion is not necessarily one of the most terrifying villains in the history of motion pictures:

Alot of the coolest stuff in the movie is also the goofiest stuff. I mean, what is up with this weird Tron Jabba the Hutt dude? I think this guy is great, but I laugh every time he's on screen: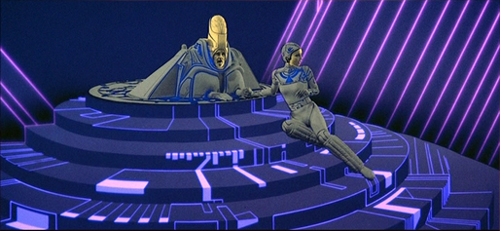 Unfortunately for every shot that's an elegantly composed graphic design like that there's another 15 shots that are just these light-up goofballs standing around looking like this: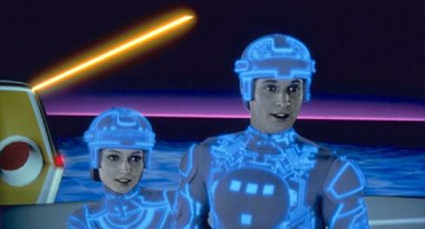 And because they're computer programs, not people, they gotta act strange. So for example one of the programs is complaining about Master Control or somebody being a dick, and he says "Who does he calculate he is?"
Another thing I dig that does the movie no favors with modern audiences is the weirdo electronic music by Wendy Carlos:
I like shit like that, but you gotta admit it adds an extra layer of goofy to the neon pajamas. Also they got a Journey song on there. That's weirdly appropriate for those of us that were alive then, because we remember that stupid Journey video game where if you get to the end allegedly it plays a Journey song. But you had to be there to get that, I think. What I'm saying is this movie is pretty dated.
But you gotta understand, this was before personal computers, before the internet, before CGI, before Coke Zero. Before New Coke. This was one month after E.T. phoned home, but long before cell phones or iPads or dickFors. It was before Arnold Schwarzenegger was a governor, or even a Terminator, and only 2 months after he was a Barbarian. It was before Johnny Mnemonic, which was before thumbdrives, and before thumbdrives made to look like different cartoon characters or pieces of sushi. I know this is hard to believe but it was even before the movie Lawnmower Man came along and changed everything forever in technology, cinema, spirituality, food, landscaping, etc.
(I don't mean to condescend. I'm pretty sure you guys understand what it was before, but I tried watching one of the making of things on the blu-ray and I had to turn it off after the cast members from the sequel were listing the different things TRON was before.)
TRONvia: DID YOU KNOW… watching the two TRONs back-to-back doesn't cause them to make any more sense?
I figured part 2 would be easier to follow if I remembered what or who happened in part 1, but this turns out not to be the case. As far as I could tell the beginning of part 2 doesn't connect to the end of part 1. There was 7 years in between, the evil computer is gone, "The Grid" is different, the characters of CLU and TRON are I guess re-created from scratch so they aren't the same guys, or something. And then a bunch of other shit happened in between that they talk about, including the birth of a new race and a bunch of genocide and what not. I'm pretty sure they just went through so many drafts that they lost sight of making a clear, simple movie and crammed in all the ideas that were left over from the failed earlier drafts. The only thing watching part 1 helped me understand in part 2 was a lame "joke" where Sam Flynn says in part 2 the same thing that Kevin Flynn said in part 1 about the size of a door.
Oh, and there's a part in TRON where they drink from a little pond, so I guess that explains why there's clouds in LEGACY. Because it's clouds of tronwater.
Here's the weirdest inconsistency: TRON kinda implies that the whole thing was – or at least could've been – a dream. When Flynn is in the computer and calls it a dream he's not necessarily right about that, but at the end it definitely does look like he's just woken up after a feverish night of typing in computer commands. And at the beginning after showing some of those Tron people living out the video games being played the screen says "Meanwhile, in the real world…" before transitioning to the Encom story.
So when Kevin Flynn disappears from "the real world" into "The Grid" in the in-between-the-two-movies backstory is this supposed to be the first time he did it? He had that dream that was part 1 and it inspired the idea of actually creating such a place in part 1.5? But in the dream his journey symbolized computing tasks: getting past Master Control to print proof that the company ripped off his video game. But in LEGACY his son he just goes in by mistake and gets back out at the end, he's not searching for information. I guess it symbolizes exchanging emails with his dad. And meeting a hot girl online.
(by the way: David Warner's password for Master Control is "MASTER." Would've saved everybody alot of trouble if Flynn would've guessed that.)
So the main story of the movie is (possibly) a dream, but there is an evil self-aware computer in "the real world." So something sci-fi could conceivably happen. Luckily Master Control must've straightened out because I don't think he's mentioned in part 2. He probly retired.
I didn't watch many of the extras on these blu-rays. TRON THE ORIGINAL CLASSIC has the old DVD features that I probly skimmed through before. I bagged out on the new ones when I realized it was all talking with people on the set of the sequel.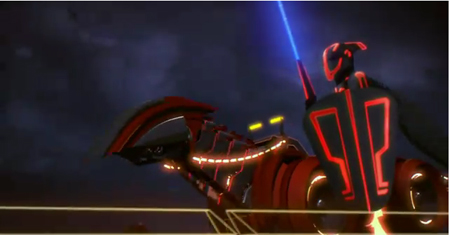 NEW TRON has one nice feature: the video for Daft Punk's "Derezzed," the cool song that they (in their cameo as End of Line club DJs) turn on during the fight scene. The video is a tribute to the look of the original TRON more than the sequel. It shows the Daft Punks playing an arcade game and then goes inside to show them tronned-out in glowy outfits riding crazy tronimals.
LEGACY also has a really shitty extra called "Flynn Lives: The Next Day" in which Bruce Boxleitner and the guy who played "Ram" in part 1 reprise their roles as aging computer industry professionals. It's like the original actors having cameos in the A-TEAM movie, one of those things where you know somebody out there is excited to see the old boys on screen again but otherwise there is no value at all. The embarrassing story is a fake documentary about how a Banksy-like hooded figure named "Zack Attack" (seriously) has for decades been putting out subversive videos where he says that Jeff Bridges's character Kevin Flynn is still alive. And militants continue to show up at places defiantly holding up "Flynn Lives" signs (they all agreed on a cool font to use).
The only things not explained:
1. How do those guys know Flynn is alive, anyway? Do they know that means he's in "The Grid" eating tronham with a hot girl that loves Jules Verne books?
2. Why do they think it's important for other people to know he's alive?
3. How many of these videos could they possibly put out before they start to get a little repetitive? I mean, how much material is there really to cover on the subject of "Flynn Lives"?
4. Why would young people passionately attach themselves to the cause of spreading the word that the guy who designed "Space Paranoids" in 1982 is still possibly alive?
5. Why don't they maybe redirect some of that energy toward protesting the wars?
6. Why is this depicted as a subversive act? They act like it's the Weather Underground or something, I don't get it.
What is explained, though – and this is important – is that Bruce and Ram still enjoy popcorn like they did in a scene in TRON when they shared popcorn in the computer lab. That's what the fans want to see anyway.
* * *
As much as I make fun of these movies, I enjoyed the experience of watching them again. Both of them look fantastic on blu-ray. I have to admit the new one is more enjoyable to me than the old one. I guess it's more of a blatantly commercial product, but then again it's a whole lot of money thrown at a not very safe bet, and unlike, say, AVATAR, it's not one that paid off too big. So it's not really a cynical marketing type of movie. Actually it's an idealistic marketing type of movie.
With LEGACY the 3-D definitely went a long way toward making it sort of work. It was such a surrounding experience, reaching out at you, inviting you to peek in through all its layers of pixels and shiny surfaces (lit and fig), and vibrating your ribcage with its music. But it looks great flat too. Even the not-inside-a-computer parts are beautifully shot, which you can't say about the original TRON. And just this entire world and all the effects besides creepy POLAR EXPRESS Jeff Bridges are incredible work by these designers and technicians. It definitely deserved to be one of those shitty movies that cleans up a bunch of Oscars in design and sound categories. TRON wuz robbed.
And it got me thinking – is this gonna be a more and more common type of movie, the visuals without storytelling? Because here's a movie that's an incredibly sophisticated work of visual art, but a stupid piece of sci-fi. And we just had SUCKER PUNCH, which is trying to say so much but getting across so little. And I saw that lizard cartoon RANGO – a completely unique world, animation like I've never seen before, ridiculous level of attention paid to every little detail of the world it takes place in… and a completely dull and uninvolving story and characters.
I was thinking maybe this was a new type of movie, but of course it's not new at all. It's TRON and it's THE DARK CRYSTAL. Visual feasts that I admire and want to love but god damn they gotta figure out a more compelling story to build this on top of. Or put in a bunch of fucking like in ENTER THE VOID so it seems like an art movie.
This entry was posted on Wednesday, April 6th, 2011 at 1:08 am and is filed under
Reviews
,
Science Fiction and Space Shit
. You can follow any responses to this entry through the
RSS 2.0
feed. You can skip to the end and leave a response. Pinging is currently not allowed.