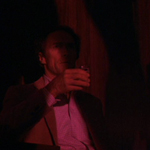 After some family related emotional exhaustion this Thanksgiving I thought it would be a good time to seek the comfort of the ol' Clint Eastwood box set. Clint and his movies are always there for us, even if we chose not to follow his political advice. He forgives us, that's why his movies are still there.
Unfortunately when I flipped through the set the first one I came to that I didn't remember seeing was TIGHTROPE. And it's a pretty good movie but let's just say it's not the most wholesome and thankful one. It's pretty nasty. This is about him exploring the sexual underworld to catch a serial killer-rapist. Pre-CSI sex crimes shit, with a not so pleasant view of humanity, in my opinion. And that's including the good guys.

Clint plays Wes Block, New Orleans divorcee homicide detective. Since the victims so far have been involved in "sexually aberrant behavior" (what he means is they're sex workers) his investigation has him going to talk with prostitutes, masseuses, oil wrestlers and what not. More than one person he talks to implies that he's either been a customer there already or that he seems just like one, and he doesn't seem comfortable with this idea judging by his expressions. In 3 (three) instances he ends up having sex with the witness. This isn't supposed to make him James Bond or Shaft – it's supposed to be gross, to show his weakness as a man.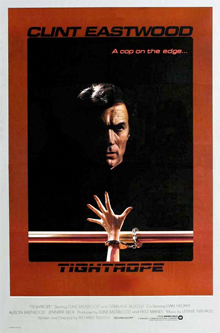 In fact it's a major point that Wes has alot in common with the killer. In the opening scene the killer wears a police uniform. They think he might be a cop for real. Both wear Pumas, and Wes is first introduced with a dissolve from the killer's feet to his.
The killer picks up on Wes and starts following him. He kills women Wes has been with, steals Wes's tie and leaves it at a crime scene, shit like that. But it doesn't turn into "he's been set up and has to prove who the real killer is" like THE GLIMMER MAN. It's never that obvious. He's just messing with Wes's head, and sometimes we see him wearing a mask, hiding in the shadows, or looming over Wes's shoulder. We don't know if this is leading to a schizophrenia plot twist or if it's just creepy how close this guy is.
The badass juxtaposition in this one is the old standby: he takes in a stray dog, takes care of it, lets it sleep in his bed. In my opinion the dog is not holding up his end of the bargain, though. The killer somehow gets into the house without anybody hearing the dog bark, they find him in the fuckin closet. I'm gonna give him the benefit of the doubt and say the killer put him there, he didn't hide in there like a pussy. But still. It's much too long before he dogs up and bites the guy's leg.
Wes has two young daughters, the oldest played by Alison Eastwood (her movie debut). He has a good relationship with them but, like all movie dads (and especially movie cops) they're always sad when he gets a call to go look at a dead body and has to leave without playing catch. And they ask questions about where he was last night (usually at a whorehouse or something, but he doesn't tell them that specifically). In one scene his oldest finds some nasty crime scene photos in the house, looks at them, doesn't seem as shocked as you'd hope a kid would be seeing something like that. That brought me back because I remember growing up I had a friend whose dad worked for the coroner's office and the first time I came over to his house he said, "If you see any pictures laying around, don't look at them."
Anyway, having two daughters makes his guilt about his behavior deeper and his hatred of the killer more personal. It's a sleazy movie, extra-dark for Eastwood, with a severed head and a severed arm making memorable appearances. But definitely the most disturbing element is just seeing Clint's real daughter tied up by the killer, and worrying what he did to her. The minimal dialogue used to address this question is classic Eastwoodian understatedness. Another good one is when it's all over and a cop in a patrol car asks, "You all right, Wes?" and he just keeps walking.
Genevieve Bujold plays Beryl, a woman from "the rape center" who Wes first tries to avoid talking to, eventually starts dating and learning from. There's a loose similarity to the way Dirty Harry relates with women, but it seems even more clear here that she's meant to be a positive influence on his fucked up life, and a good role model for his daughters. I just wished she would've gotten to kick the killer in the balls, since she so clearly demonstrates it in a self defense class.
IMDb trivia says that they tried to get Susan Sarandon, but she turned it down believing that with iconic Clint in the lead the movie would promote sexual violence in some way. That seems like a goofy interpretation now because it plays like such a movie of its time, reflecting the Puritan tendencies of the Moral Majority '80s with its judgmental depiction of a menacing sexual underworld. That goes especially for the scene in Praline's, a gay bar. It's in the spirit of CRUISING and movies like that where gay is spooky. A guy in a leather biker hat hits on Wes threateningly, another guy was apparently hired by the killer to get it on with him. Weirdly, Clint responds pretty much the same way James Bond does in SKYFALL. When Wes says he's not interested in gay sex, the guy asks "How do you know if you haven't tried it?"
"Maybe I have," he says.
Also this is unrelated but see if you can spot two nerdy things time capsuled in this screengrab: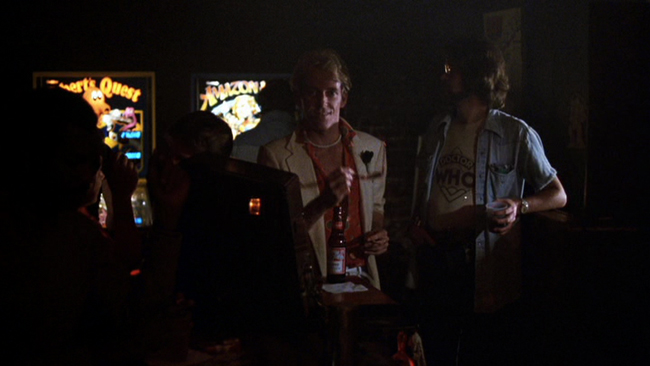 The New Orleans setting is used pretty well. Wes wears a Saints jersey, the Dixie Brewery is a major location, there's a Barq's root beer truck, a warehouse full of Mardis Gras parade props (probly not as much of a cliche back then), and this is Clint so he had to get some jazz in there. The Rebirth Brass Band – at that time called the Rebirth Jazz Band – are seen and heard marching in a parade. They'd only been together for 2 years, and this was the year of their debut album Here To Stay. (Sure enough they were here to stay. I saw them about a year ago and they were amazing.)
There's also some bluesy jazz that plays at the beginning and end of the movie, in both cases sounding weirdly light compared to the bleak movie sandwiched in between. Only Clint would do that, you'd think, but the credited writer/director is Richard Tuggle the writer of ESCAPE FROM ALCATRAZ. His only other directing credit is the Anthony Michael Hall movie OUT OF BOUNDS. But it's a Malpaso production, the music is by Lenny Niehaus (actually his first with Clint), the editor is Joel Cox, the cinematographer is Bruce Surtees (who shot a ton of Clint's movies going back to THE BEGUILED, PLAY MISTY FOR ME and DIRTY HARRY), stunt coordinator was Buddy Van Horn. So it plays like a Clint directorial work, except maybe visually darker than usual.
I wouldn't rank this high on the Clintography, but it's worth seeing. It's kind of like the standard Clint character except with a sex addiction problem. This guy's kinda fucked up. I hope his daughters at least grew up okay.