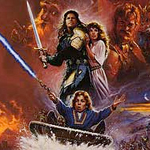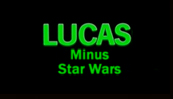 "Elora, you don't want me. Tell her. I'm short. Even for a Nelwyn."
Like John McClane'll tell ya, sometimes some shit happens and you just have to step up. For Willow Ufgood (Warwick Davis, RETURN OF THE JEDI, THE EWOK ADVENTURE) it's when his kids find one of those abandoned river babies (we all know how that goes) and then it turns out to be the Chosen One prophesied to kill the evil Queen Bavmorda (Jean Marsh), so mean knights with packs of dog-like beasts are gonna keep attacking the village until they find her. Willow admits to the town that he has the baby they're looking for, and he doesn't argue when the wise wizard The High Aldwin (Billy Barty) appoints him to lead a party on a journey to give the baby back to the Daikini, the bigger people.
I say bigger because Willow's village is all people under four feet tall. There are fighters among them, like Vohnkar (Phil Fondacaro, RETURN OF THE JEDI) or "Vohnkar Warrior" (Tony Cox, RETURN OF THE JEDI, CAPTAIN EO), but Willow isn't one of them. A small man looked down upon even among the people of his size, he's the underest of dogs. As a fledgling magician he screws up even his corny magic trick illusions, and now he finds himself going head to head with a real sorceress.
The first Daikini they find is Mad Martigan (Val Kilmer, BAD LIEUTENANT: PORT OF CALL NEW ORLEANS), a warrior imprisoned in a small cage who seems at first like a Jack Sparrowish rogue. When an army is headed their way and most of Willow's party turns tail he has little choice but to free the man and convince him to help, like an action comedy set up.
Of course there is bickering, mistrust, a part where Mad Martigan is in drag, and, eventually, earned mutual respect. Along the way they pick up new companions including two jabbering Ken-doll sized brownies (Kevin Pollack [THE USUAL SUSPECTS] and Rick Overton [BLIND FURY]) and a talking possum (Patricia Hayes, BLUE ICE) who used to be the sorceress Fin Raziel and still wants to defeat Bavmorda. Willow and friends wanted to just get rid of the baby (did they try bringing her to a fire department?) but when Bavmorda takes her the mission reverses. Now they have to get her back.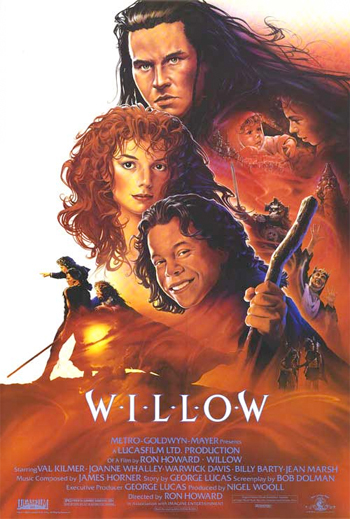 My theory about fantasy movies is that too many of them star weiners and not enough star barbarians or destroyers. But this one borrows the James Rock 'n Roll Tolkein idea of a little peaceful guy as the ultimate dark horse hero, and that works. I think this is a good role for Davis, playing older than he actually was at the time, having a wife and kids. Willow is kind of a loser in his village, but he's surprisingly unwhiny. When he's upset it's about how Mad Martigan should treat the baby, based on his experience as a father, which is a reasonable thing to get up in arms about. Maybe he's a little uptight, but it comes from being responsible, not a brat like you sometimes get in these stories. Also, when Mad Martigan pulls through Willow immediately thanks him and acknowledges his success. Nobody has to drag it out of him.
I remember this was a DVD holdout until shortly before FELLOWSHIP OF THE RING came out. I thought that was funny, because I took it as admitting that people weren't gonna need it anymore after the real hobbit movie. I had seen this once or twice a long time ago and thought it was kinda cheesy. But to my surprise it really holds up. Now I think it's one of the best fantasy movies. Turns out it's not obsolete after six Peter Jackson Middle Earth pictures, and in fact it's kind of refreshing. At first it was novel how seriously Jackson took it, putting such emphasis on the ominousness of encroaching evil, but now that that approach is the status quo it's great that WILLOW has more of a fun, upbeat feel.
It's also really cool to see them using a huge cast of actual small people instead of using forced perspective and compositing to make kind of small actors like Elijah Wood look really small. Between WILLOW, RETURN OF THE JEDI, the two Ewok TV movies, plus CAPTAIN EO and anything with R2D2 or Jawas in it, George Lucas must be responsible for way more employment of little people actors than any other producer who ever lived.
And since we know Davis from being a tiny hero on Endor it's exciting when he (with David J. Steinberg as his friend Meegosh) gets to be the giant in this Gulliver's Travels situation with the brownies: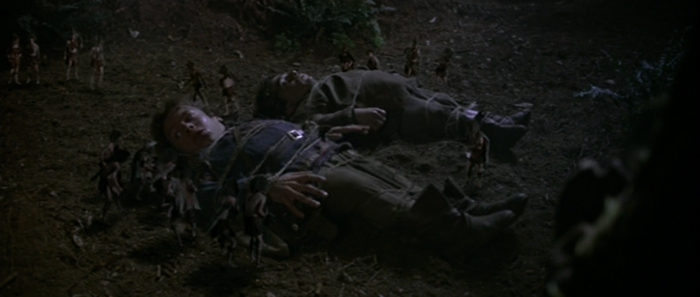 WILLOW has a great high speed wagon chase, groundbreaking digital effects (the first morph), dogs wearing costumes to play a pack of vicious monsters, a cool magic duel, a variety of terrains (forest, water, snow). My favorite scene is when they get to a castle and know there are trolls there, because they find troll shit. (God damn trolls.) Trolls in the world of WILLOW turn out to be these hairy Chaka-on-Land-of-the-Lost looking bastards…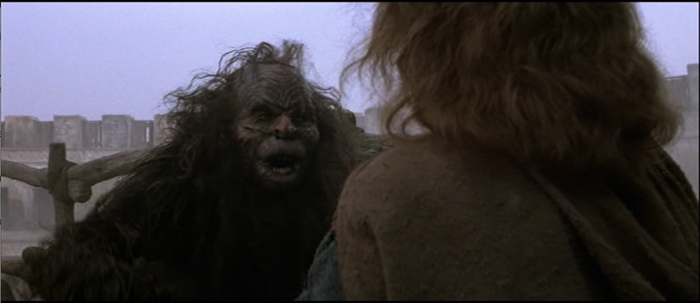 …and Willow uses his magic wand to turn one into a disgusting little basket case blob…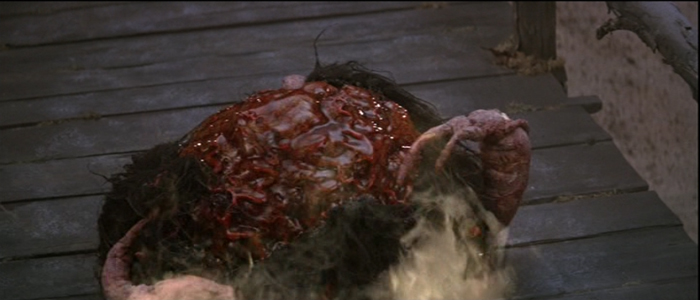 …which grows two mouths out of the top, so Willow kicks it into the moat. But then it grows into a giant two-headed monster that fights Bavmorda's attacking army as well as Willow and Mad Martigan. It's great stop motion effects worthy of a Star War. And I'm not even sure how they made it breathe fire.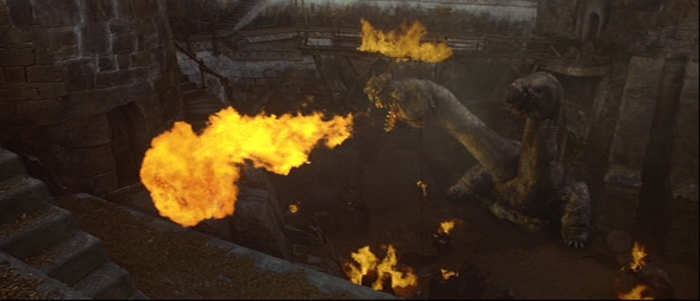 And of course there's a whole hero's journey deal. Lucas likes that shit. In fact, he came up with the concept in the early '70s, before STAR WARS was made, so I'm sure the two stories informed each other and their interpretations of his Joseph Campbell mythology studies as they simultaneously percolated in his brain.
Willow is an adult, but he's very Luke Skywalker. He's a farmer who dreams of adventure but doesn't think he'll ever get any, who ends up on a dangerous mission while also trying to learn the basics of a forgotten type of magic that most people can't do. He's unsure of himself but comes through.
Mad Martigan is obviously the Han Solo. He's sort of hired by Willow for his skills, he's a brash smart ass who doesn't want to get involved, and keeps pretending not to give a shit, but obviously does. When he finally stops faking it he becomes a hero.
There's a little moment in the movie that shows his change, and that I found genuinely touching. Mad Martigan and Willow are taken prisoner and chained up on the back of a wagon, being marched through the snow. Eventually Willow has trouble keeping up with the longer legs, and he collapses to the ground. Without saying anything, Mad Martigan just lifts him up onto his shoulders.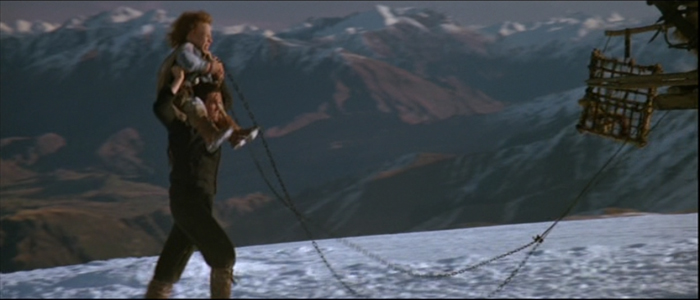 I suppose the Ben Kenobi mentor figure would be divided between The High Aldwin, who sends him on the journey, and Fin Raziel, who teaches him basic wand magic. But they might be closer to a couple of Gandalfs, honestly.
I don't think there's exactly a Princess Leia, but there's an interesting love interest in Bavmorda's daughter Sorsha (Joanne Whaley). She's a warrior who insists on taking the mission to kill the baby, but she and Mad Martigan keep eyeing each other, and when a love spell causes him to recite a bunch of poetry about her beauty she ends up smitten with him. This is a preposterous relationship and probly not politically correct. Is this guy really so awesome that she's gonna turn against her mother and not kill a baby? Well, I would argue that maybe he is, because in real life Whalley and Kilmer fell in love on set and got married that same year and as far as I've been able to tell from research she did not kill a baby. Besides, I always like it when bad guys turn into good guys, especially in old timey adventures. (See also Catherine Zeta Jones in THE PHANTOM.)
There is a villain, General Kael, who reminds me a bit of Darth Vader in the first STAR WARS. He's a big imposing knight who usually wears a scary skull-faced helmet, and when he shows up leading the troops you know you're in trouble. He doesn't end up having as much characterization as Vader, he's just a henchman, but he's definitely the iconic image of WILLOW.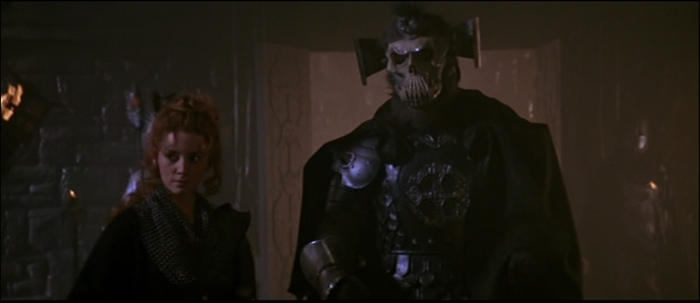 Underneath the mask he's ex-wrestler Pat Roach, perhaps most famous as the German mechanic who got the propeller treatment in RAIDERS OF THE LOST ARK. The funny thing is I already thought I had spotted the German mechanic in the tavern scene earlier: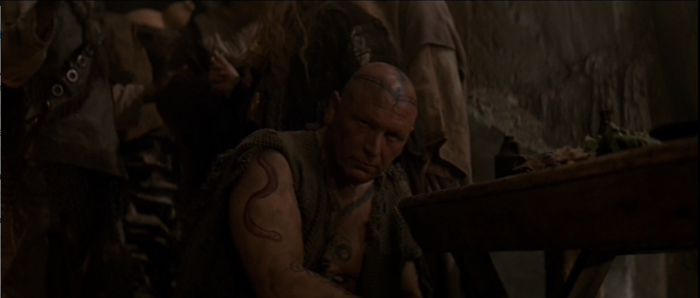 But that's one of the other big bald henchman character actors who I always mix up with the German mechanic. Upon further examination it looks to me like Robert Tessier, who was in BORN LOSERS, THE LONGEST YARD, HARD TIMES, HOOPER, FISTS OF STEEL, etc., but if so he's not in the credits.
(update: no, it's not him, there are other big bald dudes in the world, stupid.)
And by the way, yes, General Kael is named after Pauline Kael. The two-headed monster is named after Siskel and Ebert. Not sure what that's about. But I hope some day to have a fantasy character named after me.
I haven't yet mentioned who actually directed WILLOW. It was AMERICAN GRAFFITI's Republican-voting nerd Steve Bolander himself, Ron Howard. When Howard acted for Lucas in '73 he'd already done a couple of shorts, and four years later he directed his own car movie for Roger Corman, GRAND THEFT AUTO. By '88 he wasn't really acting anymore, had ten features under his belt as a director (including TV movies), and had mentioned to Lucas during post-production of COCOON that he wanted to direct a fantasy movie. So Lucas was like well, that's interesting, 'cause I got this thing… Kinda like when he was on Beach Patrol with Spielberg and tricked him into directing RAIDERS.
But this didn't catch the world on fire like Indiana Jones. It did open at #1, but in its second week it fell below newcomers CROCODILE DUNDEE II and RAMBO III. The week after that throw in BIG and FUNNY FARM. It wasn't the same crushing rejection that LABYRINTH received, because it made a profit. But it was not strong evidence of a thirst for fantasy and magic in late '80s moviegoers. On the positive side, the shitbags at the Razzies honored it with nominations for worst screenplay and worst supporting actor (Billy Barty – I have no idea why they would single him out).
In 1995 Lucas collaborated with X-Men writer Chris Claremont on a trilogy of novels that continue the story about 15 years later. It sounds like Willow, Mad Martigan, Sorsha and the brownies are back, and it's the story of the baby, Elora Danan, as a teenager. I wondered what the deal is with her, because she was prophesied to kill the evil queen, and then didn't Willow do it instead? I guess her existence caused Willow to learn magic and end up in the showdown, so I guess it works. Anyway, I haven't read the books so I can't vouch for them.
Lucas also talked about a TV series, but in my opinion that did not happen.
I don't think there's much of a clamor for more Willow Ufgood adventures in society in general, but I can understand why Lucas would've wanted to do some. I get the impression that it's one of his most hands-on movies. Of course he provided the story, developed over two decades before being adapted by Howard's friend Bob Dolman (FAR AND AWAY). Behind the scenes he employed a ton of STAR WARS and INDIANA JONES veterans: associate producer Joe Johnston, creature supervisor Nick Dudman, second unit director Michael D. Moore (an Indy guy who I bet shot the wagon and sled chases), sound designer Ben Burtt, and of course ILM (including Phil Tippett) doing the effects. And CAPTAIN EO's James Horner did the score.
So it's the most Lucas-y of non-STAR WARS or INDIANA JONES Lucasfilms, and feels very much of a piece with those movies. I don't know why I (and we as a society) didn't appreciate that back then, but I do now.
This entry was posted on Wednesday, January 13th, 2016 at 10:06 am and is filed under
Fantasy/Swords
,
Reviews
. You can follow any responses to this entry through the
RSS 2.0
feed. You can skip to the end and leave a response. Pinging is currently not allowed.