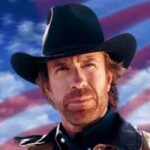 In 1985, a couple years before director Andrew Davis introduced the world to Steven Seagal in the classic ABOVE THE LAW, he did another, similar movie, sort of a rough draft, starring Chuck Norris.
They have the same setting (Chicago), the same villain (Henry Silva) and alot of the same supporting actors playing cops and criminals. They have the same type of cheesy '80s scores by David M. Frank. (Get ready for cheesy slap bass and the whitest horn section you ever heard.) ABOVE THE LAW is about CIA corruption (inspired by the Iran-Contra affair) but CODE OF SILENCE sticks with corrupt cops.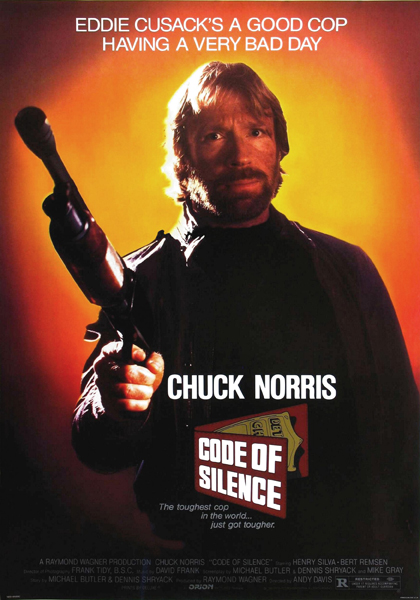 Norris plays Eddie Cusack, a Chicago sergeant on a stakeout disguised as a garbage man. His partner is the great Dennis Farina (who, like alot of the actors in Andrew Davis's movies, is a former cop in real life). Elsewhere on the scene, in a cemetery waiting for their cue, are two partners: a young overacting guy who has to piss, and a crazy old drunk leaning up against a grave swigging booze. Which means he's a fuckup. In case you didn't pick up on that though, he makes an "I am a bad guy" comment about how the young guy should just piss on the graves. "If someone was smart, they'd rip out all these graves and plant tomatoes. These people are no good. They're dead!"
So that's how you know he's bad, he's racist against dead people.
Sure enough, during the bust ol' boozey here kills an innocent kid, but luckily he carries a small, plantable gun in his sock for just such an occasion.
So that's where the code of silence comes in. Everybody knows this guy is a fuckup who hates dead people, and the young guy who has to piss (actually he doesn't have to piss through the entire movie, so I gotta assume that at some point he got a chance to pee off screen) knows he planted the gun. But cops have this special cop brotherhood or whatever so nobody says anything and they all sign a petition in support of him. Except Sergeant Eddie Cusack, who refuses to interupt his karate practice to sign something he doesn't believe in. Good for him, but it gets him in dutch with the other cops.
Also he testifies against the guy so then they really turn on him, even though he's in the middle of this shit with the Colombian drug lords. He doesn't get suspended or anything but the other kids won't play with him, so he has to go out as a lone wolf without a cub or a McQuade.
Andrew Davis is good at directing this type of thing. He got better with ABOVE THE LAW and UNDER SIEGE and then believe it or not got nominated for a best director Oscar for THE FUGITIVE. Then he pissed away his credibility on crap like CHAIN REACTION and STEAL BIG, STEAL LITTLE and was pretty much forgotten until he did that kid movie HOLES. That one was pretty popular but who knows if that had anything to do with his talent, kids like any stupid crap if it's advertised on The Disney Channel all day. Sorry kids, I love ya, but you know it's true. You suck.
Anyway what I'm trying to say is that although this is not great, it is above average as far as cheesy '80s cop movies go. The setting is kind of gritty and real, some of the supporting cops seem authentic, some of the karate scenes are pretty good. But not great. There's a cool stunt where he runs across the top of an el train and it looks like he really did it, it doesn't look like phoney heroics. Henry Silva is a little scarier in ABOVE THE LAW but of course you gotta give him credit just for having that face. Have you looked at that guy before? Holy shit that guy has a scary face.
And Norris is decent, pretty charismatic as far as those bearded white martial arts guys from the '70s go. I mean I sure like him better than the guy in CIRCLE OF IRON. Which reminds me of something about Chuck Norris. This guy fought Bruce Lee in RETURN OF THE DRAGON. And he's probaly still hurtin from gettin that handful of chest hair pulled out. He has a fire burning in his soul and you don't want to be on the receiving end of it. That's what you gotta think whenever he faces off some ordinary street punks in an alley. What on earth are you guys thinking? If this guy could hold off Bruce Lee for a while you guys sure as fuck don't have a chance. I don't care how many bad movies he's done, you boys are in for it.
The thing that makes this movie memorable though is the most ridiculous element, a police robot that is introduced in a demonstration somewhat reminiscent of the ED-29 or whatever scene from ROBOCOP, which came out 2 years later. (Hmmmmm. Was ROBOCOP inspired by a Chuck Norris movie? It might've been.) When Cusack is stuck fighting the drug lords without backup, he decides to steal the robot and use it. So it's kind of like that movie TOP DOG where his partner is a dog, only instead of a dog in this one it's a robot.
When I say police robot, by the way, I'm not talking about C3PO or nothin. It doesn't talk. It's more like those robots they use to check if a guy is dead inside a house after a long shootout, only this one is bigger and has all kinds of guns and cannons on it. It's probaly a good thing these gadgets didn't catch on with other police departments, they seem to have a pretty big potential for collateral damage. Which this movie is against obviously, since it all stems from this kid getting killed by accident. By the way, Andrew Davis also directed the movie COLLATERAL DAMAGE. I haven't seen that one but since it doesn't have a robot in it, what's the point? Don't insult my intelligence by doing a movie without a robot when I've already seen you do one WITH a robot.
That's all I got on this one. The end.