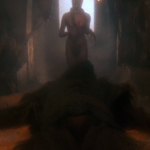 I have this rule for fantasy movies, you might've seen me write about it before. I know, the LORDs OF THE RINGSes are great and everything, but I prefer some barbarians in these things. I don't want a little innocent creature sneaking around trying not to get a spell cast on him, I want a big motherfucker with an ax smashing skulls. Sure, Aragon is pretty cool, but he's just like a knight or something. Fuck a knight. And he's not even on screen the whole time. To me, the best ones are where the main character is a beefy warrior whose code is not as civilized as ours, a man or woman forged in the fires of their savage era. CONAN THE BARBARIAN is the best example, but also WOLFHOUND, THE SCORPION KING, (I'm sorry but) the remake of CLASH OF THE TITANS, and BEASTMASTER qualifies I think. KULL THE CONQUEROR has its heart in the right place. But usually they're about a little weinery guy who has to overcome that harsh world: a hobbit, for example, or Peter MacNicol in DRAGON SLAYER, or elfy Tom Cruise in LEGEND.
CONQUEST has both of those types of characters teamed up. Ilias (Andrea Occhipinti, THE NEW YORK RIPPER, THE SEA INSIDE) is the wimpy guy, he's from the civilized part of the world, he reminds me of Harry Hamlin in the original CLASH OF THE TITANS and he has a magic bow that shoots an unlimited supply of glowing animated arrows.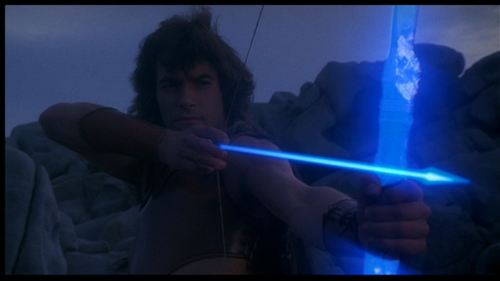 Mace (Jorge Rivero) is the barbarian.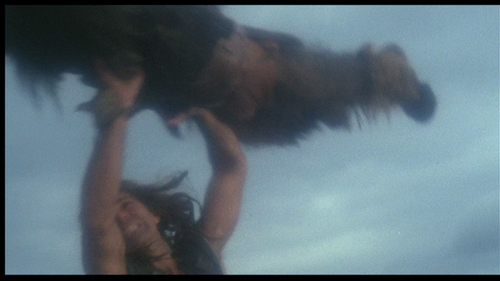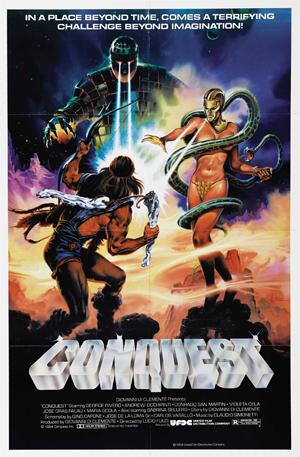 He travels only in the savage lands, he has a forehead tattoo that means he has no friends, his weapon of choice is a pair of nunchakas made out of bones (!), he doesn't care that his hair is caked in mud. They team up, they help each other, they quest to fight an evil topless sorceress in a metal mask who likes to writhe around with a snake rubbing against her crotch and pet a dog at the same time. And sometimes she fondles a guy covered entirely in little squares of metal who can shapeshift to look like other people. You know how it was back then.
It does a good job of making the behemoth and the girlyman work together as a team and it's kinda sweet that they become friends. See, we're all different, but we're all the same too. I guess they could have fun doing more buddy movie type of stuff, but LETHAL WEAPON hadn't been invented yet, so they didn't know. They do develop a bond and a loyalty, they have opposing philosophies and they learn from each other.
Ilias even tries to convince Mace to come with him and have a better life living among the fancy lads and not having to fight monsters as much, but he thinks he wouldn't be comfortable there. In my opinion he's making a mistake. He should try it out. I mean he doesn't want to go soft, but at least treat it like a Vegas vacation. Go have some fun, meet some princesses, see how the other half lives. In his mind he thinks he just knows himself well but in my opinion he's set into his routine and afraid of new experiences. I'm that way sometimes but I'm trying to change.
Anyway all the sudden late in the game (SPOILER) Mace finds Ilias's decapitated body hanging upside down in a cave, so he burns the body and then reaches in its stomach and rubs the ashes all over his arms and face and goes to avenge him. I hope you're taking notes, hobbits. That's the type of movie we're dealing with here, the type where one hero suddenly has his head chopped off off screen so the other hero burns his remains and wears them as war paint. That was originally gonna be the ending of LETHAL WEAPON 2 but they chickend out and did reshoots.
Oh yeah, I left out some important information. This is directed by Lucio Fulci, noted director of gory Italian horror such as ZOMBI and THE BEYOND. He made it in 1983, the year after CONAN THE BARBARIAN, when everybody was trying to chase those barbarian bucks. He probly later regretted he did it because I guess it wasn't much of a hit and doing it without his long time writer Dardano Sachetti apparently broke up their partnership. (Maybe Sachetti thought Ilias was supposed to be him and then didn't like the implication.)
I'm glad he did it though because it's like BEASTMASTER except even weirder and with tons of blood. Fulci is not gonna tone it down just because it's not a horror movie. If he was doing a POLICE ACADEMY sequel he still would've had some slit throats and chopped off limbs. When Ilias is hit by an arrow it poisons him, he gets weak, his skin starts to bubble and welt and pulsate, pus and blood drips out of him, ants crawl all over him. It is the absolute perfect movie to give nightmares to kids. They'll have weird images stuck in their brain for decades and never remember where they came from. "I remember this weird cave with all these dudes in it, and this faceless naked lady is fondling a severed head…"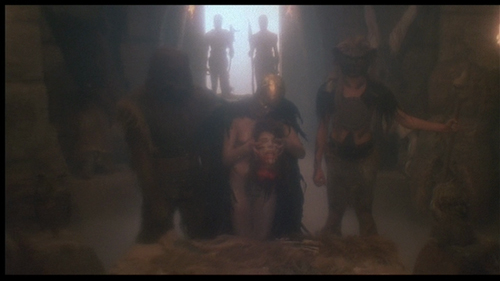 As you can see it is kind of a nightmare, or at least it's very dreamlike. Most of the movie is shot with soft focus and a sort of foggy haze. There are enough magic hour shots for it to be a Michael Bay joint. But also there are snakes and beast men setting fire to things and weird creatures that at first looked like ZOMBI zombies but on closer inspection are more like mummified swamp things. But kinda cute.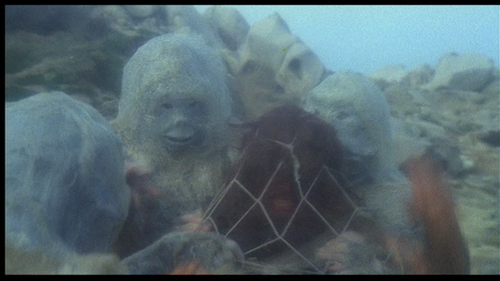 And when they're wounded Fulci is happy to zoom in for a long shot of the blood pouring out.
It's beautiful and atmospheric. It looks more like a Frank Frazetta painting come to life than any other movie I've seen. Also it has a score by Claudio Simonetti, leader of Goblin, so whenever shit is going down there's likely to be some badass keyboard shit going on.
Mace is a barbarian's barbarian. When he and Ilia are first getting to know each other he steals a dead goat from a guy and brings it to some ladies in a cave.
"Is she your woman?" Ilias asks.
"She is every time I pass by. You can have her too if you want."
"Oh, it's all right."
"Well take her sister then."
(Which is good because he already had the hots for the sister, she's the girl with the face paint and mud-sculpted hair who he made lovey dovey eyes with.)
Mace has a badass juxtaposition. Like Wolfhound and his wounded bat, Mace finds a (very bloody) injured bird and tries to help it, and in exchange the birds tip him off later about impending dangers. Like a cop and his informants.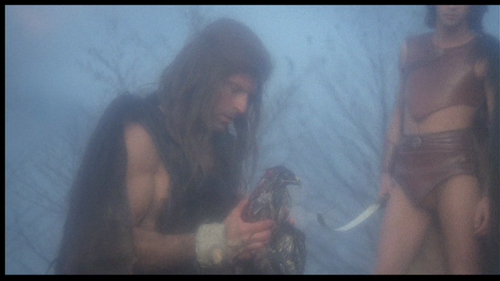 Like most fantasy movies it's more about a mood and atmosphere and imagery than a strong narrative. But man, is it strong in those departments. It looks great. LEGEND is the only one I can think of that's more beautiful looking, and this one is obviously on a way lower budget. Kneel before cinematographer Alejandro Alonso García, aka Alejandro Ulloa (THE HOUSE BY THE EDGE OF THE LAKE). I bet I can sell you guys on this movie with a series of stills. If not I want to do it anyway just to see some of these shots one on top of the other.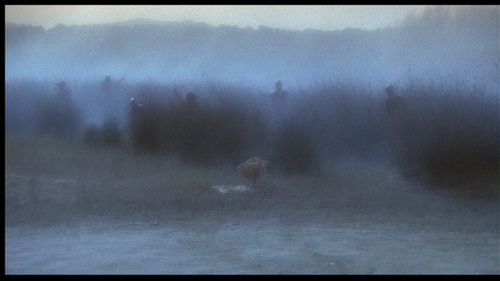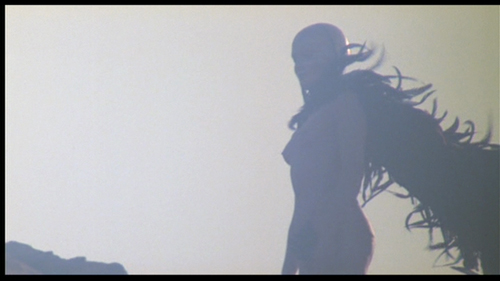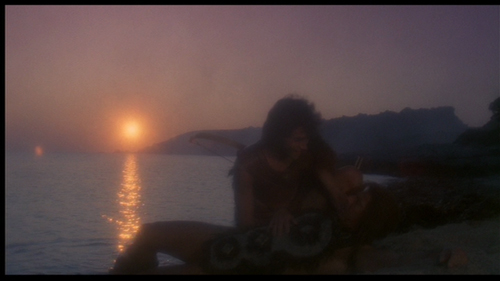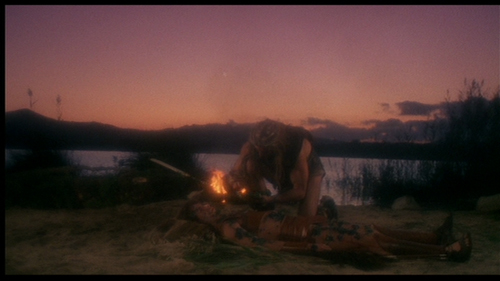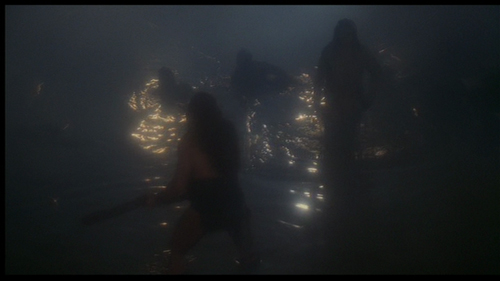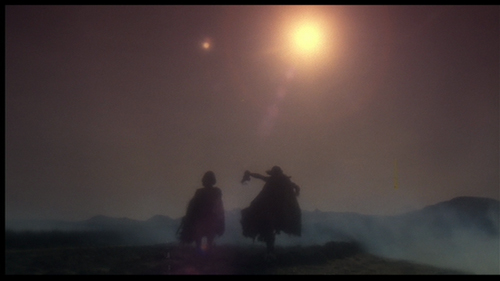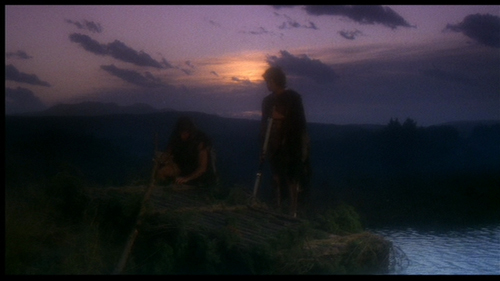 They create a whole world withsome dirt, some water, some filters and the right lighting. And a couple furry beastman costumes add a little spice. Also, Fulci's love of violence and nudity seems so appropriate for the lawless world depicted in these barbarian movies that it really stands out from the pack. It's enough to restore my faith in Barbaria. Maybe there are other good ones out there besides CONAN. I'll have to go on a quest to find some.
Oh yeah, in case you were wondering:
This entry was posted on Wednesday, July 9th, 2014 at 12:23 pm and is filed under
Fantasy/Swords
,
Reviews
. You can follow any responses to this entry through the
RSS 2.0
feed. You can skip to the end and leave a response. Pinging is currently not allowed.