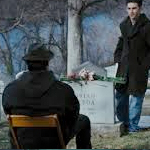 I already reviewed ROCKY BALBOA when it came out, but it's such a great movie I wanted to checked in on it again.
It's hard to believe this humble character drama is Stallone's directorial followup to the rock n roll tall tale ROCKY IV. The style, the content, the tone, even the character are from different planets. This one has zero (0) Survivor songs in it and it reminds me less of ROCKY IV than of later Clint Eastwood directorial works: quiet, mournful, wintery colors, gentle piano scoring, character driven, raw. And the trashy people who give Rocky a bunch of shit at a bar could be family members from MILLION DOLLAR BABY.
This is a more pure ROCKY I throwback than ROCKY V was because Rocky's life is simple, humble and gentle again. He's not poor – he owns a restaurant called Adrian's – but that's not exactly high roller shit. He actually runs the place, seems to be there every day to greet customers, does the hiring and shops for some of the ingredients himself. It's small, and Paulie makes fun of his "Italian food made by Mexicans."
That Adrian has died since part V is crucial. Even in V, when Rocky lost "everything," he didn't lose Adrian. Rocky is alone again, but seems to take it in stride, because he's Rocky. Although the beginning is specifically about marking the anniversary of Adrian's death by visiting important places like the ruins of the skating rink where they had their first date, I get the feeling that the shot of him sitting contently at her grave in a folding chair is a pretty regular occurrence. And I love that Paulie lingers uncomfortably on the perimeter just like he did in II when she was in the hospital. He's very aware that he's an asshole and doesn't deserve to be near her as much as Rocky does. He's tormented by how he treated her. (read the rest of this shit…)
VERN has a new action-horror novel out called WORM ON A HOOK! He has been reviewing movies since 1999 and is the author of the film criticism books Seagalogy: A Study of the Ass-Kicking Films of Steven Seagal and Yippee Ki-Yay Moviegoer!: Writings on Bruce Willis, Badass Cinema and Other Important Topics as well as the crime novel Niketown.