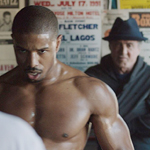 The world is hard and shitty sometimes, but also sometimes it's beautiful, and with some luck, some talent and some very hard work, unlikely things can happen. For example, what are the chances that director Ryan Coogler, after his true story police shooting drama FRUITVALE STATION won awards at Sundance and Cannes, would want to use his window of opportunity to pitch a movie about Apollo Creed's son? And then what are the chances he'd convince Sylvester Stallone to play Rocky Balboa in it and a studio to make it? And finally what are the chances that it would both honor the history of the ROCKY movies and chart its own path to be something new? I don't know what the odds are, but CREED beat 'em.
Michael B. Jordan (who also starred in FRUITVALE) plays Adonis "Donnie" Johnson who, as an orphaned teenager in and out of group homes, discovered he was the son of the most famous boxer in the world. Moving to the Creed mansion with his father's wife Mary Anne (now played by Phylicia Rashad instead of Lavelle Roby or Sylvia Meals) takes his life straight from ROCKY to ROCKY III. Hungry to comfortable. As an adult he's successful in a corporate job, but sneaks off to Tijuana for small time fights.
At his dad's home gym Delphi in Los Angeles (who must've inherited some money from him if that's supposed to be the same gym from III) nobody will train Adonis. It may be at Mrs. Creed's request or maybe they just don't believe in him, but they think it's too dangerous. His father died in the ring. I love how much of this film's drama comes specifically from what happened in the most ridiculous sequel. Maybe this will redeem IV for those who think it ruined the series by removing Apollo from it.
So Adonis pulls a Tommy Gunn: he goes to Philadelphia, finds Rocky and sets about trying to convince him to train him. But at this point Rocky is separated from the world of boxing. He had his comeback fight, he proved himself, he knows it can't happen again, he doesn't even stop by Mighty Mick's anymore. So it's gonna take some convincing.
Like the original ROCKY, it's a drama and a love story before it turns into full-on sports movie. He falls for an up and coming singer named Bianca (Tessa Thompson) who seems a little taken aback by but completely supportive of his life of getting punched in the face. Meanwhile he's dealing with his own issues. He doesn't even tell her who his father is. As the product of an affair, he has to worry about his very existence threatening the Apollo Creed legacy. But also, of course, he doesn't want people to think he's getting shots he doesn't deserve because of the name. He doesn't want to think that himself. He wants to earn the name. There's a great moment when Bianca sees him with Rocky and is stunned. He never mentioned anything about this. He knows the guy from the statue at the art museum and he never mentioned it!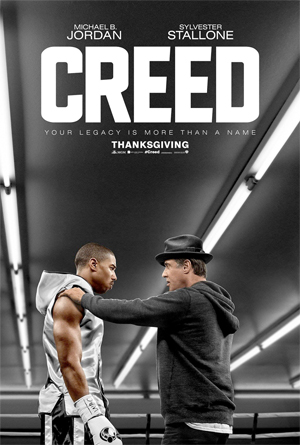 When Adonis first sees that statue he's basically just another tourist, even if he has more purpose.  As a newcomer to Philadelphia he gets to be shown the sights, starting with something as simple as a Philly cheese steak, but also including dirt bike riders and a black music scene that would never have been part of Rocky's world (though we know Rocky still loves soul music because he wakes up Adonis with some Harold Melvin and the Blue Notes). The first song montage in the movie is to a new song by Philadelphia's own The Roots and John Legend. Meek Mill, also from Philadelphia, is on the soundtrack too.
Rocky couldn't get Mickey's attention until he got that chance to fight the champ. Mickey spent his time with the more serious contenders at the gym who he believed had a future ahead of them. Now Rocky's in the position of coming into the gym for the first time in years but to help some kid they never heard of instead of their guys. I got a kick out of the scenes where Rocky's working with Adonis and in the background Pete (Richie Coster) is on the corner of the ring working with his accomplished son (Gabe Rosado), but with his head turned glaring at Rocky because he's been trying to get him to help out his son with drills for years.
CREED could definitely work as a standalone movie, but I'm glad I refreshed myself on the whole series, because there's alot in there to pick up on. You hear about the fates of a couple major characters who aren't present, there's a quick mention of the son of another character, an answer to something that was left a question in part III. It definitely connects to ROCKY BALBOA, with Rocky still in the same house and still running his restaurant Adrian's. But we never see the place during operation, never see if Marie or Spider or anybody are still in his life, so he seems more alone than ever. He doesn't even seem to have his dog Punchy, and I'm pretty sure there's only one turtle in the tank now. Even his turtle is alone! R.I.P. Cuff or Link.
As a trainer Rocky has his own style, but definitely takes some things from Mickey, including a specific "old school" training method. Adonis wears modern athletic gear, but you can bet he's gonna jog in a grey sweatshirt, and at one point I noticed Rocky wearing Chucks and grey sweatpants at a time when it's significant that he needs to be working hard. And of course some of the events mirror the events of previous movies, particularly the first one. This time the Creed is the nobody given the opportunity only because of his name, who wants to rise to the occasion. It's also a reversal in that the champ is the one who's kind of a low class thug, while Adonis comes from money (starting when he was a teenager), has an education, had other opportunities that he turned down because this was what he wanted to do. The champ's ironic nickname is "Pretty Boy," which is one thing that we see Adonis dismissed as.
I knew from FRUITVALE STATION that Coogler was good with actors, and particularly Jordan, and I love the character of Rocky Balboa, so it's not too surprising that this story of Adonis and Rocky is very effective. What I didn't expect at all though is that Coogler, with cinematographer Maryse Alberti (THE WRESTLER, CRUMB) would also find ways to shoot the boxing matches that feel completely new. It's counterintuitive, because the fights are shot mostly very close to the fighters, almost always inside the ring, making you feel right in the middle of it. One fight is shot with the camera floating around and between the fighters in one long take (I bet they used that camera that Keanu used in MAN OF TAI CHI). The main fight mixes this style with other tricks from the realistic to the surreal. This movie kept putting a huge grin on my face just from the virtuoso technique. The entrance is actually as thrilling as the fight, it feels like you're walking out to the ring with them. Props to the sound design in this scene, which really captures being pummeled by gigantic, distorted bass. I already liked Coogler but I honestly had no idea he had these kind of chops.
Music is extremely important to the ROCKY series, and I was a little worried this would be a problem without Bill Conti and in a world where movie scores don't even seem to include main themes anymore. The songs don't come close to either a "Gonna Fly Now" or an "Eye of the Tiger," but they form a good texture for the movie that's modern but not cheesy. More importantly, the score by Swedish composer and music producer Ludwig Göransson does a very good job of funneling the style and bombast of Contin into a modern score. Creed's theme is reminiscent of Rocky's, but with a tiny bit of a Morricone lilt.
This incredible filmatism and blood-pumping music helped to make what is basically another variation on the climaxes of ROCKY and ROCKY BALBOA still be thrilling enough to give me goosebumps and make the audience applaud at the end. But I don't think that would work if we didn't care so much about these characters from the between-bouts portion of the movie. There's a little scene early in the movie where Adonis sees a photo of Rocky with a very young Rocky Jr. and says "Dope picture." When Rocky explains who it is it kind of feels like exposition to explain why his son's not around, but if you think about it it's loaded with significance. To Adonis, who never met his famous boxer father, it's a nice fantasy to have had a childhood like the kid in the picture. But to Junior it wasn't so great. He  moved away because it was so hard to live in the shadow of his famous father, so isn't it interesting that Adonis has moved here for exactly the same reason, and now seems to be filling that emptiness in Rocky's life? He gives Rocky something to care about again, something to look forward to, a reason to live besides telling old stories.
In the fight, Adonis uses moves he learned from Rocky, moves he learned from watching videos of Apollo, combinations that Rocky told him Apollo used on Rocky. He demonstrates the fortitude of Rocky though also the hot-headedness of Apollo. When he finishes his training montage he not only raises his hands in victory, but starts yelling, unheard by us, maybe some sort of self-hype or trash talk like his father would've done.
For his part, Rocky combines aspects of his own mentors as a trainer. He is both the strategizing buddy that Apollo was and the inspirational, loving father figure that Mickey was. But also just kind, goofy Rocky.
Is Adonis Creed the product of a bloodline, or of mentorship? He is both. To me the most touching theme of the movie is its approach to family. Adonis (like Rocky) grew up without any parents. You have to respect Mary Anne for finding, taking care of and loving the product of her husband's infidelity. But he can't get what he wants in L.A. so he comes to Philadelphia and he calls Rocky his uncle. And by the end of the movie they really consider each other family.
Maybe ROCKY BALBOA wasn't the perfect ending for Rocky after all. Maybe it was just the perfect ending to that chapter. Or maybe CREED is the perfect post-script. Time (which is undefeated, according to Rocky) will tell. If they do decide to make a CREED II then I humbly request that Stallone get to make up the names of the characters, because Adonis is a good one but we need some more colorful names in there. And maybe an appearance by Clubber Lang. And the tiger jacket. And the son of Paulie's robot. And they should mention that one of Apollo's nicknames was "The Count of Monte Fisto." That doesn't get mentioned enough. I mean, that's a really good nickname. You gotta respect that.
Ah, I'm not gonna tell them what to do. They seem to get the idea. Long live Creed and long live ROCKY.
continued in CREED II