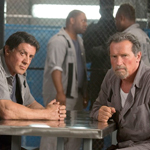 Well, shit. I hope ESCAPE PLAN isn't the last gasp for straight ahead R-rated theatrically released movies from the '80s action icons. I guess Schwarzenegger has another one in the works called SABOTAGE. And there's always the off chance that an EXPENDABLES sequel could be made where they're trying harder and it mostly works on its own merits, not just nostalgic references and goodwill. We action fans all kinda hoped the EXPENDABLESes would remind the rest of the world that they used to love those types of movies and reignite their popularity, so we could all go see them on the big screen with the loud speakers and with a big crowd excited to experience it together and maybe afterwards there would be some high-fiving, possibly some push ups.
The possibility seemed real enough that we got Arnold Schwarzenegger starring in THE LAST STAND and Sylvester Stallone starring in BULLET TO THE HEAD and now both of them starring in ESCAPE PLAN. All of these movies have been flops at the American box office, even though all of them have been pretty enjoyable, and better than any non-sequels either of these guys have done since the '90s.
But hey, at least a couple of us were there to appreciate it. ESCAPE PLAN is a solid, enjoyable Stallone vehicle where Schwarzenegger gets to be the joking sidekick. Rob Schneider was busy.
Stallone is introduced as an inmate in a maximum security prison. We watch him calculate as he studies the guards and their habits, draws diagrams on his wall, prepares tools made of toilet paper and milk cartons… you know, makes an escape plan. And then an escape do. You see, he is actually Ray Breslin, world's foremost expert on prison escape. Also published author. Of course in movies there's gotta be a cut and dry emotional backstory that explains specifically why somebody does what they do, and we'll get that later. But the important thing is he's part of a private security firm that works with the Federal Bureau of Prisons to test out their shit.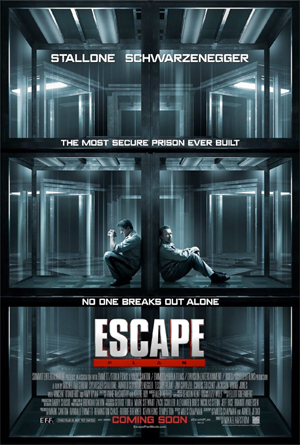 After proving that the supposedly impenetrable prison is actually quite penetrable and returning to the outside world, Breslin accepts a fishy-from-the-outset gig in an off-the-books, black site type of place called The Tomb, ZERO DARK THIRTY meets HALF PAST DEAD. The cons are kept in David Blaine style glass boxes, the guards wear creepy black plastic masks like they're in THX 1138, and as soon as he gets there he realizes he's been screwed, he has no backup, he's really trapped in there for life if he can't figure out an escape.
Schwarzenegger plays Rottmajir, a fellow inmate who protects Breslin from the welcoming committee (not that he necessarily needs help) and tells him to come to him for any favors he needs. The favor he needs is to punch Rottmajir in the face until they drag him to solitary so he can begin studying what kind of screws they use on the floor paneling and stuff like that. It's the type of movie where he knows every obscure fact in the world and can use them to Sherlock or McGyver his way out of situations. Plus he seems to have photographic memory of guard habits, patterns and body language, and luckily their routines are consistent enough to count on happening the same any day that an escape needs to take place.
You know, you got all the prison movie cliches. You got the different gangs they gotta deal with, and then try to turn them to their side. That kinda shit. Silly, but it works. And I guess it's at least novel that because most of the prisoners in this place are presumably terrorist suspects they're dealing with Arabs instead of the usual black or Hispanic or skinhead prison gangs. The main guy is played by Faran Tahir, bad guy in IRON MAN, president in ELYSIUM.
The supermax security is probly not as super as they say it is. They make the security guards wear masks so the inmates can't tell who is who, but they never seem to strip search 'em and can be fooled by a camera being covered. But I guess there are holes in any system. We got an unprecedented level of domestic spying going on right now but I just read about the White House having to have a 6 month investigation to figure out which one of their staffers was shit-talking them on Twitter.
The masks are one of these touches that shows maybe this is, like, one year into the future or something, kinda like HALF PAST DEAD's electric chair that conveniently rises up out of  the floor. But the weirdest futuristic-ish touch is the uniforms the inmates have to wear. They're pin-striped with one thick black stripe up one side of the chest, but then the strip doesn't go through the pocket, which has some kind of a Q code type deal printed on it. The stripe is on the right on some uniforms and the left on others, and on the back there is giant lettering with another bar code. I guess it's weird anti-counterfeiting measures like they got on the new hundred dollar bills.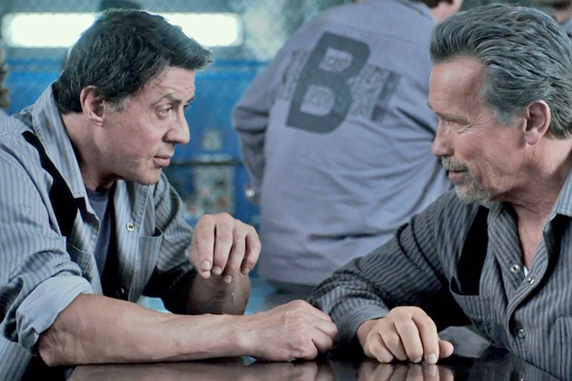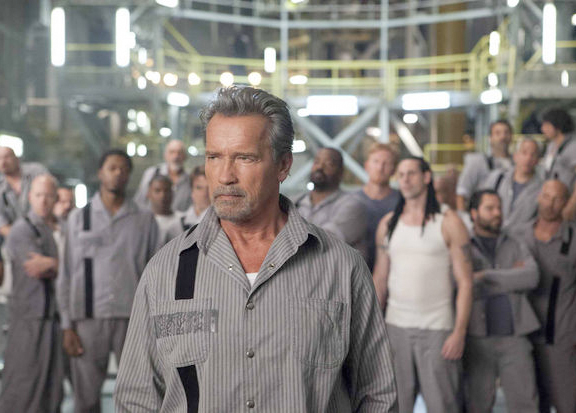 Except wait a minute – how come that guy in the background just gets to wear his undershirt? And also if they're concerned about security then why are they giving them two pockets? What do they expect them to keep in there? No, now that I've considered it I'm sure these are not uniforms designed with security in mind. I bet somebody on the prison board hooked up a pretentious fashion designer crony with a fat contract. Guys in other joints are probly wearing ridiculous hats, leather jogging pants, who knows. And these prisons are off the books so they can get away with the cruel and unusual punishment.
Speaking of which, they let  these cons socialize and stuff. There is the occasional beating or interrogation, but they sure don't Abu Ghraib them. Is that optimistic or is it naive when the brutal prison in a dystopic near-future is not as bad as the real ones we have?
There are more names in the cast than I knew going in. You got Vincent D'Onofrio as Breslin's boss at the security firm (have you guys noticed that he played Orson Welles in ED WOOD and now he's physically transforming into him?). You got Vinnie Jones as the warden's right hand man when he takes his mask off. Those aren't exactly casting coups. But the warden being Jim Caviezel is pretty good, and what about Oscar nominee Amy Ryan as Breslin's partner on the outside and potential love interest? That's an unorthodox choice. Then Breslin has to go to the prison doctor and what the hell, it's Sam Neill! I thought that would be funny if all he did was stitch him up, a bit part. But you guys know how it works.
50 Cent plays a computer genius reformed criminal who's on the team because he owes Ray one. I didn't mind him. Kind of a funny idea to cast him as that.
D'Onofrio has a goofy piece of actor business where in multiple scenes he's putting on hand sanitizer as he talks to people. It could be that D'Onofrio said "my character is afraid of germs," but it could also be some writer or director trying to put in some dumb symbolism about him trying to "keep his hands clean" of the dirty business of secretly imprisoning people outside of our legal system of justice. I actually suspect option B, because Caviezel has a similar gimmick where he's always brushing lint off of his suit. Clean freak bad guys (SPOILER) is a motif.
I generally think Caviezel is an underappreciated actor, doing interesting under-the-radar movies like OUTLANDER and HIGHWAYMEN and he's even good in the LONG WEEKEND remake from what I remember. But to be frankly honest I didn't dig him that much as this uptight scumbag, despite a whiff of mega in his acting style. Maybe if he'd gone more ridiculous it would've worked better for me. The one great thing he does is when he finds a loose screw from a panel that Breslin had climbed through. He picks it up and tastes it. That really could've been a "what would Nic Cage do here?" acting choice.
But of course Stallone and Schwarzenegger are the main event, and both deliver on what we love about them. Breslin is one of the standard issue Stallone action heroes, not a more developed one like in BULLET TO THE HEAD or an emotional one like John Rambo or Rocky Balboa. But he's cool and internal, gets to be quiet and broody, which he's much better at than trying to be a charmer.
Schwarzenegger, sporting a grey goatee, is cooler than he's been in a movie since at least TERMINATOR 3. He gets to joke around with Stallone, not just do bad puns. It's that thing where they insult each other but don't really mean it but try to leave it in question whether or not they do. He got two moments of genuine applause from the sadly sparse audience I saw it with.
As an extra bonus he also gets to show a side we haven't really seen of him before. To create a distraction he pretends to flip out, yelling crazy gibberish – and in German! As nice as it is to see him back in the old game it's also cool to see him trying out new skills.
We've had alot of discussion about The Clint Eastwood Approach to Action Star Aging. Clint was real smart about making his age a theme in his movies instead of dying his hair and wearing cool shirts and trying to pretend he was younger than basic mathematics would seem to indicate. Stallone followed suit in ROCKY BALBOA and Schwarzenegger did a jokey version of it in THE LAST STAND. But I think I gotta also give credit to the in-between approach seen here. Age is never seen as a weakness – no "losing my edge" subplot or impending heart failure – but it's obvious that these two guys are veterans and to be taken seriously because of all they've been through and the wisdom they've gained from it. I like seeing Arnold's transformation from center-of-attention human specimen Mr. Universe to the old guy standing back in the yard but then when you notice him you think oh shit I wouldn't want to get on that guy's bad side.
As far as the recent Stallone movies go I personally prefer BULLET TO THE HEAD. He had a more interesting performance there, there were more clever lines and Jason Momoa made for a more entertaining and more multi-faceted villain than Caviezel gets to play. But ESCAPE PLAN is also alot of fun, and it's more of a slickly tuned machine of a story, so I can see why some would like it better. More importantly it's a good example of how we can team these icons up EXPENDABLES style without a bunch of winking and nudging and shit. They make a great team, just like we figured they would. It's so rare that there's a buddy movie where both of them are this badass.
The director is Mikael Håfström, the Swede who did 1408: AN EVIL FUCKIN ROOM. Screenplay is credited to Miles Chapman (ROAD HOUSE 2: LAST CALL) and Jason Keller (MACHINE GUN PREACHER, MIRROR MIRROR).
NOTE: I forgot to really pay attention to action filmatistm enough to give it a fair ACR. I don't remember being bothered by any severe shakiness or anything during the punching scenes, but there's not a huge amount of fights or anything. It's a movie that's more about the story than body movements.