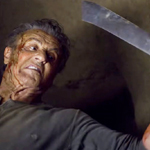 You remember Rambo, John J. Vietnam vet, Green Beret, POW camp survivor, Congressional Medal of Honor recipient. In '81, as a homeless drifter, he waged a one-man guerrilla war against the police department of Hope, Washington, wounding several officers, killing police dogs, blowing up buildings and causing one officer to die from falling out of a helicopter. But they let him out of prison for a secret POW rescue mission. Though he earned a presidential pardon, he decided to live in Thailand, living off odd jobs such as stickfighter, temple-builder, snake-catcher or river guide, with occasional missions to help the Mujahideen in Afghanistan or rescue missionaries in Myanmar. But eventually he came home to his dad's place in Arizona.
It doesn't seem like it, but that movie was 11 years ago. Rambo has short hair now, wears cowboy hats and runs his (now deceased) dad's horse ranch. He lives with a woman named Maria (Adriana Barraza, AMORES PERROS, DRAG ME TO HELL), who I guess the photos on the wall indicate was his parents' maid, and her granddaughter Gabrielle (Yvette Monreal from the El Rey show Matador), who calls him Uncle John and who he says he thinks of as his daughter.
But Gabrielle gets a call from her friend Jezel (Fenessa Pineda, The Fosters), who found her biological father (Marco de la O, who played El Chapo in a show on Netflix) in Mexico, and Gabrielle wants to go there to confront him for abandoning her and her late mother (who I don't think was Rambo's sister?). Uncle John and Maria tell her she can't go because it's dangerous and that guy is a piece of shit. She goes and gets abducted and forced into prostitution. And Uncle John has to go TAKEN.
So, like a normal action hero, he asks around, threatens some people, gets some names. It almost immediately feels like he's crossing a line when he threatens Jezel – a teenage girl! – with his giant knife. Then they try to justify it, but it feels kinda like when the Toxic Avenger killed that old lady and it turned out she ran a white slavery ring. I mean, it's implied that he knew her when she was a little girl.
We see a woman in a bar watching him, and she starts to follow him. Holy shit! It's Kat! From the cartoon!

Nah, it's crusading journalist Carmen Delgado (Paz Vega, ACTS OF VENGEANCE). Sorry to say that Turbo, General Warhawk, Sergeant Havoc, Gripper and Mad Dog aren't in it either. Not even in the end credits montage of the whole Rambo story. HUGE missed opportunity there.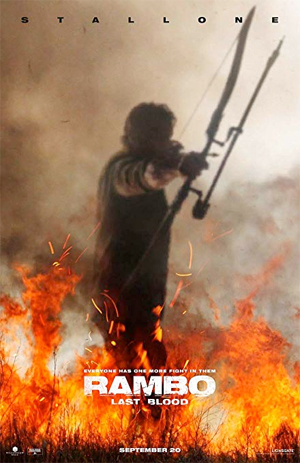 In each of the other Rambo sequels, we get our first glimpse of Stallone and there's no mistaking it – that's not Rocky, that's not Marion Cobretti, that's not the guy from RHINESTONE, that's definitely fuckin Rambo. In this one there's little in Stallone's appearance or performance specific to that character, and he's just living in a humble farm house, so to make it clear it's him they have to pan across a wall of old photos where he does look like Rambo, plus a rack of rifles, and a ridiculous number of long, sharp knives of the type he prefers.
He seems like a pretty regular laid back guy now and he's real good with the horses and with Gabrielle, but there is one odd thing about him: he built a huge series of tunnels under the ranch. He goes down there to forge knives. Sure, it can give him flashbacks (in the form of historical Vietnam era file footage with scan lines), but I guess maybe he likes it down there? It's kind of his secret place, except he lets Gabrielle go down there and, in an act of supreme chill, allows her to have a graduation party down there. I thought one of her friends was gonna be in a cartel or something, like in THE MULE, but the party ends up not being relevant. Just the fact that he has tunnels.
Wouldn't it be funny if they set up these tunnels and then the climax took place in Mexico? Well, don't worry. He'll be back. Eventually. He does some searching, some confronting, some losing. Things get dark. He gets pushed too far. etc. He uses the knives and the bows. There's a setting up booby traps montage. There's a total fuckin massacre.
Maybe a strong writer/director or writer-director combo could've done something artful with this, but that's not the case here. Director Adrian Grunberg normally works as an assistant director, except in the case of this and the better Mel Gibson movie GET THE GRINGO. I'm tempted to connect some dots there, but I don't know. The screenplay is credited to Stallone & Matthew Cirulnick (PAID IN FULL). IMDb says story by Stallone & Dan Gordon (TANK, GOTCHA!, Highway to Heaven, pilots for Sidekicks and Highlander: The Series, PASSENGER 57, SURF NINJAS, WYATT EARP, MURDER IN THE FIRST, THE HURRICANE).
Normally I would joke that they failed to pay off the detail we learned in FIRST BLOOD that he was trained "to eat things that'll make a billygoat puke." Like, what if before the cartel guys beat him down they tried to humiliate him by forcing him to eat something disgusting, but it didn't bother him at all? That would show them. But the thing is, in this one I can genuinely complain that he doesn't even wear a headband! I get it, not everybody keeps the same hair style their whole life, but the man is clearly sweating, we can see it. It's gonna get in his eyes. Put the headband on.
There's a part where he tells Gabrielle that people don't change, and she says, "You changed!" And he responds with one of the better, more Rambo lines, but I was distracted because does that mean she's aware of the Hope, Washington Rampage of 1981? Or did she mean "You changed! You got a haircut, started wearing shirts all the time, talk much more and more articulately, apparently are into Doors covers"?
(At one point he plays a rock 'n roll cassette tape over the loudspeaker to terrorize his foes. I'm not sure there's any logical explanation for it, but apparently it ties in to the opening hiker rescue sequence that was cut out of the American release for unknown reasons.)
One part I got a chuckle from is when a bad guy assures his pals, "This old gringo is nothing"— moments after said old gringo triggered a giant wall of fire that blew up several SUVs. This after going to Mexico by himself and murdering several cartel members, even (SPOILER) beheading one of their leaders. Still, this guy thinks he's no problem because he's just some old guy. Your ageism is gonna do you in, buddy.
I enjoyed it best when it was at its most ridiculous. The last 15 minutes or so do a good job of being so PUNISHER: WAR ZONE extreme you can't really dismiss it as an experience in tasteless violence. It's not an exaggeration to say that he acts like Jason Voorhees at the end. And even before that there's a bit involving a severed head that seemed like something out of a MANIAC COP. There's a part where he drops two guys into a tiger pit, running them through with several long spikes, then sprays them with machine gun fire. So I certainly got more holy shit laughs and winces than I get out of the standard okay Liam Neeson joint. I like that by the end they stopped pretending this guy isn't a total fuckin psychopath. My first thought when the credits rolled was "Well, I guess you shouldn't let a guy out after he goes on a rampage and causes a guy to fall out of a helicopter."
But the earlier, more reasonable part doesn't feel worthy of being a RAMBO movie. It doesn't have the wide angles and scenery. Unless you count a ranch and some roads. It doesn't really use the trope of "here we have Rambo living in another far-flung place, doing another unusual job," unless you count living on his dad's ranch being good at making horses spin around. And I kind of like the idea of a different type of Rambo movie, where this character is put into a different subgenre of action. But it needs to feel like it actually is Rambo, and not just a generic Stallone performance. I didn't love RAMBO (the fourth one) the way so many of you do – it felt to me like they forgot to have a third act – but Stallone was excellent in it, deeply inhabiting the character. It felt like he put so much care not only into creating the tree trunk physique of an aging Rambo, but of projecting his inner life through his big sad eyes, responding to people with few words, if any.
LAST BLOOD does not take that same care, so I wondered what David Morrell, author of the book First Blood, thought about this sequel. He has a commentary track on the RAMBO: FIRST BLOOD PART II dvd and wrote the novelizations of 2 and 3, so he has a sense of humor about what became of the character from his angry little anti-war thriller. Unfortunately, but not surprisingly, he feels betrayed by this one, saying on Twitter that he "hated" and was "embarrassed" by it. He told Newsweek, "I felt degraded and dehumanized after I left the theater. Instead of being soulful, this new movie lacks one. I felt I was less a human being for having seen it, and today that's an unfortunate message."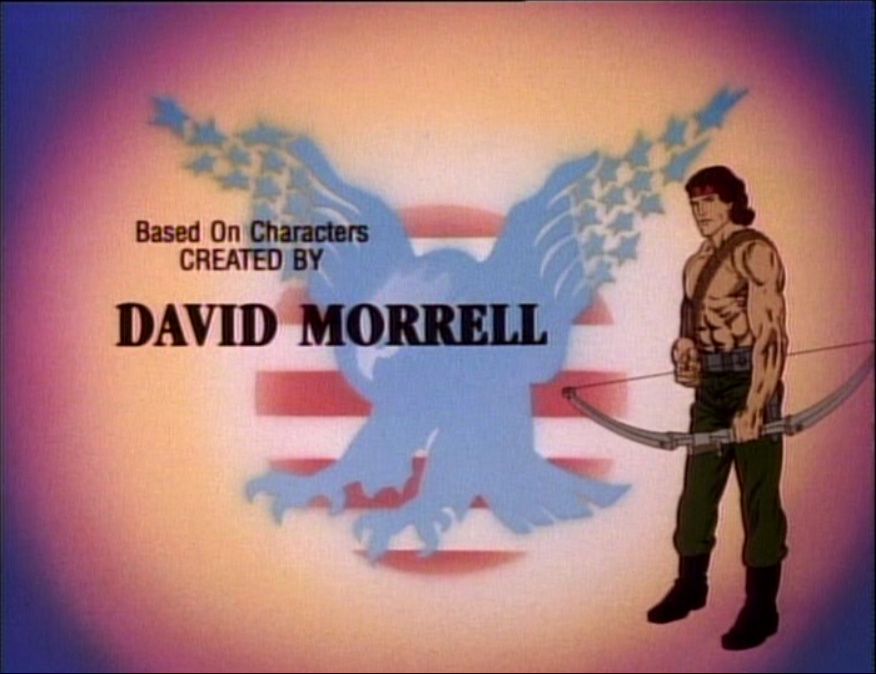 Not being the creator of Rambo I can take it less personally, and I can't deny getting a certain kick out of the deranged wrongness of the thing. But it didn't have to be this way.
There have been many Rambo sequels that almost happened over the years. People always talk about the one where he was gonna fight a monster. I read somewhere that Stallone's script for the enjoyable Jason Statham movie HOMEFRONT, though based on a book by Chuck Logan, was originally planned as a Rambo sequel. And I don't know if it's that same one, or a different one, but there were reports of a RAMBO 4 that would've had him living peacefully until white supremacists kidnap his family.
Think about that. Rambo can only re-fight the Vietnam War so many times. Stallone needed to find a villain that's relevant to today, in the period when that one particular asshole is in the White House. He had already considered a story where he goes up against white supremacists. Nah. Why not just do the "dangerous Mexican criminals are coming over the border to get us" route.
It could obviously be worse. The only people in Rambo's life, including the literally-virginal surrogate daughter he's trying to save, are Hispanic, and often speak to him in subtitled Spanish. And there's the journalist in Mexico who saves his life. That's cover, but it's better than nothing. You can decide whether or not it makes up for the overhead shot of a border wall where our side is fine and the other side is just piles of garbage and filth everywhere.
(Later, for plot convenience, there's a spot where it's a barb wire fence that he just drives over and heads home.)
Of course, the sequels long ago turned FIRST BLOOD's anti-war icon into right wing militaristic propaganda, so this isn't a sudden right turn. But it's too bad. SICARIO: DAY OF THE SOLDADO and PEPPERMINT already pushed these buttons more entertainingly, and MISS BALA tried it too. I wonder if Stallone knows it was the cowardly choice? Now he's talking up a ROCKY 7 where he trains an undocumented immigrant. Consciousness of guilt.
There's one scene that I think transcends the rest of the movie. It's when Rambo storms a whorehouse looking for Gabrielle. He just bursts in and starts going room to room, bashing each male he comes across with a hammer and telling the captive young women to leave. But none of them do as he says. Every one of them says, "No puedo." It's not that simple. This is helping nothing.
Too bad we'll never see the better movie that scene hints at. The title LAST BLOOD sounds like this was designed as the final chapter. The movie itself doesn't seem that way, but its lack of quality will likely fulfill the prophecy. R.I.P. John Rambo, you crazy gross-things-eating sonofabitch.