For those keeping score, THE SCORPION KING 3: BATTLE FOR REDEMPTION is the sequel to the prequel to the prequel to the sequel to the re-imagining of THE MUMMY. It would've been worth reviewing just to point out that important fact, but the truth is I have a sincere interest in the Scorpion King saga. There's only one movie in that entire lineage that I like alot (THE SCORPION KING starring The Rock), but I believe it's a series they could do something fun with, even on lower budgets and without The Rock. I believe in hope. I believe America.
Well, part 2 was pretty forgettable, but it seemed like they halfway tried because it was directed by once-exciting Russell Mulcahy (THE HIGHLANDER, RAZORBACK, RICOCHET) and had UFC hall-of-famer/#1 Expendable Randy Couture as a villain who turns into an invisible scorpion monster. You don't get that every day. Part 3 has a good DTV pedigree too. Director Roel Reine has done what I thought were two surprisingly enjoyable DTV sequels (DEATH RACE 2 – another Paul W.S. Anderson franchise! – and especially THE MARINE 2) and the last Seagal movie I really loved (PISTOL WHIPPED) so he's a good choice, and as you'll see the cast is pretty good.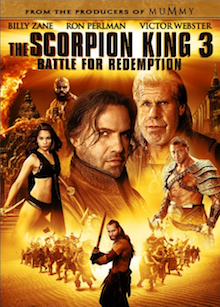 Some guy named Victor Webster takes over the lead, but it's okay, because he has a beard so maybe that hides that he's not The Rock. He's a mercenary and he hides his past as The Scorpion King. Everybody knows about The Scorpion King and they know his real name and nationality but I guess they figure "The Scorpion King of legend was also named Mathayus and was also the last surviving member of the Akkadian race, but he didn't have a beard so this can't be the same guy." Anyway what this means (if I understand the chronology correctly) is that this takes place some time after the events of THE SCORPION KING. The happy ending from that movie has turned to shit and now he has to earn redemption. Real sweet, but meaningless since we know in 5000 years he's not only cursed to come back as a mindless scorpion monster, but also as one of the shittiest CGI effects ever used in a major big budget motion picture.
The adventure begins promisingly with a cool camera angle and Mathayus strung up by bad guys telling him how screwed he is, but the potential of the scene is squandered when he just listens to the speech and then starts beating them up. No trick or one-liner involved to ease the transition. It's missing that part 1 energy.
He's working for King Horus, who is played by Ron Perlman, and that raises an obvious question: how the fuck did it take until part 3 for Ron Perlman to get into one of these? Horus is at war with his brother Talus, who is played by famed Arnold Vosloo lookalike Billy Zane (TITANIC, SNIPER RELOADED). Seriously, I was excited that Zane was in this because
1) when he's in a groove he can be fuckin great, and
2) the titular mummy who spawned the Scorpion King character in THE MUMMY RETURNS was played by an actor known for looking exactly like Billy Zane. Vosloo even said in an interview with Charlie Rose that people come up to him and ask if he's "the guy from TITANIC." Too bad Zane has hair in this one, that was kind of a missed opportunity to create franchise confusion. They must've thought it was enough to have the characters constantly talking about a mysterious bad guy called "Cobra" even though that was the name of the mysterious bad guy in Stephen Sommers' GI JOE movie.
Mathayus is teamed with a fat hairy guy named Olaf (Bostin Christopher, who played the title character in a movie I never watched called OTIS), who he fights and then befriends in the same way he did Michael Clarke Duncan's character in the first movie. Horus sends them on a mission, something to do with the Book of the Dead and King Ramusan, played by Temuera "Jango Fett" Morrison (who previously worked with Reine in THE MARINE 2).
I like the convoluted way the plot bounces poor Mathayus and Olaf around: they complete their quest to help Ramusan, but he's out of gold, so he rewards them with his daughter's hand in marriage. But she's been kidnapped by Talus, so they have to go on another quest to rescue her if they're gonna claim their reward. But just as they get to Talus's camp to rescue her she's re-kidnapped by ninjas, so Talus sees them and hires them for a quest to rescue her from the ninjas. And they don't even want her anyway but in a painting she was wearing a valuable necklace so they're hoping they can steal that. A quest within a quest within a quest – it's a lot of fuckin trouble for a piece of jewelry. Gotta appreciate how easy you have it, rappers.
In the tradition of part 2 there are alot of dull stretches in their quest. I appreciate that they try to mix things up – it was shot in Thailand, so they have lots of battle elephants and some martial arts. They use different cultural influences for the various tribes and kingdoms so there seems to be some Egyptian stuff, some Greek, some Thai. There's some catapults. A chariot chase. Some explosions. A tiny bit of old school wire work for ninjas to scurry up some trees.
Just when it seems like nothing new is gonna happen things take a positive turn for the Mortal Kombat as Talus summons three demonic warriors: backyard fighting legend Kimbo Slice with glowing eyes and painted up like an old movie cannibal, cool-looking WWE guy and lunchbox collector Dave Bautista in skeleton-themed armor with severe stomach burns, some sexy witch lady with a white wig. So this sets up some decent fights between the various good guys and bad guys, there is some magic, etc. The fight with Kimbo is the best one so they probly shouldn't have done that one first. I forgot to mention there is a sexy ninja girl who fights the witch lady so that they can do the move we all know from trailers where a sword swings toward a Jovovich, Beckinsale or Q type and she leans backwards in slow motion to go just under the blade. I call it the Sword Limbo.
There's alot of terrible dialogue to induce groans or laughs. Not the audaciously melodramatic wording of the original, but stuff like "What in the name of the demon serpent is going on?" or "Mathayus! Where in Odin's cod-piece have you been?" Talus laughs about somebody being "no more human than the palace monkeys that wipe my bum," but it's never explained if he literally has pet monkeys that are trained to wipe his ass for him. If so I think this is a new detail about life in the Mummyverse, I don't think it came up in any of the other ones. In my review of part 2 I speculated about a spin-off series for the minotaur character, so here obviously I gotta suggest PALACE MONKEY: CONQUEST OF THE ASS-WIPERS in which the Chosen Monkey fulfills the prophecy to free his people from bathroom servitude. Of course he dreams of someday becoming something other than a royal butt cleaner, and everybody mocks him for it, but he proves that it's possible. He could be like a towel holder or something.
As long as we're off on a tangent I wanna bring up this beard thing again. Is this gonna turn into a cultural thing now, like in the '80s everybody in movies had the mullets to try to fit with the times, now they're gonna start giving them these straggly fuckin fake southern rocker beards all the twentysomething dudes have? We got a Scorpion King with a beard, we got a Michael Myers with a beard, I'm pretty sure I saw set photos of the new Superman with a beard… is Mickey Mouse gonna have one now? Skinny jeans and a fake hobo beard? Maybe in Spielberg's Lincoln movie he'll give Abe a double-sized beard to make him relevant to today.
What I'm getting at is 1) this Scorpion King's long braided hair and beard look leaves alot to be desired and 2) just fuckin shave every once in a while, you won't regret it
Old Beardo's not terrible – his first couple lines got me worried, but he grew on me. (like a beard.) But of course most people don't have the kind of charm The Rock does, and this guy doesn't come close. His sidekick Olaf doesn't help either, he's merely passable in what is obviously supposed to be a really funny role. You can tell mainly because he burps alot. They try to capture the type of humor the first one has, but most of it doesn't work that great. There are a few parts that got me, like when the bad guy makes an evil joke and Olaf doesn't know that he shouldn't laugh at it because he's a good guy. Also a weird part where Ramusan proudly shows off a portrait of his daughter, but it's a shitty painting that makes her look ugly and cross-eyed. Oh yeah, and the slo-mo shot of a ninja flying out of the water and kicking Olaf while he's taking a piss.
Perlman's role is generic low grade Perlman, and Zane's isn't that great either, but he does do one speech in some kind of redneck accent and I did enjoy his final showdown with Mathayus, where his various attempts at sorcery are so pathetic that His Scorpion-ness just shakes his head sadly.
Kimbo Slice and Dave Bautista both look cool, but should be in it more. In fact it occurred to me – why isn't Bautista playing the Scorpion King? Is it not allowed for it to be another WWE guy? I feel like he would be more worthy of it. But if not that's cool, just give him more lines.
Like part 2 this one is watchable and at times fun, but not as good as I was hoping for. We'll see if they can do better in the sequel to the sequel to the prequel to the prequel to the sequel to the re-imagining.
This entry was posted on Wednesday, January 11th, 2012 at 1:44 am and is filed under
Fantasy/Swords
,
Reviews
. You can follow any responses to this entry through the
RSS 2.0
feed. You can skip to the end and leave a response. Pinging is currently not allowed.