THE MAN WITH THE IRON FISTS is the new kung fu movie directed, co-written and starring RZA, leader of the Wu-Tang Clan. The rap group, not the clan, although he has actually been a guest at the Shaolin Temple and trained under a 34th generation Shaolin monk, no bullshit. If you're not a Shaolin monk and not into hip hop either you might still be familiar with RZA from his all time classic score to GHOST DOG: WAY OF THE SAMURAI or you might've seen him show up as an actor occasionally, like in AMERICAN GANGSTER or FUNNY PEOPLE.
Directing a kung fu movie, though, is something he's been trying to do since at least the '90s, when he started filming a super hero martial arts thing called BOBBY DIGITAL. The album RZA as Bobby Digital (which I thought was really disappointing, but it has many fans) was supposed to be the soundtrack. There was actually a trailer for it, and I can't find it on Youtube, but I remember I saw it on the VHS release of his boring short film DOMESTIC VIOLENCE:
I guess he never finished BOBBY DIGITAL, and probly for good reason, but for years he's been trying to make IRON FISTS. And then remember when this mysterious thing showed up online?
Turns out that was a short he made to prove to the money men that he could direct martial arts scenes. (I was thinking he could've showed them "Gravel Pit," but it turns out that was directed by our buddy Joseph Kahn.) He had befriended Eli Roth, who helped him finish the IRON FISTS script and produce the movie in China.
Interesting note: the story is credited to RZA, the screenplay to The RZA. I guess RZA is more of an idea guy and The RZA more of a craftsman.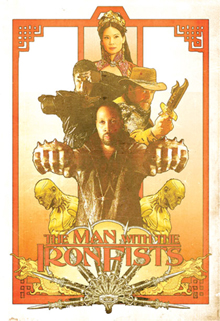 RZA plays Thaddeus Smith, a former slave now working as a blacksmith in Jungle Village, China. He's planning to run away with his love Lady Silk (Jamie Chung), a prostitute at the Pink Blossom brothel, but instead he gets caught up in some shit when he helps an injured warrior named Zen-Yi the X-Blade (Rick Yune, Johnny Tran from THE FAST AND THE FURIOUS) who's trying to get revenge on Silver Lion (Byron Mann from BELLY OF THE BEAST, A DANGEROUS MAN and True Justice, hamming it up in this one) for killing his father Gold Lion (Chen Kuan-tai, star of the 1981 IRON MONKEY) and trying to steal a shipment of gold.
RZA has done some decent acting in the past, but you might see this and think he was what I've recently decided to call an "artisan actor," a naive amateur outsider art type of feel. He barely emotes, mostly stands looking unimpressed, his eyelids heavy, like he would in an interview. Actually there's something I kind of like about this approach, but I think it's a good thing he loaded the movie with other memorable characters and didn't put himself on screen the whole time. There's really less ego than you might expect, because he also has a couple unglamorous scenes. When he gets a horrible injury he doesn't grunt, he screams. Vin Diesel wouldn't do that.
This is the rare movie where the occasional first-person narration is welcome, because it brings his character to life. I've always liked him better as a producer than a rapper, but this narration reminds me that I do like his voice and his words. You gotta appreciate a movie set in 19th century China with a voiceover referring to a particular clan as "these motherfuckers."
You can tell by those character names that this is a movie that appeals to me. I should also mention that the Lion Clan (which also features Cung Le from DRAGON EYES as Bronze Lion) all have lion-like manes, and that there's a Wolf Clan and a Hyena Clan too. The end credits are like a Shaw Brothers opening, with the different characters doing katas with their credits on the screen, and it's great to see all these names in a row: Poison Dagger, Madam Blossom, Angry Hippo, Brass Body…
Brass Body is my favorite villain, he's an enforcer played by the huge ex-wrestler Dave Bautista. He has unbreakable skin that actually turns to metal when he needs it to (kinda reminds me of the armor guy in TRUE LEGEND). If you enjoy Bautista in this role give a tip of the hat to David "The Demon" DeFalco, who wanted to help break him into movies and directed him in one of his first roles in WRONG SIDE OF TOWN. That's how I found out about him.
The biggest show stealer is another one of the good guys, a British cowboy and emissary of the emperor named Jack Knife, played by Academy Award winner Russell Crowe. He becomes a faithful ally to the blacksmith and plays a crucial role in helping him become the title character, but spends most of his scenes in a room at the brothel smoking opium and plying three ladies with beads and dildos. The kind of role that makes you respect the guy more and also worry that it could lead him to the Nicolas Cage DTV ghetto.
But wait, there are even more 5 DEADLY VENOMS type gimmicky characters. My absolute favorite are the Gemini Killers (Andrew Lin and Grace Huang), a husband and wife team who fight as one, spinning each other and firing weapons attached to each other. Their swords combine to form a yin yang.
The blacksmith forges the weapons for the warriors in Jungle Village, and RZA himself seems to have put a huge amount of thought into the weaponry, with all types of knives, guns, blowguns, darts, grappling hooks, claws and tongue-barbs. The X-Blade wears armor with retractable spikes that pop out like quills to protect him from predators. Every fight uses different weapons and styles, lots of variety so they don't seem repetitive. There's a modern approach to the cartoonish gore, like a digital RICKY O, but the fights are choreographed by Corey Yuen in a more classic style with a healthy disrespect for gravity but pretty basic in the wire work. More Shaw Brothers than MATRIX.
Unlike the blacksmith's weapons, this movie does have some weaknesses, and one of them unfortunately is the photography, which in my opinion is much too close up. I think the fights could be better if they pulled back the camera a little, but it's not as bad as you usually get these days, it actually bothered me more in the dialogue scenes. I don't know if the sets were limited or something but he has this great world and then he rarely shows it in a wide shot. And sometimes he even has a scene where he and somebody else are talking and they're both cut off on the sides. Maybe he didn't know because he was on camera and everybody was afraid to tell him because of the iron fists.
I also would've liked if a couple of the fights went on for longer. And I pin this one one Eli Roth. Mr. Beaks did an interview with Roth, who said alot of cool things about his job as producer and his suggestions to RZA about how to approach it. But the one part I think I disagree with is when he says "RZA is a fanatic. He can watch these movies for hours. But I get very bored watching the same movie go on too long, or if the fight is too repetitive. I talked about 'fight fatigue'. I said, 'We can't make a movie where fights go on and on and on.'"
He correctly compares fight scenes to musical numbers, but doesn't acknowledge that the songs are the main attraction in a musical, they're allowed to go on and show off, they're supposed to be show stoppers. You think about not even just in the classics but even in the mainstream hit martial arts movies from KILL BILL to CROUCHING TIGER, HIDDEN DRAGON, they have really lengthy fights and they don't fatigue you, they're exhilirating. When they finally end you exhale, and maybe applaud. These fights are fun, but they don't give you that.
I also think there are little bits of the story here and there that seem like they're missing, that I think could make it better. They don't really establish the blacksmith's fighting skills until the end, and even in a flashback about him training with the Abbot (the great Gordon Liu of course, although RZA had wanted to use his real life Sifu Shi Yan-Ming) there's not really fight training. (This might've been to emphasize his training in Chi, something RZA really believes in, but still we could've seen some punching and kicking montages.) Also, there are a few mentions of him making all the weapons, which is important to the theme of the movie, but I think it could show more forging and the direct lineage of the weapons from him to his new enemies. All little things, but they add up to make the story less effective and harder to love.
And yet this is such a fun world, so full of cool ideas, and it pulls it together for some of the most crucial moments: the fate of the Gemini Killers, the secret plans of Madame Blossom (Lucy Liu – I guess RZA's "Ode to O-Ren Ishii" on the KILL BILL VOL. 1 soundtrack was no joke), the creation of the iron fists, the revelation about how to defeat Brass Body. So I wanted to love it, and I almost did. I kinda want to see it again already.
One thing that made it appeal more to me than it might to some people, though, is that I'm a fan of RZA, and alot of his personality comes through. I found it kind of charming that he put seemingly out-of-place hip hop songs on the soundtrack. The opening credits put a huge grin on my face when dramatic scoring segued into the Wu-Tang Clan classic "Shame On a Nigga", now accompanied by a full orchestra. Cung Le is wearing a goofy wig, fighting in a temple, there's freeze frames and credits in both English and Chinese, and Ol' Dirty Bastard is rhyming and I thought that's RZA right there, that's Wu-Tang, that's it exactly.
If you don't know much about RZA you might not know how serious he is about kung fu movies. This is not the same as directors who are supposed to be "geeks" and know all of the different comic book characters, or whatever (although he does blow critic Andy Klein's mind with all his movie knowledge on their commentary track for The 36th Chamber of Shaolin). And it's not just that the name of his group and many of his works come from old school kung fu movies (Enter the 36th Chamber, Liquid Swords, lron Flag, The Mystery of Chessboxing, etc. etc.) This runs deeper.
It's fitting that RZA scored and had a cameo in GHOST DOG, because he shares Ghost Dog's approach of finding wisdom from all cultures and time periods and combining it into his own philosophy. He's inspired by traditionally black American subcultures – hip hop, Nation of Islam, 5% Nation – but also by Confucianism and Taoism. He seems to find meaning in The Art of War, the stories of the Bible, and the Shaw Brothers movies he watched all day on 42nd Street.
In his book The Wu-Tang Manual Book One, RZA tells a story about how his family would watch EIGHT DIAGRAM POLE FIGHTER together because the family in the movie had 8 brothers and 3 sisters, just like theirs. Then one day he showed it to Ghostface and some other friends, and "something deep happened. People start feeling it. Some niggas even started crying. Because that movie is real. It's a kung-fu movie, but it's a real story. These eight brothers who go out and they get betrayed and they fight to the death for each other–it hit us."
He compares the story to his life and the legacy of slavery. "I think what got them was the betrayal and the brotherhood. The general betrays the whole family, and the father gets killed, and all the brothers get killed except for two… Listen, we're oppressed. It does feel like we as a people were betrayed a long time ago. I can't really describe it any other way. It's real because the issues are alive with us. You're living in the hood and you've got knowledge and dreams and you got wars between neighborhood and neighborhood and neighborhood. Everybody's backstabbing everybody. And when you know someone who's got your back, that's a life-or-death thing. That's a real bond, a real brotherhood."
He's brought that idea into his movie, playing a guy leaving slavery behind, stuck between battling clans, betrayal, material greed, risking his life for the X-Blade and Jack Knife, and vice versa, coming to terms with his part in the violence, trying to find peace and balance.
So there's cuteness and camp value in the Shaw Brothers style shaky opening credits, the perfect old school freeze frame ending, and the actors who sometimes deliver their dialogue in the style of an English dub job. But this is not a joke, or a reference, and there is no irony involved. He's serious, and I think that's what makes it work.
Pull the camera back next time though, fellas. Come on.
This entry was posted on Saturday, November 3rd, 2012 at 11:50 pm and is filed under
Action
,
Martial Arts
,
Reviews
. You can follow any responses to this entry through the
RSS 2.0
feed. You can skip to the end and leave a response. Pinging is currently not allowed.