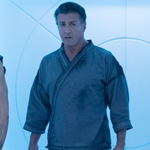 When I heard they were making an ESCAPE PLAN 2 I couldn't believe it. If you read my review of the first one you can see that right at the beginning I worried it might be "the last gasp for straight ahead R-rated theatrically released movies from the '80s action icons." I was a major proponent of the Old Man Schwarzenegger and Stallone movies and disappointed that they kept flopping. I even saw MAGGIE in a theater somehow (there were three other people there, if I remember right) and I suspect I've recommended BULLET TO THE HEAD to more people than any other human being. I liked that one better, but that's okay – ESCAPE PLAN was a solid genre piece with standard Stallone and Schwarzenegger getting to be funny and some goofiness and weirdness for flavoring. Not the best or worst thing either of these icons have done. A pretty good one. I want to keep seeing old fashioned action star vehicles like that, but these days the world is treating them like VHS. Or maybe Betamax. Or America Online CD-ROMs.
So I was grateful for whatever miracle of international co-financing gave us the possibility of an ESCAPE PLAN franchise. And okay, so it's too bad Arnold isn't in this one, but Dave Bautista (WRONG SIDE OF TOWN)? I'll take Dave Bautista. And then wait a minute, they're not releasing it in theaters? I guess I could understand it. Still could be good.
But pretty recently I saw another trailer and I noticed wait a minute, this is kind of weird, they say STALLONE and they say BAUTISTA but it kind of looks like it's mostly about this character played by a Chinese actor whose name they don't even say.
And sure enough this points to a big problem I had with ESCAPE PLAN 2: HADES, which came out on disc and VOD on Friday. Yeah, they'll put Stallone's name and face giant on the cover, but he's not the main character. This is not a full movie role for him, and the people who fill in the gaps are not exactly Adonis Creed.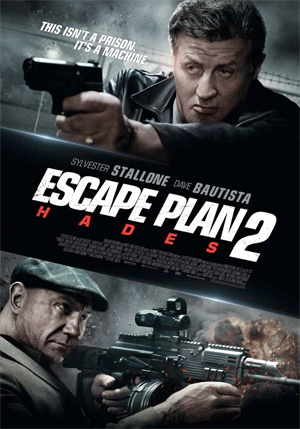 Stallone plays prison escape expert Ray Breslin, head of Breslin Security. He is not in the opening scene. Instead it is some very DTV business about terrorists and hostages and a rescue attempt by a team of Ray's new employees hired since the first one. Except for 50 Cent returning as computer expert Hush, who they talk to after the mission goes south. Everybody blames Kimbral (Wes Chatham, THE TOWN THAT DREADED SUNDOWN) for the hostage being shot because he spent 40 extra seconds blowing up some weapons, which he thought would be okay because "The algorithm was solid!" We don't get a chance to find out how the hell he does such calculations in the field, since Ray fires him. "Someone died 'cause you trusted a computer more than your own team."
To his credit, Stallone is good in the firing scene. It seems like he's probly done it before. But also he must've really been able to focus on doing a good job in that part since he's barely in the first half of the movie. Instead it centers on his employee Shu (Huang Xiaoming, IP MAN 2, THE GUILLOTINES), who gets attacked while protecting his tech genius cousin Yusheng (Chen Tang, LET'S BE COPS) and wakes up in a dystopian prison called H.A.D.E.S. It's allegedly made by people who also made The Tomb, the one Ray escaped from in part 1, and weirdly enough Kimbral is also a prisoner in there. And if there is a very obvious twist that they will take more than 50 minutes to getting around to revealing I can't imagine what it would be.
HADES looks more like the set of a '70s sci fi movie than a prison. The uniforms look like gis, there are plain walls and neon lights and an eerily bland computer voice named Galileo (Mike McColl) that tells you (by number, not name) to report to the Zoo for battle and then you fight another inmate and the winner gets to spend time in "The Sanctuary," which is just a small room with a screen that badly mimics the outdoors. The warden type guy is called "The Zookeeper" but they oughta just let him use his real name, 'cause it's Gregor Faust (Titus Welliver, THE DAY LINCOLN WAS SHOT).
Unlike the first one there's not much of the prison movie tropes – no gangs, and not very many characters established in the prison other than three weird bald guys (credited as Larry, Moe and Curly and played by Shea Buckner [GOTTI], Tyler Jon Olson [also GOTTI] and Vincent Young [Bevery Hills 90210]) who are computer experts and don't speak other than to occasionally say "We are legion" simultaneously. Which is a good touch, I guess. I support their inclusion.
On the outside Ray is in the office with some employees trying to figure out a way to rescue Shu. There are phone calls, people typing things into computers, you name it. All the exciting stuff. Although Stallone is not on screen for much of this section he does have a dual role – in addition to Ray he plays Shu's intuition. It's basically just Stallone reciting wise platitudes about how to escape, reminding me of Ghost Dog reading passages from the Hakagure, but in an earlier scene Shu said "I guess that's why I hear your voice in my head when I am on the job" and Ray said, "It may sound like me but I think that voice is your intuition."
Bautista plays Derosa, an old friend and colleague who's hired to help. He's in the movie even less than Stallone, not having his first scene until 28 minutes in, and his second 44 minutes in. Of course, Bautista brightens any movie he's in, and he has a particularly good moment where he intimidates a guy by casually solving a Rubik's Cube while talking to him. (It turns out that "Bug," the nerdy guy he's trying to scare, is played by Pete Wentz of the band Fall Out Boy.)
I gotta tell you, I initially only watched the first half of this movie and I hated it. I'm used to cheap shots from action stars, of course. Seagal had movies like AGAINST THE DARK where he clearly filmed for a day or two and tries to pass it off as the starring role, or SNIPER: SPECIAL OPS where he clearly built the whole movie around ways for him to be able to sit down and not work with any other actors. But this is the first time I've seen Stallone pulling a "how much do I have to do for it to count as my movie." Or Bautista. He started in DTV but since his success with GUARDIANS OF THE GALAXY his DTV work has mostly been prestigious roles like Tong Po in KICKBOXER: VENGEANCE.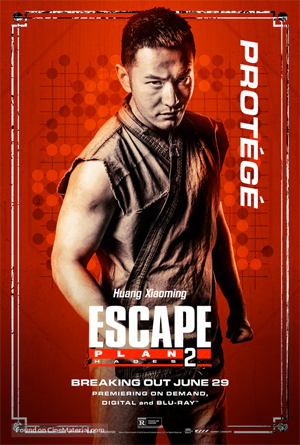 When I came back to it a week or two later and started over it wasn't as bad as I thought the first time. But not too much better. Huang's thickly accented dialogue is fine but he doesn't have a whole lot of screen presence and if his martial arts skills are legit he doesn't get a good enough showcase to be impressive here. The forced combat is never exciting not just because it's shot fairly close up with an annoying shaky effect (done in post, I think) and in the same plain location every time, but because you never really know the characters or the stakes because who gives a shit who gets to go to the green screen room for an hour? Nobody. So apologies to stunt coordinator James Lew, who I respect because he was a bad guy in AMERICAN NINJA 5 and BALANCE OF POWER.
Eventually Ray does become a more important character and he gets brought to HADES. When he gets abducted he gets one punch in and when he's forced to fight in prison he just cowers while like 25 people pound on him. He has another fight scene later where you almost never see his face.
It gets a little more exciting when they're planning the escape and then a little less when you realize it mainly just involves Derosa driving a truck through a wall and then shooting a bunch of guards (who are never seen in the same shot with him).
Director Steven C. Miller has done EXTRACTION, MARAUDERS and FIRST KILL with Bruce and ARSENAL with Nicolas Cage. I thought he might do good because I liked SILENT NIGHT, his loose remake or sequel or whatever of SILENT NIGHT, DEADLY NIGHT. The screenplay is by Miles Chapman, who wrote the first ESCAPE PLAN as well as ROAD HOUSE 2: LAST CALL. He also wrote the already-shot part 3 that this one teases at the end, directed by John Herzfeld (2 DAYS IN THE VALLEY, 15 MINUTES, BOBBY Z). The score by Newton Brothers (HIJACKED, SEE NO EVIL 2, GERALD'S GAME) has some good synthy stuff in it.
I wish I could say this was pretty good. There definitely are worse, but it's not on the level of disposable fun of, say, the DEATH RACE sequels. It's not just that it has less Stallone – his character offers less. He gives fortune cookie lines about teamwork instead of expertise. The prison gimmicks aren't as fun. The escape isn't as elaborate. There isn't as much humor. There aren't many surprises. It's just less, without much new to make up for it.
And I know I'll still watch part 3.
thanks to Franchise Fred for hooking me up with the publicist for this one – he disagrees with me by the way