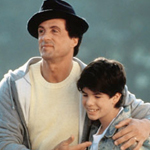 I think ROCKY V is the least enjoyable of the ROCKY pictures, but I admire its intentions. This is actually my first time watching it, and maybe it plays better when you watch them all close together. I know it was poorly received when it came out, and I'm sure some people were confused that it wasn't more of the mountain-conquering commie-smasher Rocky had turned into when we last saw him five years earlier. But like I said, the ROCKY series evolves with the times. Allow me to submit to you an acknowledgment that appears on the end credits:
"We wish to express our gratitude to the Soviet government for granting us the use of their Aeroflot jet."
With Reagan and the Cold War in the rear-view mirror and Survivor on indefinite hiatus, Stallone decided to shed some of the '80s-style excess of the last two sequels. The world had changed again. People didn't even care about Rambo anymore. Stallone's last movie had been TANGO & CASH, which did okay, but was a troubled production and got poor reviews. He was obviously itching to try something different, because he followed ROCKY V with OSCAR and STOP! OR MY MOM WILL SHOOT. But first he felt it was time to put the tiger jacket in the closet and bring back the underdog. This was his first attempt, before ROCKY BALBOA, to go back to Rocky's roots as well as to deal with his advancing age.
He really went back to the beginning by bringing back director John G. Avildsen for his only ROCKY sequel, as well as Bill Conti (who, remember, had not done IV). Of course Apollo Creed is absent for the first time, since he was killed in IV, but they actually decided to bring back Burgess Meredith as Mickey for a new inspirational speech shown in flashback.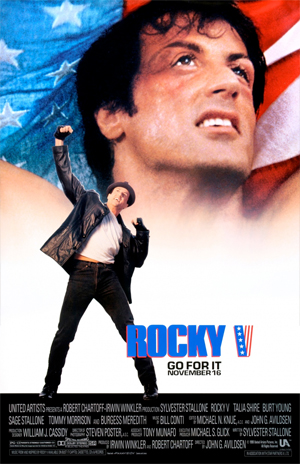 Though it's moving away from the cartoonish world of ROCKY IV they actually pick up in the locker room right after the Drago fight. We first see Rocky in a dramatic naked pose, so I thought for a second he was gonna be extra-vain Stallone. But the very first scene is a heart-rending breakdown where Rocky's hands won't stop shaking, he cries into Adrian's shoulder and gets so confused he calls her Mick. You know right away this movie is not gonna be able to have "Eye of the Tiger" in it.
While he was in Russia his son Rocky Jr. changed into Stallone's actual son, Sage Stallone. He's still dorky, but it works much better since, obviously, he looks like Rocky's son. Rocky is welcomed home as a hero but an overly obvious Don King clone called George Washington Duke (Richard Gant, the coroner in JASON GOES TO HELL) bumrushes his press conference to demand a title shot for his fighter Union Cane (Michael Anthony Williams, JO JO DANCER, YOUR LIFE IS CALLING). The press are weirdly aggressive about trying to get Rocky to accept the challenge and this is an early sign that it's gonna be a little hokier and broader than the ROCKY Revisited it sets out to be. (Later they actually slut-shame the antagonist's girlfriend and it's played as a stick-it-to-the-man moment.)
Also while they were in Russia Paulie (even though he was in Russia with them) made a mistake that led to some scammer accountant losing all of their money and assets other than Mighty Mick's Gym. At first they fret about losing "everything," all the stuff they didn't have in part 1. But they bite the bullet and go back to the old neighborhood. Adrian even goes back to working at the pet store. And wearing the horn-rimmed glasses! I'm surprised the prescription still works. Rocky takes off the grey hat that Apollo gave him in between III and IV and puts on the black one from his mob enforcer days. Other callbacks: Gloria (Jane Marla Robbins) from the pet store is in it, Rocky visits Father Carmine (Paul Micale) and yells up to his window (because he doesn't want to bother him), he goes for a drink at Andy's (Don Sherman returning as Andy), there's another match at the church where Rocky fought Spider Rico, the Italian Stallion motorcycle is seen, they even bring back Frank Stallone's "Take You Back" as the chorus of a corny rap song (by the 7A3, a group DJ Muggs was in before Cypress Hill). IMDb says they also had Jodi Letizia return as Marie, the teenage girl he walked home and lectured about swearing, but the scenes were deleted. (She would've been a homeless prostitute – the character is treated better with a different actress in the next movie.)
Rocky finds out he has boxing-related brain damage, and for the first time he listens to Adrian and makes the responsible decision to retire and ignore the loudmouths egging him on to fight again. It seems like they were making a point of giving Shire some dramatic scenes to chew on in what would turn out to be her last time as Adrian. I think she's a little much in this one, waving her arms alot and doing variations on the emotional yelling speech from IV. I like Stallone's show-offy scenes better. There's a good one where he's been taking the poor man's life in stride until he sees Adrian back at J + M Tropical Fish and feels humiliated that she has to do that. "Yo Adrian, did we ever leave this place?"
Anyway, Rocky now has the gym and the mission of becoming the new Mickey, helping train a whole bunch of fighters (he even has Duke [Tony Burton] and Jimmy Gambina, that short guy that worked for Mickey helping him out). And then a persistent young fighter with the Stallonian name of Tommy "The Machine" Gunn (boxer Tommy Morrison) comes trying to get him to be his manager.
Some of the movie's weaknesses come from this Tommy character. The newspapers call him a clone or a robot of Rocky, but there's never a point where it seems like he has his soul. That's kind of the point, but it weakens the drama. Morrison captures a likeable gold old boy feeling, and mentions a rough upbringing based on his real life. But there's not the time or the acting chops for a convincing evolution into the guy who betrays Rocky and turns into a dick.
But that's what happens. Through two montages Rocky trains Tommy and builds up his career. Meanwhile, Rocky Jr. sits off to the side in Paulie-esque resentment. In IV he asked Rocky when he was gonna teach him how to punch, but his dad didn't want him to have to fight. Now he's getting rolled by bullies every day at public school and his dad's too busy living through Tommy Gunn to help him out. Poor kid has to learn from Jimmy and Paulie. Eventually Junior does beat up the bullies and, taking after his dad, makes them his friends. But when Rocky is too distracted to properly celebrate this victory the kid turns mopey and starts wearing a dangly earring. (Shoulda gone for the full Clubber Lang mohawk.)
Yeah, this part of the movie should be better. It makes Avildsen's KARATE KID seem raw and real by comparison. But it's nice that Sly got to use Sage as his son in the one that deals the most with fatherhood. The younger Stallone died of a heart attack in 2012 at the tragically young age of 36. Depressingly, this movie's surrogate son Tommy Morrison died the year after that.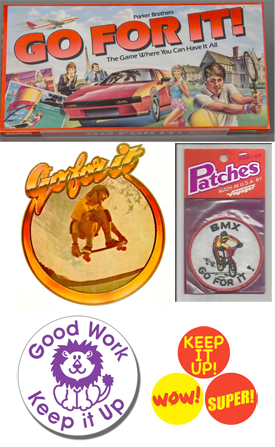 Another problem is the songs. The rock songs of III and IV are cheesy and dated, but to me they're the fun type of cheesy and dated. It's probly just my tastes, but I can't get past how wack these songs are, by either the standards of now or of 1990. And the on-the-nose choruses are so unimaginative. The first montage is "Go For It!" by Joey B. Ellis and Tynetta Hare and the second is "Keep It Up" by Snap. I'm surprised there's not "Good Work" and "Super!"
But it's impressive that I really couldn't tell where the story was headed. Tommy turns his back on Rocky, becomes champ and is manipulated by George Washington Duke into wanting to set up a fight with Rocky to get out from under his shadow. And Rocky still isn't interested. But when Tommy follows Rocky into Andy's to argue and ends up popping Paulie, now it's on. So instead of a big match we get a spontaneous street fight (choreographed by Terry Funk). Kind of like REDBELT except you weren't expecting him to fight in a tournament before it happened.
Thematically this climax has a ton going for it. By fighting but not for money he's rejecting G.W. Duke's tacky exploitation right in front of his face, while showing that getting back the money he used to have is not as important as his principles. Also he's proving Adrian's thesis that although Tommy has Rocky's fighting style he doesn't have his heart, and therefore can't fight as well. This movie is showing that it's not just about Rocky being an underdog and "rising up from the streets," it's more about who he is as a person. Tommy's a good puncher, but he's an asshole. He's a bum.
And to think Rocky gave him Apollo's red white and blue trunks! What the fuck was he thinking? I hope the kid gets those back in CREED (no spoilers, don't tell me).
On the other hand it feels a little off for a ROCKY climax. You don't get a build to the fight – no training montage for Rocky – and it doesn't go on nearly as long as the boxing matches do in these movies, doesn't have as much of an arc to it, as much impact. The execution isn't as good as the idea.
In a way maybe Stallone was just a little ahead of his time. A few years later we'd have the rise of Miramax and the '90s indie wave. Suddenly everybody else would be looking back nostalgically at the films and stars of the '70s, at dramas about people from the streets. Tarantino would popularize the idea of unlocking the forgotten greatness of stars from that era now thought of by the less perceptive as has-beens or past-their-primes. Stallone later tried to get in on that, vying for the role of Max Cherry in JACKIE BROWN. At least he got COPLAND.
Also this was 3 years before UFC started, so it was ahead of the curve on wanting to spruce up combat sports with no holds barred street fight type competition.
It's crazy to think that at one point they were planning for Rocky to be killed in the street fight. It would've been such a bummer ending to his story, especially having the last movie be the weakest one. They definitely made the right choice leaving him alive so Stallone could spend years being profoundly disappointed in himself for making this movie and then using that to fuel the superior next chapter. And you might say they should've skipped this one altogether, but imagine watching IV and ROCKY BALBOA back-to-back. You'd get whiplash.
I can understand liking this better than the sillier III and IV, but to me those are perfect renditions of the movies they're supposed to be, while this is a flawed try at an interestingly stripped down aging boxer drama. But that's okay. It stayed on its feet. And now the series has something to come back from. Something to be hungry for. This may not be a great movie, but it's a great bridge from ROCKY IV to ROCKY BALBOA.