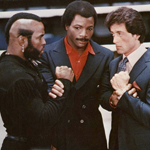 Some important and possibly relevant events happened in the world during the three years between ROCKY II and ROCKY III. Disco records were blown up at baseball games, Pac-Man and Donkey Kong were released, some motherfucker shot J.R. and the U.S. boycotted the Olympics in Moscow. Minutes after Ronald Reagan (THE KILLERS) was sworn into office the Iran hostages were totally coincidentally released, and the next day the first DeLorean DMC-12 was built. Later MTV went on the air. All the sudden it was 1982.
Movies had been changing too. ROCKY was the biggest movie of '76, but of course '77 brought us STAR WARS, and since then we'd also had THE EMPIRE STRIKES BACK and RAIDERS OF THE LOST ARK. It would be quite some time before another drama was the #1 movie of a year (not until RAIN MAN in 1989 I believe).
The ROCKY series evolves with the times, and the transition to the '80s is a drastic one. After the traditional Bill Conti fanfare (title scrolling over championship belt) and end-of-the-last-one recap we get a moment of contemplation and then… jugga jugga jugga jugga BRRRMMMMP!…BRRMMP BRRMMP BRRMMP! electric guitars and fireworks. "Eye of the Tiger" by Survivor is as purely, un-self-consciously motivational-speakerish as "Gonna Fly Now," and even more audaciously grooving and tackily emblematic of its era. The song is so ridiculous it's kind of a betrayal of the dirty, street level reality of the series so far, but it's dead perfect for this slick new ROCKY of the aerobics-and-American-flags Reagan years.
The training and fighting montages were hallmarks of ROCKY and ROCKY II, so it's fitting that III kicks off with a tour-de-force montage depicting Rocky's reign as heavyweight champ after defeating Apollo Creed. The entire 5+ minutes of "Eye of the Tiger" play out under Rocky's headlines, magazine covers, appearance on The Muppet Show, etc. His part II attempts to improve his reading skills seem to have paid off with many spokesperson gigs, and he and Adrian and Rocky Jr. (Ian Fried, voice of Timothy, THE SECRET OF NIMH) seem to be enjoying their riches much like the Creed family before them. Except Paulie looks resentful and keeps swigging out of his bottle.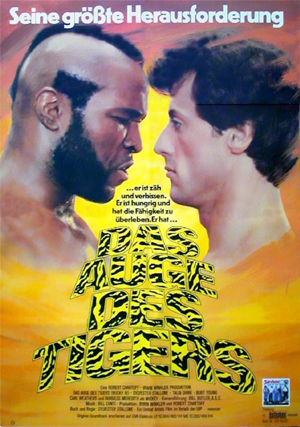 Meanwhile there's a fierce-looking up-and-comer out there, Clubber Lang (introducing Mr. T), popping in and out of the montage like a shark in the water. The camera does Bruce Lee zoom-ins on him as he sits at the title matches eyeing Rocky like a predator stalking his prey. That's why I had to mention MTV – this is a movie that introduces its antagonist halfway through a song montage! That is crazy. It starts to show Clubber taking out his opponents in clips and headlines. And while he's jogging in the streets like Rocky used to do, Rocky is signing autographs or filming an American Express commercial. The champ gets a motorcycle for Christmas, does ads for DeLorean and Maserati, is on the cover of GQ, has his own candy bar called "Crunch Punch."
What I'm getting at is Rocky is no longer the underdog. Now he has a pinball machine based on his life, seen at the arcade between the dragon one and the Playboy one. Paulie stumbles in, drunk and resentful, and throws a bottle through it. Rocky has to come bail him out.
When we get our first clear look at Part III Rocky it is shocking. He doesn't even look like the same person. As Paulie says, "You get your face all fixed up. Handsome. Nice clothes." He doesn't mention the haircut. This is carefully sculpted '80s Stallone, and though in many ways this is one of the most enjoyable of the series it's also the one where he seems the least like Rocky, and the most like Generic Stallone Character. It's not just his looks, it's his composure. He doesn't get as much time to be goofy. He doesn't babble as much. Sometimes I wondered if he was actually Rambo undercover as Rocky.
New Rocky has been around long enough for ten successful title defenses, and now he's mixing things up with a charity fight against the wrestling champion Thunderlips (Hulk Hogan, a year before the first reported cases of Hulkamania). Mickey thinks he's crazy for doing it, which you'd think they would've discussed before standing in the ring during the introductions. At first I wondered how they were gonna do this – are they gonna pretend that wrestling is real, as you did back then? They wisely go with the angle that Thunderlips is defending the tradition of kayfabe by beating up the boxer to prove that wrestling is real. But then he's doing pro-wrestling moves, including body pressing Rocky and throwing him out of the ring into the crowd, so there is not as much credibility here as there could be. (I know Stallone says he hurt him real bad, but he hurt him in the way that wrestling moves hurt. In the movie they're supposed to be having a real fight.)
I remember when THE DARK KNIGHT RISES came out Chris Rock compared it to ROCKY III. I'm not really sure where he gets that exactly, but the way Clubber challenges Rocky is very Bane-like. He pops up out of the crowd at a ceremony to unveil Rocky's statue at the art museum. Rocky is trying to announce his retirement and this angry dude comes out disrespecting him and his wife. Clubber is a great villain because he has that crazy Mr. T style (more menacing than lovable at that point) yet he finds some way to blend into the crowd and keep an eye on things until he decides to call attention to himself. Also because most of his dialogue is great trash talk. Of course there's his famous prediction for the fight ("PAIN!"), but my favorite is probly "I reject the challenge because Balboa is no challenge, but I'll be more than happy to beat up on him some more." And also I forgot that Mr. T's catch phrase "I pity the fool" came from this. His whole career is a ROCKY III reference.
I need to take a tangent here for a second to say that I'm fascinated by the phenomenon of Mr. T. Here's a guy who had a career as a bodyguard, but cultivated his own personal style and gimmicky tough guy talk in a weird enough way that people started to notice him, including Stallone seeing him on TV and putting him in this movie. And then once he became a TV star all his eccentricities and catch phrases just got accepted into the culture without context and we assumed they made sense. He had his stint in wrestling (Roddy Piper hated him) and like a wrestling heel, or like Godzilla, he got popular enough that he had to turn into a good guy. So the persona we mainly know him for is not the guy that's gonna kill ya to death, it's the friendly giant who hangs out with kids, gives them inspirational advice and does what he can to stop their community center from getting shut down.
If you get a kick out of goofy '80s pop culture curiosities, you absolutely must check out the VHS tape Mr. T's Be Somebody Or Be Somebody's Fool. It's an inspirational tape with skits and songs, mostly involving T badly rapping lyrics written by Ice-T about respecting your mother and stuff like that. It's pretty much for sure by far the greatest version of this type of thing ever. I'm also kind of into his cartoon, where he travels around the country as the coach of a young gymnastics team and solves mysteries. In fact, nobody steal this idea, but I have this pipe dream that if I ever wanted to do a podcast it would be called "T Time With Vern" where I would watch the episodes of the cartoon with people from the cities where they take place and then we talk about the episode and their city. The best version of this though would be if I actually recorded the episodes in the cities in question. So keep this idea on the shelf for when I have ROCKY III money.
Anyway, the thing is, Clubber is an asshole, but he happens to be right. He accuses Rocky of ducking him, only taking on easy opponents, which Mick admits is actually true, he's never thought Rocky had the skills of a champ and he's been protecting him. When Rocky finds this out of course hates it and decides he needs to fight Clubber before he retires.
When it comes to training for the fight we discover the true ridiculousness of decadent '80s Rocky. His gym is now a tourist attraction open to the public. While he practices there's a live disco band playing, people wanting autographs and kisses, Paulie selling merchandise. This is not gonna work.
That band is one of the last signs of '70s music in the series. The Conti sound is mostly about horns, but theme-song-makers Survivor are about guitars. In fact, one of the reasons the band is called Survivor had to do with singer Jim Peterik missing a guest appearance with Chase, the band that drummer Gary Smith and bassist Dennis Keith Johnson had been in. Chase was led by trumpet player Bill Chase, who was killed along with other band members in a plane crash on the way to the show Peterik missed. These guys were survivors and horns were a casualty.
Stallone hired Survivor after hearing this song, "Poor Man's Son":
but luckily "Eye of the Tiger" is more rockin. It's also more rockin than Joe Esposito's "You're the Best," which apparently was written for this scene but rejected. ROCKY I director John G. Avildsen used Stallone's leftovers in THE KARATE KID.
If we were paying attention to the lyrics, "Eye of the Tiger" sort of gave away what was gonna happen. In the second verse it warned, "So many times, it happens too fast / You trade your passion for glory / Don't lose your grip on the dreams of the past / You must fight just to keep them alive." Rocky loses his grip and has his ass handed to him by Clubber Lang.
Like Rocky of part 1, Clubber is a determined outsider from a poor background, who through hard work and determination manages to (like Rocky of part II) capture the belt. Unlike Rocky he has a huge ego, believed the title belonged to him, and ran around angrily yelling about it. Otherwise you would wonder why we're not supposed to root for him. He even positions himself as some kind of figure of rebellion, saying the government doesn't want him to win because he's not a puppet. But he's no Muhammad Ali or Apollo Creed. There's nothing charming about it. He's just a dick.
If you pay attention, Clubber gets what he wants by mouthing off, but he also brings upon his own downfall that way. Because the same night he beat Rocky he also sealed his fate by being rude to special ringside guest former champion Apollo Creed. That was a mistake.
See, a couple times when some mayhem is going down Mickey suddenly seems to be having a heart attack. And of course that is much like coughing in a movie. It means you're doomed. He SPOILER dies right after the championship bout, a very moving scene not only because he's the most lovable character in the series but because Stallone suddenly gets the eye of the tiger in the acting department for a long scene of emotional yelling and crying. And he's good at that.
Anyway, with Mickey gone and Rocky retired, suddenly here comes Apollo Creed to convince Rocky to get a rematch with Lang so he can train him and take that chump out. You can guess how I feel about this. Fight Brotherhood. Opponents working together. Carl Weathers. I love this shit.
Apollo has learned humility from his defeat in part II. He's the one who tells Rocky about the eye of the tiger. You gotta be hungry, etc. So Apollo takes "Stallion," as he always calls him away from his disco band and palatial training facility to L.A. and the dingy club where Apollo got his start. There are pipes leaking from the ceiling and all the fighters are black and Paulie, we start to figure out, is totally racist. But Rocky loves everyone and they love him because holy shit that's Rocky Balboa.
So although III is the birth of the slicker, sillier '80s ROCKY movies it's also a repudiation of everything that came out of successful Tiger Jacket Rocky. It's reminding Rocky where he came from, and that not having all the crap you want can help bring out the best in you. He never would've gone those 15 rounds with Apollo the first time if he'd been living high on the hog back then. Material items make you go soft.
Having Apollo instead of Mick adds a different dimension to the training montages. Now it's two shiny pumped up dudes competing to look the best, and then hugging each other and stuff. I like the scene where they run slow motion on the beach together.
The fight is really good too, and again it's great to have Apollo in our corner instead of facing him down. T is a formidable foe though. I don't even mind that he's Rocky's only opponent who you can't ever imagine showing him any respect. One thing that's slightly goofy, there is some obvious looping of dialogue during the fight. They have mouthpieces in but they're speaking clearly to each other! I noticed Stallone did that in II also, but I think he does it a couple more times in this one.
Just like Stallone is slimmer in the movie, the movie itself has lost weight. It's about half an hour shorter than the first two. Alot of the fat that has to be cut to get to that is actually the quiet character moments that made ROCKY so great in the first place. But I actually think that's okay, because we already have two of those movies. This is something different, a less human story but a more mythic one, based more in action movie archetypes, with less told through long conversations and more through music and visuals. More MTV, honestly. But I like that.
ROCKY III is no ROCKY, but it's the best ROCKY III ever made. I love this one.
P.S.
I would be remiss not to include here one of my very favorite hip hop songs, which has various Mickey and Clubber Lang dialogue taken from this movie (sometimes re-written, sometimes just re-recorded, probly due to sample clearance troubles).
And as long as we're at it, here's a connection I never made before. Is this:
what inspired this:
?