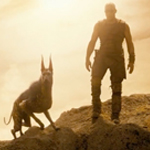 The first time we see Riddick in his new movie RIDDICK he's buried under rocks, okie noodling a dumbass flying space lizard that mistakes him for a corpse. He's been left for dead on the planet "not Furya" by the Necromongers from CHRONICLES OF RIDDICK, just like the planet earth tried to leave the Riddick series for dead after they found out it was the type of movies that had bad guys called the Necromongers. But as he's demonstrated before, Riddick and his series are survivors. (Don't get him started about it though, he'll narrate your ear off.)
Ever since CHRONICLES in 2004 some of us have wanted to see that sequel set up at the end, where (NINE YEAR OLD SPOILER) Riddick has accidentally become the king of the aforementioned death-worshipping, statue-shaped-spaceship-flying warrior race. This is not exactly that sequel. We just find out through some awkward narration and a brief Karl Urban cameo that they got rid of Riddick by pretending they'd bring him to his birth planet and then bringing him to a different planet and breaking off a cliff that he's standing on. Ha ha! Riddick fell for a Wile E. Coyote.
The last third of this movie is a pretty fun, mildy anti-climactic rehash of PITCH BLACK – Riddick and mercenaries declare an unwieldy truce and earn each others' begrudging respect while fighting CGI alien monsters on a dark rainy dirt planet. But the first 2/3 is easily the best of the series so far.

The first section approaches instant classic status. It's a long no-dialogue stretch of Riddick trying to find water, defending himself from alien beasts and performing crude self surgery. Fuck Rambo sewing up a wound – Riddick resets a compound fracture and screws in bolts by hand to hold it together. Doesn't even get to use a screwdriver!
One little character moment I always loved in CHRONICLES was when a scaley CGI dog monster thing came at him and instead of running or fighting he stared it down, petted it and earned its respect. That's the kinda guy Riddick is. Riddick the animal lover is even better in this one because after protecting himself from a pack of hyena-like monsters he takes one of their pups and keeps it locked under a human rib cage. At the beginning of CHRONICLES they showed that a bunch of time had passed by having usually-bald Riddick with a shaggy hobo beard and dreadlocks like he's in a Rob Zombie movie. In this one we see that time has passed when his dog is still at his side but as a full grown beast.
He'd never go for this, but Riddick would be really good for some kind of a wildlife documentary or survival TV show. I'm not sure if they even have TV in this future, but if not maybe he could start it up again. If he ever clears up his debts and goes back to civilian life maybe he should look into it.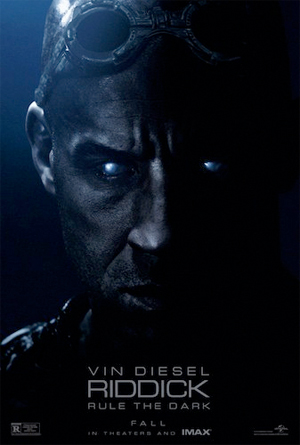 Riddick's relationship with this unnamed dog is the best thing in this series, and I was really impressed by the realistic animal movements and behavior of these things. All the monsters in the movie are a big step up from the ones in the earlier installments. Creature designer Patrick Tatapoulous, you are on your way to redeeming yourself for that wack ass Godzilla you designed that continues to shame America any time it plays on cable.
This is a low-mid-budget movie by science fiction standards, a little lower than SERENITY or PREDATORS, a little higher than PANDORUM, alot higher than LOCKOUT or MOON. I wish there were more tough guy movies being made in this range or lower. I will gladly forgive some iffy special effects for a movie that isn't trying to please everybody from all walks of life. RIDDICK has some fake looking green-screening that you're not gonna have to deal with in an ELYSIUM or OBLIVION or what have you. Especially in the Necromonger scene where they can't hide not having the same budget they did when they introduced that world. But I was really impressed by the look of these early scenes, very cinematic alien landscapes and spacewildlife, really enhancing the space-western feel of the whole thing.
For the second section of the movie the quiet goes away because a bunch of fucking humans show up on their space ships. Instead of getting eaten by swarms of space snakes Riddick decides to trigger a beacon that gets two teams of bounty hunters (including Katee Sackhoff, Dave Bautista and Bokeem Woodbine) on his ass. But Twohy cleverly lets Riddick be an off-screen presence throughout this section as the two teams stand off. The rapist asshole guy that got there first (Jordan Molla) calls dibs on this bounty and the other team leader (former rugby player Matt Nable, the most impressive newish face in the movie) hangs around to watch, amused that the other guy clearly has no idea what he's dealing with. Meanwhile Riddick becomes Jason Voorhees, hiding in the shadows, stalking and intimidating and setting traps for the mercs.
Because of the structure of the movie it does feel like you don't get quite enough time with some of these characters, particularly Sackhoff as Dahl. She seems like she's supposed to have some depth to her but we don't really get into it, it's mostly implied. Also Bautista does well with some funny lines but could use more screen time. Actually, Woodbine gets the worst deal, he has a really funny smartass moment and then he doesn't really get to do anything after that. Still, they make an impression. That's a good thing.
One problem: Riddick is much cooler when he keeps his fuckin mouth shut. Sometimes he starts narrating or talking shit to somebody, and he almost always seems way more proud than he should be of the stuff he's saying. There's alot of legitimately funny dialogue between the bounty hunters, but the narration parts are straight up bad writing. He says shit that doesn't make any sense, convinced he's being really clever. I mean, unless you can explain to me what he means when he says something like "The question isn't what happened, it's what happened to me." Or the one about "I don't blame him for dangling Furya in front of me… But I do blame him for what happened next." Which was that they purposely stranded him on some planet by pretending they were bringing him to Furya. "Dangling Furya" and "what happened next" are part of the same plan, what the fuck is he talking about? Alot of the movie has a nice "we've been planning this for 10 years and we came up with all kinds of good shit!" feeling to it, but this narration seems like it never even got proofread.
I wish he came off better, but I also get a kick out of the dumbness of the character. After all, you mention CHRONICLES OF RIDDICK to me the first thing I'm gonna do is quote the part where he says "It's been a long time since I smelled beautiful." Is it worse that he's bragging about sniffing Thandie Newton, or that he doesn't know that it sounds like he's talking about wearing perfume?
Trick question. Neither is worse. Both are better.
Also, Riddick being an asshole kinda returns him to his roots. In PITCH BLACK he was talked up as this horrible killer, and he was proud of it. In CHRONICLES they're always saying how evil he is, but maybe due to the PG-13 rating, maybe due to they're trying to make him the good guy, he never really does anything evil at all. In this one we side with him because he has a puppy and everything but then he's taunting this poor guy who's upset about the death of his son, and he's sexually harassing an innocent lesbian, who may or may not smell beautiful (she does have a shower scene). Why you gotta peep on her and then talk to her about her nipples later? I mean it's maybe not evil but it's not cool, Riddick. Be nice.
Actually I guess I need to address this. There have been rumors over the years about Diesel allegedly being gay. I figure #1 if it was true I wouldn't care, in fact it would make the FAST AND FURIOUS series a little funnier, #2 he has a wife and a couple daughters though so it would be extra sad if he felt he had to hide his true self, #3 either way it's kinda shitty for people to be gossiping about it. Dom would never talk about you behind your back.
But just between me and you, there was a time when I figured it was true, and that feeling was 100% based on this part in xXx:
I mean, he looks like he doesn't want to kiss Asia Argento! Or doesn't know how to. What the hell is that!
But after a couple years of believing that argument it occurred to me wait a minute… you bet your ass Asia Argento is a heavy smoker. She could've had horrible breath. And probly b.o., too. There's no way she smells beautiful. That actually seems like a more likely explanation than him not enjoying women. Not to mention Diesel is famous for being into Dungeons and Dragons and video games and shit. It is possible that he was as horny for the ladies as anybody but just had not had any hands-on experience at that time. Your honor, I would like Exhibit xXx stricken from the record.
The reason I bring this up is because there is some weird sexual stuff going on in this movie that I didn't know what to make of, and I've seen a couple reasonable arguments that it's kind of a TRANSPORTER deal where they're trying to imply that Riddick (not necessarily Diesel) might be gay. The strongest evidence of this is the scene where he sits on his throne ignoring 3 (or 4?) hot naked chicks rolling around in front of him. (I didn't know what to make of this because the narration is talking about some vow that I figured was something I forgot about from the Necromonger mythology.)
I don't know. The jury is out on this. I honestly have no clue why it is a major theme that Riddick vows to go "balls deep" into a woman who is very clear in stating "I don't fuck men," and I don't understand the way she reacts to him either. I'm sure you will all have interpretations. I hope there will be many an academic paper written on the subject.
But anyway, whether he's closeted or he's Chasing Amy or whatever is going on I love these type of characters that are always six steps ahead of everybody else, outsmarting everybody, outfighting everybody. He's always in control, moving around enacting plans without having to explain it to the audience, you just see him digging a hole or building a thing and then you wait to find out what he's up to. In each of his movies he gets captured and tied up and is still in control, ready to escape when the time is right. He always has something up his sleeveless shirt and a couple other things hidden in his boot. My audience gave this one plenty of laughs for his badass tricks and even applauded one scene. This is a character we can always enjoy watching, it doesn't really matter that much if he's flying from planet to planet in a big fantasy world full of mythology and prophecies or if he's just out in a rocky wasteland fighting some guys over an engine part.
But I hope he can continue to do both. This might be my favorite of the series, but I still kinda miss the scope and higher levels of ridiculousness from the last one. RIDDICK should be profitable (it's already made headed towards making back its production budget on the opening weekend) so the next one gets a bigger budget, but it doesn't do that well, so Diesel mortgages his house again to do another low budget one, and that's a hit so they get a bigger budget again, and then…
And I hope he gets a new pet in each one.
This entry was posted on Sunday, September 8th, 2013 at 3:13 pm and is filed under
Action
,
Reviews
,
Science Fiction and Space Shit
. You can follow any responses to this entry through the
RSS 2.0
feed. You can skip to the end and leave a response. Pinging is currently not allowed.