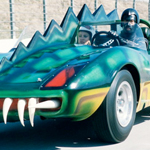 I've enjoyed DEATH RACE 2000 a few times over the years, but not since before I found myself actually liking P.W.S. Anderson's remabootquel DEATH REACE and its two DTV prequels by Roel Reine, so this was strange to revisit it again. The new DEATH RACE is a fun macho b-movie, the original DEATH RACE 2000 is a different animal. It's colorful, satirical, goofy and off-handedly brutal. It's as cheap as other Roger Corman productions, but less serious. It seems like the template for the tone of all the best Troma films, and they even borrowed the rules of the Death Race for use as a fun game for teens in THE TOXIC AVENGER.
In DEATH RACE they made it a car race but with guns and bombs, played by convicts competing for a pardon. The original circa-2000 Death Race was a much more extravagant sport, and not disreputable at all. It's a national pastime overseen by the president himself. The drivers and their female navigators drive across the country not only trying to kill each other but also trying to run over pedestrians, with a point system worked out by age group. Although Frankenstein (David Carradine) is the good guy he's not above tearing through the sidewalk in front of a hospital to rack up points on high scoring senior citizens.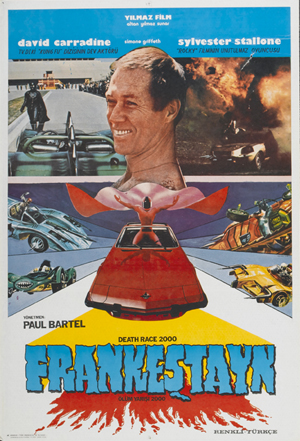 Another major plot element missing from the remake (but finally coming up in part 3) is the rebel underground who protest the Death Race. Some of them make a game out of it, laying in the street to duck under the cars, or playing matador with the car that has bull horns on the hood. Others go as far as trying to kidnap Frankenstein, the Michael Jordan of the sport.
Frankenstein looks a little like Darth Vader. He wears black and a space age helmet with a black rubber mask revealing a bit of his burnt up eye and mouth. (This turns out to be a put on.)
Sylvester Stallone plays the lead heavy, Machine Gune joe Veterbo. He has a retro 1940s gangster sense of style and drives a car with a giant knife on the front. (Frankenstein's ride is shaped like some kind of snake or lizard.) It's fun to see Stallone play a villain. Joe is a real scumbag. His most telling moment is when he's got Frankenstein's navigator alone and he's threatening to kill her but then Frankenstein comes in and he's like "Oh, hey Frankenstein, I'm glad you came in here" and tries to play it like he caught her betraying him. A total weasel.
He's also really funny. He drives up as two guys are hanging a "Welcome Frankenstein" banner, gets jealous and runs one of them over. The guy survives so Joe turns around ready to run him down again, but then he considers letting him go. He decides to ask the other banner hanger, who votes for him to kill the guy! Shit is harsh in the futuristic year of 2000. No loyalty among working class brothers.
One thing that's great about this movie, it has the perfect ending for the story. A pulpy movie like this gains alot by building to a really satisfying conclusion. According to the interviews on the disc the ending was kind of an afterthought somebody suggested after they were already filming, but it seems like the punchline they're building up to from the beginning.
The director is Paul Bartel, who wasn't your typical exploitation director. He came up in Roger Corman's company, but his thing was social satire, EATING RAOUL being his most famous one. So he took this drive-in subject matter and turned it into a comedy about a bloodthirsty society with reporters breathlessly narrating the action and glorifying murderers as celebrities. But don't worry, he got plenty of boobs and blood splattering in there. There's a ton of great car action, these cool looking novelty vehicles moving at high speeds, crashing into each other, chasing after pedestrians, blowing up and all that shit. Bartel left that to the professionals of the second unit, a wise decision. One of the two 2nd unit directors was Lewis Teague, who went on to direct ALLIGATOR and CUJO. On one hand it seems like something an auteur shouldn't do, leave an important chunk of their movie up to somebody else, on the other hand maybe we'd avoid post-action if more of the modern directors did this. Hey, you guys seem more interested than me in doing a professional job of filming action scenes that an audience can make heads or tails of. Want a go at it while I do something else?
I really recommend this on blu-ray. It just looks beautiful, capturing the colors and film grain way better than any version I've seen before. And it's funny because it makes the matte paintings and props look even faker than before. For example you can see the brush strokes on the silver paint on the giant knife on the front of Machine Gun Joe's car. Wait a minute, that's not real metal? I like it though.
It's kinda too bad, after enjoying the DEATH RACE movies for what they are this one reminds me how much fun they could be if they were more faithful to the type of gimmicks used in the original. Makes me want to see a DEATH RACE part 4 that skips past the Jason Statham events and has a cross country Death Race with updated takes on the original cars. It's never too late to bring it back to the ol' Y2K.