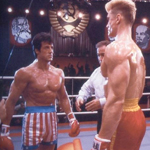 "Yo, can you turn your robot down?"
Which is stranger: that a legit, best-picture winning sports drama like ROCKY would eventually have a part IV that was this ridiculous, or that such a part IV could still stand apart from the series as a classic of a totally different kind? IV goes all in on the Reagan-and-MTV glitz of part III, crafting a preposterous Cold War face-off with so many song montages in the second half it almost qualifies as a rock musical. In fact, the whole sound of the movie is different because I-III composer Bill Conti and his inspirational brass section are replaced with a cool synth score by Vince DiCola (TRANSFORMERS: THE MOVIE) that was "one of the first to exploit the Fairlight CMI and Synclavier II computers' sequencing capabilities" according to DiCola's websight. I guess that's fitting for the ROCKY where the first new scene is about Rocky giving Paulie a robot for his birthday. The robot will occasionally pop up to force Apollo or Rocky's driver to barely suppress a "these crazy white people" look, or to be used as a boombox. So if you were hoping III was a fluke, and that this one will be gritty again, I got bad news.
It's tradition to replay part of the fight from the end of the previous movie. This one not only reminds us of the fight with Clubber Lang, but also the private, no witnesses rematch between Apollo and Rocky. Of course it was ambiguous like the Toretto-O'Connor rematch, or King Kong vs. Godzilla or Freddy vs. Jason, it froze just as they were swinging at each other. But now for the sequel they're replaying it, so we must be about to finally find out who– ah, never mind. Freeze frame again. I'm not sure why they had to replay that.