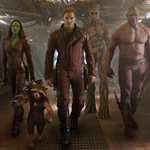 Peter "Star Lord" Quill (Chris Pratt, ZERO DARK THIRTY) is a wannabe legendary space outlaw, a good fighter with a cool breather mask and ship who takes gigs from unsavory characters retrieving rare objects and stuff. A Transporter, if you will. When he finds something called "the orb" for a scary space guy with the scary space name of Rhonan the Accuser, he learns that it endangers everybody in the galaxy, and he decides he's against that. So he teams up with an alien lady trying to snatch it from him (Zoe Saldana, but green this time instead of AVATAR blue), two bounty hunters trying to capture him (Bradley Cooper [MIDNIGHT MEAT TRAIN] and Vin Diesel, both voicing cartoons), and a psycho they met in prison (Dave Bautista, RIDDICK) to try to get it somewhere safe, wherever the fuck that would be. I don't think they discuss throwing it into a volcano like a lord of the rings would do.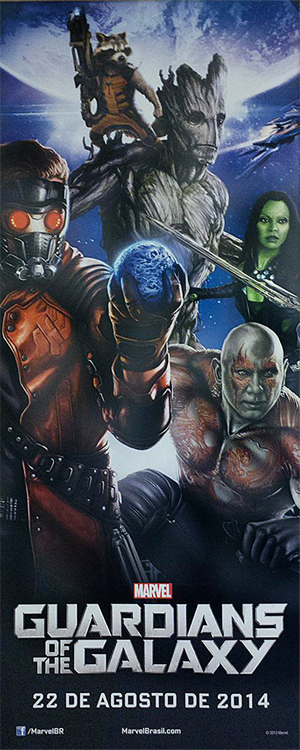 So Star Lord is the hero of a space adventure, but he's also just a dude. Snatched from earth as a child in 1988, he still sometimes mentions Ninja Turtles and FOOTLOOSE, and I think I saw an ALF sticker on his stereo so he probly talks about that too and how he relates to him because he's a reverse ALF. His prized possession is a mix tape his cool mother (whose death moments before his abduction must explain why he never went back) made for him. I love this because it puts '80s rock and soul songs on the soundtrack of a digital age space opera, because it's genuinely sweet, and because it's funny trying to imagine how he maintains a cassette player in space. Also I'm glad she had pretty good taste. Being 1988 it could've easily been a bunch of George Michael, Whitney Houston, Debbie Gibson and Tiffany. Or it could've had "Pour Some Sugar On Me."
Cooper plays Rocket, a realistic animated raccoon who was experimented on and made intelligent, so now he talks, wears clothes, kicks ass. It's completely absurd and it completely works. Kinda weird though because he doesn't know what a raccoon is, he never heard of it until Peter called him one, yet he comments on having a short lifespan. How does he know what his lifespan is if he doesn't even know what he is? Uh oh. Possible error. Thumbs down. This movie is bullshit.
Although Cooper was Face Man in THE A-TEAM he's the Hannibal here, the guy who comes up with the plans, and if you were allowed to smoke cigars in movies he would be the one doing that. His muscle is Groot, a large animated tree man, but I'd say the B.A. Baracus is Bautista's character Drax. He's a scary, tatooed, shirtless alien "destroyer" out to kill Rhonan The Accuser, who killed his wife and daughter.
Yeah, "Drax the Destroyer" is a pretty crazy nickname to have, but you gotta wonder about one like "Rhonan The Accuser." It's gotta be that he's always accusing people, right? So how does he have friends then? Don't they get sick of being accused of shit all the time? Or do they just laugh it off? "Ha ha, you know Rhonan, always accusing."
Back to The A-Team. I guess Star Lord must be Murdoch, although he's kind of the leader, and that leaves Gamora to be Face? No, this A-Team thing doesn't work. Groot is actually more like Chewbacca, because all he ever says is "I am Groot," but Rocket understands what he really means and responds as if he's having a real conversation with him. And he's a tree that walks around and can grow his arms long and stuff. He lives his life a quarter ring at a time.
You know what's weird, this is a Marvel Comics movie, and it introduces us to all these colorful characters in one movie. They didn't have to give each one a separate movie or two before teaming them up, they just introduce them and have them meet all in the same one movie. HOW THE FUCK DID THEY DO THAT? Breaks every rule known to the internet. Groundbreaking. This could change EVERYTHING. But probly not, we will still solo movies for all characters always, and prequels.
I actually saw one industry article about the success of the movie, and it mentioned how brilliant it was that now they could spin off each of these characters into their own movies. I feel like that's missing the point. There's no "spin off" in "team." If THE DIRTY DOZEN came out now would we hope each character gets their own movie?
Anyway, these guys first fight each other, then they escape from prison together, then they have to get this orb thing to safety, battle Rhonan and evade the guy who spacenapped little Petey in the first place, a blue guy with a Lobot mohawk played by Michael Rooker (ABOVE THE LAW). And because Vin Diesel's there it has a surprisingly touching theme of outsiders without families coming together and forming a new one together. Though it's re-written and directed by Troma vet James Gunn it actually looks high rent compared to many Marvel pictures. For example the fantasy world effects in the THORs look cheap-ass compared to all the ships, planets and creatures they created here. If I may nitpick I think the animation acting of Groot could be better, I think it is a little obvious cartoony type movements more than the subtle pantomime you see in the best animated movies. But everything looks great.
Some have pointed out that it's nice to have one where you don't gotta know jack shit about the Marvel movies and universe to understand it. And it's true, I'm sure this is all comic book shit, but it doesn't matter, and it doesn't tie in to the other movies in obvious ways. BIG IMPLIED SPOILER THIS PARAGRAPH ONLY even the after credits tag thing is just a joke and probly not a set up for another movie. But it was the first one in a long time that made me laugh and clap. It's actually the exact thing we've all joked about happening after the credits of one of these movies, but it took this particular movie and a director with a goofy sense of humor to make it actually happen.
I think Gunn made this the funniest Marvel movie (though the IRON MANs and THE AVENGERS have lotsa laughs). Lots of funny lines and cultural misunderstandings and what not. Imagine having to worry about whether or not this guy gets your jokes:

In fact, thank you GUARDIANS OF THE GALAXY for making the guy who would usually be in one jokey scene threatening to prison-rape the main character actually join the team. I'm so happy for Bautista, who I don't know from wrestling but who I've been a fan of since Demon Dave cast him in his first real movie role. I've seen him being called a "breakout star" now, but of course we all know him from his five previous movies, three of them DTV:
WRONG SIDE OF TOWN
HOUSE OF THE RISING SUN
THE SCORPION KING 3: BATTLE FOR REDEMPTION
THE MAN WITH THE IRON FISTS
RIDDICK
Until now Brass Body in MAN WITH THE IRON FISTS was probly his coolest character, but Drax combines that physical menace with comic timing and a lovable lack of awareness about how terrifying he is. He's so simple and heart-on-his-sleeve that I had to feel for him, and be happy when he found a little time for friendship and fun in the middle of his mission of vengeance. One of my favorite things in the movie is when he watches Groot giving a bunch of guys a brutal beating in a novel way and he turns to Quill with a huge, delighted grin, like a kid watching a girl's shirt fall off.
And I don't know man, call me sentimental but for some reason Quill's love of music as a form of pure human expression moved me. The thing on the beginning of the credits where SPOILER? Groot dances to "I Want You Back" by the Jackson 5 really got me. This simple-minded creature being reborn and suddenly understanding what Quill sees in music, and just expressing this pure joy, to that song… I loved it. And I know the dance is nothing fancy but I hope Vin Diesel did the motion capture. He used to breakdance, you know.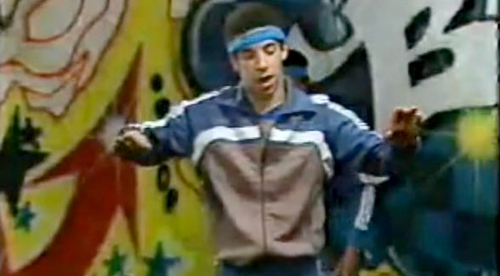 GUARDIANS OF THE GALAXY is what the STAR WARS prequels should've been… a space movie completely unrelated to Star Wars, made using technology that has evolved over 15 years after being pioneered in the Star Wars prequels. I don't know how that would be possible, and admittedly people would've been really confused and disappointed if the prequels didn't explain anything about Anakin Skywalker or have Jedis. But I heard some people saying this and I wanted to be cool so I am saying it too. Because really what is the point of enjoying a movie unless you use it as a vehicle for saying that you didn't enjoy a different movie. FUCK YOU GEORGE LUCAS YOU HURT ME AND I WILL NOT FORGIVE YOU EAT A DICK FOREVER NOT MY SUPERMAN.
As far as this series of Marvel Studios movies goes I'd put this in the top 3. I still think AVENGERS is the best, but with either this or WINTER SOLDIER a close second. WINTER SOLDIER has a tighter story, but GUARDIANS definitely has superior action clarity, and the advantage of all these cool aliens and shit.
In a way GUARDIANS shows how useless all this pontificating is that we do about the Marvel movies before they come out. At least for right now they know what the fuck they're doing, and we can only guess what they're up to. It's probly wiser to take a wait and see approach than to assume they're fucking up. Because no, it doesn't matter if it's a popular comic or not. Yes, they can get us to accept a talking space raccoon. No, the honchos did not squash Gunn's sensibilities.
In fact, this is a pretty ideal case of an outsider indie guy (although one with some studio experience, having written the SCOOBY-DOO movies) getting to drive dad's car and making the most of it. He was able to make a slick movie with broader appeal than TROMEO AND JULIET or SUPER, but one that nobody else would've made the same. And that's why I will try to forgive this band of outlaw troublemakers being officially sanctioned by the fucking Nova Empire at the end. Because it's a metaphor for the filmatists themselves: scrappy outsider losers banding together, somehow with the approval and resources of The Man, to do what they do best. Gunn is making a Gunn movie, even giving cameos to his regulars like Gregg Henry, Lloyd Kaufman, Nathan Fillion and the voice of Rob Zombie, and a major role to his long time collaborator Rooker. See, it didn't matter that SLITHER was kind of a flop. The good guys still won.
Hey wait a minute, I never noticed that. That's the Marvel secret. They use directors who did a movie or tv show that was beloved by the internet or nerds but then failed to catch on with society at large. It started modestly with IRON MAN from the director of ZATHURA. Then CAPTAIN AMERICA they go back to the guy that did the pre-internet THE ROCKETEER. THE AVENGERS, of course there's no better choice than the guy that did SERENITY. IRON MAN THREE the guy that did KISS KISS BANG BANG. For WINTER SOLDIER they actually got directors from TV's ultimate examples of heavily worshipped, low rated, early cancelled shows, Arrested Development and Community. And for GUARDIANS the guy that did SLITHER.
Who else should they get? Guillermo Del Toro was probly a shoo-in until a PACIFIC RIM sequel got greenlit. The JOHN CARTER guy maybe? I doubt they're gonna be able to get SPEED RACER/CLOUD ATLAS. They did Shane Black, would they reach all the way back to Fred Dekker because of MONSTER SQUAD? And does Frank Darabont count because of SHAWSHANK REDEMPTION? Or THE MIST maybe?
Oh shit, SCOTT PILGRIM V. THE WORLD! There's a fucking movie that is worshipped on the internet and ignored in reality! That's their next director!
Oh, wait. That's who left ANT-MAN. They're breaking the pattern. They're gonna fuckin blow it!
Or that's what it seems like, but like I said, they know what they're doing. Congratulations Marvel, you sold me a raccoon. Now get Wesley Snipes on the phone please fellas.