I don't know if you can sense it in the air or anything. It doesn't really come until the end of the year, but this is the 20th anniversary of TANGO & CASH. To be honest I don't think I ever saw this one before, but I wanted to see it and review it a little ahead of all the hoopla. As much as people like you and I are will to talk about TANGO & CASH all the time I'm sure eventually we're gonna get a little worn out by all the retrospectives and parades and everything that I'm sure they've been planning.
So now I've seen it and I know TANGO & CASH is a fun but not all that great 1989 action movie that personifies (moviefies?) the excess of the '80s, and not just because it has a monster truck in it.
Stallone plays Ray Tango, a neatly groomed supercop in a grey Armani suit and Roy Scheider glasses. He's a wealthy stock trader who still works as a narcotics cop because he needs "the action." Kind of the good guy version of Patrick Bateman. Meanwhile Kurt Russell plays Gabe Cash (you'd think the stock trader would be Cash, come to think of it), the sloppy t-shirt wearing, long-haired, cynical hero cop from another precinct on the other and totally different side of town. Both use Unorthodox Methods (playing chicken with a semi truck, choking information out of a prisoner who pretends he doesn't speak English). Both are celebrities, sharing the front page of the newspaper in two different unrelated stories. They have alot in common and I don't want to give anything away but there is a slim possibility that they just might hate each other but be forced to work together through extraordinary circumstances and then slowly but surely bond and help each other and gain each other's begrudging respect but then continue to bust each other's balls while giving each other the manly smile of secret friendship.
The villain, played by Jack Palance, wears a white suit, spends most of the movie in a board room and calls his weapons and drugs outfit a "multibillion dollar business." He knows all about Tango and Cash and often talks about them by their full names or as Tango and Cash, never as Cash and Tango, even though at first they're not even friends or colleagues, they only know each other by reputation and don't like each other at all. But I guess he is an all-knowing villain who can sense the title of the movie.
So he sets them up for the murder of an undercover cop, they go to prison, get out and come after him. It's like RICOCHET meets THE ODD COUPLE.
The music is cheesy '80s style keyboard and drum machines courtesy of Harold "Axel F Theme" Faltermeyer. The two leads are constantly joking, making little quips to each other, usually not very funny ones though. The tone of the movie just doesn't ever gel, it's constantly trying to be clever but only pulling it off every once in a while. It's definitely closer to a serious action movie than a comedy but they try to go extra-wacky. For example, Kurt Russell dresses in drag to leave a club unseen by cops, then flirts bats his eyelashes at them like he's Bugs Bunny or something. Also there's a scene where Cash is getting a massage but from what is being said and from Tango's vantage point it totally seems like he's fuckin Teri Hatcher! Do you get it? Can you believe what a crazy misunderstanding just happened there? It's like Three's Company! If these jokes were really racist or homophobic they could sell them to Michael Bay.
I like seeing Stallone (or any action guy) trying to stretch it a little. But with that voice it's a little hard to swallow. Honestly I don't really buy him as Mr. Fancypants there, it's worse than Steve McQueen in THE THOMAS CROWN AFFAIR. I don't care if Stallone is rich in real life, the guy talks and he's working class. Nice try though, and when he's not talking he looks very convincing.
There are some pretty good action moments. I like when they have to jump onto a wire and slide down using their belts. This is also some of the better funny-dialogue in the movie when they discuss how electricity works.
There's a pretty good selection of character actors in here. Philo Beddo's pal Geoffrey Lewis is one of their captains (uncredited for some reason), Eddie Bunker is another captain, Clint Howard is Stallone's cell mate, Michael J. Pollard is a weird inventor guy who works for the police department and therefore makes souped up vehicles and prototype weapons for Cash, Brion James is one of the bad guys (doing a really bad British accent)… you also got James Hong, Michael Jeter, Lewis Arquette, and an uncredited Billy Blanks (I didn't notice it was him).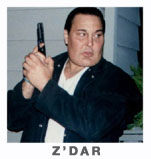 Most memorable is Robert Z'Dar as an inmate who wants to kill Tango because he broke his jaw on the streets ("That jaw?" Cash asks). Z'Dar is a topic I don't think we've ever discussed here. Holy shit. Have you seen this guy? He looks like they transplanted a dinosaur's jawbone into him by mistake. He's intimidating for all the traditional reasons but if you had him after you you just know you'd get distracted staring at that mother and then he'd bite your arm off or just give you a fatal chinbutt or something. He should just go by his last name so he sounds like an evil space dictator, because he's earned it.
I should also note that Teri Hatcher is the female lead in the movie but she's not that bad I guess.
One possible reason for the weirdly off feel of the movie is that the director was not a Hollywood guy. Starngely enough it was directed by Andrei Konchalovsky, the Russian director of UNCLE VANYA and SIBERIADE and co-writer of Andrei Tarkovsky's ANDREI RUBLEV. And I imagine either he didn't really know how to handle it or (equally or more likely) the Hollywood types kept second guessing him and fucking everything up. According to the usual internet sources Albert Magnoli, director of PURPLE RAIN, took over late in production. Stallone also fired original director of photography Barry Sonnenfeld (even though back then he seemed like a genius because of RAISING ARIZONA and all that), and the movie was supposedly rescued by LETHAL WEAPON editor and EXECUTIVE DECISION director Stuart Baird in the editing room.
I don't know man, I guess I don't really get it. It's worth watching to see all these guys together, and especially the two stars, but it's a little forced and has way too many winks at the audience. Okay, I get why it's supposed to be funny when somebody mentions Rambo and Tango says "Rambo is a pussy," but what about this part where they're discussing breakfast pastries and he says "I hate Danish"? I had to read IMDb trivia to learn that line was supposed to be funny because he had recently been divorced from Brigitte Nielsen. So, uh, that is not really a joke that lasted 20 years in my opinion.
Still, it has something. Not sure what.