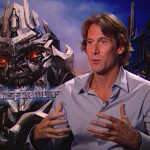 As if the whole world wasn't going to shit already, now we got this war going on between Israel and Hezbollah in Syria. Or according to some people, between the US via Israel and Iran via Syria via Hezbollah in Lebanon or I don't know. Whatever the fuck is going on over there, it's not good. People are dying every day and it seems like this could be just the humble beginnings of this latest phase of the world's biggest mess.
In the old days, like, say, seven years ago, what we would do is the President would make some phone calls, send some diplomats, try to figure out how to get those assholes over there to chill the fuck out. "Come on guys, it's not worth it." Like when your buddy's had a few too many drinks and starts getting in a guy's face in an argument over a girl or a shoe or a slice of pizza or something. You gotta give your buddy some perspective before things get ugly.
Well, Bush is too busy clearing brush or dumping out stem cells or something. You know how he is, if the world is teetering on the precipice then you bet your ass that asshole's on vacation. I heard he's supposed to be reading Camus's The Stranger on his vacation, which is interesting. Future embarassing off the cuff remark: "Well it's interesting, in existentialism it says I can kill an Arab."
Anyway, the point is he's not gonna do shit. Therefore, I feel it is my duty as an American to step up and set a positive example for our brothers and sisters around the world.
Now, I know you have plenty of reasons to hate each other. The other side kidnapped some of your soldiers, or arrested a whole bunch of people, or blew up your house, or hate your religion, or stole your land, etc. I'm not saying you don't have cause to be angry. But what you gotta understand is, this shit goes back hundreds of years. So far, blowing shit up has not helped in any way. Maybe, perhaps, it is worth considering that blowing shit up only ever makes it worse, and you gotta stop.
So here's what I'm gonna do to help. I am not a soldier, I cannot offer a military solution. I am not a politician, I cannot offer a political solution. I am an outlaw film Writer, I Write about films. So I will work within my particular medium. Within my medium, I also have an enemy. You know how you guys feel about the other side of this conflict? That's kind of how I feel about Michael Bay.
Michael Bay has not committed crimes against my people, but he has committed crimes against my action movies. More than any other person he is responsible for the destruction of the filmatic language. What was once a genre that pulled you in and put you in the shoes (or cut up bare feet) of its hero, now distances you and whacks you over the head with a giant dick made out of strobe-light edits, whooshy camera spins and indecipherable action spectacle. He took Bruce Willis, the star of the greatest action movie of all time (DIE HARD), and put him in ARMAGEDDON, one of the most retarded big budget movies I've ever seen. He took the trademarks of one of our greatest action auteurs, John Woo (the slow motion hero strolls, the double pistols, the melodrama) and chopped them up into snack sized fast food bites, turning them into American cliches that people would later ridicule Woo for. His movies are idiotic, their values are vile, and worst of all they're completely boring to me. Even in his early, not as retarded movies like THE ROCK and BAD BOYS, the filmatics of the action scenes make them completely uninvolving and confusing for a guy like me to watch.
Once Bay had had his way with my beloved genre, the motherfucker bought up the rights to my favorite horror movie, THE TEXAS CHAIN SAW MASSACRE, and hired a crazy German video director who had been fired from END OF DAYS to do a shitty remake. To get me more worked up, he went to the press and started making statements that made it clear he had never seen the original movie and had no idea what it was all about. Talking about how the new one would be less gorey and ignorant shit like that. Just trying to work me up. Trying to psyche me out.
What I'm saying is I hate this motherfucker. I HATE this motherfucker. After ARMAGEDDON, I called it quits on the shit he directs. Sometimes I'll go see a movie I don't think I'm gonna like. And obviously I believe in giving people a second chance. But Michael Bay, in my opinion, as well as in scientific fact, is not curable. It's just not worth it. If it says "Michael Bay," I must stay away. So I didn't watch PEARL HARBOR, didn't watch BAD BOYS 2, didn't watch THE ISLAND, didn't feel like I was missing out.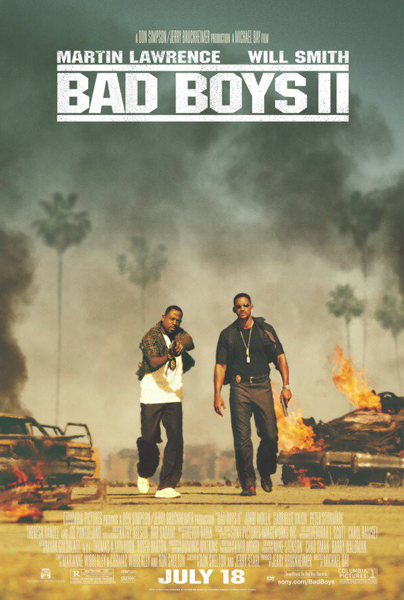 But today, in the name of world peace, universal brotherhood, understanding and giving each other high fives as well as down low, etc., I am prepared to make concessions, sacrifices and compromises. I am striving for excellence in the area of peace. I can't just blow up Michael Bay, especially since he would set up a camera that would rotate around the explosion and cut to a closeup of sweat dripping down Josh Hartnett's shoulders reflected off the back of a Lamborghini made out of cocaine and it would be unclear whether he was in the explosion or not and I would just be confused so it wouldn't be worth it. So I decided instead to do something I never thought about doing before… I watched BAD BOYS 2.
I gotta be honest, I don't remember a god damn thing about BAD BOYS PART 1 except that there was Sergeant Whatsisdick and Detective Whoevertheguyiscalled and they kept saying things like "Hello we're negros" while fighting diamond thieves or kidnappers or somebody. I don't think it was as offensive to my sensibilities as ARMAGEDDON, but it was more forgettable. The jokes weren't funny except for the one about how you were supposed to accept these two skinny jokers from TV sitcoms as tough guy cops. I've actually never heard of anybody who liked BAD BOYS 1. I know Will Smith was in it and he's popular. But they didn't make MADE IN AMERICA 2 or even INDEPENDENCE DAY 2, so you just don't expect this. And honestly you'd think America would have safeguards in place to prevent this kind of thing from happening.
But I know people who enjoyed BAD BOYS 2. I had heard legends about some of the crazy shit in the movie. Michael Bay actually put his director's credit over a shot of a burning cross, no joke. There's a chase scene where cadavers fall out of the back of a truck and bounce around the freeway getting crushed and beheaded by cars. It's the first movie with the balls/poor taste to mention 9-11, and has a scene where the heroes drive a yellow Hummer over about a hundred hovels in Cuba. They call them "drug dealer shacks" so that we know they are all for sure evil and we don't have to feel bad about it, and I am positive that none of this was intended as an ironic commentary on our foreign policy or attitudes toward the world. At least as far as Michael Bay knew. (One of the many writers who had his way with the script [think WORLD'S BIGGEST GANG BANG] was Jerry Stahl, the Permanent Midnight/ALF guy, so who knows.)
There are other evil Michael Bay touches for the Bush era. The Bad Boys are supposed to be cool and rebellious because they bribe a guy to help them do a "highly illegal" wiretap. There are also some attempted laughs about drug dealer Klansmen always saying, "I have my rights!" Ha ha, what a whiner, thinks there's supposed to be civil rights in this country. Only a drug dealing Klansmen would believe in civil rights. Also, Will Smith's character drives a Ferrari, because Michael Bay is obsessed with rich man toys that no ordinary human being would have a chance of owning. In MIAMI VICE they drive a Ferrari because they're undercover as drug dealers and they confiscated it from a real drug dealer. In BAD BOYS they drive a Ferrari because Michael Bay has the mentality of a 12 year old boy. (He also has a cameo driving a crappy car. Ha ha, it's funny because Michael Bay would never drive that car. Michael Bay only drives cars that cost more than your house and ten years worth of food and electricity.)
One of my associates informs me that Will Smith's character was supposed to have inherited a bunch of money in the first movie, that is supposed to be how he affords the dick lengthening vehicle. Which sort of blows my theory that he is supposed to be taking bribes and selling dope from the evidence locker. At any rate, I'm not sure how he can keep tailing people in that thing. It's not exactly inconspicuous.
The movie ends with Will Smith and Gabrielle Union making out at Gitmo. I felt like an unlawful combatant watching this shit.
So I watched this shit and in the spirit of understanding I hoped maybe to get into the crazy, over-the-top spirit of the movie. In concept, I liked the black humor of them having to search a bunch of dead bodies for hidden drugs. There were some giant explosions here and there, including one caused by a remote controlled car. In the car chases, there's definitely some spectacle with cars flipping around and flying through the air although just like all of Bay's movies, I just couldn't get involved in it no matter how hard I tried, because the whole approach to shooting and editing pulls me out of it.
The editing actually isn't as bad as ARMAGEDDON, though. For the first ten or fifteen minutes I thought it might kill me because of that Michael-Bay-strobe-light-editing where literally no shot lasts for more than 4 seconds and is usually between 2 and 3. So you get this bump-bump-bump-bump-rhythm where you can never solidly focus on anything and you just feel like the guy is trying to murder your eyeballs. But at some point either I got used to it or it started to calm down a little to the point where it wasn't as distracting. Which is helpful.
What surprised me is that even though this is a terrible movie, it's not a terrible movie in the same way I thought it would be. What I didn't expect, somehow, is that this is a really bad comedy. Maybe if they cut out an hour and treated it seriously you could enjoy it like THE TRANSPORTER 2 or something, but the emphasis of the movie is not on action as much as it is on horrible, painful, inexcusable comedy. There's almost no point in criticizing it as an action movie because most of it is all about these two whiny bitches bickering.
The story is mainly about the relationship between Will Smith and Martin Lawrence, and how Martin wants to break up. Will is sad but he decides to accept it. Then they bond by doing a wacky comedy skit that involves pointing a loaded gun at Martin's daughter's boyfriend. Then he quotes what Martin wrote in his high school year book ("Bad Boys for life") and they make up. But the thing is, there is no fucking way Will would want to be around this guy. There is no person on earth who would want to be around this guy. He's supposed to be a cop, but during every action scene he runs around like a coward whining and begging for his life and dancing around like a minstrel. I forget his character's name but I think it's Detective Stephen Fetchit. During the first shootout he announces "It's the negras!" He's afraid of rats, they make him scream and cry. The dead bodies make him puke and cry. When he has a gun pointed at his head he cries and gives up. When he's in a car chase, he cries and gives up. I'm surprised they didn't find a place for him to be scared of a ghost. If he's not crying or running like a coward he's yelling things like "Shit is crazy!" during a shootout so you remember the movie is supposed to be "fun."
These clowns make Anthony Anderson and Tom Arnold in all those Andrjez Bartkowiak movies seem like the fuckin Marx Brothers.You know how Will Smith has his "serious voice" and his "I'm trying to be funny now" voice when he starts busting out the slang? Both Will and Martin use the "I'm trying to be funny now" voice for most of the movie. Most of their dialogue seems improvised and it seems like everybody involved must've thought they had struck gold. But scene after scene has that embarrassing, uncomfortable feel of a bombing Saturday Night Live skit. There is this one "joke" about how Martin doesn't know that Will is seeing his sister. Will is supposed to tell Martin but is scared he'll disapprove (what's he gonna do, cry and bitch some more?) so he keeps stumbling on his words and lying. They do this same joke over and over again throughout the movie, as if they thought it was hilarious the first time and can only grow in its power the more they do it.
Then there's the joke about how the pool breaks and water goes everywhere. Craziness! This could've happened in that movie where Malcolm in the Middle painted Paul Giamatti blue, but Michael Bay wanted in on some of that action. And then he was so happy with the results that he did it again at the end of the movie.
And of course there's the "Bad boys bad boys, whatcha gonna do" song. In the first BAD BOYS they sang that song from the show COPS. COPS came on the air in 1989, so this was a six year old reference. Even Leslie Nielsen wouldn't have touched that shit, but they did it. Somebody somewhere said, "You know what, it's named after the song from COPS. So people are gonna expect them to sing the song from COPS." So they put it in there. Then BAD BOYS 2 comes along in 2003. And somebody said, "You know what, it's a thirteen year old reference, it wouldn't be funny even if it was current, it was just one of many bad decisions we made in the first one, but you know what? It was in the first one. People are gonna expect them to redo the same thing they did in the first one, if there is anyone who remembers that we made a first one." So they had them sing it again. And then they were shooting the end of the movie and they said, "You know what, we did it in the beginning of the movie. People are gonna expect us to redo what we did in the beginning of the movie in the end of the movie." So they fucking did it again, they sang it twice in this movie alone. That is the kind of quality control we're talking here, they let that get in there twice.
Probaly the worst scene in the entire movie is the Circuit City scene, which makes no sense on about 25 different levels. The Bad Boys have found a drug dealer's video camera, but it has a bullet hole in it so they can't just play what's on it. They have to bring it to a young salesman at Circuit City. Being an electronics expert, he is able to plug it in and that I guess magically repairs the bullet hole in a way that the Bad Boys could never have done on their own. But he accidentally plays the tape on every TV in the store. So of course the tape has footage of Will Smith (off camera) screwing Martin's sister and everyone in the store thinks it's porn. So then there is mayhem and outrageousness and Martin and Will retreat to another room inside the store. For reasons maybe explained in part 1, the tvs throughout the store now switch to a camera in this room and broadcast a conversation that out of context sounds like they're talking about buttfucking each other. And this goes on for a long time while everybody in the store is shocked. I was disappointed that nobody fainted or spit out a drink.
Get it though? Fags. Ha ha.
I thought I sort of understood why some people liked this movie, but now that I've seen it I'm completely befuddled. This is like a David Spade movie that costs $130 million and has cars flying all over the place and blowing up. Even if you have one of those brains that can translate the Michael Bay spazzovision into real filmatic language, I still don't understand how you could enjoy this shit. So what if it has big explosions if you gotta sit through two hours of painfully unfunny shtick to get there? This movie is fucking terrible.
But, you know, peace be with you. So as far as reaching out to my enemies, I would have to say that my viewing of BAD BOYS 2 was a failure. I don't have much nice to say about that one. After I saw it, I wasn't sure if I had achieved my goal of creating brothership and understanding around the world by watching this horrible, horrible movie. So as extra credit for peace, I decided to watch TRANSFORMERS: THE MOVIE, the cartoon movie that Bay is currently turning into his next horrible, horrible movie.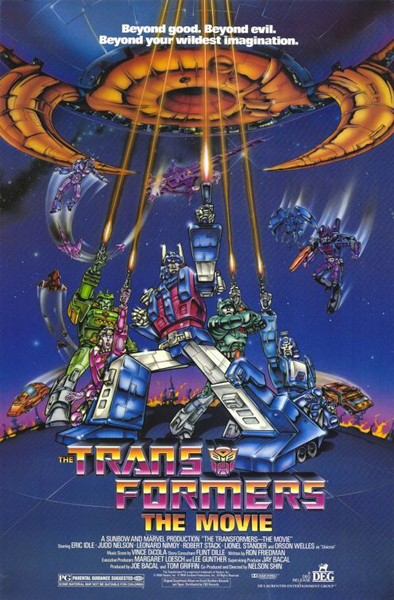 TRANSFORMERS: THE MOVIE tells the story of The Transformers, a race of robots from the metal space planet of Cybertron. Like humans, the Transformers robots are bitterly divided into two groups, Autobots and Republicans. The Republicans control Cybertron, much like they control the White House, the congress and the courts here. They have forced the Autobots to move to the space moon where they are planning some kind of rebellion.
One thing I should mention is that the Transformers have the power to "transform" into a car, plane, or appliance. It's similar to how a hide-a-bed transforms from a couch to a bed. Transformers can also fly so there is no reason why they should ever turn into a car or plane, unless they are trying to impress Michael Bay, because he gets a boner for that shit. The cars are pretty good cars though because in one part they can drive underwater and fight robotic piranhas and sharks from space.
The Autobots are planning some kind of big something or other, but a robotic bird finds out so he tells Maggotron, the head of the Republican party and also a member of the NRA I believe, since he transforms from a huge evil robot to a small handgun that you could fit in the back of your pants. So the Republicans attack the Autobot moon and they all battle the shit out of each other.
The leader of the Autobots is Optimus Prime, who turns into a red semi-truck and talks like John Wayne. He says some kind of dramatic deal about stopping the Republican agenda "no matter the cost," in other words he's gonna die heroically and it's gonna be awesome. Sure enough after some punching and guns, Optimus gets cracked and he dies peacefully surrounded by his loved ones including Microscope Robot and Girl Robot. As he dies he turns black and grey and his chest opens up so he can pass on the glowing "matrix of leadership" to some other dude.
But the Republicans are in bad shape too (see that? the endless circle of violence) so they retreat on a robot that turns into a train that turns into a space shuttle. Maggotron is dying, so everybody fights over who should take his place, kind of like when Alexander Haig tried to say he was in charge after Reagan got shot. The robotrainshuttle is damaged though and Republicans don't believe in social programs, so they just toss the smaller or sicker robots, including Maggotron, out the side door. Sorry, suckers. Cybertron is not for socialists.
MEANWHILE, IN SPACE, there is yet another metal planet, this one called Unicron. If they just switched two letters and made it Unicorn then alot more girls would like this movie, but I guess they weren't going for box office, they were staying true to the original vision of the executives who came up with the idea of toy cars that turn into robots. Anyway, the Unicron planet has a big octopus type mouth on it and is alive and it likes to eat other planets. It's played by Orson Welles (CITIZEN KANE) and in my opinion it's kind of an asshole thing to do to cast a guy as a planet just because he's fatter than he used to be when he was young. Maggotron floats into Unicron so Unicron makes a deal with him, he gives him a new body and Leonard Nimoy's voice and sends him to crush "the matrix of leadership" so that nobody can stop him from doing whatever it is that evil planets like to do.
There was one part I thought was pretty funny, the new Republican majority leader Whiny Airplane is making everybody throw him a coronation party. But just as the crown goes on his metal head, the new Maggotron shows up. Whiny Airplane says, "Is that you, Maggotron?" and he says "Here's a hint, cocksucker" (or words to that effect) and transforms into a magic laser cannon. Then he shoots the airplane and the guy disintegrates into ashes. But here's the cool part. His crown falls to the ground and Maggotron steps on it and crushes it like a Dorito. This I would consider to be a definitive statement about the airplane's poor leadership.
Then I think there was a big battle or something, I can't remember what happened.
The universe of Transformers is kind of like CARS, everything is machines and you can't figure out who the fuck built these guys or how they reproduce. What would happen if girl robot got it on with robot bird? or is that gross? I'm not sure. Are the small robots considered pets to the big robots? Or are they just unique and beautiful, like snowflakes?
Unlike CARS though there are exactly two hunks of flesh in this movie. But both of them wear robo-suits and one of them even transforms into a car. He is kind of a poser in my opinion, why doesn't he just drive a car like a normal person. You gotta stay true to yourself, you don't have to copy somebody else's culture.
I should note, by the way, that this has some of the worst '80s rock music you ever heard. It even has the song that Mark Wahlberg recorded in BOOGIE NIGHTS, "You Got the Touch." In that movie it seems like a really funny exaggeration of the type of music we had in the '80s, but it turns out it's a serious song from this particular movie, and it is talking about how Optimus Prime "has the touch" and is "a winner." There are lots of awkward montages set to bad rock music and one part where all the robots dance.
Now, if you watch this movie and carefully study it, after a while you will figure out who this movie is for: nerds. First of all, it's a cartoon. Second, it's about robots. You got all this fancy mythology and what not. And the characters are constantly talking about The Matrix. So it's definitely for nerds.
That's why The Transformers is exactly what Michael Bay deserves. Because no matter what he does, he's now cursed to be plagued by nerds from today until the day the coke does him in. If the movie makes nerds happy, he'll be their hero and they'll worship him like Peter Jackson or whoever, they'll follow him around and he won't be able to shake em. "Michael Bay, why can't you do the new Dungeons and Dragons movie. Michael Bay, why can't you do Halo. Michael Bay, come to my house and re-enact Monty Python skits with me." But in the more likely event that he shits all over their dreams and passions and makes them angry, they'll plague him in a worse way. And this is a guy accustomed to taking his Ferrari and doing donuts on a military base while two high priced hookers shoot coke into his balls (at least, that's my impression. I cannot prove this). He's not the type that's gonna have patience for these nerds.
It's so beautiful. It's like the bad guy from REVENGE OF THE NERDS having to referee a Magic: The Gathering tournament. I don't think he knew what he was signing up for. Much like the kids who he claimed, in an interview for Air Force Television, would sign up for the military because the movie is a good "recruitment tool."
But you know what, I'm trying to make peace here, so my heart goes out to Michael Bay. Even though you're horrible, I hope you can keep them off your property. And I can see why the guy wanted to do this movie. It's very personal to him, because it has cars in it instead of people. He can relate to cars more than people, they think the same. Ever since his senior thesis film which was apparently about frat boys driving around really fast in a yellow Porsche, he has related to cars more than people, and in interviews he has said that TRANSFORMERS is a personal story to him because it has a part where a kid buys his first car. This is probaly the movie he was born to make, the one he could really knock out of the park. So instead he'll probaly make it more about people than robots and fuck the whole thing up.
I'm against BAD BOYS 2, I guess I'll say I'm neutral on TRANSFORMABLES. For that type of robot/car cartoon movie, I guess it is probaly pretty decent, as far as those go. But please understand that I made an effort. I reached out. We're all grown ups here, that's what we do.
Israelis, Hezbollahs, Americans, Iraqis, unlawful combatants, transformers, and everybody else out there with a gun or a bomb: please learn a lesson from this. It's time we all got together and said "what the hell, the world is big enough for all of us assholes." We gotta be less stubborn and more humble and acknowledge that co-existing with somebody you don't like isn't the end of the world. BAD BOYS 2 may be shit, but it's not the end of the world. Life goes on.
let's do this everybody,
–VERN