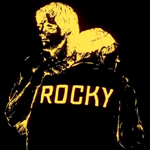 After the success of ROCKY, screenwriter Sylvester Stallone became writer-director Sylvester Stallone with the period wrestling movie PARADISE ALLEY. And then after that practice run he was ready to direct the rematch.
ROCKY II starts right before where ROCKY left off, with about 5 minutes of Balboa vs. Creed. In other words "the end of ROCKY." This type of recap used to be done in many sequels and never is now. You have to remember, there was no home video at that time. It seemed important to remind people what happened because the last movie was 3 years ago and people haven't necessarily been able to see it since then.
So the first new footage is right where ROCKY left off, right after the fight, and we can compare and contrast it to the first movie's scene after Rocky beat Spider Rico in the church. Instead of our hero and his opponent laying bloodied in a small back room waiting for the doctor to show up later, they are both rushed to the hospital in ambulances, and are welcomed there by crowds of fans and press. And instead of the two fighters being like friendly co-workers in-this-shit-together, Apollo starts barking in front of the cameras about a rematch and calling Rocky a punk. This confuses Rocky because, as we were reminded by the archival footage, the very first thing Apollo said after winning the fight was "No rematch." He was very clear about it. They both agreed.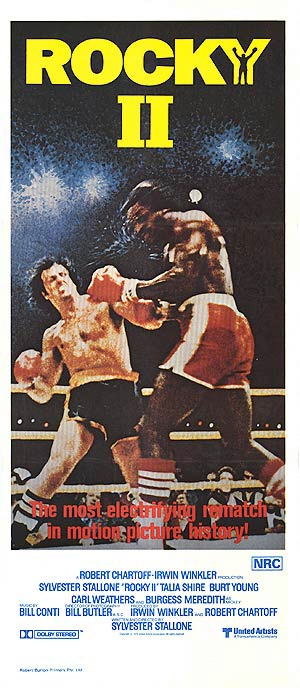 The two are stuck in the hospital for a while healing, so there's time for a great scene where Rocky gets up out of his bed at night and limps to Apollo's room to ask him "Did you give me your best?"
"Yeah. Yeah," Apollo admits. So he's not a total asshole.
Apollo's sensitivity about the subject is partly showmanship, partly ego. We see throughout this sequel that the less-than-definitive victory over this nobody ham and egger bum from the neighborhood is fuckin with him. He feels he needs to do it again and knock Rocky out quick to prove it was a fluke. If this wasn't a movie he'd probly be able to do that pretty easily. As far as he knows he's Muhammad Ali, and Rocky is… some dude.
Rocky wasn't trying to go pro. He wasn't trying to use that fight as a stepping stone to glory. He just wants to marry Adrian ("I was wonderin if, uh, you wouldn't mind marryin me very much") and take the money from the fight and an endorsement deal and treat his new bride to some nice things. He buys her a fur coat even though she doesn't really want it, himself a Trans Am even though he doesn't know how to drive, and both of them a house even though it's the first one they've looked at. Adrian is hesitant about all this spending, but Rocky wants to do it and it's his money, so she doesn't get in the way.
This stage of Rocky can be called Tiger Jacket Rocky, since that's what he buys himself after seeing it in a shop window. Nobody ever said he was a financial wizard. He's unskilled in balancing his check book, but he has alot of determination is the thing.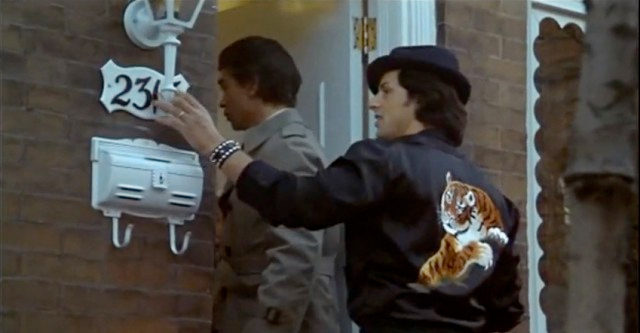 This is a pretty interesting use for a sequel. We loved Rocky for being an underdog. After his achievement he gets a bunch of money, something we know he deserves, something we wouldn't mind having ourselves. But now how does it affect him? Is he not gonna be as cool if he lives a life of luxury? If he is a success? Are we gonna end up resenting Tiger Jacket Rocky?
Well, don't get too worried yet. Things go south on the endorsing business because he's no good at reading cue cards. You feel so bad for him when he's dressed up in a ridiculous caveman costume and the director (John Pleshette, cousin of Suzanne, also played a commercial director in ROCKY, and Lee Harvey Oswald in THE TRIAL OF LEE HARVEY OSWALD, and Secretary of State Seward in THE DAY LINCOLN WAS SHOT) is being a dick to him about the trouble he's having reading. Maybe you people should've thought of that when you hired a guy based on you saw him on TV getting knocked on the head really hard hundreds of times in a row. And I'm sure you'd seen interviews with him before, heard what he sounded like. You're telling me you thought he was gonna be John Gielgud?
Anyway, next thing he knows he's asking Paulie to buy his car and get him a job at the meat factory. (Paulie took that job with Mr. Gazzo. He's lost weight, wears nice suits and doesn't talk as much shit, just gives bitter looks like he's not gonna say what he wants to and it's killing him.)
Like so many great men in movies (cops, soldiers, cowboys, fighters, criminals) Rocky finds that his wife doesn't want him to do the thing that makes him great. It's too dangerous. And he agrees at first, but Apollo's taunts get to him and he misses it and he gives in and starts working with Mick again. Meanwhile Adrian is pregnant but goes back to work at the pet shop, has an episode, gives premature birth and goes into a coma. We could read this as the movie saying that a woman should stay home and be provided for, but that wouldn't be entirely fair. More like a woman should get paid maternity leave.
Rocky's bedside vigils and late night empty church visits are moving, and it's powerful when Adrian wakes up and then tells him to win for her, finally giving him permission to put family worries aside and go for it. I'm not sure what changed her mind, though. Maybe it's time for a trippy animated spin-off movie about Adrian's comatose visions of discovery.
The training montage is kind of a rehash, with the same familiar music, same grey sweatshirt (now with red handkerchief headband). The difference is that now he's a folk hero in Philly, so when he goes running through the city he ends up leading a crowd of admiring children through the streets, up the stairs and into the celebratory freeze frame. They want to go the distance with him.
Rocky is still a lovable goofball. In his journey to better himself he's constantly reading books out loud to Adrian, not caring if he sounds like an idiot. And there's a funny scene where he's late to the fight but he goes to the closed church and honks his horn to wake up the Father to ask him to yell down a quick prayer for him not to get beat up too bad. Then he thanks him profusely and drives off in a hurry.
Stallone does a good job of following in Avildsen's style, but his filmatism for the fight is particularly strong. It starts out very straightforward, almost documentary-like, but as the fight progresses it gets more and more stylized. The editing gets much faster and it turns into a montage of the rounds passing. It becomes more subjective as the fighters get beaten down. The camera gets closer to their faces, switches to slow motion as their consciousness fades. And meanwhile Bill Conti's music gets more and more bombastic.
According to IMDb trivia, they spent over 8 months editing the fight.
The outcome is pretty easy to guess. Of course Rocky wins the belt. And as the match is wrapping up all I could think of was, well, this is not as interesting as the first ROCKY. This is the obvious sports movie ending. The end of ROCKY was amazing because he didn't win, but he didn't care, because he pushed himself to the limit. And because of that moment of only wanting to see Adrian, who he loved. This can't really capture that, it can't be as good. Adrian's not even there! Shire was off filming PROPHECY or something and they shot her watching the fight on TV months later.
But I'll be damned if I didn't find myself moved by it anyway. It works. And since we even have that ROCKY ending as a part of ROCKY II itself, it's straight up asking us to compare and connect the two scenes. "Yo Adrian, I did it!" because he kept trying and he went even further this time. The first time Adrian was elated that he had made it through in one piece, this time she is accepting him as a boxer.
And my favorite part is that Apollo, it seems, holds up Rocky's arm in victory. I'm a sucker for moments of sportsmanship. I've never been into boxing but I watch a little MMA, and whenever somebody refuses to touch gloves or gets real personal in the pre-fight interviews I root against them. They're a disgrace to the sport. But then if they show their respect after losing then I will forgive them. The mutual respect of warriors and all that.
The world didn't need ROCKY II, but since it got it I'm glad it's this good.