See, this is the type of gold I'm always digging for. This is why I keep browsing and renting weird old movies I don't know much about. I'm trying to find a movie like HIT!. Last time I rented a Billy Dee Williams movie it was AGENT 00-SOUL, which I'd wanted to see for years only to discover it's not a serious movie, it's a "comedy" where he just keeps tripping on things and falling out of things. It makes the worst Leslie Nielsen movie look like the Coen Brothers.
But HIT! is not only a serious movie, it's revenge-meets-arthouse, almost like POINT BLANK. It's an ambiguous, slow-burn revenge movie with great performances and character moments and a creepy Lalo Schifrin score. There's more care put into the buildup and the little moments than into the action movie parts, but they're good enough for that to be a fair trade.
In the beginning a teenage girl dies from a heroin overdose. Billy Dee plays her father, some kind of CIA agent. He doesn't talk until 15 minutes into the movie. Before that he just smolders. His boss tries to help him out, tries to send him on a vacation. But he wants to go after the source – not the street pushers, but the top of the pyramid, some guys in Marseille who run a heroin cartel. Of course the agency tells him not to, and of course he does it anyway.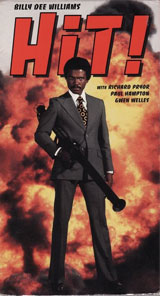 He must still have access to some great databases, because he figures out exactly the people he needs and can get to help. For the next section of the movie he goes around recruiting his team, mostly strangers, but people who have both expertise and a button he can push. Some of them have crimes he can use against them, others have reasons they might want revenge too. Richard Pryor, for example, had a wife who was raped and killed by a junkie. Billy Dee tells him he's taking him for a drink, then drives him out to the prison yard to let him beat on the guy. Then he pulls him off and tells him what he wants to do.
All of these scenes are really dramatic because the movie never tells you what he's up to, you have to wait and see. And once the team is assembled he brings them up to an abandoned town in Vancouver BC to practice. Again, we don't really know what the plan is exactly, but they're all going through drills and struggling to get their times down. This isn't the usual team of badasses – he's got an older couple (Sid Melton and Janet Brandt) recruited from a ferry in Seattle, ex-cons with a junkie son who died. They're having a hard time running as fast as they need to. But he puts on the Billy Dee charm, hugging the lady and convincing her to believe in herself. Other times he puts on the Billy Dee cruelty – he can be completely ruthless when he needs to. But somehow you love him again the next time he smiles.
Throughout the movie it keeps cutting to the targets in Marseille – fat, rich white dudes eating caviar, lounging on yachts with young beauties, complaining about crime in America and how pollution makes their fish taste bad. They don't seem to know they're the bad guys. They're just the assholes who live off other people's misery and don't care.
There's a great sequence before the team goes through with their plan where each of them has what they know might be their last night alive. There's a reoccurring joke about one of the characters loving hamburgers, so we see him in a French restaurant eating something like a hamburger and giving a "not bad" eyebrow raise. It's a funny moment but then the camera stays on him as he just sits there thinking for a little bit, and you can imagine some of the things he might be thinking about.
There are a few things I won't get into that sort of break the rules of thrillers in arguably a bad way. And for the life of me I can't figure out what the last line of the movie is – I kept rewinding it but couldn't figure out what he said. But I think this is a truly great movie, mainly because of all the great character moments. Richard Pryor is just one of the ensemble but it's up there with BLUE COLLAR as one of his great movie roles because he gets to win people over with his humor but also be a troubled guy. He's not just a wisecracking sidekick. He says funny things, but the only time he really starts mugging is when he's trying to distract Sherry from the fact that she just killed someone. At first he seems skeptical of Billy Dee, but he becomes his strongest supporter, even giving him good advice.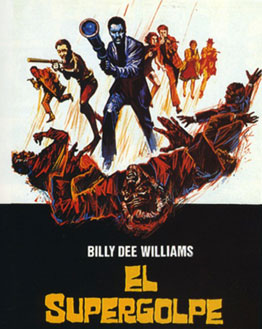 They all really bond over this thing, unlikely friends. The camaraderie is a big part of what I love about this movie. It's almost like a sports movie with Billy Dee as the tough love coach.
The acting is all great. There are two women who have especially great scenes with Billy Dee. In the first one he has to get information from a young woman (who looks a little bit like Michelle Obama) whose heart he obviously broke recently, and she doesn't want him to get off easy. She's so naturalistic you gotta wonder  if he really went out with her and then pissed her off. I don't know if Billy Dee is a method actor or not. Then there's his first scene with Sherry (Gwen Welles), a high class call girl he pays $200 just to talk. She seems so smitten with him it's kind of charming, and then sad when he starts coldly revealing what he knows about her drug addiction, sort of blackmailing her.
But the best part of the movie is Billy Dee Williams himself. He's a complicated character – suave and charismatic, but also scary. He's so intense in those first 15 minutes, and such a bastard when it helps him get what he needs, but he also smiles and laughs more than most movie heroes do. During a car chase you can see him smiling when he gets the other driver where he wants him. When he gets his old cop friend to beat up a drug suspect he sits across the street grinning wide and cracking himself up. Even when he himself seems to be cornered by some of his fellow federal agents who might want to kill him he starts laughing, and not as a trick – it's just his personality. "Ha ha, you got me."
HIT! was in the blaxploitation section at the video store, and the "Supergolpe" poster above (which I'm guessing is HIT! based on Billy Dee having a bazooka and a guy who must be Richard Pryor having flippers) was in the blaxploitation movie poster book What It Is… What It Was! The Black Film Explosion of the '70s In Words And Pictures. But it's not really in the same genre as what we usually call blaxploitation. I don't mean that in the "this is something better" kind of way people always say when they don't understand the "xploitation" part of the word, it's just not the same type of story, and after the first few scenes Billy Dee is the only black guy in the movie. The director is the excellently named Sidney J. Furie, director of LADY SINGS THE BLUES, THE IPCRESS FILE, 3/4 of the IRON EAGLE quadrilogy, and a recent Dolph Lundgren DTV that I haven't seen yet. And I'll have to watch his TAKING OF BEVERLY HILLS now, I know one of you recommended it in the comments somewhere.
Unfortunately, HIT! is only on VHS so far. We really need a DVD, not just so everybody can see it but because the transfer on the VHS is completely washed out for the last couple reels. (I hope that's not related to why it's not on DVD.)
I feel like Indiana Jones on this one. This is my best discovery in a long time. Check it out if you can.

UPDATE: due to the positive vibes this review sent out into the world HIT! has since come out on the blu-ray and dvd type discs. The last reels look fine. Still has the same badass/inaccurate cover from the VHS, too.