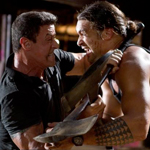 We all know Walter Hill is one of the greats of Badass Cinema, but it's been a while, at least in theaters. Somebody told me that because he was a writer on ALIEN he gets so much money that he only works when he really feels like it. And what he's felt like working on for the last decade was made-for-cable westerns: BROKEN TRAIL and episodes of Deadwood. His last theatrical release was UNDISPUTED in 2002. As much as I love the Wesley Snipes performance and the DTV sequels I don't like the movie very much. Before that Hill took his name off of SUPERNOVA and before that he did the mixed bag that was LAST MAN STANDING. Like I said, it's been a while.
I wasn't sure about Sylvester Stallone in this either. I've enjoyed the EXPENDABLESes okay and RAMBO a little more, but each took away some of the faith I had in Stallone after the comeback of ROCKY BALBOA. His last starring role that wasn't from one of those series was also in 2002, it was AVENGING ANGELO.
I never thought that in 2013 these two would collaborate on a buddy action movie. And yet here we are. And I'm happy to report that it's a respectable effort for both, especially Stallone.

The buddies in this buddy movie are Stallone as Jimmy "Bobo" Bonomo, professional killer, and Sung Kang as New York homicide cop Taylor Kwon. (Remember, since Sung Kang is in this it takes place before TOKYO DRIFT). After Jimmy's partner Louis (Jon Seda from Homicide: Life On the Street) gets shanked in a bar a series of events push Jimmy and Detective Kwon into a tenuous partnership of convenience. Jimmy wants to get the guy who killed Louis and Kwon wants to get the guys who hired Jimmy to kill some other guy.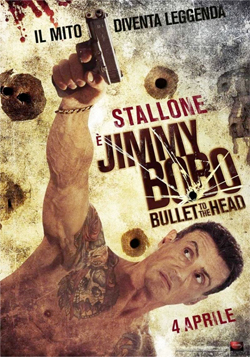 There's a whole convoluted conspiracy involving a "hot shot lawyer" (Christian Slater) and an African war criminal (Adewale Akinnuoye-Agbaje of KILLER ELITE, FASTER, GI JOE 1, etc.) who plan to burn down a ghetto and build condos there. Kind of a return to the race and class and real estate themes Hill used in TRESPASS, but he doesn't explore them as deeply here, they just come up a couple of times.
By the way, congratulations to Christian Slater for being in a theatrical release again. The last movies I saw him in were EL GRINGO, ASSASSIN'S BULLET, HE WAS A QUIET MAN… I guess BOBBY was the last time I saw him projected, so maybe that explains what happened. But welcome back, Slater. It's kind of a small role where he does the same kind of hammy bad guy as in EL GRINGO. He talks a big game even when tied to a chair, but all Stallone has to do is hit him with the butt of a rifle to get him to spit out like 2 or 3 pages of expositional dialogue. You guys, BULLET TO THE HEAD CONDONES TORTURE. If Jimmy Bobo gets useful information from torture then we are powerless to maintain our moral objection to its use. Please follow your conscience before voting for this for best picture and all other categories.
Anyway, the plot is pretty dumb, overly complicated without anything original about it. But there's alot of funny, quotable dialogue, and the characters are great. I kinda doubt he'll get much credit for it, but Stallone is excellent in this role. It's exciting to see him really doing a performance, playing a character like he does in ROCKY and RAMBO and COP LAND. I kinda like Barney Ross in THE EXPENDABLES, but he's one of those roles that's mostly just Stallone acting like himself. Here he has a specific Jimmy Bobo attitude and growly voice that makes me welcome the occasional unnecessary narration. He's really funny without a trace of that dorky mugging he usually does when he's trying to be funny. I don't think he ever smiles, he's almost as straight faced as Rambo, but he says funny shit. I also think that his current aging tattooed muscleman look, with the giant protruding pecs, fits the character well.
Stallone and Kang have a good chemistry. Kang is interesting because he doesn't fit any of the standard types for Asian men in Hollywood movies. He's the likable by-the-book cop who could've been played by maybe non-douchey Bradley Cooper or sincere Paul Rudd. They cut out a joke that's in the trailer where Jimmy expects him to know kung fu and he says he's from Florida. Maybe it's just because he's Korean and Americans generally don't know as much about their culture as we do Japan and China, but I do think it's notable that he never has to pretend to do any martial arts moves or use a sword. He doesn't even have to have some special Asian knowledge, like for example about Yakuza tattoos or something like that. Maybe the closest precedent would be SHOWDOWN IN LITTLE TOKYO, where Brandon Lee doesn't know Asian stuff, but in that one the joke is that Dolph does know it. And obviously Lee does do some kung fu.
Not that this is completely color blind. Jimmy does flip him a bunch of racist shit, lumping all the Asian countries together, but Kwon is able to defend himself verbally better than Jackie Chan did in RUSH HOUR. Maybe if it had been a white actor (Thomas Jane was originally cast, but Joel Silver wanted to go "more ethnic") he would've unambiguously hooked up with Jimmy's tough tattoo artist/underworld doctor daughter (Sarah Shahi). But I like how they do it. When he seems to have a thing for her you don't know if he's for real or just trying to make Jimmy squirm. And you gotta respect the economy of the movie. 90 minutes including credits. No time to light a hundred candles and play the sexy saxophone music while they roll around.
I knew from the commercials that it was his daughter, but it's funny that Kwon assumes she's his young girlfriend. I guess he watches action movies like we do. I like her, and I like their strained father-daughter relationship. When they show signs of caring for each other they're small enough gestures to seem genuine.
By the way, in her year of medical school I guess one of the things they taught her was that when you remove a bullet you gotta immediately clunk it onto a metal tray. Has there ever been a bullet surgery scene that didn't do that? What would happen if they just dropped it in the garbage, or put it in their pocket, or threw it out the window?
All the leads are good, but the scene-stealer is Jason Momoa as Keegan, the mercenary who killed Jimmy's partner. We all appreciate Momoa in Game of Thrones, and I kinda liked him in his not very good CONAN THE BARBARIAN movie, but this is a breakout performance for him. For most of the movie he's very effective as a silent killer behemoth guy, the type of old school action movie villain often played by Paco Christian Prieto or guys like that. Then, near the end, another character tells us that Keegan is a hero to other mercenaries for being an honorable warrior. He has a code. Suddenly he starts objecting to the villain's plot, but he's not turning into a good guy. He still wants to have an ax fight with Jimmy.
And during this fight he really comes alive, laughing and enjoying himself, stopping to clap at one point. Not sarcastic villain clapping, but this is really fun clapping. He's great. And I suddenly realized I was rooting for him. Both Jimmy and Keegan are hired killers with no morals, but Keegan has turned down a bunch of dirty money and is talking about honor. Hey, I like honor too! He also does one of my favorite things in action movies, he puts a gun away and gives Jimmy an ax. It's like in THE RAID when Mad Dog puts his gun away so he can have a fight that will satisfy him more. And indeed he seems to enjoy the fight, just as Keegan does. Pundits lately are complaining about action movies glorifying guns. Okay, but how 'bout praising these movies that glorify putting down guns to fight with fists, feet and blades?
I've convinced me. I'm nominating Mad Dog for the Nobel Peace Prize.
Like most action movies now, BULLET TO THE HEAD takes place in New Orleans. And yes, there's a part with a brass band in a parade, but not a shootout in a warehouse storing Mardi Gras parade floats. Sorry. Another New Orleans touch is a rich-people party where everybody has to wear masks and there's some naked girls walking around. I kept hoping somebody would say "Fidelio."
There's definitely a Walter Hill feel to it in the way he shoots the city and the macho swagger of the white man's blues rock score by Hans Zimmer acolyte Steve Mazzaro. Hill's still doing a little bit of UNDISPUTED-style Avid-fart-era flourishes, cutting to computer screens as Kwon checks police files on his smart phone, but nothing too bad. I like when he has a montage of Jimmy's mugshots throughout the years. It acknowledges how much we've seen Stallone age while establishing what a life-long fuckup Jimmy is. Also I believe they used the mugshot from FIRST BLOOD. Reminded me of when they used an N.W.A picture as a file photo of Ice Cube in xXx STATE OF THE UNION.
The action is mostly old school, but sometimes cut a little quick, probly to get around stunt doubles. The best fight, Balboa vs. Khal Drogo II, is kinda choppy but has some good hits and interaction between the characters. The great JJ Perry is fight coordinator as well as one of two 2nd unit directors.
Wayne Kramer was the original director, some claimed he was fired for wanting to make the movie darker than Stallone did. I don't know, but I think the tone is just right. Lots of laughs, but the hero is a bastard and a murderer, and without the usual humanizing touches this type of character is supposed to get. Yes he has a cool daughter, but he admits he was a terrible father and never gets a full endorsement from her. You might think he'd tell some sweet story about her mother, maybe have a soft-focus, slo-mo flashback of her smiling and running on a sunny day, the failure that haunts him, the beautiful angel who he couldn't keep around.
Nope. When asked about her mother all he says is, "Junkie hooker. Dead 15 years."
There are plenty of things wrong with the construction of this movie, but it has a personality and a feel that only the combination of Stallone and Hill could bring us. It's easily my favorite of the recent Expendables solo projects. I'm excited about this one. I hope you guys like it too.