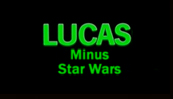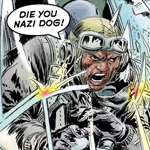 A great historical epic could be made about the Tuskegee airmen,  the all black squadron of American fighter pilots in WWII. That's what George Lucas thought back in '88 when he started developing RED TAILS. He put together a script that he compared to LAWRENCE OF ARABIA (or NED OF ARABIA to Young Indiana Jones), a three-parter about their training, then their heroic battles, and then coming home to a racist country and Jim Crow laws that don't give a shit that they're heroes.
Eventually he decided that was too much for one movie and, like with STAR WARS, chose the middle chapter to focus on. But he also decided that he didn't want it to be serious grown up drama. He thought it could be a fun movie for black teenagers. It's an approach he had trouble selling to director Anthony Hemingway (The Wire), but even more to critics, who rejected the movie wholesale, often with some shaming about the movie they thought it should've been.
Which is fine, but I should point out one thing. Lucas said he couldn't get any studio to put up money for it because they felt the black cast wouldn't make money overseas. And according to The Hollywood Reporter he spent $58 million of his own money on the movie and $35 million on distribution, because he wanted to get people interested in the story of the Tuskegee Airmen. So to tell him it's such an important story that he should've done it different is some epic gift-horse-mouth-looking along the lines of Yeah George, you donated billions of dollars to charity, but I would've chosen different charities.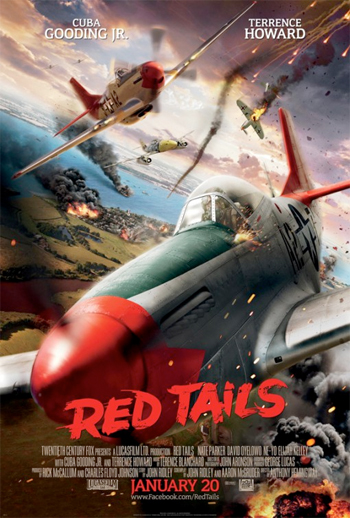 (If you want a more traditional version and can't find another multimillionaire movie producer willing to gamble nearly $100 million of their own bread on the Tuskegee Airmen movie of your choosing, try the 1995 cable movie which also had Cuba Gooding Jr. in it plus Laurence Fishburne, Malcolm-Jamal Warner, Courtney B. Vance and Andre Braugher).
As you can see in my original review I enjoyed RED TAILS when it first came to video, and I'm happy to say it held up for the rewatch. I acknowledge that it has simplistic characterization and some old fashioned corniness, but I think that's a legitimate choice. It's worth re-using the quote I shared in the first review from when Lucas told The New York Times that he wanted black teenagers to have their own version of a movie like FLYING LEATHERNECKS starring John Wayne: "We made movies like this during the war, and everybody just loved them. I said, 'There's no reason why that idealism, that kind of naïveté, can't still exist'… They have a right to have their history just like anybody else does. And they have a right to have it kind of Hollywood-ized and aggrandized and made corny and wonderful just like anybody else does. Even if that's not the fashion right now."
Co-writer Aaron McGruder (creator of The Boondocks) seems to agree. "One of the last things I said to George was: 'This movie kind of represents the last barrier of equality for the black fighting man. We've never had the John Wayne treatment.' "
I remember thinking that the character who carries around a picture he refers to as "Black Jesus" had to be a McGruder addition, so it's interesting that he has since co-created a TV series called Black Jesus. McGruder came on for the rewrites after they'd already filmed a script by John Ridley (12 YEARS A SLAVE), whose uncle was actually a Tuskegee airman.
Today, when diversity in front of and behind the camera is such a major point of discussion, it's interesting to look back and see all the black talent at the top of the credits: director Hemingway, writers Ridley and McGruder, composer Terence Blanchard, producer Charles Floyd Johnson. Lucas even hired a black poster designer – Art Sims, who did the iconic DO THE RIGHT THING poster and logo, along with most of Spike Lee's posters. (Two of the writers of the 1995 TUSKEGEE AIRMEN were black, but not the director, composer or producers. Not sure about the poster.)
Lucas didn't make a big deal about this, but across the many years of development it seems like he was always looking at black directors and writers. As far back as 1990 he wanted Thomas Carter (SWING KIDS) to direct, with a script by Kevin Sullivan (HOW STELLA GOT HER GROOVE BACK). This was at a time when Norman Jewison was gonna direct MALCOLM X. In 2008 Lucas asked Samuel L. Purple Lightsaber Jackson if he'd be interested in directing it. And before the movie was released he talked about wanting Spike Lee and Lee Daniels to do the prequel and sequel.
It's rare that a black director gets the opportunity to helm a big budget movie like this, and it's also rare for such a movie to have all black leads. Along with Nate Parker (THE BIRTH OF A NATION) and David Oyelowo (SELMA) the cast includes Terrence Howard (Empire), Cuba Gooding Jr. (Empire), Tristan Wilds (The Wire), Ne-Yo (Empire), Michael B. Jordan (The Wire), Method Man (The Wire) and Andre Royo (The Wire, Empire).
The most fanciful part of the movie that I didn't mention in my first review is the love story between Lightning (Oyelowo) and Sofia (Daniela Ruah), a beautiful local he spots on a roof while flying. He waves to her and later he remembers where she lives and shows up at her door. Many would consider this to be sky stalking, but she is charmed by him and they fall in love even though they don't speak the same language. In a way that's a standard issue war time love story, but race adds an unspoken extra layer to it. In the States being with a white woman could've gotten him killed. In Italy it's never even mentioned.
I really noticed on this viewing how much this is like an underdog sports movie. Howard gets the most inspirational speeches so I'll call him the coach, so maybe Gooding is the assistant coach or something. Bryan Cranston is the uptight official who tries to keep them out of the play-offs for unfair reasons (in this case because he's totally racist). Lightning is the crazy talented but undisciplined player. And they all want a chance to prove themselves. Then their shot comes up unexpectedly, and they rise to the occasion. They even earn the respect of their (totally racist) rivals. The other American pilots, that is. Not the Nazis.
The John Wayne Treatment means there's no apologies about having Nazis that are just bad guys that need to be shot out of the sky. They don't need to be humanized. I love that the movie has a General-Kael-in-WILLOW type character, the extra-scary one we keep encountering who has a big scar across his face to make him iconic (smart move – I don't want to say all white people look alike, but…) It gives us pleasure to not only see him beaten but to see him see who did it and be a baby about it. "That pilot… was an African!"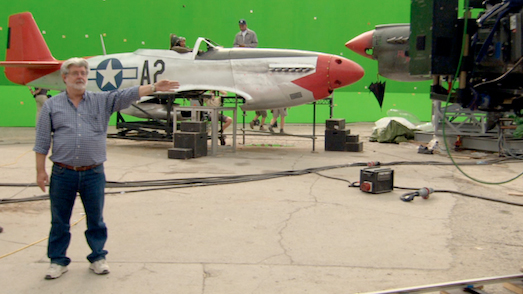 Whatever you think about the old-fashioned tone and characterization, you gotta give the movie credit for the incredible dogfight sequences, which are probly half of the running time. Lucas knows his dogfights. In the book The Making of Star Wars he explains that, "Every time there was a war movie on television, like THE BRIDGES AT TOKO-RI  (1954), I would watch it — and if there was a dogfight sequence, I would videotape it. Then we would transfer that to 16mm film, and I'd just edit it according to my story of Star Wars. It was really my way of getting a sense of the movement of the spaceships."
For STAR WARS he showed that footage to the storyboard artists and the effects team so they'd understand what he was going for, and Ben Burtt (sound designer for both STAR WARS and RED TAILS) even had to edit some of his sound effects to the stock footage because the visual effects weren't done yet. That footage was also cut into the unfinished version of the movie that Lucas famously showed his friends when only Spielberg liked it.
Obviously those were scenes he found thrilling for him to analyze them so much, and here he tries to re-create that feeling for modern audiences using ILM's painterly animation. I'm more of a space battle guy I think, but man, they make these planes look beautiful, and usually there are epic numbers of them in a shot. Like a swarm. And I like how in the early scenes you can see the scratches all over the planes. They get the hand-me-downs. When they finally get an equipment upgrade they treat the new ones with pride, carefully painting the tails red like they're customizing sports cars. Or like Milner would do if he wanted to change the look of his yellow car.
Director Hemingway confirmed to Collider that Lucas paid extra attention to the dogfights. "I really helped shape character and story and he really helped focus on the…he is a buff on the dog fights, combat, and all of that. "
And as with RADIOLAND MURDERS, Lucas himself did reshoots to fine tune the movie. First Showing reported rumors that Lucas "was very displeased" with the movie and did "massive reshoots" and "hefty re-writes which I'm told completely change the main characters and their storylines."
In response, Lucasfilm released a statement that said "The story that is circulating about production on RED TAILS is completely inaccurate.  George Lucas and Rick McCallum are very pleased with the work Anthony Hemingway did directing the film and additional shooting that is scheduled to take place was built into production before it began, as it is on all our films." This of course jibes with what we know of Lucas's layered approach to filmmaking, as discussed in the RADIOLAND review.
In fact, according to The L.A. Times these were things that Hemingway had wanted to add but was busy with Treme when the time came. "The director says the reshoots weren't extensive but were little character moments and effects-driven scenes that were needed to 'make things clear; to strengthen individual characters.' And those scenes were overseen by Lucas and McCallum, with Hemingway contributing from afar."
That fits with McGruder's version of the story, though he adds new information. He told Moviefone, "I was brought in during 2010 initially to do some minor tweaking and punch-ups, but I started working with George and I had some ideas, he liked those ideas, so we ended up doing more. It was very cool."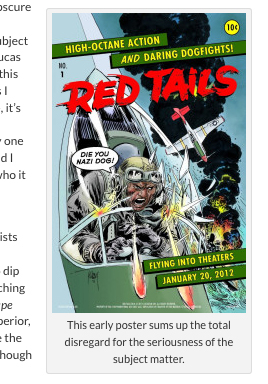 He describes himself as "the cheerleader to" Lucas's "tonal choice."
"What I did a lot of was listen to George in terms of what he wanted out of the movie, and I think the more he talked about it, it was not exactly the movie he had. The movie he had was a very serious historical drama, and I had always envisioned it more like STAR WARS — particularly the old STAR WARS, the first one. I think that's what George wanted too. It was a question of 'How do you get there while still respecting the weight of the subject matter?'"
He also mentions John Wayne, but STAR WARS seems to be his main point of reference. "I feel like the history is easy to put out there, there's already a familiarity with it, or at least the broad strokes of racism and segregation. Some people are going to like this tonal choice and some people are going to say, 'Oh it should've been heavier and it should've been more dramatic.' But there's a version of this that doesn't have to be SAVING PRIVATE RYAN. We can be STAR WARS, as crazy as it is."
Well, nobody seems to think it's STAR WARS (though I've seen people making the questionable argument that Lightning and Easy are a better version of the Anakin and Obi Wan relationship). But I think this one gets a bad rap. It's a fun Lucasfilm. Like Young Indiana Jones it hopes to get young people interested in historic figures and events, trying to get them excited enough to do it themselves instead of sitting them down for a lecture. Hopefully for some kids out there somewhere it worked.