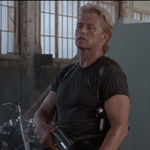 I don't know about you guys, but I think of Rutger Hauer mainly for playing charismatic villains and weirdos. Of course there's Roy Batty in BLADE RUNNER and there's his hitcher guy in THE HITCHER and that sort of thing. But a few times he took a shot at being a star of '80s action movies, and though they didn't seem to catch on they were some good ones.
I knew about BLIND FURY but somehow I missed this one until now. In 1987 director Gary Sherman (RAW MEAT, VICE SQUAD, POLTERGEIST III) made this movie that according to the internet is supposed to be connected to the '50s western TV show starring Steve McQueen. McQueen played a bounty hunter named Josh Randall, Hauer plays circa 1987 bounty hunter Nick Randall. The credits don't seem to acknowledge the relation though. There's a part where he has an old timey pistol framed on the wall but I don't know the show well enough to know if it was a reference.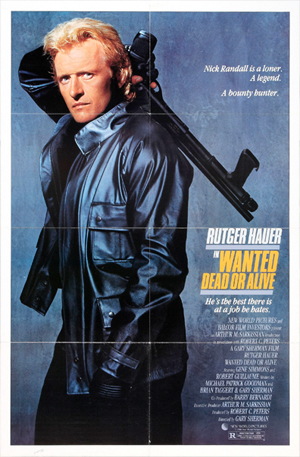 In the classic '80s tradition, Nick first reveals his badass skills by thwarting a grocery store robbery. (That's how most badasses got their big break back then.) But he's actually tailing the robbers for a bounty, it's not the more traditional happens-to-be-there-when-it-happens approach.
He's going after lawbreakers, but he acts like an outlaw. When he ties them up in his car trunk and drops them off at the police station he has to call an old friend as a go-between to have someone come outside to, you know, accept the package. "No no, I'm not coming inside. I don't like cops. And they don't like me."
He's got a set up like Blade or The Punisher or someone, he works out of a big garage with a bunch of cars, a shooting range, an arsenal of weaponry and for some reason a giant picture of the moon. I guess if you have a huge place like that a sexy pinup or a Ferrari poster isn't gonna cut it.
But his vehicle of choice is a motorcycle ('cause he's a loner) and his home is a small boat called the HMS Bounty. Because it's like the Mutiny on the Bounty but it's, he's a bounty hunter though. I think you got that. I probly didn't have to explain that one.
So we've established that he lives rough, he doesn't get along with people, he wears a leather jacket (I didn't actually mention that, but I'm sure you suspected it). He's real good at handling burly biker dudes and other rowdy troublemakers. But there's a bigger threat out there. There's terrorism.
It seems that Malak Al Rahim is in town to kill Americans. And he does it in a way designed to stab specifically at the hearts of those of us who would watch WANTED: DEAD OR ALIVE or read about it 27 years later: he blows up a theater showing RAMBO: FIRST BLOOD PART II. We see all the innocent families going in, the little girls with their dollies who were never supposed to be part of this battle, they're just going with their parents to watch Sylvester Stallone shoot, stab and arrow 74 people to death.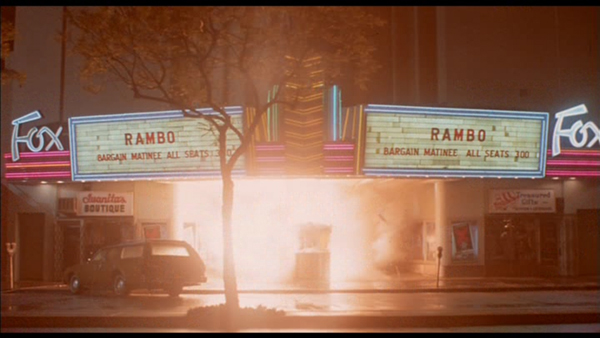 Al Rahim comes into the country disguised as a rabbi, then he trims his beard. So he was very dedicated to this, he grew out the beard, it's not a fake. He's played by Gene Simmons, who arguably to his credit, but definitely to the detriment of the movie, doesn't play it crazy over-the-top. He just plays it in the tradition of white guys playing evil Arabs. I didn't even realize it was him at first.
It turns out Nick used to be in the CIA and Al Rahim was sort of his white whale, so his old agency buddy Philmore Walker (Robert Guillaume) recruits him to find the guy. Kinda weird for the update of the old western TV show about the bounty hunter, since it makes this end up not being about bounty hunting at all, but oh well. He tries to do it in his own lonery type way, tries to lose CIA guys who tail or bug him, gets betrayed, etc.
I called him a loner, and so does the poster ("Nick is a loner. A legend. A bounty hunter.") But all that means is he doesn't have a family. He's not completely alone, because he has a cop friend named Danny (William Russ) who does him alot of favors, and a flight attendant girlfriend Terry (Mel Harris, RAISING CAIN). He's even thinking of hanging up the guns (in frames, I assume) and settling down. Put a white picket fence around that boat.
He has those friends at the beginning of the movie, anyway. There's a great scene where he calls Danny late at night to get him to do the ol' "get the guys to follow you around because you're wearing the hero's jacket and look like him from the back" decoy trick. Danny sort of reluctantly stumbles out of bed, trying to hide from his wife where he's going. She's obviously annoyed how much he helps Nick, and it must be alot because we see that in his bathroom he actually has a styrofoam head for storing the Nick decoy wig!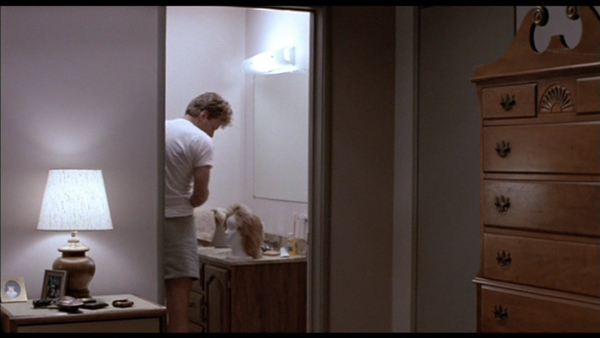 I bet that was the wig the stunt double wore and somebody thought it would be funny to put it in Danny's bathroom. If so they were right.
Danny gets the agents off Nick's trail and goes to the boat where he sees Terry and there's some humor about her having to play along with this guy she's never seen before dressed up like her boyfriend. But (SPOILER FOR OBSCURE 1987 RUTGER HAUER MOVIE) it very abruptly shifts from dumb jokes to horrible tragedy when the boat blows up, killing them both.
Now everybody thinks Nick is dead and shit gets serious.
The wig isn't the only odd little touch that makes this special. Another one I like is in a scene where Nick goes to the home of a big dude who sold detonators to the terrorists to try to rough him up for information. He's a fat slobby biker type guy and wrestling is on the TV. It seems pretty stereotypical until we find out that his wife (who later gives him up) is the one who watches the wrestling. In their living room they have a piano with sheet music and everything, and Nick slams his head against the keys like you'd expect.
But which one of them plays piano? It doesn't seem like a plays-piano type of household, but it is. Challenging our assumptions. Most movies would put these two in a trailer park, but not this movie. I like it.

There is a small little action moment in this one that absolutely blew me away. It happens in the middle of the action, it's not the climax of the setpiece, it's not slow-motioned or emphasized with a musical sting, it's not treated in any way like a money shot. It's just one of those things that happens suddenly without warning that's so cool you gotta rewind it a bunch of times and study it.
I took some frames from it here so you can see the sequence, but of course you gotta see it happen in motion in the context of the movie to really do it justice. It's just a quick little thing that happens when he's having a combination car chase shootout with some guys.
* * *
1. There's a gunman in the truck he's chasing, hanging out the back, busting off shots.
* * *
2. The guy hits Nick's windshield a bunch of times, but misses him.
* * *
3. So Nick pushes his gun through his broken window, breaks off some of the pieces of glass, clears it out so he can see. Like when your window gets all fogged up and you gotta try to wipe it off to be able to drive, it's sorta like that.
* * *
4. Then when he has an unobstructed view he pokes his gun out and shoots back at the truck.
* * *
5. He nails the guy, who flops right out the back of the truck
* * *
6-8. Then it's a shot of the guy (well, a dummy of the guy) rolling in front of Nick's car, rolling right under the wheels and BADUMP, his car just rolls right over and leaves the chump behind, never to be mentioned again.
* * *
Sayonara, gunman from the back seat of the truck.
You gotta respect Gary Sherman for throwing serious shit like that at us every once in a while. And, you know, I'm not one of those anti-digital age whiners, but stuff like this reminds you how deficient modern movies are of that kick you get from real stunts and simple practical effects.
By the end of the movie Nick is betrayed, he's outnumbered, everybody's after him, he has to climb through the sewer to get away. Are sewers really as big as they are in movies? I've never sewerclimbed before. I should try it out some time. Anyway, he's got his secret lair so he's able to have some target practice to get ready. He even shoots his TV when it shows the bad guy on the news. So he knows sort of what it will feel like.
But actually he chooses a way better way than shooting him. He somehow fits a grenade into his mouth, drags him around by the key, then pulls it out and struts away. We all respect an action hero who calmly walks away with his back to an explosion, but this is one of the few where it's not a car or a building blowing up, it's a famous rock star's head.
WANTED: DEAD OR ALIVE is a good b-movie in the classical sense: it's not gonna be most people's favorite movie of all time, but it's gonna be a very respectable addition to a double bill. It's knows how to use the fun action movie cliches, it has an enjoyable archetypical cool rebellious tough guy played by an actor who didn't get enough of those roles, it has great violence and stunts, fiery explosions, crashing cars, some funny gags and one-liners, and some odd touches for flavoring.
In fact it is of crucial importance to tip my hat at one such odd touch that happens right upfront. It has an opening credits blues rock song called "Live Bait" by Delaney Bramlett that's not quite as great or as raw as, but definitely in the tradition of, "Neon Slime," the memorable theme song that Wings Hauser sang for Sherman's earlier movie VICE SQUAD. In fact, I gotta assume either Sherman or Bramlett realized how awesome "Neon Slime" was and were trying to re-create that magic, because this one uses both words of the title in its lyrics:
"Streets infected / Crawled in the slime / The neon nightmare / is about to unwind"
Why did this one not become much of a cultural touchstone? Was it too early for TV show updates? I don't know. But I do know this: I blame Bon Jovi. They piggybacked off of it, releasing the single "Wanted Dead Or Alive" about two months after this came out, and stealing the movie's thunder. The sonofabitches. They robbed us of a potential STILL WANTED DEAD OR ALIVE in 1989. They didn't want to have to compete with another awesome theme song.
But maybe you guys all knew this one already. If not I'm proud to introduce you to it.