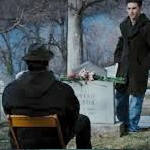 I already reviewed ROCKY BALBOA when it came out, but it's such a great movie I wanted to checked in on it again.
It's hard to believe this humble character drama is Stallone's directorial followup to the rock n roll tall tale ROCKY IV. The style, the content, the tone, even the character are from different planets. This one has zero (0) Survivor songs in it and it reminds me less of ROCKY IV than of later Clint Eastwood directorial works: quiet, mournful, wintery colors, gentle piano scoring, character driven, raw. And the trashy people who give Rocky a bunch of shit at a bar could be family members from MILLION DOLLAR BABY.
This is a more pure ROCKY I throwback than ROCKY V was because Rocky's life is simple, humble and gentle again. He's not poor – he owns a restaurant called Adrian's – but that's not exactly high roller shit. He actually runs the place, seems to be there every day to greet customers, does the hiring and shops for some of the ingredients himself. It's small, and Paulie makes fun of his "Italian food made by Mexicans."
That Adrian has died since part V is crucial. Even in V, when Rocky lost "everything," he didn't lose Adrian. Rocky is alone again, but seems to take it in stride, because he's Rocky. Although the beginning is specifically about marking the anniversary of Adrian's death by visiting important places like the ruins of the skating rink where they had their first date, I get the feeling that the shot of him sitting contently at her grave in a folding chair is a pretty regular occurrence. And I love that Paulie lingers uncomfortably on the perimeter just like he did in II when she was in the hospital. He's very aware that he's an asshole and doesn't deserve to be near her as much as Rocky does. He's tormented by how he treated her.
I like their still messy-friendship. Paulie keeps showing up to the restaurant drunk and causing scenes, but Rocky is always forgiving. That might be because Paulie's the only person he has to yell at about how hard his life is when he finally breaks.
Meanwhile his relationship with Rocky Jr. (Milo Ventimiglia, completing the pattern of different Juniors in each sequel) is a much better execution of the father-son tensions in V. Junior seems a little over his head at his big corporate job, and visibly stressed by all the attention his dad constantly gets from random autograph-seekers, well-wishers or his own boss. He has a hard time living in the shadow of the Stallion, which Rocky tries to be patient with until he finally gives the kid a great emotional speech about not blaming his unhappiness on other people.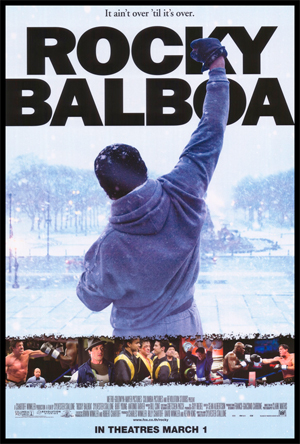 In my ROCKY review I didn't get into the odd scene where he walks home the teenage girl Marie and lectures her about hanging out with boys and cursing, and how they're gonna think she's a whore. It seems like kinda well-intended but dumb advice (which maybe is why she thanks him by yelling "Screw you, creepo!") Rocky might know more about the specific people and situation than we do, otherwise let the girl talk how she wants, silly. Anyway, I totally forgot that he runs into Marie (now played by Geraldine Hughes, GRAN TORINO) and he befriends her, kind of makes it his hobby to help out her and (after some initial, possibly race-based hesitation) her teenage son Steps (James Francis Kelly III, THE NEXT THREE DAYS). I love the part where he's talking to her and suddenly pulls out a light bulb because he noticed the first time he ran into her that her porchlight was out. He convinces her that it's okay to do nice things for people just because you want to. And he keeps making his corny jokes. As he drives away he says "Yo little Marie. Let there be light!" That's how we know it's the real Rocky.
Even physically he seems more like a natural progression of part I than of part III. He's thicker now, more lumbering, he kinda looks like The Thing. When he holds up his hand and tells Junior that he used to fit in it it looks so giant you would almost believe him if you hadn't seen ROCKY II and known that he never saw the kid that small because he waited for Adrian to wake up from her coma so they could see him for the first time together. (But he has brain damage. He probly doesn't remember that.)
Like the original classic it's really an intimate character drama that only turns into the underdog sports movie in the second half, and that's when Apollo's trainer Duke comes in and gives his greatest speech ever, providing a game plan based on a summary of Rocky's old man weaknesses. Rocky feels like a true underdog for the first time since part I, because when he's doing his training montage (with his dog Punchy also wearing a grey sweatshirt) he looks like a goofball, you almost agree with the public if they laugh at him. And he probly would laugh too, but he has no choice but to try his hardest. He has that one eye that resembles a certain dangerous animal. This is also the only sequel where he punches meat again. For old time's sake.
Of all the ROCKYs this seems like the one most interested in reflecting the real world of boxing. Various personalities play themselves, including the promoter of the fight Lou DiBella. Much of the fight is shot in high definition with onscreen graphics to resemble a pay-per-view event. And though he's fighting a champ with the perfect ROCKY series name of Mason "The Line" Dixon (played by boxer Antonio Tarver) it's the most grounded of any of the opponents. He's a little cocky and spoiled as a mostly unchallenged champion, but does have enough of a head on his shoulders to get fed up and replace his big money trainers with his wise mentor from the old days Martin (Henry G. Sanders, KILLER OF SHEEP, CHILD'S PLAY 3). He means to be generous and not condescending when he tells Rocky "I'll do my best to carry you, make sure you save face. There'd be no embarrassment," unless "you hit me, you hurt me." He doesn't understand that Rocky is never gonna not try. It's a different mentality.
It's kinda like that same stubborn manly pride that upset him to see Adrian working at the pet store again in V, or that causes Spider Rico in this movie to work in the kitchen to repay Rocky for the free meals. He has a certain standard that he sets for himself. He doesn't care what anybody else thinks, or he wouldn't be trying this in the first place. He just knows what he has to do for himself.
Of course this is all heading toward basically a reworking of the perfect ending of ROCKY. But I think it works again and that's because it is still so visibly sincere. Look at where Stallone was in his career at that point. In the nine years since COP LAND his starring roles had been the GET CARTER remake (which few saw and fewer liked), DRIVEN (which was considered a flop) and D-TOX (which sat on the shelf and then went DTV under the title EYE SEE YOU). He hadn't officially directed a movie in 21 years. He has said that because of the failure of ROCKY V this was harder to get made than the original ROCKY. He started pitching it in 1996, but people must've reacted kinda the way they did to Rocky when he told them he was thinking about boxing again. He had to wait for MGM to change leadership in 2005 to finally convinced somebody this movie was a good idea.
You wouldn't have to know all of that to be able to feel that Stallone is serious about where Rocky is at in this movie. People still get excited to see him and take their pictures with him with their fists up, but he burns inside to do something new, to prove to himself that he still has something to offer. It's real. You can feel it. I can admit that this movie made me cry. It's the real deal.
And it's a perfect ending to the ROCKY saga. We'll see if the character continuing on in a spin-off is a good addition to that legacy or not, but as far as the original ROCKY series, this puts an excellent cap on it. He's not trying to win best picture again, he's just trying to have a good showing. And he did it. Yo Adrian (and Mickey and Apollo and Butkus and Cuff and Link and Moby Dick and Paulie's robot), he did it!
UPDATE: Not so fast! Even though this was the perfect ending, the Rocky saga continued nine years later in the even more perfect CREED.