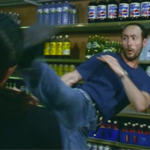 "When I was a kid our neighborhood was our universe. A universe of friendship and laughter. But something changed along the way. Gang violence took the place of family values."
There's a certain type of movie I like where an accomplished martial artist thinks it would be fun to star in a movie, and they put together a low budget production based around their school. An example would be Andre Lima's "true story" BEYOND THE RING. It's all based in cliches, and doesn't quite have what you would call a visual style, but it has a certain amateur charm.
BLADE WARRIOR is another such movie, but it's infused with a more impressive kind of DEADBEAT AT DAWN type energy, where they don't really know what they're doing but they're dying to make a cool movie any way they can. It's obvious that they've got friends and relatives, or maybe community theater people at best, in the cast, and storage rooms made up to look like a police station and stuff like that. And they're not always convincing as a guy who wears a trenchcoat or talks like a tough guy. But it has enough of a home-made feel that some of the small things they pull off – like having legit martial artistry – seem really impressive.
Writer/director/producer Jino Kang plays Jack Lee, a cop who also practices Hapkido and runs his dad's mini-mart. In the opening scene he combines all three by fighting and arresting a colorful gang of thugs who come in looking for protection money. (read the rest of this shit…)