Since Labor Day was last Monday I figure the kids are either back in school or about to go back to school, so I might as well do VERN'S BACK TO SCHOOL SPECIAL. And if I'm gonna do that there is one movie that I would have to be a fuckin moron not to start with. And I'm not talking about BACK TO SCHOOL.
THE SUBSTITUTE is not necessarily a great action movie. It doesn't have any particularly memorable action scenes or anything. But I really like this movie for the simple fact that the idea behind it – combining a mercenaries/drug gangs action movie with a DANGEROUS MINDS style white-teacher-makes-a-difference-in-the-big-city movie – is flat out brilliant, a once-in-a-cinematic-history opportunity. Seriously, I sit around trying to think of genre combinations this absurd and yet this natural. There aren't many left.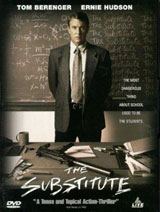 Tom Berenger plays Shale, a just-disavowed covert ops badass looking for work when his old girlfriend (Diane Venora), a teacher of the toughest class at a gang-infested Miami high school, gets knee-capped. He figures her students are responsible so he has his computer expert friends whip him up various fake degrees and a background in education, then he becomes the substitute teacher for her class, undercover.
Some filmatists might've made this movie but pussied out and not gone all the way with the concept. Not these filmatists. They stay true. It turns out the biggest troublemaker in the class (Mark Anthony – the guy that's married to Jennifer Lopez!) is also the #1 lieutenant in a drug gang. And the big boss man is the school's principal (Ernie Hudson), which explains why he was timid about kicking guys like that out of school. They store coke by the kilo in the floor of the school's boiler room. And there's a big transaction going down after the parent-teacher conferences.
As a side note, my spell check apparently doesn't know there's a past tense of the word "pussy."
From there the movie could move to some exotic locale, like Miami Beach, or some swamp or something. But still it stays loyal to being a school-based action movie. Shale and his merc buddies (Luis Guzman, William Forsythe, Raymond Cruz, Richard Brooks) take on the gangs and a team of rival mercenaries inside the school at night. In fact, Shale has his showdown with the lead merc inside his own class room, which we know by the 100 misspelled punishment sentences on the chalkboard. Shale explains that it's a remedial class before he shoots the guy – my one regret is that he doesn't tell him he failed.
During the climax I was thinking it was funny that nobody heard gunshots and called the cops, but then our heroes actually address that as they walk off into the sunset. They also feel bad that they had to blow up parts of the school. But since earlier they stole drug money and used it to buy sports equipment and school supplies I figure it sort of evens out.
This would've made a funny Seagal movie (it's got the black ops background, the old computer expert friend, the learning, and I'm sure he would've thrown in some Spanish or ebonics) but it's perfect for Tom Berenger. He has just the right cold stare and unemotional responses. I believe he would be the thing that finally scares some of these gangster kids. When he's writing on the chalkboard and somebody throws a can at the back of his head his reflexes are so fast he catchs it and throws it back in the kid's face. Ninja shit. In fact, later on he stocks up on ninja stars. So don't go saying the American education system isn't up to snuff. We got ninjas. And they bond with students by comparing 'Nam scars to gang scars.
It's just enjoyable to watch him dominate these people, like when a bunch of guys ambush him in the library but he is prepared and makes them put their guns in a library cart and rolls them away. And tells them not to talk in the library. I like Tom Berenger.
I like that all those guys are on his team too, even if they don't get to do a huge amount. Forsythe does get to be the psycho on the team, the guy who enjoys it too much, who goes overboard and shoots people unnecessarily. At one point he has a guy tied up and kicks cocaine in his face like that cartoon bully kicking sand in the wimp's face on the beach.
Raymond Cruz might not be a name that means anything to you, but if you watch alot of '90s action movies you'll recognize him and he'll make you feel at home. He was in OUT FOR JUSTICE, UNDER SIEGE, CLEAR AND PRESENT DANGER, BROKEN ARROW, THE ROCK, ALIEN RESURRECTION and FROM DUSK TILL DAWN 2, plus others. In this one he looks like kind of an idiot because he's got a ponytail on the top of his head, like a topknot. But that's just what mercenaries do I guess.
They use a couple of the well-traveled but lesser known action tropes that I enjoy:
* the American flag gets shot down in one of the classrooms. In Seagal movies you often see symbols of knowledge or spirituality (books, statues) get accidentally hit in a shootout. A flag getting shot is a similar idea.
* class tensions – Shale goes after a rich asshole on a jai alai court. He chases him into the locker room and keeps beating on him. The two guys whose job it is to weave the xistera (jai alai scoop thingy – special thanks to Wikipedia) watch but don't give a shit and just sit there weaving.
The director is Robert Mandel, who did F/X and SCHOOL TIES. But I was surprised to learn that the writers are names I know from being a horror fan. The credits list the team of Roy Frumkes & Rocco Simonelli, plus Alan Ormsby. (Not sure which ones wrote the first draft and which ones rewrote it.) Frumkes is the guy who wrote STREET TRASH, but I recognized him as director of DOCUMENT OF THE DEAD, that awesome documentary where they followed the making of DAWN OF THE DEAD and DAY OF THE DEAD. Ormsby was a regular collaborator with the late Bob Clark. He wrote and starred in the cult favorite CHILDREN SHOULDN'T PLAY WITH DEAD THINGS. To be honest I am not a member of the cult that it is a favorite of, I couldn't get through it, partly because of Ormsby playing this obnoxious fucker: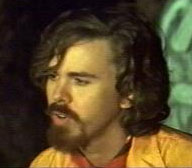 But I forgive him because he wrote the uncomfortably funny Ed Gein movie DERANGED and the war-themed zombie movie DEATHDREAM. Also I just learned that he invented a creepy doll: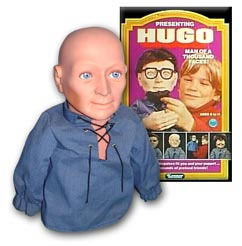 From the creator of Hugo comes THE SUBSTITUTE. That's two good ways to get into Heaven.