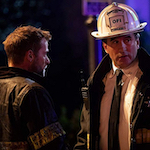 Yes, it's true – in 2019, 28 years after the release of the hit movie BACKDRAFT, it got a DTV sequel. Since I hadn't seen the original when this came out two years ago I didn't really pay attention, and kind of assumed it was just an unrelated firefighter movie taking on the brand name.
In fact there's quite a bit of continuity: original screenwriter Gregory Widen (HIGHLANDER) returns, the lead character is meant to be the grown up son/grandson of Kurt Russell's characters, William Baldwin returns as Brian McCaffrey (now assistant chief) and Donald Sutherland returns as crazy/fun pyromaniac Ronald Bartel. Also it's supposed to be the same fire station, there are photos of Russell and Scott Glenn on the wall, the events of part 1 are discussed, and (in a real fuckin stretch) Brian uses the phrase "career dissipation light," which was already a stretch when he repeated it back to a corrupt Alderman he heard using it 28 years ago. Are we really to believe he loved it so much he made it part of his lingo?
The director (also editor) this time is Gonzalo Lopez-Gallego (APOLLO 18), and I guess they couldn't get Hans Zimmer to do the score, so they got Randy Edelman (DRAGONHEART). Joe Anderson (ACROSS THE UNIVERSE, SUPREMACY) plays Sean McCaffrey, narrating in a gravelly voice like it's a noir. In the opening scene he reports to a fire wearing his dead dad's jacket with "BULL" painted on the back, and goes from giving his condolences to the boyfriend of a fire victim to pointing out the inconsistencies in his story, making him flee and tackling him to the ground. In the tradition of BATMAN, the busted arsonist cries, "Who are you!?" and McCaffrey says, "I'm a firefighter."
Then the word BACKDRAFT smashes onto the screen.
And then a 2 is added.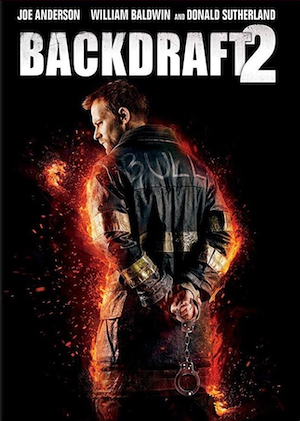 Pretty good. I gotta say, this is a competently made DTV sequel, but I think – though I'm not truly qualified to judge this – it's not what any BACKDRAFT fan would be hoping for from a sequel. BACKDRAFT was a thriller because of the arson investigation part, but I suspect what people really liked was all the stuff about firefighters. This one pretty much abandons that and sticks to arson investigation – Sean does the job his uncle once did, except the office is now in the station where his grandpa, dad and uncle were firefighters. It's basically a cop movie with different uniforms.
Sean is so much not like a character in part 1 that late in the movie he says that he's a terrible firefighter because "I suck at the camaraderie and storytelling." He just likes to be by himself in a burnt out building, or in the warehouse he lives in, or in one of a few empty bars or Chinese restaurants he goes to. He also doesn't get along with his uncle and avoids his mom (who we do not see). Like a cop in a cop movie, he's assigned a new partner, Rening (Alisha Bailey, LAKE PLACID: LEGACY) and says that he works alone and then is unfriendly to her but eventually she proves herself, sort of. He's nicer to a stray dog who in one scene helps him Lassie style to discover the cause of a fire.
There's a new crime spree similar to in part 1 – bombings that cause a puff of smoke to come out from under a door and then be sucked in and then there's an explosion. The first one happens to a group of trick-or-treaters who for some reason try turning the door knob after no one answers. Five children is a pretty brutal opening kill in my opinion. (Well, I guess second kill if you count the graphic burned-in-bed corpse at the beginning.)
A big part of his job seems to be arguing with cops about which deaths which of them get to investigate. At one point he plays hardball by telling the cops they have to handle one of the trick-or-treaters because he was technically killed by the door, not the flames. He also has a rivalry with an ATF guy he considers an asshole so whenever he sees him he says stuff like, "You wanna tell me what you're doin nosin around a car fire in my city?" and "Yeah yeah. Stay away from my burn." He catches an arsonist by going to a fire, climbing onto a firetruck to scan the crowd, then chasing after a runner (with an exciting shot where he jumps over the camera) and spraying him with a firehose. He brags that he knows every arsonists in the city, as if it's normal for there to just be dozens of working arsonists who are his professional rivals.
In the McCaffrey family tradition he manages to rescue a child from a fire. He's on the side of a building and amazingly, somehow, Uncle Assistant Fire Chief Brian drives up exactly in time to see him get blown off the building by a fireball. It would just be such an incredible turn of events if Brian somehow was there to witness the fire deaths of his dad, his brother and his brother's son. But Sean doesn't die, he just gets trapped under some rubble and then it's played as a joke that Brian forces him to have a serious talk airing out their issues before helping him escape. It does follow directly from the first one, though, because we learn that the whole story of their friend Axe being an arsonist was really kept secret, and therefore Stephen has always blamed his uncle for the death of his dad. So Brian reluctantly reveals the truth of what happened in part 1.
Also it's kind of like Harrison Ford coming back for THE FORCE AWAKENS, because Brian heroically sacrifices himself to save Sean from a fire trap, saying, "I'm not letting another McCaffrey die!" (Then he, a McCaffrey, dies.) His wife and kid are at the funeral, so we know the thing with Jennifer Jason Leigh didn't work out. It would be cool though if Baldwin played his own son in the tradition of Russell in part 1.
As I mentioned, the other big connection to the first one is the return of Donald Sutherland. Rather than intentionally visiting him, Sean runs into him in the waiting room of a hospital. He's still incarcerated, but hoards sugar to set off his diabetes so he can go to the hospital. This time it's more straight up MANHUNTER because he's the widely respected o.g. arsonist who gets letters and visits from all the up and coming guys in the area, so he actually knows them.
Anyway, this time the conspiracy involves terrorists and missiles. Lower budget, smaller scale, but you gotta go bigger somehow, so you get missiles.
So far no word of a part 3. I would like it to involve either Sean McCaffrey or a previously unmentioned new McCaffrey entering an international firefighter competition.
P.S. This one's on Netflix, if you're curious.