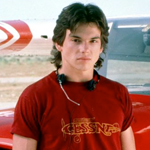 I always remembered IRON EAGLE as a chintzy ripoff of TOP GUN, but in fact it came out six months earlier. Shame on you, TOP GUN. Did you think we'd never find out the truth? You've got alot to answer for.
Both movies involve hot-shot rule-breaking F-16/F-14 pilots who have run-ins with Russian MIGs, but IRON EAGLE is the only one that uses a stencil font at the beginning. That means it's a legit b-action movie and therefore follows two tried and true traditions:
1) the UNCOMMON VALOR/RAMBO FIRST BLOOD PART II/MISSING IN ACTION off-the-books P.O.W. rescue mission
and
2) the RED DAWN/TOY SOLDIERS teens-take-matters-into-their-own-hands wish fulfillment adventure
Our hero Doug Masters (Jason Gedrick, MASSIVE RETALIATION) is the misfit son of Air Force legend Colonel Ted Masters (Tim Thomerson, DOLLMAN). He has a rivalry with this asshole motorcycle wheelie enthusiast named Knotcher, who I did not recognize as Michael Bowen (JACKIE BROWN, KILL BILL, WALKING TALL, LAST HOUSE ON THE LEFT, BRAWLER, DJANGO UNCHAINED). I don't know how he gets away with it in this military town, but Knotcher likes to call Doug "fly baby," and when Doug is rejected from The Academy he announces it over an intercom at Carlton's, the outdoor diner where everybody (including Larry B. Scott [SNAKE EATER II: THE DRUG BUSTER] and Jerry Levine [Stiles from TEEN WOLF]) hangs out.
(Note: Shawnee Smith from THE BLOB and the SAW series is also one of the kids in this, but never gets anything to do.)
Tensions get so high that the two agree to settle matters by "running The Snake" – a dangerous drag race through a twisty ravine that infamously killed some guy named Jimmy Branson. Doug's friends worry, but support him by flying behind him in a separate plane, talking him through the race over the radio.
"Keep jamming to the tunes, 'cause you're zoomin!"
Doug is treated as an underdog even though it's a Cessna vs. a motorcycle. I guess the catch is that he has to stay under 50 feet. Still seems surprising that he only wins by a nose.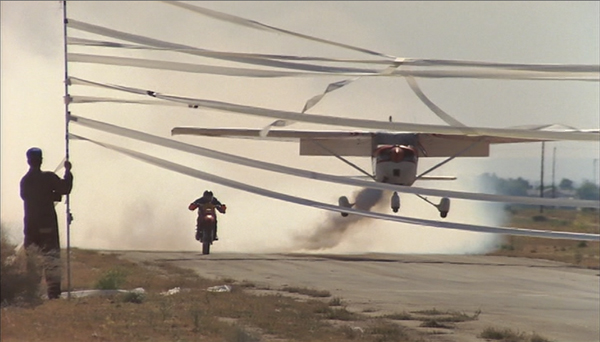 Knotcher also sabotaged his plane, but he's able to land okay. I'm against all bullying, but especially these movie bullies who straight up try to murder their victims. What was he planning to do if the plane crash was more serious, just laugh and go home feeling vindicated?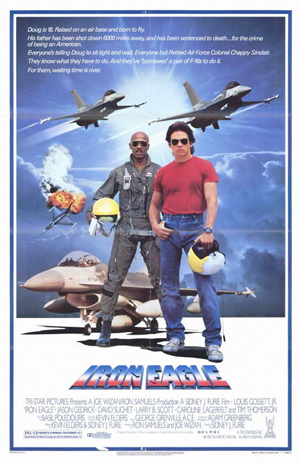 Anyway, the race ends the bullying. Unless you count dad getting shot down and taken hostage by a fictional middle eastern regime. It happens during graduation, and Doug hears about it from his nerdy friend Milo (Robbie Rist, a.k.a. Cousin Oliver from The Brady Bunch), who is both computer whiz hacker and deliverer of exposition (he has inside military info because his dad is an intelligence officer – apparently one who should be fired for being absolutely terrible at keeping national security secrets), then storms into mission control to hear from a sympathetic c.o. frustrated with the government's unwillingness to do anything about it.
So first Doug ropes in all his friends from The Eagles Flying Club, and then Chappy (Louis Gossett Jr., THE PUNISHER) – not the impressionable South African robot, but a legendary pilot now working as a humble small plane mechanic – to help plan a vigilante mission with sneakily borrowed military equipment. That Chappy eventually agrees to help some teens invade a sovereign nation shows that he has incredibly poor judgment, but Gossett has the gravitas to make us want to roll with it.
The reason Doug didn't get accepted into the Academy is kind of that he's too good. He got an F for cutting class to sneak into the flight simulator. They think he's some fuck up, but he's actually a nerd for flying. He wears a Cessna t-shirt, for crying out loud. You might think that his military dad would've instilled more discipline in him, but in fact he sort of modeled this rebellious behavior. In a flashback we see that dad sometimes snuck him into the base and allowed him to fly the jets! And then he'd lecture him if he did a loopty-loop or some shit that might get him spotted.
By the way, the flashback happens during the commencement speech, which everybody is listening to except Doug.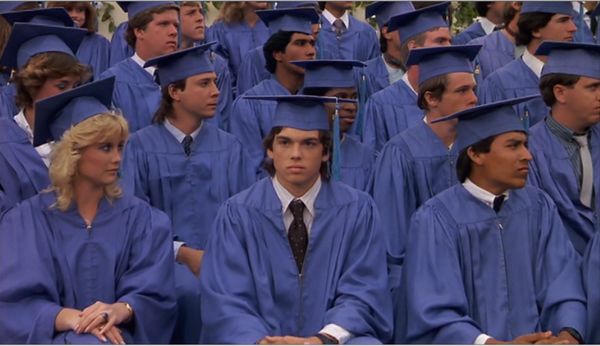 It's one of those movies full of kids who somehow understand how everything works and have the skills and resources to do anything they want, including break into a highly secure computer system, fly to a country halfway around the world and win an F-16 dog fight against experienced adult professionals. This type of story was so exciting to me as a kid but kinda makes me squirm now because it's such a transparent wish fulfillment fantasy. It's a pain in the ass for me to, like, get my driver's license renewed or something, you're telling me these little shits can subvert the United States Air Force and plan and execute a successful rescue mission in enemy territory?
To be honest I got a little angry watching the smug little pricks somehow causing the computer to freak out by hitting one key, distracting the soldiers on base by using a strip of firecrackers to make them think they're being shot at (you'd think there'd be consequences for that), chugging Diet Pepsi while looking at computer screens, walking around in their makeshift kiddy command center holding clipboards and pointing at maps in montages. What the fuck. Go outside and play, you kids.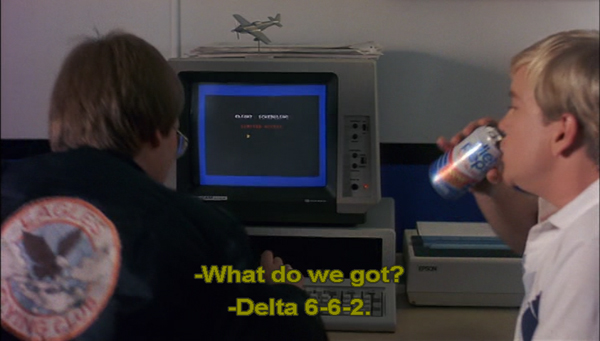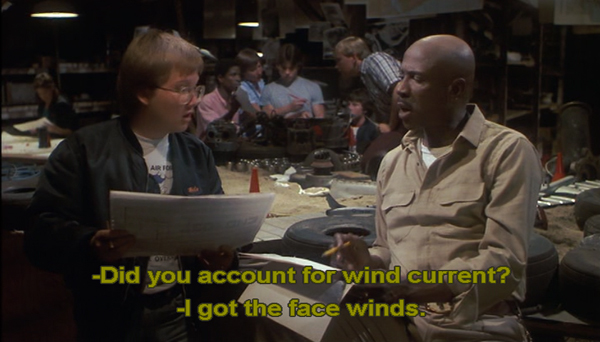 A great touch is that Doug always carries a portable plug-in tape deck that works in his Mustang convertible, his Cessna, and in jet fighters. He uses the ol' rock 'n roll to inspire his flying. This is where they got the idea for BABY DRIVER. In my opinion. But for sure.
Related: Another parallel to TOP GUN is that it has a gloriously '80s pop rock soundtrack. I actually bought the record and that's what inspired me to watch the movie again. It lacks the slick surface of Giorgio Moroder's production, instead opting for a Stallone-worthy collection of training montage inspiration rock. King Kobra's "Never Say Die" encourages you to never say "die," but also is sure to keep saying the title of the movie. Also there's a video where the band has to go through boot camp with Chappy!
"Road of the Gypsy" plays multiple times in the movie and has a lyric about "the wax on the candle melts like tears."
Artists I never heard of include Helix ("It's Too Late"), Eric Martin ("These Are The Good Times"), Urgent ("Love Can Make You Cry") and The Jon Butcher Axis ("This Raging Fire"). But you also have Queen ("One Vision"), Katrina & the Waves ("Maniac House") and Dio ("Hide In The Rainbow"). And weirdly there's a George Clinton song I never knew about called "Intense." I didn't even catch it in the movie, but it's on the soundtrack. Mid-'80s is far from my favorite period of Clinton, it's kind of that "Do Fries Go With That Shake" droney chanty drum machine '80s dance club sound, if you're familiar, but it does have some unmistakable Maceo Parker saxophone parts.
Chappy also loves music. He plays James Brown on his jukebox and dances around while looking at satellite photos and drawing maps. There are plenty of musical montages, some training (in the simulator) and some just planning. Some both. Doug follows Chappy while he's jogging and then hangs outside of his shower flipping through documents.
I remember at the time TOP GUN was said to have inspired many people to sign up for the Air Force, and they even set up recruiting tables in theater lobbies, which was controversial. If that movie is propaganda, it's only through style, making this guy and this lifestyle look so fuckin cool in an apolitical way. IRON EAGLE seems less shy about stoking militaristic and right wing sentiments. Scott's character tries to calm Doug's worries about the government's ability to deal with the situation. "That was different. Mr. Peanut was in charge then. Now we  got this guy in the Oval Office who don't take shit from no gimpy little countries. Why do you think they call him Ronnie Ray Gun?"
But President Ray Gun and his government don't do as he expects, so maybe he'll change his mind.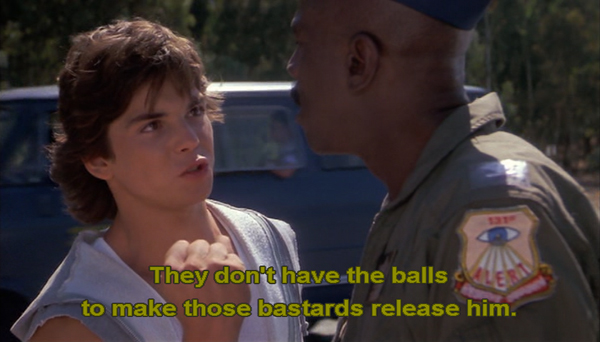 By the way, if you're the drinking game type I got a hot tip for you: drink every time somebody refers to "the bastards" or "those bastards."
Those bastards find Colonel Ted Masters guilty of trespassing in their territory and sentence him to hang. There's a Minster of Defense (David Suchet, EXECUTIVE DECISION) who needs to come talk to him and he flies himself there in a fighter jet, the plane movie version of, like, the evil car company CEO in ACTION JACKSON doing martial arts at the beginning. Not that it matters much what happens in the dog fight scenes. It is fair to say that TOP GUN has much more impressive aerial footage. I mean, I'm sure this wasn't easy to shoot either, but a bunch of the dogfighting is just this closeup of a machine gun firing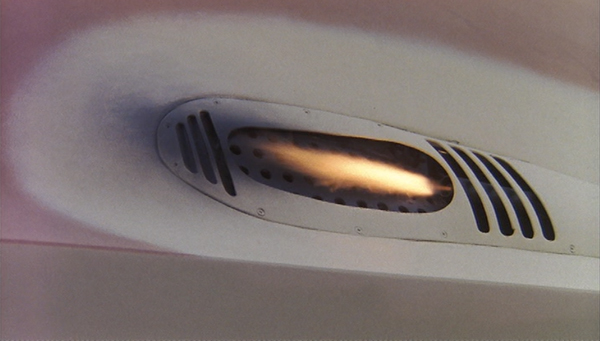 followed by a jet exploding.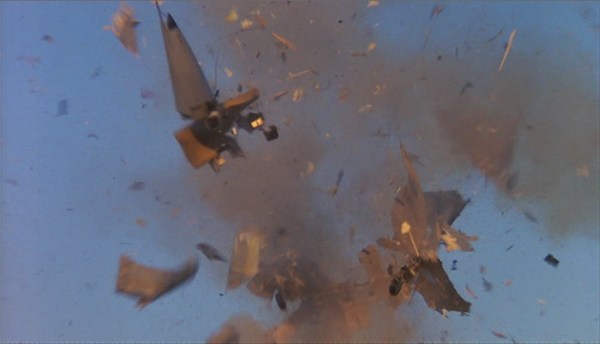 The oddest/best gimmick in the movie is that Chappy goes along on the mission but also gives Doug a tape that he recorded, so when he gets shot down he's still able to instruct and inspire him, Obi Wan style. (And then SPOILER he turns out to be alive anyway. In the future he should just give him the tape and stay home.)
IRON EAGLE was directed by Sidney J. Furie (THE IPCRESS FILE) the year before he did SUPERMAN IV: THE QUEST FOR PEACE. He gets a co-writing credit along with Kevin Elders, director of the Dennis Rodman vehicle SIMON SEZ. I enjoy their ludicrous mix of teen movie and action movie. It's a cheesy but enjoyable combo platter of '80s standards.