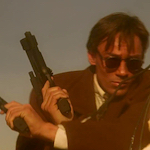 Would you believe I'd never seen NEMESIS (1992) before? I'd heard claims it was one of the better movies for director Albert Pyun and/or star Olivier Gruner, but I didn't get around to it until now. From the cover I always thought it was gonna be kind of a TERMINATOR knock off, so I was very surprised and impressed when it opened seeming more like BLADE RUNNER in the style of THE KILLER.
It starts in Los Angeles, 2027 A.D., which does not look overly futuristic, but is covered in an eerie orangy brown haze. Alex Rain (Gruner, who had only been in ANGEL TOWN) is in a hotel for a liaison with a woman, but then he shoots her in the head, revealing a bunch of wires and electrodes. "God damn cop," she says. "God damn terrorist" he replies. Though he very poorly delivers a one-liner to her exploded head, he looks very cool when he walks out of the hotel with a Chow Yun Fat style tie-overcoat-and-sunglasses look, passing a bunch of people in the hallway who take a minute to figure out he's the cop who shot their friend. But then they follow him.
It's a great start to the movie: a heavy shootout outdoors on some old wrecked buildings, hundreds of bullets fired, lots of cool Woo-esque moves like sliding backwards down a dirt hill while shooting. The fact that it's somewhat sunny gives it a nicer look than many movies in this sort of setting. Two women start firing explosive shells at Alex and he gets blown into a structure and impaled on a metal bar. Oh, shit, should've known – he's a cyborg too. But 86.5% human, he claims. For some reason there's a cute husky puppy inside the structure, so he puts him inside his jacket! Definitely weird, but I'll allow it.
Other cops show up in a jet, but a rebel named Rosaria (Jennifer Gatti, MOBSTERS, Bon Jovi's "Runaway" video) blows him away. Then there's a ROBOCOP style shot of his P.O.V. watching doctors/mechanics put him back together.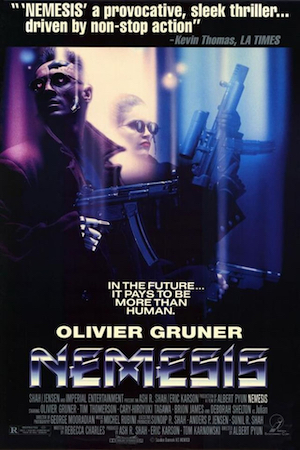 Next we find him jogging with the fully grown dog in the dunes of Baja, New America. "The kind of place where people on the run go to be forgotten. I was there to recuperate," he narrates, but then he walks into a little bar where the bartender is Rosaria. From the perspective of the viewer she just shot him like one minute ago. The dog's size denotes the passage of time, but they tell us it's only been six months. And yet Rosaria, who says she's seen him around, doesn't recognize him until he calls her "terrorist." That's a great moment, though, because she says "OH, SHIT!" about a quarter second before he shoots her and she flies up against a pole.
A year later he has long hair and works as a smuggler in Rio but gets blown up again and is locked up, I guess, but the LAPD Commissioner Farnsworth (Tim Thomerson around the same time as DOLLMAN VS. DEMONIC TOYS) lets him out to recruit for a mission. He explains that
1) they put a bomb in his heart and
2) they need him to get a disc because the, uh… something about the United States merging with Japan and his ex-boss and ex-lover, "that synthetic bitch" Jared (Marjorie Monaghan, BONFIRE OF THE VANITIES) stole security plans to sell to "the Red Army."
Alex refuses the job and starts to walk away until the Commissioner says, "Remember the bomb in your heart, Alex!," stopping him cold and causing a dramatic sting on the soundtrack. I guess somehow he forgot already!
Afterwards, we hear the Commissioner saying that the story he told Alex was a lie. I honestly couldn't follow the fake story he told anyway. I'm not sure if Alex could. I watched this twice and couldn't fully keep track of the story past this point, but this is one of those movies that's more about vibes or whatever.
Alex goes to another hotel, this one in a place called Shang-Loo, where he's welcomed by a guy pulling a gun on him and saying "Immigration, asshole." He handles it just how any of us would hope to: he spin kicks him, takes the gun and throws the gun back to him.
Meanwhile, the viewers are welcomed by naked Thomas Jane looking out his window smoking a cigarette. His lady friend Julian (Deborah Shelton, BODY DOUBLE) (also naked) starts chewing on his ear talking about metaphorical sharks, but soon she'll sexily betray him.
Max (Merle Kennedy, JUNIOR, MAY), a short-haired woman who keeps following people around somehow unnoticed, shows up out of nowhere, does a cool flip off a roof and helps Alex escape through the jungle before knocking him out with a laser locket. She has short spiky hair, a halter top and army boots, and is very capable, but also kind of hyper, spacey and childlike. A little Lori Petty-esque, maybe. Kinda goofy, but stands out in a cast where most of the women are acting tough in a different way. She turns out to be Rosaria's sister and wants Alex to die for killing her, but she comes around and seems like she's his partner at the end. (spoiler)
Also in the hotel are a rebel group called the Hammerheads, led by Angie-Liv (Cary-Hiroyuki Tagawa following LICENCE TO KILL, KICKBOXER 2, SHOWDOWN IN LITTLE TOKYO and THE PERFECT WEAPON – quite a run!). The guy at the front desk, Yoshiro (KARATE KID PART II villain and Seattle restaurateur Yuji Okumoto), seems to be working with them. They seem to be a threat to Alex, but after they size him up they realize they're on the same side. This is a good C-HT character that stands out from so many of the straight up evil ones he did in the '90s. He calls Alex "bruddah" and "brah" as well as "Alex-San." I think maybe he's supposed to be kind of a surfer dude? Or maybe just Hawaiian? I don't know, but I like him.
A little over halfway through we get a huge shootout in the Shang-Loo Hotel with basketball sized bullet holes punched into walls, people flying backwards ten feet from being hit, entries and exits cut into walls and floors with machine gun spray. These guys are inside a small hotel room firing guns like Jesse The Body in PREDATOR. Alex gets all the way to the ground level by shooting circles in each floor and dropping through. There are many parts of the movie where it feels like it's not really working to me, but this is not one of those parts. During this part it feels like a classic.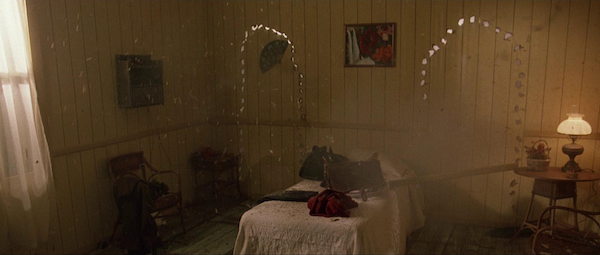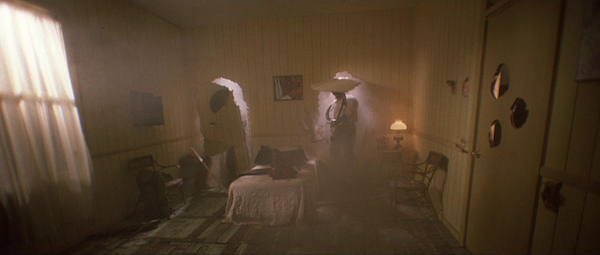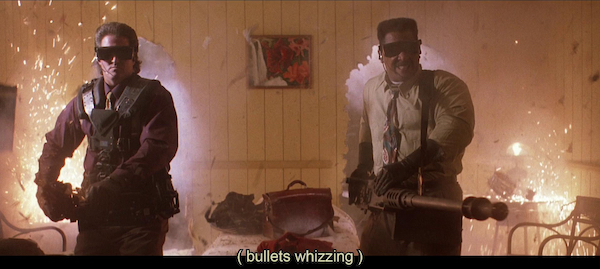 NEMESIS has kind of a similar feel to Pyun's earlier movie CYBORG, emphasizing atmosphere over most everything else. To me it's a little less weird and arty (a minus), but a little less meandering (a plus). It's got these cyberpunk concepts but it mostly takes place in dusty, sunny areas where they could shoot a western, and there's often the sound of whistling wind or some steaming valve. There's a scene with a windmill farm in the background, which is cool looking and weirdly still futuristic these decades later.
At the hotel people keep mentioning "the volcano" as a local tourist attraction. I honestly would've been okay if it was just a weird detail for flavor, but it's even better that the climax is filmed at a real volcano in Hawaii.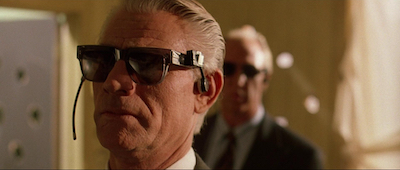 There are lots of little sci-fi gimmicks and details to the world that make it fun to hang out in. There's some lingo that's not fully explained, like people deriding Alex as a "fucking speed loader," but they don't overdo it. They also don't go overboard with the tech. It's obviously advanced for Jared's body to be dead with her "data" saved on a chip, and for Alex to have a row of lights glowing under his skin to count down to the bomb going off, but most of the electronics are less extravagant. The cops wear sunglasses with computer attachments that are well designed and almost look like something that would exist now. The guns are normal looking but since everybody's cyborgs the squibs shoot sparks instead of blood.
One confusing but cool part is when Alex does some of his narration and the bad guys are listening to it. We don't see his face to verify if his mouth is moving, but I think they bugged his thoughts?
I like when Julian pulls Alex's eye out because there's a camera in it. She says, "Hold still!" impatiently like she's helping him pop a blackhead or something. When he tells her about the bomb in his heart she immediately fires a dart into him to temporarily jam its signal. I really don't think she knew it would come up, she's just someone who's always ready for that shit.
You know who else comes prepared? The old lady in the pink dress (Mabel Falls) who shoots half of Sven-Ole Thorsen's head off and curses about "fuckin cyborgs." I imagine she's beloved in the neighborhood.
I think the movie suffers from counting too much on Gruner's verbal skills, which (in English) were not great at this time. His narration will make you appreciate Harrison Ford's in the BLADE RUNNER theatrical cut, and he's not able to charm his way through some of the one-liners. There's actually what starts as a decent smart ass comment when the Hammerheads invade his hotel room and he just kinda exasperatedly says, "Leave me alone." When Angie-Liv punches him, knocking him over, he says, "I guess 'leave me alone' means something different here."
If that was the end of it that would be great! But he continues, "or are you too stupid to get it?" Going from clever quip to playground insult real quick.
But there are some funny lines. When they're leaving from this confrontation Angie-Liv is immediately over it and says, "Let's go get plate lunch." And when Alex is being choked by some thug in his hotel room he grunts, "You aren't the maid, are you?"
My feeling that this was gonna be THE TERMINATOR-inspired did come true in the finale. After the Commish is exposed as an evil cyborg and gets blown up there are some go-motion animation shots of his still-living endoskeleton. They're not as good as the THE TERMINATOR shots that obviously inspired them, but they did manage to get the same animator/guitarist, "Sneaky" Pete Kleinow of the Flying Burrito Brothers, to do them. The coolest one is when he's hanging off the side of their escape jet punching his way in, so it's a TERMINATOR/ALIENS Cameron homage double whammy. And then he has a little fight with Alex, so it's like a robo-JASON-AND-THE-ARGONAUTS.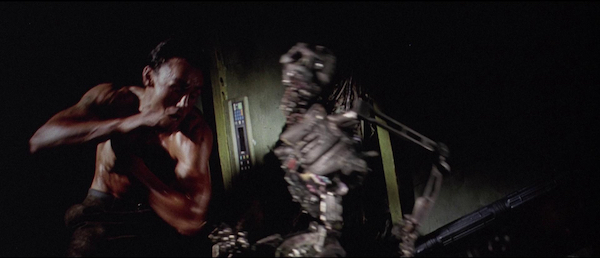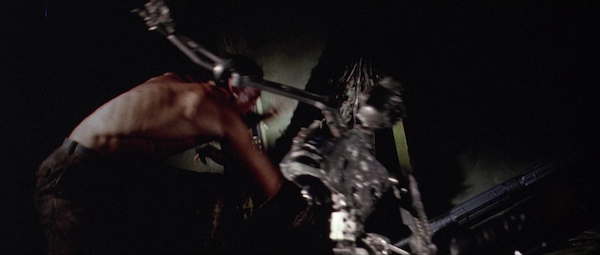 And there's a vicious move where Alex gets flipped out of the hole in the ship and the jagged edge of it slices off his entire scalp, revealing metal parts beneath.
Also in the cast: Brion James (same year he was in THE PLAYER), Jackie Earle Haley (between DOLLMAN and MANIAC COP III: BADGE OF SILENCE) and Branscombe Richmond (same year as ACES: IRON EAGLE III). Cinematographer George Mooradian did many of Pyun's movies as well as BLOODSPORT 4: THE DARK KUMITE. Stunt coordinator/second unit director was Ronnie Rondell Jr. (McQ).

We here at outlawvern.com have a history with Pyun because back in the day when I reviewed KICKBOXER 2: THE ROAD HOME we were all kinda talking shit about his movies in the comments and he showed up and was a real sport about it. Someone later told me they had worked with him and didn't believe it was really him posting, that he would never be that humble. But I know it was him because he got in contact and sent me clips of a movie he was working on and some of his director's cuts (he got really into re-editing his old movies, and I was always unclear if he really had the rights to release them or was just doing it for personal satisfaction.)
I know for several years now he's been having some real serious health struggles, so my heart goes out to him. It has been nice to see some of my friends on Action Twitter who have more knowledge and appreciation of his filmography sharing their joy for his movies recently. I think NEMESIS is a good example of what I most appreciate about him, which is his instinct to have some arty and experimental aspirations in his b-movie exploitation shit without turning it into an art movie. Like, not enough to prevent NEMESIS from becoming a VHS era staple, just enough to make it kind of a weird one. So I agree, this is one of the better Pyun joints I've seen and one of the better Gruners as well.
Now I gotta see that crossover between STAR TREK and NEMESIS!