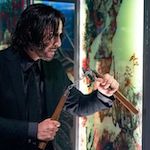 JOHN WICK CHAPTER 4 is the culmination of one of the great movie series of our time, and a masterwork of its genre, one of the few American action movies to arguably outdo overseas epics like THE RAID 2, THE NIGHT COMES FOR US and THE VILLAINESS. Like its predecessors it expands on JOHN WICK's distinct style of martial-arts-and-guns ultraviolence, introduces colorful new allies and enemies, and invents even more astounding ideas for types of action spectacle you haven't seen before. But this one adds an extra layer of emotion through heroic bloodshed style bonding and a deeper realization that everything John Wick does in these movies only digs his hole deeper.
I'll warn you before I get into the biggest spoilers, but as usual this review will be better for reading after you've seen it. If you're just wondering how good it is compared to other chapters, I believe the first film stands on its own and then the sequels get better the more spectacular they become. So CHAPTER 3 was the best but has now been usurped by CHAPTER 4. (But I love the Halle Berry and Mark Dacascos stuff in 3 so much it's not an easy choice.)
Seeing CHAPTER 4 in an Imax theater was great because it opens with that old training montage classic – bloody fists punching a post wrapped in rope – and the hits were so deafeningly thunderous that laughter and chatter about it spread across the audience. The first act kicks off with a joke about LAWRENCE OF ARABIA (the Bowery King's lighter cutting to a wide shot of a desert), the third is built around an homage to THE WARRIORS (a radio DJ speaks to assassins in code as they try to thwart John Wick's journey across Paris), and I think that unlikely pairing of reference points sums up director Chad Stahelski's ambitions pretty well.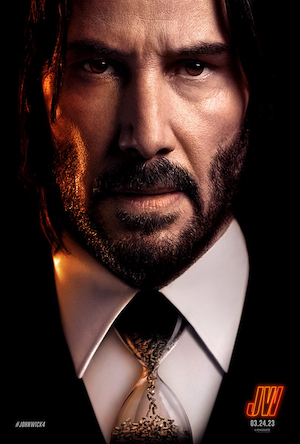 Yes, this one is 169 minutes long. Obviously that's way too short, but we can't have everything. Within that time it manages to pack more than a dozen action sequences, many of which on their own put to shame what you can see in the full running time of the average Hollywood picture. After a brief (and humble by WICK standards) opening horseback shootout where Wick assassinates The Elder (George Georgiou, CLOSE) there's some quiet (high) table setting that's the only part someone might consider slow. In response to the killing, this prick called The Marquis Vincent de Gramont (Bill Skarsgard, BARBARIAN) has been deputized by the High Table to put an end to John Wick (or, as he explains it, "the idea of John Wick"). He punishes Winston by blowing up the Continental, and worse. And he assigns the blind swordsman Caine (Donny motherfuckin Yen!) to find and kill Wick.
The Marquis is the kind of villain who's all dressed up like a prince or a private school kid, eating a slice of decadent cake while informing Caine that he has to kill his old friend or they'll kill his daughter. Couldn't even wait to have the cake after the meeting.
He doesn't seem to be a fighter, but he has a squad of burly enforcers in suits, led by Chidi (holy shit it's Marko Zaror) doing his bidding. They show up with Caine at the Osaka Continental Hotel and ask to see the manager. That would be another newly introduced old friend of John Wick, Shimazu Koji (Hiroyuki Sanada, MESSAGE FROM SPACE, ROYAL WARRIORS, RINGU, THE LAST SAMURAI, SPEED RACER, THE WOLVERINE, MORTAL KOMBAT, ARMY OF THE DEAD, BULLET TRAIN), currently on the roof surrounded by cherry blossoms having tea with Wick, much to the consternation of his concierge/daughter Akira (pop singer Rina Sawayama). Against Akira's better judgment, Shimazu helps Wick, and sets his hotel staff (who arm themselves with swords, bows, throwing stars and guns and use modernized ninja, samurai and sumo techniques) to battle a High Table army in tactical armor with demon masks built into the helmets.
This could be the climactic battle in many movies, but here it's just the start, and they manage to top it many times over as the movie progresses. Highlights here include Akira adeptly using her bow as a blunt weapon, and Wick finding a pair of nunchakas when a glass case gets smashed open during a fight in a weapons museum. He hammers these guys so hard, and I've never seen nunchakas seem so painful. (Don't worry, they give him a chance to spin them around too.)
Most importantly the Osaka battle introduces us to the abilities and methods of Caine, and gives us only the first duel between him and Wick, conversing about their situation as they fight. This kind of mid-battle chit chat could be glib and sarcastic, but we know it's sincere when Wick falls and Caine has to ask "Are you dead, John?" He stays down and tries to be silent but he absolutely has a shot at Caine that he does not take. And with John Wick, that's not nerves. That's a choice.
We also meet a new character called the Tracker (Shamier Anderson, DESTROYER, BRUISED), who has the excellent gimmick that he's a highly skilled tracker and marksman who's following Wick but not trying to kill him yet because he's waiting for the bounty to get to a certain amount. But he'll often shoot other people coming after Wick to protect his prize. Also he has an attack dog accompanying him at all times, so we get a taste of that vicious ball-biting dog action that stole the show in part 3.
After Wick gets away he's contacted by Winston, who suggests what becomes his mission for the movie. The unemployed former hotel manager claims that according to "The Old Rules," Wick can earn his freedom by killing the Marquis in a duel. Only catch is he would have to be a member of a crime family for the challenge to be accepted, and his ticket was torn (long story and also I don't quite remember it because I haven't watch part 3 in a while) so his first stop is to the Ruska Roma headquarters in Berlin to regain membership, which they offer in trade for going to a huge dance club and killing the gangster Killa (well I'll be damned, it's Scott Adkins). We always wanted Adkins to have a showcase in a big budget movie like this, but we did not expect he'd be kind of a DICK TRACY/SIN CITY type cartoon character in a fat suit! Whether you enjoy that or not, Adkins certainly makes an impression as a funny, sleazy character who is also a threat, and sells the weight of the character while doing his moves. I guess the idea is that for normal people who aren't familiar with Scott Adkins it's gonna be a shock when this guy starts kicking ass, like when the mayor starts dancing in Michael Jackson's GHOSTS.
Wick chases Killa through the club, takes a hell of a fall over a ledge into a sort of fountain area and looks up to see the gangster waving his men toward him. It reminds me of the all-timer opening of BLADE when the techno music builds as he awaits their arrival and an explosion of violence. But it's much more dreamlike as he stands between artificial waterfalls, the view-obstructing water and loud music overwhelming the senses, the crowd of dancers completely ignoring the ax fight and dancing hard right next to it. They do eventually start to clear out, so I guess they were just in the zone before.
By now I'm so used to these times when my favorite action guys end up in some big Hollywood movie and usually I have to settle for it just being cool to see them up there. Good for him – he was in that one little part. Yen was treated pretty well by ROGUE ONE and THE RETURN OF XANDER CAGE, as far as these things go, but Adkins in particular has had these roles just standing in the background, or having his mouth sealed shut, or getting beat up by a magic cape. And Zaror hasn't even gotten anything that good. So it is so satisfying to see all three of them get to shine here. Yen is almost the co-lead, gets to have multiple fights with Reeves and still be his brother and have us root for him. Adkins has the smallest role of the three but the most showy. Zaror is the one I most worried would be wasted, but he's the top ranking henchman, featured throughout, getting many fights and stunts before finally (spoiler) biting it (twice, it seems like) after the rookie mistake of harming a dog in a JOHN WICK movie.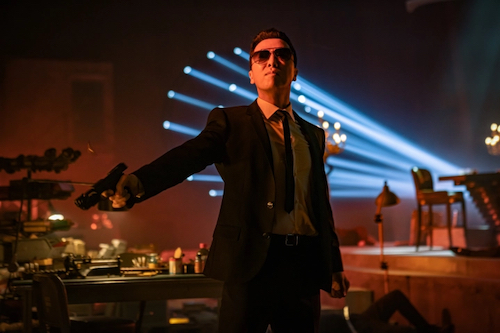 So they all get to genuinely showcase their martial arts, they all get fun characters to play, and Yen really becomes the heart of the movie because he's this new character who we instantly love, and get to see as a reflection of Wick, in the exact same quandary. They somehow keep fighting to the death without turning on each other. They can't judge. They're still friends. It's beautiful.
That WARRIORS-in-Paris section, where the Marquis is trying to prevent Wick from making it to the church where the duel will take place at dawn, contains three (3) separate action sequences that made me think both "I've never seen anything like this" and "I have no idea how they did this." Skip this and the next paragraph if you don't want to know what they are, but otherwise it's these: the fist, gun, car and dog fight in the midst of traffic at the Arc de Triomphe. Holy shit. Dodging cars, sliding and crashing, being hit and thrown through the air by vehicles, Chidi slamming Wick against a car. Next is the oner shootout using the "Dragon's Breath" gun that blasts people so hard they catch on fire, as the camera hovers above and watches from a God's-eye-view – it's reportedly inspired by a video game, but it made me think of Gaspar Noe's ENTER THE VOID. After that is maybe my favorite scene, when it seems like he's made it to the church in time, he just has to make it up 212 steps with severe injuries – and then an army of gunmen come down the stairs shooting at him.
There's a great stunt early in the movie, which you might've seen clips of, where a guy rolls down an escalator at the hotel. It seems so impressive at the time and then we see this scene, where dozens of different people not wearing visible armor and helmets get shot or hit and roll down stone stairs. It just happens over and over. In a way this sequence is John Wick's story in miniature: hobbled, outnumbered, running out of time, going uphill, some of the enemies he kills falling down on top of him, and as soon as he seems to be almost to the top he gets knocked all the way back to the bottom. (Man, I could not stop laughing when that happened. The combination of jaw-dropping stuntwork and an absolutely immaculate joke – heaven.) And could there be anything more beautiful than the old friend he's about to duel to the death, who we don't want to see lose either, showing up so they can fight side by side to get up there together? No, of course not. But we do get another antagonist lending a hand because Wick saved his dog's life. Which is pretty damn good. Man, this is a great movie.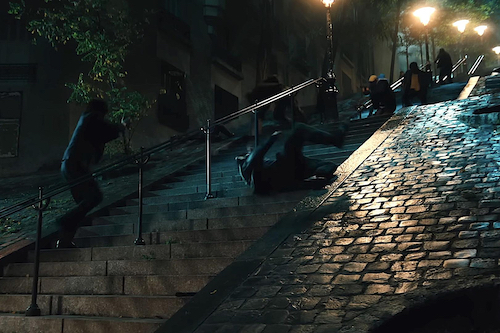 These ended up being more like the MATRIX series than I realized until now – both have a perfect standalone first film followed by a trilogy of increasingly ambitious sequels expanding on the world it takes place in and exploring the ideas behind it. JOHN WICK, of course, connected with audiences more widely and maintained its interest in one-upping itself spectacle-wise to the end. But also, without me really noticing it, it sort of developed its own version of raging against the machine.
JOHN WICK's society of elite assassins is a world that you're not supposed to be able to leave, and yet you can't love someone outside of it unless you do leave. (To quote Boomhauer, "In a world where love is against the law…") Even having loved ones or friends within that world can be a liability; many of John's old friends do help him out, but that's against the rules, they have to risk everything for it, and all of them pay dearly. So this is a world that stands in opposition to life in more than one sense: the literal, moral sense that their business is murdering people, and the more abstract sense that its rules prevent any type of human connections.
We also know that this world is based on "The Old Rules," the ideas of some assholes from a long time ago, who made sure it was governed by "The High Table," ultra-rich European pricks who lack the honor or skills of the killers whose work they live off of, who are so above the law that even the most legendary killer beneath them always thought the idea of holding them accountable via duel was a myth. So John Wick and his peers live empty lives of luxury (or squalor in the case of the Bowery King's people), doing evil to prop up an unaccountable aristocracy. Seems familiar. Unfortunately, in this world there's no The One to lead us into the clouds. There's only death.

(Okay now I'm going into some analysis that requires MAJOR SPOILERS about the end of the movie. Just go see it and come back. It's less than three hours.)
JOHN WICK is a perfect revenge movie, while the sequels are all about blowback and escalation and never ending consequences. No, of course we don't need a movie to tell us that revenge is bad, but it's not so much a moral of the movies as an underlying philosophy. A world view. I like that these are A+ action blockbusters that happen to have very strong beliefs about the ultimate results of their extremely cool and entertaining violence. We'll have a blast watching it but it won't redeem, satisfy or help any of the characters who commit it.
CHAPTER 3 ended with a cliffhanger. Winston shot Wick to appease representatives of the High Table – he fell off the roof of the Continental, bouncing off buildings and fire escapes, but somehow survived and was taken underground to the Bowery King, and they agreed to join forces against the High Table. I assumed that would be his goal for the whole CHAPTER 4 – instead, it opens with the two deciding it's time, and Wick heading out to the desert and quickly murdering The Elder.
He gets that revenge right at the beginning, and immediately everyone he still loves suffers for it. The Continental is destroyed. Charon is executed. His uncle Peyotr is murdered. Caine is forced out of retirement. By meeting with Shimazu he dooms him to lose his hotel, and then his life. Before that he tells him he's sorry for getting him into this, but he can't bring himself to say anything to Shimazu's daughter. She says bitterly that everything he touches dies, and he knows that's true. And always will be.
So in the end, when he outsmarts the Marquis and manages to kill him, successfully gaining his freedom and leaving Caine alive and free, it seems too good to be true. And then he sits down and dies, and it's the happiest honest ending available to him. I'd watch these movies forever, so I was certainly waiting for some sign that oh yeah, just kidding, he's not dead. And of course when you get to the end of the credits and the only ever post-credits scene in a JOHN WICK movie pops up, you get half a second to believe that's what we're in for.
Then you see Caine's daughter and yes, of course, we knew this was coming. Akira goes after Caine for killing her dad. Like she promised she would. Like he told her he expected. Some have interpreted this as another cliffhanger, setup for a spinoff or something, but I honestly don't believe that's what it is. It's just an acknowledgment that this shit never ends. Caine won't ever magically find peace either. It's too late for that. Unfortunately.
I wish I could figure out where I heard it, but there was an interview with Stahelski (after CHAPTER 3 I believe) where he seemed to say the cliffhanger endings weren't about setting up the next one as much as his belief that there could be no happy ending, no resolution for someone who has done the things John Wick has done. I was impressed that he took it so seriously, and sure enough he stayed double true to that conviction.
[Update: Fred Topel did an interview for Monsters & Critics where Stahelski said something similar:
M&C: Do you expect each John Wick will end on a cliffhanger to set up the next film?

CS: That's a good question too. I don't really plan them as cliffhangers. Honestly, as a director, I don't see another way to end a movie with a character like this. Surely John is neither deserved nor, I don't think, entitled to a ride off into the sunset ending or fall back in love or have a fulfilling ending. I think the theme of finality and consequence hit really hard at home when it comes to that. I think he's just had a really bad day and he might have a few good days in the interim but ultimately, you do bad things, bad things happen. So while concluding one chapter of his life, he has to go into the next one carrying the consequences of what has already been done. If that seems like a cliffhanger, I get it but it's meant more to be an unfulfilled ending.
Thanks Fred!]
The first JOHN WICK is such a classic, and it came into the world as an underdog, this really clever story told by stunt veterans making an incredible debut as filmmakers. A breath of fresh air that action movies were really needing. But as a series it has evolved into something we really haven't seen before – it's not normal for this genre of American martial-arts-based action, so often relegated to budgets that are miniscule compared even to the Albert Pyun days, to get to work on this scale, with this type of production value. And Stahelski makes the most of that opportunity. Like each of the movies before it, but moreso, JOHN WICK CHAPTER 4 is a new classic, a high watermark, an incredible experience that we're going to keep coming back to, that's sure to inspire so many people making action movies, and we can only wish them luck trying to match that, let alone top it. Stay safe out there, stunt people. And thank you for your service.
WOULD YOU LIKE TO KNOW MORE?
Recommended additional reviews for:
Donnie Yen –
IRON MONKEY
WING CHUN
IP MAN
SPL
KUNG FU KILLER
Scott Adkins –
NINJA II: SHADOW OF A TEAR
AVENGEMENT
THE DEBT COLLECTOR
Marko Zaror –
Both Scott Adkins and Marko Zaror –
UNDISPUTED III: REDEMPTION
SAVAGE DOG
Both Scott Adkins and Donnie Yen –
Keanu Reeves –
POINT BREAK
SPEED
JOHNNY MNEMONIC
MAN OF TAI CHI
This entry was posted on Monday, March 27th, 2023 at 7:32 am and is filed under
Reviews
,
Action
,
Martial Arts
. You can follow any responses to this entry through the
RSS 2.0
feed. You can skip to the end and leave a response. Pinging is currently not allowed.