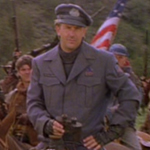 I seriously have been meaning to see THE POSTMAN ever since 1997 when it came out. I thought it sounded like a cool idea, and I seem to remember first hearing of it as an upcoming George Romero movie in a Fangoria Terror Teletype. But then Kevin Costner made it and I guess everybody saying such bad things about it kept pushing it down my list.
Well, I would like to thank everybody for that, because 19 years was exactly the right amount of time to wait – all the sudden there is upheaval in our country that makes this particular dystopia weirdly appropriate. Yes, it's very corny, with slow motion images of triumph made all the more syrupy by a James Newton Howard score. And yes, it is three hours long, but still seems rushed at times, with odd time-passage issues and major scenes that fade in and out like a "previously on THE POSTMAN" highlight reel. But it has a uniquely optimistic spin on post-apocalyptic fiction, and man does it speak to me right now.
Kevin Costner (who directed from a script by Eric Roth [MUNICH, ALI], then rewritten by Brian Helgeland [PAYBACK, BLOOD WORK, A NIGHTMARE ON ELM STREET 4: THE DREAM MASTER, LEGEND]) plays a nameless wanderer in post-Doomwar 2013. The oceans have dried up (reverse WATERWORLD), civilization has collapsed and you gotta do a chemical test on water before you drink it. He's traveling the Utah salt flats with his load-carrying mule Bill, looking for settlements where he can perform Shakespeare scenes in exchange for food. But he's in one of these towns when the Negan-from-The-Walking-Dead-esque tyrannical warlord General Bethlehem (Will Patton, BROOKLYN'S FINEST, ROAD HOUSE 2: LAST CALL) comes through with an army on horseback conscripting ten men from each town. And they choose him.
The new slaves are brought to a mine/fortress to be tormented, degraded and turned into soldiers (if they manage not to be executed for some bullshit). Bethlehem and his men are especially fond of musical chairs type games: if you're the last person in line for food, you don't eat. If you don't sit down in time, you get hung upside down and chopped with a sword.
They have a movie projector, so they do at least get some entertainment at night. I don't really get what Costner is trying to say with this, but of course I have to love the random scene where UNIVERSAL SOLDIER comes on. The men are outraged and throw rocks at the projection booth until the projectionist puts on their preferred movie, THE SOUND OF MUSIC.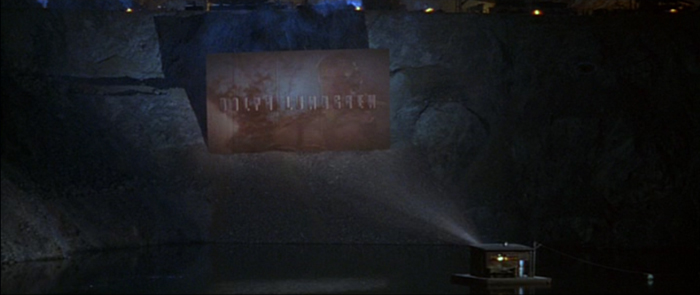 I wonder what their problem is with Dolph? Personally I like both movies. (They later allow him to show his print of SHE WORE A YELLOW RIBBON.)
When forced to go on a lion hunt (!), "Shakespeare" (as Bethlehem calls him) makes his daring escape, and once he's in the clear he takes shelter in a crashed mail truck. For laughs he reads some of the leftover letters.
This gives him the idea for a new hustle. Wearing a uniform stolen from the skeleton inside the mail truck, he goes to the gates of a town called Pineview and scams his way in with lies about representing a new postal service authorized by a "Restored Congress." The town treats him like a hero when he actually delivers one of the 15 year old letters to its intended recipient (Roberta Maxwell, PSYCHO III, BROKEBACK MOUNTAIN). In fact, beautiful Pineviewian Abby (Olivia Williams, just as crushworthy in her movie before RUSHMORE) makes him an indecent proposal to impregnate her, with the full blessing of her infertile husband Michael (Charles Esten, THIRTEEN DAYS). And the self-named Ford Lincoln Mercury (Larenz Tate, MENACE II SOCIETY, in his only blockbuster type movie) begs him for a job in the postal service.
But the sheriff (Daniel von Bargen, G.I. JANE, UNIVERSAL SOLDIER: THE RETURN) knows this Postman is full of shit and sends him packing shortly before General Bethlehem shows up. That visit is disastrous for the town, in part because the general is outraged by Ford having raised the American flag above the old post office. (Also because he kills Michael for telling him not to rape Abby.)
A phony, but not a total asshole, the Postman really does take letters from Pineview to Benning, Oregon. When Bethlehem shows up there too the Postman tries to surrender. Weirdly the movie hasn't indicated much time passing, but for some reason Bethlehem doesn't recognize "Shakespeare" in face-to-face conversation. Maybe because he shaved. The town is attacked, the Postman is injured, but he escapes with Abby to a mountain cabin to recuperate over the winter.
Abby is a little more layered than the bland love interest character I'd expect in a movie like this. She has kind of a lovable psycho streak. Not just her aggressive sexuality earlier, or her beating an attacker to death with a rock, or her lack of hesitation when shooting their horse for food. When the pass is clear she knows he won't want to leave, so she packs what they'll need and sets the cabin on fire. I guess you could call it "lighting a fire under his ass."
"You're really weird, you know that?" he says.
While the Postman was holed up, Ford (in a hand-stitched uniform) went out and actually created a postal service. Ford still believes the Postman's lies about a Restored United States, but writes his own fake letters from "President Richard Starkey" (not a Donald Westlake reference, I guess – it's Ringo Starr's birth name) to rally his troops. They've created routes, post offices, sorting systems and more American flags. They are enemies of Bethlehem, risking their lives to deliver letters. They become a symbol of hope, but also soldiers in a guerrilla war against tyranny.
The tone is pretty melodramatic, but there's a couple weird jokes I got a kick out of. He starts a postal station in a town that is said not to be named yet, then the next time he's there an onscreen title says "ELVIS, OREGON." The mayor of a place called Bridgetown is played by Tom Petty, and it's implied that he's playing himself. Why wouldn't Tom Petty become the leader of a post-apocalyptic settlement?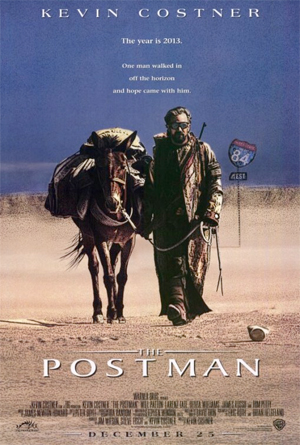 If I'd have seen THE POSTMAN even a year ago I probly would've enjoyed it, but it wouldn't have felt as true as it does now. With the recent change of leadership in the United States, it feels very timely. Warning: I gotta talk about Trump now.
Bethlehem is not a buffoon like Trump, but he's kind of how Trump probly sees himself. He prides himself on allegedly being more knowledgeable and cultured than others – he paints, he quotes Shakespeare, he references history constantly. But much like Trump he's a cruel bully with a petty need to dominate and to be praised. When he finds out the Postman performs Shakespeare he has a quote-off with him, frequently looking over at his men to make sure they applaud his recitations and mock the Postman's, much like the studio audience goons that Trump bizarrely brings to press conferences and speeches now.
Bethlehem calls people names and belittles them. He gets angry at a cartoon making fun of him and calls it "slander." He has men who are sniveling sycophants (Giovanni Ribisi), but others fear him. They have been defeated and humiliated by him; one guy got his tongue and balls removed "and he's followed him like a dog ever since." (see: Paul Ryan, Ted Cruz, et al). He is racist, demanding only men "of suitable ethnic foundation," but leaves it to his grunts to enforce it and use racial slurs. He thinks because of his position he has the right to force women to have sex with him. (It does not specify what he grabs them by.)
The parallels are obvious even before the scene where Bethlehem says, "We had a great nation once" and "I'm going to make us strong again." Of course his way of doing that is destroying the helpful, inspirational institution of government that the guy he doesn't like created. For Trump that's the Affordable Care Act (among many other things), and for Bethlehem it's the quasi-postal service started by the Postman. Bethlehem doesn't care about letters. Why should the poors get letters?
There's also something deplorably alt-right about his group. They're called Holnists, named after "famed motivational speaker Nathan Holn." Bethlehem likes to read quotes from a hardcover Revised Edition of Holn's Seizing the Way To Win, and quote his macho Art of War style "laws." A pre-apocalyptic radio broadcast on the opening credits adds the helpful information that "Church leaders blame the rise of hate crimes and racially motivated attacks on a militia-like group calling themselves 'The Holnists.'"
Of course these assholes are dumb bigots, but that's not even the primary danger of Holnists or Trumpists. In my view, Trump's administration is deliberately dismantling the institutions of government in part to prove an extremist theory that government doesn't really do anything but get in the way of freedom for the super duper rich. Almost across the board his cabinet picks (I read that the first 17 added together have more wealth than a third of American households combined!) are intentionally people with very little knowledge or experience in – and in many cases have openly expressed contempt for – the fields they're being put in charge of. Today they just barely confirmed one of the GOP's biggest donors as education secretary despite widespread opposition from teachers, a humiliatingly bad confirmation hearing and an opposition to public schools, which she did not attend, teach at or have kids go to. Their EPA pick is a climate change denier. Their HUD head just a month or two ago admitted that he wasn't qualified for any cabinet positions. Their energy secretary is best known for having to drop out of the presidential race after saying in a debate that he wanted to shut down the energy department, but not remembering what it was called. He now says that at the time he didn't know what the department did, so he regrets saying that. Oops.
While dumping our resources into enormous tax cuts for the rich and building a stupid fucking wall, they're cutting aid to women's health providers around the world, arts and humanities. They're silencing scientists, hiding their research, removing their conclusions from public view. And I'm sure that's the very, very beginning of the important, sometimes life-saving programs they want to metaphorically hire Russian hookers to pee on while they jerk off nearby and mumble angrily about Obama.
On one hand, Trump and his people obviously didn't think they would win, so you can understand why they never bothered to look into what the government actually does, or make plans for how the fuck they and their knucklehead friends from corporations and racist websights would be able to handle it if they had to. That, combined with no reasonable professional wanting to have anything to do with these hateful fucking lunatics, is why hundreds of important positions are still unfilled. But since they accidentally conquered us they're trying to prove their anarchistic theory. As long as they and all their friends can get even richer at our expense, while dooming our entire planet by doubling down on reckless pollution, it's okay to just put a brick on the gas pedal of government and jump out, hoping the country can make it home and park safely. Or not. Who gives a shit. Not them.
I say all this not just to get it off my chest, but to explain why at this moment I am so ready to understand THE POSTMAN's post-apocalyptic citizens getting so teary-eyed-patriotic about a dude delivering some letters. This communication brings the people hope and unites them. Not just because they can hear from their relatives that they thought might be dead, but because they see a system being put into place, a group of people collaborating to make something work for everyone's shared benefit. And what they achieve together makes them patriotic! It makes them want to put on uniforms with pride, and even raise the American flag above their post offices.
Trump wraps himself in the flag (sometimes literally), but really his administration are General Bethlehem here. They're threatened by the real patriots who are actually standing up for American values like welcoming immigrants, the free press, the independent judiciary, fair elections, and all men being created equal. I hope the left, as well as the right who didn't support Trump, mercilessly dress down these fuckin posers the next time they pull out that dog-eared red white and blue "real Americans" card they love so much. You can't back a guy running on an "America isn't great anymore because of that black guy and the immigrants" platform, elected using propaganda and stolen emails provided by a foreign government, and enthusiastically supported by the ideologies defeated by America in the Civil War and World War II, then entering office in flagrant violation of the Constitution by not divesting from his businesses, and within the first few weeks bad-mouthing judges and defending Putin's murder of journalists because "you think we're so innocent?"… and then tell us that we're not American enough.
Fuck you. You don't get to use that one anymore. You're not proud to be an American 'cause at least you know you're free. You don't believe in shit. You just want your team to dominate everybody else. Get out of the way, assholes. We're trying to make shit work. We're delivering the mail.
Additional reading: The author of the novel, David Brin, wrote about how he ended up proud of the movie despite its unpopularity and very loose adaptation.
This entry was posted on Tuesday, February 7th, 2017 at 11:22 am and is filed under
Reviews
,
Science Fiction and Space Shit
. You can follow any responses to this entry through the
RSS 2.0
feed. You can skip to the end and leave a response. Pinging is currently not allowed.