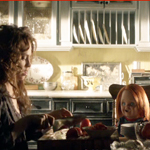 This Chucky series is one-of-a-kind. Of course it all started in '88 with CHILD'S PLAY, a genuinely effective creepfest that put a drop of contemporary into a classic horror premise. It's been a while since I've watched parts 2 (1989) and 3 (1991), but I remember the second is a pretty solid (if unnecessary) continuation and the 3rd one is, you know, terrible. But in '98 the series was ingeniously reborn as absurdist horror-comedy with BRIDE OF CHUCKY, directed by Ronny Yu, and in 2004 we got the severely more ridiculous SEED OF CHUCKY, which was a great time at the movies for me and 25 other people around the world.
The constant through all these movies has been Don Mancini, credited with story and co-screenplay on CHILD'S PLAY, sole writer on every single sequel and director of SEED and now CURSE OF CHUCKY. He's always trying to keep the doll alive so here he is 9 years later doing what he has to do to make a part 6: do it for $5 million dollars, straight-to-video, returning to the roots of it being a serious horror movie about one scary doll instead of a preposterous comedy with a whole family of puppets. The word "reboot" was even used in some write ups since for a while they were planning it as a straightup remake instead of sequel.
As excited as I was to see my boy Chucky back on the (small) screen, I gotta admit I had low expectations for this one. From the trailer it looked like a rehash of the original but on a lower budget. The old scary house didn't look all that atmospheric and seemed like a generic horror location. One thing I love about CHILD'S PLAY is how it finds gothic atmosphere in an urban setting. You don't see that done well too often (CANDYMAN being the biggest exception). And it's obvious that Mancini loves expanding his ridiculous Chuckiverse, so I worried that he was "going back to the roots" because he thought that was what horror fans wanted and not because he really thought that was the right direction to go.
So I'm happy to report that all of my fears were unfounded and that this movie is great. It's stripped down, not jokey like the last two, but full of clever setups and twists, surprisingly involving character drama and actual suspense. It even got my reflexes to involuntarily jump a little bit at one part. It's got some good uses of classical tension building techniques but just when you worry they're classing it up too much there will be an imaginatively gruesome bodily mutilation (at least in the unrated version – modified from its original version, contained here for the first time on the same disc).
The story takes place in a big old house where a young paraplegic woman named Nica (Fiona Dourif – yes, Brad Dourif's daughter) has come to stay with her troubled artist mother (Chantal Quesnelle) after dropping out of college. One day a large package arrives mysteriously, and inside is (SPOILER) a Good Guy doll. Little do they know (SPOILER) that it's Chucky, because they don't know who that is.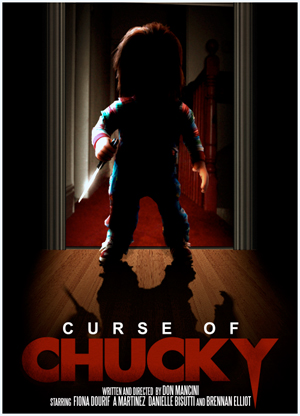 Well, the mother doesn't last long, and because of her issues with depression everybody assumes it's a suicide, and the extended family – Nica's sister Barb (Danielle Bisutti), brother-in-law Ian (Brennan Elliott), niece Alice (Summer H. Howell), their au pair Jill (Maitland McConnell) and also Father Frank (A Martinez) – come to stay with her. So there are plenty of people to potentially violate the not-fucking-with-the-Chuck rule.
Mancini indeed goes back to a CHILD'S PLAY feel by having Chucky only in Good Guy form for a good chunk of the movie. He'll disappear and reappear in a different place or we'll catch a quick glimpse of him scurrying somewhere but mostly we won't see him come to life until later on. I wasn't sure this would work after all the exposure we've had to Chucky, but it does. It turns out long shots of the motionless doll can still be creepy when we know that fucker is in there waiting to pounce.
What really surprised me is how interested I found myself in the characters. You really root for Nica and against her bitch of a sister who likes to subtly demean her and wants to put her into an assisted care facility so she can sell the house (shades of GRAN TORINO). There's also a funny dynamic going between the husband and the nanny, but the nanny, who could easily be one-dimensional-slasher-fodder, has some nuance to her as she shows genuine concern for the well-being of the kid.
I got pulled into all of this so I really cared about who Chucky was gonna get and when. And there are several clever suspenseful setups: Chucky poisons one of six bowls of chili and we have to wait to see who's eating it, Nica gets trapped in a dark elevator holding the doll and not knowing it's evil, best of all is when mistrust between Barb and Ian leads to one of them installing a nannycam on Chucky! That's a found footage movie I almost want to see.
Hats off to Mancini's screenplay, which builds in alot of little things that lead to bigger things, and takes a simple setup in directions I never expected. Without getting all-out jokey there are lots of small touches that made me smile, for example Ian seeing the Good Guy doll as a piece of '80s pop culture he remembers from when he was younger, like He-Man or Cabbage Patch Kids.
Of course we also have the REAR WINDOW/MONKEY SHINES/ABOMINABLE thing going where the hero has to overcome this fucker while not even being able to use her legs. But I'm proud of her ability to scrap with him. I've said it before, somebody just needs to kick that little bastard out a window. Nica can't do it but at least she's willing to punch him in the big dumb plastic head like he obviously deserves. Also there are some novel and genuinely creepy things that could only happen to a character in this situation.
Meanwhile there's also this mystery about how exactly these characters tie in to the larger CHILD'S PLAY saga. Eventually we do find out how it connects and the movie goes into crazy overdrive. At first they do a good job of making the movie completely understandable to somebody who's never seen a Chucky picture, then toward the end they're like "fuck it, this is mostly gonna be fans watching anyway" and they give us alot of cool and sometimes funny links to previous installments. Concerns that this ignores the events of BRIDE and SEED were unfounded. Chucky even makes a reference to having terrorized the actress Jennifer Tilly in the last installment. (No mention of disemboweling Redman.)
It wouldn't be surprising if they decided to go mostly digital Chucky in this one, as hard as it is to work with complicated animatronics. But don't worry, they don't. I bet they used the ol' computers here and there, like there's a really cool walking shot that I think (but couldn't be sure) was animated. But the vast majority of it is the good ol' puppets we love, limitations and all. And possibly little people or children in costumes for some shots. Good stuff. There are some great shots that really make Chucky look scary, my favorite being a shadowy one of him standing at the top of a stairway looking down.
What is the Curse of Chucky? I guess it's the curse of having met this little asshole. If he knows you somehow, or if somebody mails him to you, he's gonna ruin your life. I thought maybe it would also end up being that Chucky himself is cursed, that it's hard out here for a doll. But they don't really get into that. He seems to be enjoying himself for the most part. However there is one other possible double-meaning, because it's sort of a theme that Chucky has a potty mouth that he passes on to the little girl. So the Curse of Chucky could just mean that he teaches little kids to curse.
Usually you gotta hold any DTV sequels to a lower standard than the theatrical ones, but I honestly think you don't have to here. The limited location is used as a strength and visually it seems like a "real movie" to me. Watching it made me want to dust off the box set and watch all the other ones again, so maybe I'll change my mind but I think this one is as good or better than the two sequels before BRIDE. It left me excited about other possible ways the series could continue, although it also would be a good sign off since it kind of ties together all of the previous entries. If it weren't for FURIOUS 6 this would definitely be the best part 6 of the year.
IMPORTANT TIP: Leave it playing through the credits. Not for any reason you know. Just, you want to show respect to all these people that worked on it, right? So don't turn it off during the credits.
SUPER SPOILER SECTION TO HIGHLIGHT ONLY IF YOU'VE SEEN IT: Isn't it great that in the world of these movies the actress Jennifer Tilly is possessed and helping her killer doll boyfriend murder people? I wonder if Meg Tilly is gonna find out about this? Also, does she still have those kids? She must live a complicated life.  And does this mean that in movies Tilly's done since SEED OF CHUCKY, like TIDELAND and stuff, that's actually Tiffany? Has anyone noticed a drop in her acting skills?