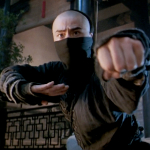 You may be surprised to hear that I had never seen IRON MONKEY (1993) until now. I rented it many years ago but it turned out to be some Miramax dubbed and chopped version, so I decided to hold off, and I guess I got sidetracked. Now, upon the occasion of a new blu-ray release, I finally watched it. So I'm happy to be the last to tell you this is a straight up martial arts classic!
It's directed by Yuen Woo-ping (he followed it with TAI CHI MASTER and WING CHUN – that's a hell of a trilogy!) and written and produced by the prolific Tsui Hark. I could also say "the visionary Tsui Hark" or "the lovable weirdo Tsui Hark," but I said "prolific" this time because THE EAST IS RED and ONCE UPON A TIME IN CHINA IV (which he wrote) and ONCE UPON A TIME IN CHINA III and GREEN SNAKE (which he wrote and directed) all came out that same year.
The titular Iron Monkey (Yu Rongguang, TSUI HARK'S VAMPIRE HUNTERS) is a Zorro-meets-Robin-Hood-meets-kung-fu folk hero known for leaping around on rooftops at night, stealing the ill-gotten gains of corrupt government officials, and leaving his loot as gifts for refugees and the poor. Our story begins with the authorities battening down the hatches to catch Iron Monkey if he comes for the new governor (James Wong, TIGER ON BEAT), who is cowering in a bed with his mistress (Cheung Fung-lei) and a net set up for protection. But Iron Monkey flips in in his black costume and gaiter and defeats the guards and Shaolin monks guarding the governor. (He either implies the monks are imposters or sell outs, I'm not sure which.) He gets the gold and escapes through the ceiling. Don't fuck with Iron Monkey.
He's got a set up kinda like Batman or the Green Hornet. During the day he's Yang Tianchun, a respected member of the community because he's a traditional physician who treats those who can't afford it for free and overcharges those who can afford to be overcharged. His Alfred and/or Robin is Miss Orchid (Jean Wang, ONCE UPON A TIME IN CHINA IV and V), who he rescued from a brothel and I believe is in love with. She aids him at the clinic and in his night time activities, even sometimes joining him on the roof with the same black uniform.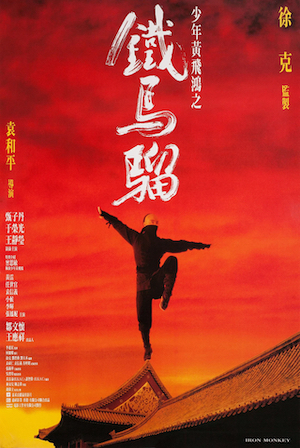 Iron Monkey also has sort of a Commissioner Gordon named Constable Fox (Yuen Shun-Yi, Woo-ping's brother and co-choreographer). He's buddies with Yang and he seems to be too dumb to catch on that he's Iron Monkey, but possibly he just acts that way.
With an Imperial official expected to visit soon, the governor orders a crackdown on anyone with any ties to Iron Monkey, so the cops round up people doing monkey kung fu, selling things having to do with monkeys, saying the word monkey, and they even arrest an actual monkey (I like that joke). While this is going on, another respected physician and martial artist, Wong Kei-ying (Donnie Yen between NEW DRAGON GATE INN and BUTTERFLY AND SWORD) is in town, visiting from Foshan with his young son. Some guys try to rob him and he kicks their asses so well that he too is arrested as an Iron Monkey suspect.
Kei-ying's son is played by a 13-year-old girl, Angie Tsang, so I guess this movie will be illegal soon in some parts of America, but it works really well because she was a member of the Hong Kong national wushu team and acquits herself well in the fight scenes. As you might have guessed, she's playing the non-fictional folk hero Wong Fei-hung, portrayed by Jackie Chan in the DRUNKEN MASTER movies and Jet Li in the ONCE UPON A TIME IN CHINA series (which some say this is a prequel to). Fei-Hung is important here because the sadistic governor threatens to brand him to get Kei-ying to confess to being Iron Monkey. And even though the real Iron Monkey appears and saves the kid, Kei-ying puts up an impressive fight against him and then offers to capture him in exchange for letting the other prisoners go. The governor agrees, but keeps the kid as collateral.
(My favorite detail in that scene is that Iron Monkey slices off one of the governor's eyebrows, and the governor is embarrassed and keeps covering it with his hand.)
Once he's freed, Kei-ying goes to buy some noodles, and the merchant asks if he's the guy who fought Iron Monkey. He nods bashfully, like a celebrity being asked for his autograph, but it's the opposite – now the guy refuses to sell him noodles. Another guy won't sell him rice and a third guy gets pelted for trying to clandestinely sell him one dumpling at an inflated price. This town doesn't like narcs!
But he hasn't eaten in two days. If only there was someone to look after the poor around here. Oh, wait – there is! Miss Orchid sees him about to eat food he found on the ground so she lets him into the clinic and cooks soup for him. He also participates in the cooking and meets Yang, having no idea, of course, that these are the people he's after and that they're being so kind and hospitable to him despite knowing that. I like when she warns him they stay up late.
One funny thing Iron Monkey and Miss Orchid do is go to the governor pretending to be the Imperial official and his assistant. Iron Monkey just acts like a total entitled asshole, berates them and gets more of their treasure. So later when the real official, a former Shaolin monk called Hin Hung (Yen Shi-Kwan, THE HEROIC TRIO), shows up and takes over, they look like total jackasses. I think it's funny that Iron Monkey's disguise (bald head, long black beard, giant eyebrows) looks very similar to the actual guy who shows up, like it's easy to guess what this type of asshole is gonna look like.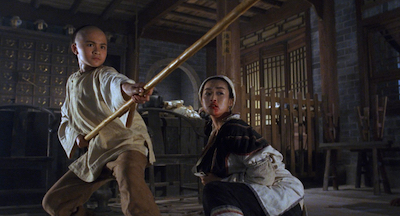 At the jail, little Wong Fei-hung gets sick, and Constable Fox arranges to have him stay and be cared for at Yang's clinic. As long as he's there they teach him some martial arts. It's like Forrest Gump showing Elvis all his moves.
Iron Monkey and Kei-ying are both injured in separate fights with Hin-hung and his men, they share medicinal advice, and inevitably Kei-ying learns of Yang's secret identity, realizes he's the good guy, and joins him. Or, from the point-of-view of The Man, is radicalized by him. He even puts on the costume!
Hin-hung's men also attack Miss Orchid at the clinic, and she begins to hand them their sorry asses, except they drug her. Wong Fei-hung attacks and helps her escape. Good kid. I'm proud of that boy.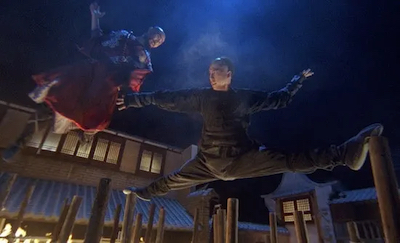 For the finale, Iron Monkey and his fellow black-clad doctor battle Hin-hung while balancing on top of a bunch of burning wooden poles. It's wonderful. Action-wise the whole movie is Yuen operating at the top of his game – that beautiful symphony of fighters flipping and gliding through, and then sometimes cracking, their wooden surroundings. Nimbly hopping from roof to roof, dropping from rafters, flipping and twirling, fighting with long wooden poles, umbrellas, torches, doing the splits and dropping to the ground when a low blow is needed. When they swing and miss, their fists and feet tend to smash through nearby furniture or structures, even causing roofs to collapse.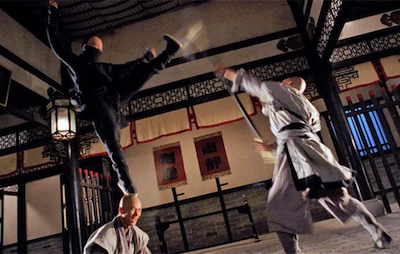 They seem to enjoy "the floor is lava" type games – leaping from table to table, or from bald head to bald head, or throwing a stack of papers in the air and then flying around gathering them all before they hit the ground. Hin-hung knows the Buddha Palm that leaves a poisoned, hand-shaped red mark on your skin, and yells "Flying sleeves!" when the sleeves of his robe extend like Mr. Fantastic's arms. It's funny to read old user reviews where even people who liked it complain about unrealistic wirework or undercranking. I've never understood those people who like kung fu movies except for the best parts. I guess they didn't read the sign on the door, but realism is as unwelcome here as greed is. Fuck off, realism, you bootlickin sonofabitch!
That said, as with most of my favorite kung fu movies, the story is even more important than the action. The fights are the ritual, the story is the sermon. When Yuen's engine is really blasting, like this, his overall storytelling is as energetic and solidly constructed as his choreography. IRON MONKEY has great pacing, the occasional humor is well integrated, and its mythical heroes really captured my imagination. I don't think it's ever explicitly stated that Iron Monkey and Orchid are a couple, but the life partner type chemistry between them is strong and beautiful. I guess some people say the same about Batman and Robin. Anyway, I support their cause and if they need, like, a Nightwing or whatever, I would be interested in interviewing. (I would require quite a bit of training, to be clear.)
P.S. Surprisingly this was only nominated for one Hong Kong Film Award – Best Action Choreography, and it lost to FONG SAI YUK. It was arguably pushed out by competition like Ronny Yu's THE BRIDE WITH WHITE HAIR, which won three awards that year, but the big categories went to the romance C'EST LA VIE, MON CHÉRI.
This entry was posted on Thursday, February 16th, 2023 at 11:36 am and is filed under
Reviews
,
Action
,
Martial Arts
. You can follow any responses to this entry through the
RSS 2.0
feed. You can skip to the end and leave a response. Pinging is currently not allowed.