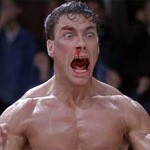 In the second of Hong Kong director Tsui Hark's surrealist double feature with collaborator Jean-Claude Van Damme (the first was DOUBLE TEAM), the eel really hits the ass. You probaly haven't heard that saying before, because I just made it up, but it means "shit gets real weird" and it comes from the scene where Van Damme is pulling Rob Schneider in a rickshaw and Schneider starts whipping him with an eel while yelling "Move that beautiful ass!" That's something most of us will only see in a handful of movies and TV shows within our lifetimes.
This time Van Damme plays the head of a Hong Kong fashion exports corporation who gets mixed up in a CIA/Russian mafia/Triad/terrorist plot because he sells inferior knockoff jeans that have a lower quality denim as well as high powered miniature explosives in the buttons. One of the very first exploding jeans movies. If that doesn't tell you this is one of the weirder Van Damme pictures how about these tidbits: Rob Schneider plays his partner, there is a shot from the POV of Van Damme's foot going into a shoe, it takes place in a world where fire is green. Or at least the fire that comes from these bombs. That's some remarkable technology there – not only is it small, it changes the color of fire. I wonder what color air is in this world?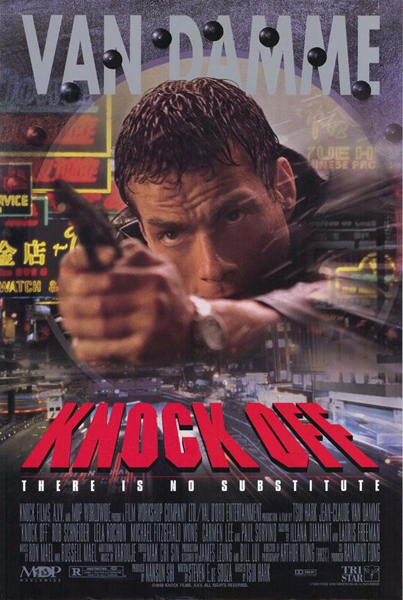 I was pretty excited last year when I read about the bootlegger mall in China where they were gonna have an "Adidos" store. The real Adidas store in Seattle went out of business, it would be nice if we could get an Adidos in there. I thought maybe it would be cool to have an Adidos track suit. I should start doing some sport so I could be sponsored by Adidos. Maybe I will start the Adidos Parkour Squad.
KNOCK OFF doesn't have Adidos, but Van Damme does wear some "Pumma" running shoes that break apart in closeup during the rickshaw race. His friend Eddie, who sort of gets him into this mess, is targeted for assassination, but they first kill a knock off Eddie – a double he used to cheat in the rickshaw race. Van Damme is a knock off, pretending to be a respectable business man when really he's "the knock off king of Hong Kong." Schneider is a knock off because he's actually an undercover CIA officer (weird – out of the two I would've figured the muscular kickboxer was the CIA guy). Lela Rochon is also a CIA officer knock off of an executive for the V-Six Jeans Corporation. Paul Sorvino (yes, Paul Sorvino is in this movie) is also not who he appears to be. Even the movie itself is a knock off of a Hollywood movie, because it's got this cast and a script by DIE HARD's Steven E. De Souza, but it's all weird and shot Hong Kong style – dreary grey skies, faded film and a good chunk of it clearly shot without sound and dubbed in later.
The movie also takes place during Hong Kong's switchover from British colonial rule, so I'm tempted to think it's saying that old Hong Kong was a knock off of real China, or the Hong Kong film industry under Chinese rule was gonna be a knock off of the film industry that Tsui and so many great movies had come out of. But really whatever it does or does not symbolize it's a historical reminder of why the hell Tsui would be making a movie like this. All the big Hong Kong directors were terrified about what would happen to their industry and careers under a new government, so they were taking Hollywood/Van Damme jobs to prepare themselves in case it got real bad there and they had to leave. It was like setting up a hideout.
I can't find it now but I could swear Moriarty wrote something one time about Steven E. De Souza and how he supposedly wrote KNOCK OFF because he was so sick of producers trying to hire him to write DIE HARD knock offs that he wanted to write a script that would just destroy that type of movie forever. I'm not sure how that works exactly, did he picture the bigwigs saying, "You know what, we got this idea about 'Die Hard in a bookmobile,' but De Souza already did 'Die Hard in your jeans,' so let's just move on to something else"? I don't know man, I'm not sure that was such an airtight plan, and I don't think it worked. If he really wanted to kill the DIE HARD style of action movie he shoulda just wrote THE MATRIX.
The action is pretty good, lots of fighting, the nice rickshaw chase, and some cool slipping-around-on-wet-floors fights before THE TRANSPORTER. Rochon even seems to do a few of her own stunts. I'm sorry to report that Sorvino doesn't do any kung fu, but he does have a pretty funny (SPOILER) death – he seems to get blown up, but in the epilogue we learn that he's alive, and then Van Damme and Schneider blow him up on accident without even realizing it. Maybe that's how De Souza meant to kill DIE HARD. Hans Grueber fell 34 stories in slow motion looking McClane in the face, Sorvino dies on his own without his killer even being nearby.
If you're looking for a great example of Hong Kong cinema, or just a really well made action movie, then KNOCK OFF is the one for you. To not choose. But if you want the downright weirdest ones made in the '90s it's pretty much this and DOUBLE TEAM.