When Van Damme got his chance to play twins for the first time of course he took it. But while he was out double impacting the saga of the Sloane brothers had to continue, so they invented a third brother besides Van Damme or the champ older brother whose death in the ring with Tong Po he had had to avenge. They say this new one, David Sloane, is not as strong or fast as his brothers, but has "more heart." And the movie actually backs that up.
The first half is actually kind of like REDBELT. He's struggling to keep the family gym/dojo in the black, but still refuses offers to fight professionally. Instead of Ricky Jay you have Peter Boyle as the sleazy sports entertainment business man (but he kind of has a conscience – the guy you really gotta look out for is his partner Cary-Hiroyuki Tagawa). When they try to recruit Sloan and he refuses he tells his confused student, "He's gonna take a sport that we both love, that we would die for, and destroy it."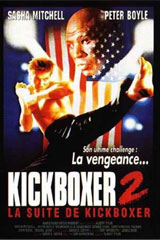 David Sloane is played by Sasha Mitchell, who is an actor, not a real kickboxer, so you don't get any splits in this one. Seems like the filmatists taught him and stunt doubled him well, so I didn't have a problem with it, but Van Damme definitely was more impressive in his fights, so this could be a dealbreaker for some people. The trade off is that Mitchell is a more competent actor and English-speaker than Van Damme. And since I'm a sucker for these kind of purist, idealistic, honorable warrior type heroes I enjoyed the early scenes of him in the gym philosophizing to the kids he recruits off the streets as his students (theory of badass juxtaposition). He has kind of a square charm to him that I thought was likable. Just seems like a really nice guy.
That different type of protagonist gives it a real different feel than the original, but it also maintains continuity by using more of those cheesy ROCKY sequel type motivational rock songs. And there's a goofy scene where you find out Tong Po later shot Van Damme and killed him. Which in my opinion is VERY poor sportsmanship.
Unfortunately, the second half of KICKBOXER 2 turns into the obvious sequel you'd expect. C-H T pulls a trick to change who Sloane's former student has to fight. An opponent comes out with a bag on his head and although it would be pretty cool if it was Van Damme under there (or a headless kickboxer) it turns out to be the dreaded Tong Po, who you may remember is Michel Qisi (director of TERMINATOR WOMAN) wearing makeup to look like a scary Asian. Not surprisingly he kills the student in the ring just like he did in KICKBOXER 1 when he was doing it just like Ivan Drago did in ROCKY IV.
Dennis Chan returns as the goofy Muay Thai mentor Xian Chow. He trains the younger Sloan to defeat Tong Po (to avenge the deaths of his niece, his student, his student's brother, and his dog if I remember correctly), but there's not that many montages and no hilarious dancing in a bar. You can't do that without Van Damme. At the end (AMBIGUOUS SPOILER) it's not clear if Tong Po is alive or not. I'll have to watch part 3 to find out if he later surprised David in a dark alley and shot him. I hope not, because they said there were no more Sloane brothers. I guess there could be a cousin.
I gotta say, I don't agree with C-H T's honor math. He believes Tong Po lost his honor by being defeated by Kurt Sloane, and since Kurt is dead Tong Po can't get a rematch and can only regain his honor by defeating David Sloane. #1, how is that equal to pick on the kid brother? Everybody in the movie repeatedly says he's not as good as his brothers, and obviously he can't do the splits, so what are we doing here? #2, why doesn't the whole cold-blooded murder thing fit into the equation of honor? I think that needs to be balanced out with a point blank execution of Tong Po, and then his brother would fight Kurt's brother and the honor would come posthumously, like Harvey Milk's Medal of Freedom or Tupac's last six albums.
Of course they have to repeat the famous forearms-dipped-in-broken-glass fight from part 1, but like before it's kind of useless because it seems to cause no damage, they keep hitting each other and barely bleeding. It's not until they get to that required moment in the fight where the hero seems to be done for that he suddenly has blood all over him like an extreme wrestler.
At the beginning of the movie Sloane's young tomboy friend/youth outreach manager (Heather McComb) brings a juvenile delinquent (90210's Brian Austin Green) to meet him. B.A.G. is unimpressed with what he sees until Sloane puts on a blindfold and lets the little brat try to hit him. Of course he dodges or blocks all the blows and spouts off about the power of the mind and when all seems lost and completely dark you're actually at your most etc. etc. This turns out to be the key to his fighting, because there's a callback to it at the end when he's getting his ass beat by Tong Po and his vision is blurry. He remembers to focus his mind the way he does when he's blindfolded, and that's how he beats (kills?) Tong Po. In other words, he beats him by pretending he's Brian Austin Green. If you're ever covered in blood and the monster who killed both your brothers is close to beating you to death, just imagine he's Brian Austin Green. I repeat: he is not the huge, menacingly-pony-tailed beast who practices his kicks by breaking columns with his bare foot. He is in fact the nerdier kid from 90210. Get that in your head and you are indestructible.
The writer is David S. Motherfuckin BLADE Goyer, so it's pretty good with a solid action movie structure. The director is Albert Pyun, but I never would've guessed that because it's both watchable and kind of good. It even has crowd scenes. Definitely his best that I've seen, even if the second half is too much of a rehash. I can't find the comment right now, but one of you recently said that "Pyun" is the sound that bullets make when they ricochet off things in westerns. I like that, but in fact it turns out it's the sound of Tong Po getting kicked in the face by the guy from SPIKE OF BENSONHURST.