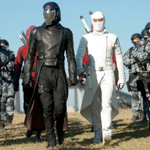 GI JOE: THE RISE OF COBRA was a stupid fucking movie from a shitty director. I loved it. It was just so un-self-consciously ludicrous that it was hard not to enjoy. Like a hyperactive little kid that you would never want to be a parent to but just seeing him jump around giggling for a minute makes you laugh.
The directionist was Stephen "THE MUMMY" Sommers, a veteran of loud, dumb, rhythm-less and weirdly low rent big budget summer blockbuster type movies. The guy couldn't direct his way through a "DIRECTORS ONLY" door, but he's excited enough about ninjas and funny masks and shit that he accidentally made a fun one. I would say he made RISE OF COBRA fun not so much through his talents as through a series of coincidences.
So hiring Jon M. Chu for the sequel seemed like a stroke of genius. He doesn't have any action or big budget credits to his name, but he did make some sequels that greatly improved on a series without betraying its silly roots. His STEP UP 2 THE STREETS added many clever gimmicks and an ensemble of appealing underdogs to the template of the teen-dancers-from-opposite-sides-of-the-tracks original. With STEP UP 3 he went even further, maintaining an earnest melodrama at the core but placing it in a cartoonish world where dancers have light up clothes, roof top parkour training sessions and coats with built-in speakers for public restroom dance battle ambushes. I've watched it a couple times even. I bought it on 3D blu ray and I don't even have a 3D TV. Chu is the Justin Lin of dance movies.
It just seemed right. A better director than Sommers, in my opinion, but not a guy that's above the material. If he could approach it exactly like STEP UP it would be perfect: embracing the absurdity, but taking it seriously.
I mean, I wasn't totally wrong. He did alot of things right, even if the movie didn't live up to my hopes for it.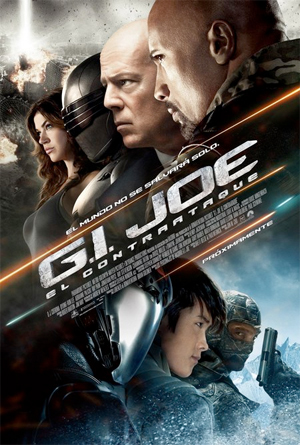 Chu wasn't a fan of the first movie, and maybe that's why at the beginning of the sequel he has the whole GI Joe team get massacred, with only a handful of survivors. Roadblock (Dwayne T.R. Johnson) and 3 other new characters survive by jumping in a hole, but part 1's main character Duke (Channing Tatum) is killed. We're told that the entire rest of the team except for Snake Eyes (1999 Outlaw Award winner Ray Park), who was out of town being framed for assassinating the Pakistani president, was killed. So I assume that means that Dennis Quaid, Rachel Nichols, comic relief Marlon Wayans and everybody else from part 1 were in the pile of dead bodies there. Sorry guys. We'll pour one on the curb for you. Thank you for your service.
The survivors are branded terrorists and replaced by Cobra as America's elite fighting force, so they have to go into hiding in an old gym/garage and in Bruce Willis's kitchen.
Most of the bad guys don't return either, or at least the actors don't. The terrorist leader Cobra Commander, who has to escape from being paralyzed in a tank deep underground in a German prison run by Walton Goggins, is no longer played by Joseph Gordon-Levitt. Now he's masked Luke Bracey, voice by Robert Baker, the backyard brawler/cockfighter guy on this season of Justified. The other guy, Destro, is also in the prison, but Cobra Commander decides to leave him there. The Baroness is not mentioned. Master of CGI disguise Zartan is still supposedly Arnold Vosloo, but you only really see him in a couple brief special effects shots, because he spends the entire movie disguised as President of the United States, so he's played by Jonathan Pryce. (Is it fair to say that Pryce is the replacement for the replacement Darkman?)
Remember, in part 1 Zartan ambushed the president, and we thought "ha ha, Zartan is gonna pretend to be the president." And then at the very end of the movie the president started whistling "For He's a Jolly Good Fellow" like Zartan did earlier, and we thought, "wait, we weren't supposed to know Zartan was pretending to be the president until now?" Part 2 sort of continues in that tradition. Of course it knows that we know that the president is really Zartan, but the heroes still have to spend 2/3 of the movie trying to figure out why the president is acting weird. They figure out that he was replaced by an impostor in part because he started saying "pop" instead of "soda." (I gotta assume he was deep into some kind of anti-obesity campaign if he really said those words enough to register.) They have to mount a big undercover infiltration in order to steal a hair and test the DNA.
I mean don't get me wrong, I appreciate the ludicrousness, but it makes the movie fall kinda flat when the heroes' primary goal is to catch up to where the audience was at 4 years ago.
The villain who does return is the best one, the white-clad ninja Storm Shadow, played by the great Byung-Hun Lee of I SAW THE DEVIL. Like in the first one the most legitimately good part of the movie is the part about the ninjas. Storm Shadow has a complicated relationship with heroic black-armored and masked mute Snake eyes. I forget the back story exactly but they grew up together. That turns out to be important here so I probly should've read the wikipedia page or something. The movie assumed I remembered some shit I have no recollection of involving Storm Shadow murdering their master, but it was totally worth bringing up again for the ludicrous twist they add to the proceedings.
Now Storm Shadow has a cousin named Jinx (Elodie Yung from DISTRICT 13 ULTIMATUM) and they all have a master named Blind Master, played by RZA. I knew he was gonna be in it but was pleasantly surprised that he gets to do lots of wise Sifu monologuing in a style just like on his albums or the narration in THE MAN WITH THE IRON FISTS. He seems to live on Ninja Mountain, which I believe is north of Jungle Village. I think all the shots of him are in Shawscope.
As we all saw in the trailer there's a big ninja battle on the side of the mountain, it involves rapeling, swinging, ziplining, and lots of ninjas getting their lines cut and retiring to the great Cobra Command Center in the sky. I think everybody agrees this is an amazing scene that stands out as being way better than anything else in either GI JOE picture.
I also like that there's a whole honor thing going on between Snake Eyes and Storm Shadow where they team up to find a common enemy and since Snake Eyes can't talk they have to bond through expressionless nods and offers of sword lending.
There's a new guy on the Cobra team, the great Ray Stevenson as Firefly. He's a guy with a burnt up face whose talent is, I think, controlling robotic glowbugs that explode. When they fly around they make those type of computery sounds they couldn't get enough of in the TRANSFORMERSes, so I guess we'll have to consider that The Hasbro Sound. It's always great to see Stevenson, even though his Cajun accent (if that's what it's supposed to be) is not that hot and he isn't given room to elevate his character with a poetic performance like he did in PUNISHER'S WAR ZONE.
I think RETALIATION has more legitimately cool things in it than the first one. The Rock is a much more charismatic lead than Tatum was, and in fact Tatum is much more likable in his small appearance. In the first one he seemed like he didn't really want to be there, in this one he's funny and jokes around with the Rock. The digital effects in this one are not as constant but are up to modern standards. RISE OF COBRA was funny how ridiculously out of date and cheap everything looked, in this one the standout scene (Ninja Mountain) is presumably mostly animated, but looks real. Snake Eyes doesn't have the rubber face so although goofy he looks less goofy. Same goes for Cobra Commander. And there are some cool vehicles, especially Roadblock's bouncy high speed tank (which he borrows from Bruce Willis, but unfortunately they don't show him driving it out of the garage and through his suburban neighborhood).
Oh yeah, Bruce is in this. I guess he fulfills the Dennis Quaid role as the older mentor figure. He gets some okay jokes and one good corny emotional moment, but it's not one of his more heartfelt performances. I prefer Quaid's honest attempt to add gravitas to a gravitas free zone. Did anybody notice that poor Bruce looks kinda wimpy standing next to Jai Courtney? Well, picture him standing next to The Rock. Maybe he should've kept his coat on.
I have a question about The Rock. Is he owned by Under Armour? I don't know if you know this company, they make athletic gear. They were started by a high school football player who didn't like his shirts getting soaked with sweat during practice and he sewed some shirts from the fabric of women's lingerie. He made a small business innovating in "sweat wicking" materials and it grew into a company so huge it's now one of the main competitors with Nike. I have one of their sweatshirts that's made out of "Charged Cotton" that repels water. It's kinda ugly but it's crazy because really, the rain rolls right off of it. I saw a profile of them on Dateline NBC or some shit and they are like the jock answer to Pixar, this utopian workplace where every employee is assigned a personal trainer.
Anyway I bring this up because The Rock has the Under Armour UA symbol on his chest for this entire movie, and before the movie they had the trailer for THE FAST AND THE FURIOUS 6 and in that he also has the UA on his chest. Also I remember Stone Cold had the UA in HUNT TO KILL, that might've been the first time I noticed it.
Is it possible that these guys are athletes who are given these products and find that it's useful to them because they're big dudes who get sweaty and so that's what they like to wear in movies? Yes, it is possible. But it is also possible that the Under Armour company purchased the rights to all WWE wrestlers with geologically themed names, so now if those guys want to show their likenesses on film they're contractually obligated to have their owner's logo visible at all times. That's the theory I believe, and thanks to the brave sacrifices of people like Duke and Joe Mazello from Justified it's a free country so I can believe what I want to believe.
RETALIATION is just all around a better designed, better acted, less moronic movie than RISE OF COBRA. But I'm sorry to say that doesn't make it more enjoyable. Part 1 felt like it never quit. Every couple minutes a ninja pulls out a jet pack or they're bouncing around in power suits or the guy with the rubber face is standing there like he doesn't notice that he's not a normal guy that can just stand there, and there are jets and submarines and things that just look fake and you laugh and I think there was a CGI polar bear at one point and Joseph Gordon-Levitt did a humorously mega dual-super villain performance and a guy had a metal head and they would refer to "Dr. Mindbender" in dialogue as if that was normal. And it kinda felt like Stephen Sommers didn't know this wasn't an awesome cutting edge summer blockbuster. It's not just that it doesn't wink at you, it's that it doesn't seem like it is aware that there is any reason to wink at you. There was a certain naive crappy beauty to it.
In comparison this one is more tasteful but kinda dull. There's a long stretch in the middle where not a whole lot actually happens. The Joes are walking through a desert for a while and then talking in a gym for a while. It's great that they upgraded to The Rock, and he does look like a giant action figure when he's standing on top of a tank shooting a gun that' s bigger than Bruce Willis. But he's still The Rock in military gear, which we could probly see in other regular movies. In this movie I want the emphasis to be on the crazy cartoon MORTAL KOMBAT type shit that you don't get in all the other shit. I even kinda missed the rubber mouth on Snake Eyes.
They got this colorful villain in Cobra Commander but he barely gets any screen time compared to Zartan, who is not very exciting when he's just pretending to be the president. But at least at the climax when he gets all the world leaders together to trick them into launching their nuclear missiles and then to override them so that, you know… what he does with the satellite that he has, with the Cobra symbol on it. You know come to think of it I have no clue what the evil master plan was. But in that scene he reveals his true colors so he gets to be really funny finally.
So anyway, that's what happened when I had high hopes for the long delayed release of the sequel to the terrible movie built on nostalgia for a shitty cartoon from the '80s made to sell militaristic toys to little boys. But while it is an underwhelming movie in many ways it also has a long list of things that made me happy, including but not limited to the Secret Service agents wearing Cobra lapel pins, the White House flag being replaced with a Cobra flag, Jinx beating up an old lady for some reason, Cobra Commander and Storm Shadow arriving at a nuclear summit on the front of a hovercraft, Storm Shadow consciously stopping his heart as part of a prison escape, and of course any time when a person or a computer screen refers to "Zartan" or "Destro" or "Cobra Commander" as if it's their actual names and not weird.
So I had fun with it, and I suspect it will seem a little better when I watch it again some time a few years down the line. We were all excited and we saw so many of the highlights in the trailer and then they delayed it for almost a year and we still kept seeing the trailer. And it also ended up sort of a victim of bad timing because they kill off the actor whose popularity exploded between the two movies, and like THE LAST STAND they have an extensive "ha ha, this guy has like a thousand guns in his house" scene that doesn't seem quite as cute at this particular moment in our nation's history when our frequent real life gun massacres are starting to wear out their welcome. (The reverse of Channing Tatum.) Later on, with no expectations, these things probly won't matter as much, and it'll just be a pretty fun movie about tanks and missiles and The Rock and Ninja Mountain.
P.S. I know I've been saying this for years, but I think the momentum is building, the time has come. Isaac Florentine for GI JOE 3. Make it happen, toy company.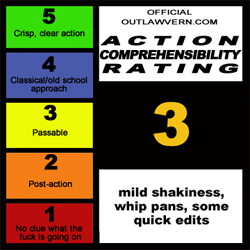 This entry was posted on Monday, April 1st, 2013 at 1:58 am and is filed under
Action
,
Bruce
,
Reviews
,
Science Fiction and Space Shit
. You can follow any responses to this entry through the
RSS 2.0
feed. You can skip to the end and leave a response. Pinging is currently not allowed.