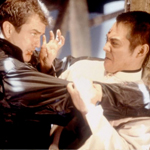 LETHAL WEAPON 4 is a family affair. In part 1 we just had suicidal widower Riggs becoming friends with ol' Murtaugh and his family. We still have them, but also their friend Leo (added in part 2) and Riggs's girlfriend Lorna (added in part 3) who now he's thinking about marrying and they live together so now he has two trailers next to each other instead of the one. And he still has his dog from part 1 plus the dog guard he stole from the bad guys and rehabilitated in part 3. And Lorna is pregnant and Murtaugh's daughter Rianne is also pregnant and also Chris Rock is in this one and also a Chinese family called the Hongs. There's even four new writers on this one. The cast just keeps getting bigger, like how in a long running sitcom like The Cosby Show or Roseanne they have a bunch of new grandkids and spouses and shit added on by the end.

Because of that it's unwieldy and kinda forced sometimes how they find all these people things to do, but also it's kinda sweet that they care about these characters and want to keep revisiting them. And the end credits is a photo album with not just the actors but also the crew members and they play "Why Can't We Be Friends?" by War and it's just a good, positive vibe. They wanted to give a happy ending to this guy Riggs who used to wake up every morning and put a gun in his mouth. (Some people just drink coffee.)
The villainy is international again. This time it's human trafficking. A Chinese general is running an operation where they smuggle people into the U.S. but make them indentured servants to pay off the trip. Through ridiculous coincidence Murtaugh & Riggs + Leo get involved because they're out fishing (Murtaugh has a new boat) when the ship comes in and almost hits them and they get in a shootout. And they do well in that shootout despite being 3 guys in a tiny boat going up against dozens of heavily armed guys in a huge boat. 'Cause Riggs is a lethal weapon. And 'cause 'Nam.
By the way, in this scene there is also a shark. I think Donner knew this was gonna be the last one and he wasn't gonna fuckin skimp out. He wasn't gonna not put a shark in it.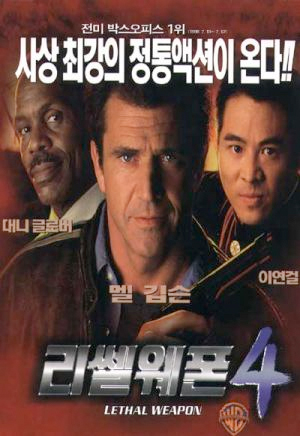 The Hongs, who include among their members a cute young boy named Ping, are one of these families being smuggled on the boat, and they come to live with Murtaugh after he discovers their plight. Riggs points out that he's an officer of the law sheltering illegal immigrants, but Murtaugh can't justify not helping them. "I'm freein slaves," he says. He figures if he could help his people during the slavery days he would've done it and if he can help these people now who are being forced to work for bad people then he has to do it.
Part 1 was written color blind, but all three sequels have Murtaugh facing issues that are personal to him because of his race. This may be partly because of Glover's own activism, or partly because Donner tries to get some of his messages into each of these. This one also shows some anti-handgun/NRA posters in the police headquarters, in the tradition of the anti-fur message on the semi, except that it makes more sense for cops to care about keeping guns off the streets than truckers to care about keeping minks off of lady's backs.
But if you're worried it's "politically correct," don't worry, Riggs is pretty racist in this one. It wasn't as bad as I expected from what I'd heard over the years, but having him taunting an Asian man about the ol' l's instead of r's stereotype is a knuckleheaded addition to an obviously well-meaning movie. And why do racists always go to food for their insults? Just once I'd like to see a racist dipshit draw upon the rich histories of the cultures he's denigrating instead of going straight to eggrolls or burritos. I'm looking at you too James Carter as played  by Chris Tucker in the RUSH HOUR movies. Maybe something about terra cotta warriors? There must be something you know about China that doesn't come from a menu.
There's an interesting time capsule moment here having to do with some gay jokes. It's well past the '80s, when straight up anti-gay jokes could be in a mainstream movie without raising any eyebrows, but not quite to today when it would be completely frowned upon. The joke is that Chris Rock is secretly married to Rianne, so he tries to build a relationship with Murtaugh, which is mistaken as him having a crush. The joke is all about Murtaugh's discomfort, but surprisingly it's not really played in an "ew, gross" type of way. Playing along, Riggs says it's okay because "This is not the military, this is the police force." Yeah, I'm sure he's acting accepting just to fuck with his partner, but he's also drawing attention to the unfairness of the "Don't Ask, Don't Tell" era. It's interesting I think. Baby steps to progress.
There's one scene that's pretty funny to watch in retrospect, considering Gibson's later reputation as an anti-Semite. Lorna's about to go into labor and (SPOILER) decides she wants to marry Riggs first, so they desperately try to find an ordained person in the hospital. The guy they find is a rabbi. "You Jewish?" he asks.
"Not necessarily," says Riggs.
But they go through with it, so Riggs at least seems to be okay with Judaism. Good for him.
Like part 3 there's alot of comedy riffing that doesn't necessarily work. But it has some laughs too. Riggs can be a good smart ass. I like when he drives into a tense Triad meeting in a warehouse, obnoxiously honking his horn. He asks, "And who's a naughty general, huh?"
There is a naughty general (in some countries it's called CRAZY BULLET 4: THE NAUGHTY GENERAL [parenthetical statement has not been fact-checked]) but the main villain is a different guy played by Jet Li in his first Hollywood movie. It's usually hard for me to accept him as a bad guy, but he's menacing in this, acting mostly with glares and seemingly impossible kicks. It's a funny idea to cast him as the villain after Riggs was supposed to be this "lethal weapon" because of his fighting skills. Let's see if he can hang with the fuckin fist of legend.
It's not fair, though. Riggs has to fake a shoulder injury (remember how he could dislocate it to escape from straightjackets?) to get out of sparring in a boxing ring with a younger cop. Now he's claiming "too old for this shit" status to lower our hopes for his fighting skills. But let's be honest, even sleek part 1 Riggs would've had to think twice about giving Jet Li a shot at the title.
In my review of part 3 I neglected to mention how good some of the action was. I was especially impressed by the chase scene involving a subway, a motorcycle, a freeway overpass. This series might be the ultimate example of the Joel Silver style of big ass spectacle that became synonymous with action movies in the '80s. But I like the action in part 4 even better. The chase in this one reminds me of another great Joel Silver produced sequence, the one in THE MATRIX RELOADED (a movie he tried to cast Jet Li in, incidentally). Here, Riggs jumps from a fast moving car to an oversized load, a piece of a model home wrapped in plastic on the back of a trailer. He busts through the window of another moving vehicle to snatch a triad, fights him inside the house, they're bouncing each other off a wall of plastic as its staples start to pop out. Next thing you know Riggs is skidding at 60 mph on a table hanging from a line of twisted plastic wrap and throwing a table leg through the windshield of a guy shooting at him to protect himself long enough to climb back into Murtaugh's car like he's part of the Toretto gang. That's shortly before they jump off the freeway, crash into an office building, plow through an entire floor of cubicles, crash out the other side and plummet back onto the freeway in time to catch up with the guy they're chasing.
Can you picture seeing a scene like that in a theater in 2014? I can't. I guess it was a better time for action movies than we realized at the time. Some of the American directors were starting to internalize the lessons of the Hong Kong action boom. That table stunt could've been in a POLICE STORY sequel.
This is a movie that opens with fire exploding out of the Warner Brothers logo, and our boys are responding to a block where some fuckin psycho is on a rampage wearing armor and attacking storefronts with a blowtorch and an assault rifle. It's like when somebody goes wild in a tank, except it's a guy instead of a vehicle. But when they come across him and see what he's doing, Murtaugh asks casually, "Who is this joker?"
That's a hell of a guy to fight at the beginning of a movie, and of course Jet Li is a good one to fight at the end. It's a great final showdown where Murtaugh and Riggs consider leaving, but decide to stay and take him on. I guess they're taking their shot at the title this time. Their comeback fight. Of course being the bad guy Jet doesn't get to win, but at least Hollywood doesn't make him go out like a bitch. First, Murtaugh impales him on rebar. Then Riggs lifts him by holding each end of the bar. Then the floor collapses and they fall underwater. The bastard is still fighting with no air so Riggs has to unload a machine gun into him! And they don't make this clear but I'm pretty sure he used silver bullets or it wouldn't have worked.
We don't know much about Li's character, and I honestly think they get more mileage out of him by being minimalistic about it. He doesn't talk much, I think he only has one line in English. He mostly just glares at people, waits for his moment when it's time strike, and then he's very economical about his movement. He'll throw in a crazy spinning kick but when he's done he'll stand and pose again. We know he's an asshole, because don't tell me he didn't notice Lorna was pregnant when he kicked her! If they make LETHAL WEAPON: THE NEXT GENERATION we know that Riggs Jr. is gonna be a bad motherfucker 'cause he survived a kick from Jet Li in-utero. (And he'd live in a mini-trailer next to the other two and Leo would be his nanny.)
And yet there's this moment where Jet's partner gets killed and he's devastated, he even starts to cry a little. And he comes after Murtaugh and Riggs with fiery vengeance in his eyes. So there is some kind of vulnerable human being in there, a guy who cares about some other people in his life. Other than that it's left to the imagination. I like that.
Once again I'm impressed that they want to show us what happens to all these characters, and build on what's come before. Murtaugh still likes boats, Riggs still likes trailers and dogs. When Riggs falls underwater there's a callback to skills established in part 3. There's a funny/dumb joke that they get promoted to captains, but only because the department can't fire them but they've caused so much damage that they can't have be on the streets without the city losing their insurance. And of course there is alot of concern about once-young Riggs suffering from getting too old for this shitism. It seems like only yesterday that he was slinking around shirtless and showing off his hair, now he's falling apart. But Murtaugh gets him chanting "We're not too old for this shit!"
I was touched by the scene where Riggs, so much older and worn than when we first met him, walking with a cane, goes to the grave of his dead wife looking for permission to remarry. (I'm glad they didn't put his dead South African girlfriend's grave there too though, that would've been too much).
In fact, they even manage to make the inclusion of Leo kinda sweet, despite his new habit of saying "Whatever" way too much. He seems like a hanger-on in the movie, but it turns out he feels that way in life too. He's looking for acceptance as a member of the family, and he gets it (SPOILER).
Obviously I didn't have huge expectations for this or I would've watched it years ago. And that probly helps me to forgive some of the less successful aspects, such as the jokes about elderly people not being able to control their bodily functions (getting too old for this piss), or the joke about tricking Murtaugh into stripping to his drawers, although I'm sure some people liked that more than I did. But watching it now, in close proximity to the other ones, it's like a cop movie UP series, seeing them meet and age and build families and occasionally be involved in gun fights and giant explosions. It's a pretty good send-off. Alot happier ending than they almost got in part 2. May you forever be too old for this shit, fellas.