THE MATRIX RELOADED may have been the most highly anticipated but immediately rejected sequel of my lifetime. I'm not just excluding PHANTOM MENACE for being a prequel – whatever happened in the rest of the world, I honestly didn't experience many people hating it until months later, at least. With RELOADED it was pretty instant.
It was the only MATRIX movie I reviewed upon release, so you can click here to see my kinda dumb, mostly still applicable 2003 thoughts on the matter. I seemed to be fielding a backlash against the original MATRIX movie as well as people hating RELOADED, but it was only the latter I found myself feeling I had to defend over the years.
I do think I partly understand why people were disappointed. THE MATRIX ends on a perfect note of letting us imagine what's next in the "world where anything is possible." Any definitive answer of what happens next has a hard time competing with the electric feeling of not knowing. Especially when part 1 was a carefully constructed machine of concept, explanation and payoff, while part 2 kind of wanders through a labyrinth of tangential notions and questions before it gets to the battle it's been promising. And it cuts off in a cliffhanger well before said battle.
But I also think some of the rejection came from what I have always thought was the coolest thing about these sequels: they're fuckin weird. The Wachowskis took advantage of being the creators of a giant smash pop culture redefining hit movie that nobody really understood until they saw it. That meant the studio had to trust them with their hugely ambitious sequel that yes, delivers hugely on action spectacle and special effects innovation, but also has a bunch of head-scratching business where they go into a restaurant to make threats and discuss causality and orgasms with some French dude (actually not a person, but a program) named The Merovingian (Lambert Wilson, JEFFERSON IN PARIS), whose heart-stopping wife Persephone (Monica Bellucci, TEARS OF THE SUN) makes Neo kiss her like he would kiss Trinity so she can understand the feeling of love. (Note that Bellucci also kinda did that to Keanu as one of the brides in BRAM STOKER'S DRACULA.) And all that stuff is easier to follow than Neo having to go to The Source to talk to The Architect (Helmut Bakaitis, HAPPY FEET). It's like every 1 of blockbuster bombast had to be balanced with a 0 of puzzling idiosyncrasy.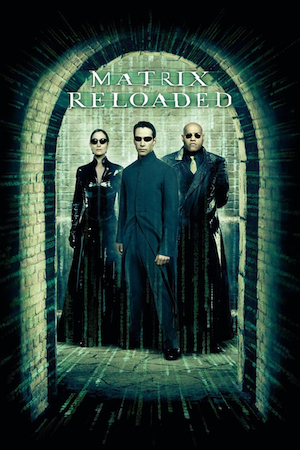 THE MATRIX's very 1999 concern with the tyranny of unfulfilling jobs (see also: FIGHT CLUB [1999], OFFICE SPACE [1999], and best picture winner that is not nearly as remembered as the other two AMERICAN BEAUTY [1999]) continues when the movie opens inside the code that makes up a time clock, as a security guard punches in for his shift! Otherwise, its interests seem more cerebral – themes of destiny vs. choice, polite discussions of belief systems, whether or not humans truly want happiness, and the blurred lines between machines or programs and humans. By the end the program Agent Smith can take over a human body in the real world, and real world Neo can stop machines by holding up his hand like he does for simulated bullets in The Matrix. I don't know why. I also don't feel like I fully understand the purposes of Merovingian or The Architect in The Matrix, or half the shit they're talking about. Their parts don't hold up as well as the action, and one has more payoff in part 3 than the other. But they're part of the whole Wachowski vibe. It reminds me of the talking donkey in Geof Darrow's comic Shaolin Cowboy, who in each issue gets a long rambling monologue scripted by the Wachowskis. Despite the tightness of those first two films, the Wachowskis' preferred approach seems to be playfully rambling. And they're really into this academic stuff – I mean, they cast Professor Cornel West as a member of the MATRIX version of the Jedi Council. Pretty sure they didn't find him at an open casting call.
It might be surprising now too, but especially in 2003 you didn't expect to see a big sci-fi action movie where a famous Black intellectual gets a celebrity cameo as one of the wise elders of world civilization. Relatedly, I think this may be the most non-white cast in a Hollywood blockbuster franchise before THE FAST AND THE FURIOUS. Admittedly, most people think of Reeves (whose paternal grandmother is Chinese Hawaiian) as white, and he and Moss are the two main heroes. But added to the team along with Morpheus, The Oracle (Gloria Foster, THE COOL WORLD), and Link (Harold Perrineau, KING OF NEW YORK) are Niobe (Jada Pinkett Smith, SET IT OFF), the Keymaker (Randall Duk Kim, THE REPLACEMENT KILLERS), Captain Mifune (Nathaniel Lees, MORTAL ENGINES), Seraph (Collin Chou, DR. WAI IN THE SCRIPTURE WITH NO WORDS), plus Link's wife Zee (Nona Gaye, THE POLAR EXPRESS, BLOOD & BONE) and sister-in-law Cas (Gina Torres, M.A.N.T.I.S.) and Commander Lock (Harry Lennix, GET ON THE BUS, TITUS), who is uptight and gets in the way but is still a good guy.
It definitely seems like Zion is majority non-white, though this might be because all the new white people there are the blandest characters in the movie. Apologies to Anthony Zerbe (THE OMEGA MAN, ROOSTER COGBURN, KISS MEETS THE PHANTOM OF THE PARK, STEEL DAWN) as the wise Councillor Hamann, but put a guy like that in a robe giving exposition and all you get is a boring white guy in a robe giving exposition. And I'm afraid The Kid (Clayton Watson, one episode of the '90s version of Flipper), who bothers Neo by sycophantically following him around, also bothers the audience, or at least me.
The more interesting new white people are bad guys – the wraithlike Twins (Neil and Adrian Rayment). And it's cool that Daniel Bernhardt is now backing up Agent Smith as Agent Johnson, because that kicked off his long relationship with 87Eleven.
To me the highlight of RELOADED is its hunger for blasting us in the face with rocket powered spectacle. The main example of that is the long, escalating freeway chase which includes a ton of intense and dangerous looking car and motorcycle stunts, digital Bernhardt super-leaping and smashing vehicles, a kung fu fight sitting inside a car (with excellent use of seatbelts), another one on top of a moving semi (dated background compositing, but good choreography, wirework and camera moves), Morpheus on foot killing an SUV with a kitana, and way, way more. Amazingly, that's not the climax of the movie!
And of course I always have to mention that they built a mile and a half loop of freeway on a decommissioned Navy Air Station in Alameda to film on. All movies should be allowed to do this, Hollywood.

I think the most hyped scene at the time was another early one – the fight between Neo and 100 Agent Smiths (or Hugos Weaving as I called them in the review), because of the technology they had to invent to accomplish it. I also remember people complaining about it at the time because (gasp) sometimes some of the 101 digital characters in the scene didn't look totally real.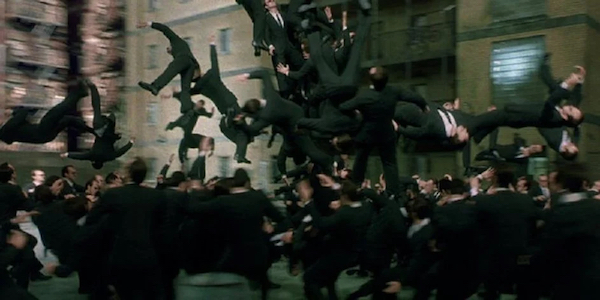 I say fuck 'em, the scene holds up for its complexly choreographed super fighting, whether it's live action or cartoon. If, say, a very popular comic book based studio wanted to do a scene like that now it would not require nearly as much technical innovation (if any) and it would look more convincing, but I doubt it would be work as well. I have always loved the storytelling of it, the way they're sort of curiously testing each other's abilities, and Neo is experimenting with different approaches, then eventually leaves. And then the Smiths just kinda shrug and walk off in different directions.
But there are plenty of fights that aren't so digital. The standout is Neo vs. Merovingian's men in the chateau while Morpheus and Trinity try to escape with the Keymaker. Neo has improved in bullet stopping, kicking and flipping. It's a chamber where the walls are covered with decorative weapons, so he fights against swords, spears, a pitchfork, a mace. He spins shuriken. And the camera moves are as agile and dance-like as the fight itself.
There were rumors about them doing some kung fu in zero gravity. A Sunday Express article by Mark Salisbury mentions that "[effects supervisor John] Gaeta even hired a zero-gravity NASA aircraft [the infamous Vomit Comet] and took to the air with Wo Ping's martial arts team and a camera crew to see what weightless kung fu looked like." So I'm pretty sure that means they did it for reference, not that they used any footage in the movie. Either way, I always think of that when I get to this shot: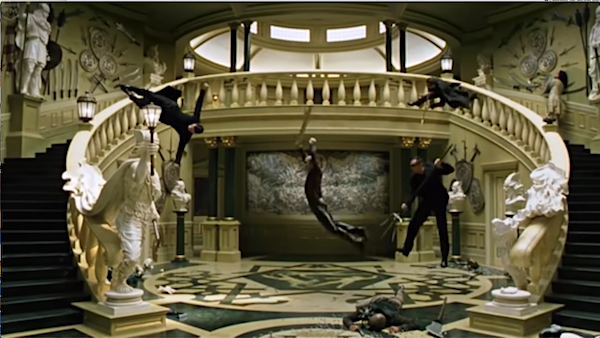 As far as I know the complaint I addressed in the original review about "the rave" is still one that comes up. If so I have to assume people just remember hating it at the time and haven't rewatched it to find out that they owe the scene, the hundreds of extras in it and all lovers of music, dance, humanity and sex a huge apology. Flowers, candy, checks, etc. all accepted and appreciated.
What was that rejection all about? My theory is that people were used to movies that crassly force in of-the-moment music trends to attract teens. So they saw dancing, they thought "rave," their kneejerk cynicism bullshit alarms were falsely triggered, saying "Oh no MATRIX RELOADED you're not gonna seduce me with your rhythm and movement and sexiness that the teens like. I am above that." But I think it's clear this scene is not about selling soundtracks (and unfortunately is not one of the better songs in the movie). It's so clearly sincere and organically building from part 1's start in a dance club to the this film's larger canvas and themes. Before defending their city and humanity from an overwhelming attack, the people of Zion have one night to celebrate life by the thousands in a giant cave. They dance and they sweat and it's intercut with Neo and Trinity, finally alone, finally getting some. All things that humans do, that machines do not. Things that bring us together, that bring us joy, that are the opposite of violence. Tell me, are we gonna let the elevator bring us down? Oh no let's go! Let's go crazy! Party like it's 1999! etc.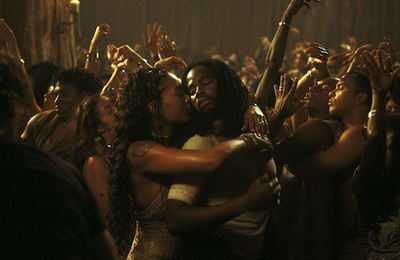 To be fair, I do think there are people who hate the scene who understand why it's there, but just don't like it. Their loss, I guess. When we discussed this scene recently on the 00's Zone podcast Mark Palermo brought up my love of Funkadelic and Fishbone. That really got me because I thought about the feeling I get at a P-Funk show, the joy of being in a group of strangers, who are in a way like family, because we're together dancing and sweating and singing along. I look around and see all these people of different races, different generations, the people younger than me who I wonder how they found out about it, the older people I assume were into it from the beginning, and they got all dressed up for the show. All different people but all sharing this love, we know all these songs, we sing and chant and are being moved by this together… it's honestly a religious feeling for me, and a feeling I would want to have the night before the Sentinels are gonna show up.
And if it was Fishbone, man, that would be the deepest we ever felt "Party At Ground Zero" in our lives. Holy shit. You look over and see Cornel West and Anthony Zerbe skankin around. It would almost be worth Zion getting attacked just for that.
Anyway my point is that if the Wachowskis want to do a special edition where Morpheus is up there on that little stone stage playing "Maggot Brain" after he makes his speech, I think I speak for everyone when I say we for sure agree unanimously that it could use another 10 minutes added to the running time anyway.
In the end it's hard to precisely quantify RELOADED like with THE MATRIX because it really is, by design, the first half of one long movie. It's like KILL BILL, it's a serial, you're not just gonna watch one of them and consider it complete. In the end it left us with a cliffhanger about a Zion rebel named Bane (Ian Bliss, MAN-THING, STEALTH) somehow having his body taken over by Agent Smith, something that is confusing even to a fan like me. And it left me with many intriguing questions, listed at the end of my original review, almost none of which were addressed in the followup. A little teaser after the credits left us hyped for what we'd be seeing in part 3, and to me it was all about Mifune controlling a mech. Other than Ripley's power-loader and I guess ROBOT JOX we really hadn't seen enough mechs in American cinema, so that was what I dreamed about for six months. Humans strapping into machines for the final battle against the machines. Oh shit – would they be doing kung fu in mechs? I didn't know, but I knew they would do something cool for the thrilling conclusion to the two-part movie, the trilogy and the war with the machines.
And yeah, that was true, sorta. But if we hadn't figured it out already, we'd soon find that the Wachowskis don't necessarily want to give us exactly what we expect.