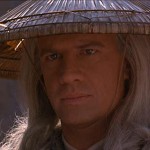 A while back I reviewed this sci-fi action movie called EQUILIBRIUM and I complained about the cliche of using techno music in all the action scenes. I asked why somebody didn't try out some different styles of music on some action scenes. A while later a guy named Jonathan Lee wrote to inform me of a movie called MEAN GUNS where they did just that, they used mambo music during all the action (and other parts of the movie).
The only recognizable stars are Ice-T and Christopher Lambert, and then there's a bunch of other people. Mario Van Peebles was not available. Anyway, "The Syndicate" has recently bought a prison somehow, and the day before the grand opening Ice-T calls a bunch of criminals there for big meeting, like THE WARRIORS.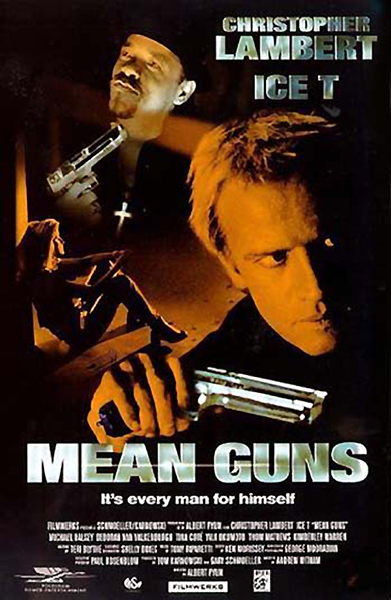 But it's actually a trap. Once the suckers come inside they are handed a card telling them how they betrayed the Syndicate. The punishment is that they're all gonna be locked in here to kill each other. Once there are only 3 traitors alive, they will supposedly get $3.3 million each and get to leave.
So some guys come in and dump big garbage bins full of guns and ammo into the middle and the game begins.
This all sounds pretty cool, but there's a pretty big catch. The director is Albert Pyun. I haven't written about this guy much, because I try to avoid him as much as possible. Pyun is a master at making movies that are terrible and yet completely boring. He did the NEMESIS series, some KICKBOXER sequels, CAPTAIN AMERICA, DOLLMAN. He did one called URBAN MENACE which is kind of like a soap opera interspersed with clips of Snoop Dogg walking around acting spooky. (Rehearsal tapes for BONES?) The best movie I've ever seen by Albert Pyun is the Seagal picture TICKER, which is one of Seagal's least interesting pictures. (It is historically important though as the first Seagal picture with a director's commentary track, and he does seem like an okay guy on the track.)
So it's one of these movies that looks incredibly cheap and muddy, where half of the cast are not even convincing as actors, let alone criminals. Ladies wearing leather jackets and sunglasses so you're supposed to think they're tough. Lots of painfully generic criminal talk like
"How did you get into the business?"
"It's what I always wanted to do. And what I didn't know, the government taught me."
There's even one of those conversations where Christopher Lambert talks about how the first time he killed someone "it felt like… freedom" and then after that he didn't feel anything.
And most of the action (and story) has no momentum or style to it at all, it's just a bunch of corny looking dudes walking around in hallways firing guns and then you get to find out who shoots better based on who falls over dead. One of the main guys likes to make obvious quotes and allusions, like talking about the 3 Bears or saying "oh what a tangled web we weave when first we practice to deceive." He has an accent so I guess he's supposed to be wise or philosophical or something, but come on. To be fair, I could swear another guy makes a reference to Sam Shepard which I guess you don't get in every Christopher Lambert movie.
For a while it doesn't seem like they're even trying to strategize, just wandering around shooting. Then there's a big scene where Lambert forcefully convinces 3 other people that they can all work together, even though only 3 people can survive. They'll do better with a team of 4, and if all of them survive at the end they'll cross that bridge when they get to it (I think Lambert says "burn that bridge" though).
So it seems momentarily like they're being smart, but then you realize that one of the 4 is afraid to fire a gun, and they keep coming up against groups bigger than 4, so obviously everybody else figured out this strategy long before Lambert did.
Then their big move is to announce over the intercom for everyone to meet in a certain place in 15 minutes. And then they sit casually there for 15 minutes like they know for sure no one will show up early. And when they do show up, all 30 or 40 of them, the whole plan is just to stand there in the middle of the room and shoot at everybody. They don't even hide around a corner or anything. And it works. That's the kind of halfway thought through screenplay we're dealing with here.
Toward the end they start bringing in a backstory about a little girl that may or may not be Lambert's daughter, who actually is sitting in a car in the outdoor part of the prison. To the movie's credit, they do attempt to have some grey area in the characters where they are sort of bad and good at the same time. Not that anybody cares.
Lambert is pretty annoying in the movie. We know he's a tough guy because he's always amused by everything. That's his whole performance. Ice-T does pretty good with the opening monologue. He looks like a bulldog with platinum teeth. But then he spends the rest of the movie sitting in front of a fancy chess set in some mysterious evil room somewhere. Probaly one of those roles that's filmed in one or two days.
There's really only one memorable action moment. A gal picks up a briefcase that she thinks is the money, but is actually a bomb. She skips around the corner and suddenly there's a pop and a poof of smoke. Then she runs back into view and her hair is on fire. And then she somehow bangs her head through a locker and hangs there dead. It's pretty funny shit.
There's a big missed opportunity here because at the end there are piles of dead bodies all over the prison, and nobody to clean them up. And we know from the beginning of the movie that the city is going to have a ribbon cutting ceremony the next day. So it's a shame that we don't get to see what happens when the mayor shows up with the scissors.
But Jonathan's right, there is a mambo soundtrack and it does give the movie a different feel. It would've been alot worse with techno. There's also some spanish/spaghetti western type guitars at times, particularly in a couple scenes modelled after showdowns in old westerns. I hope they paid the music people a few bucks because without the score there would be no energy or drama in the movie at all.
So the moral of the story is avoid Albert Pyun. But even he knows to try some different styles of music on the action scenes. So let's do some experimenting, Hollywood.